dec 10, 2013
vienna university's law + admin buildings by CRAB studio
vienna university's law + admin buildings by CRAB studio
photo by ronald kreimel
all images courtesy of CRAB studio
CRAB studio has completed the 'departments of law and central administration' at vienna university, part of the ongoing development at the campus, masterplanned by BUSarchitektur. using their experience of working in colleges, sir peter cook and gavin robotham ensured that a vibrant and dynamic building was constructed, comprising an engaging collection of spaces which cater for the needs of students and professors during classes and outside of teaching hours.

the vibrant and dynamic building comprises an engaging collection of interior and exterior spaces
photo by ronald kreimel
the scheme is made up of two long buildings which frame a central plaza, connecting the site within the urban landscape. bright and bold façades add color to the design, while elevations are clad in locally sourced timber louvers, protecting the internal volumes from the sun, and reflecting the university's woodland setting. over time the structure will be covered in natural vegetation, allowing the design to become part of the surrounding environment.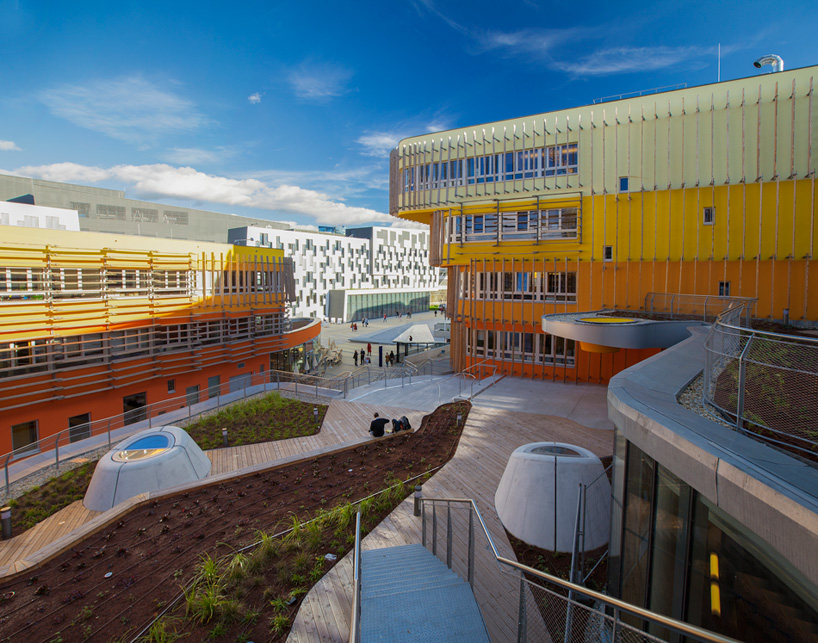 the scheme forms part of an overall masterplan for the university campus
photo by ronald kreimel
the scheme's various levels protrude from one another, forming external balconies and roof terraces where students and teachers can meet, converse and debate. the campus also hosts zaha hadid's 'library and learning center', alongside a number of other works by renowned practices.

a central courtyard connects the campus
photo by ronald kreimel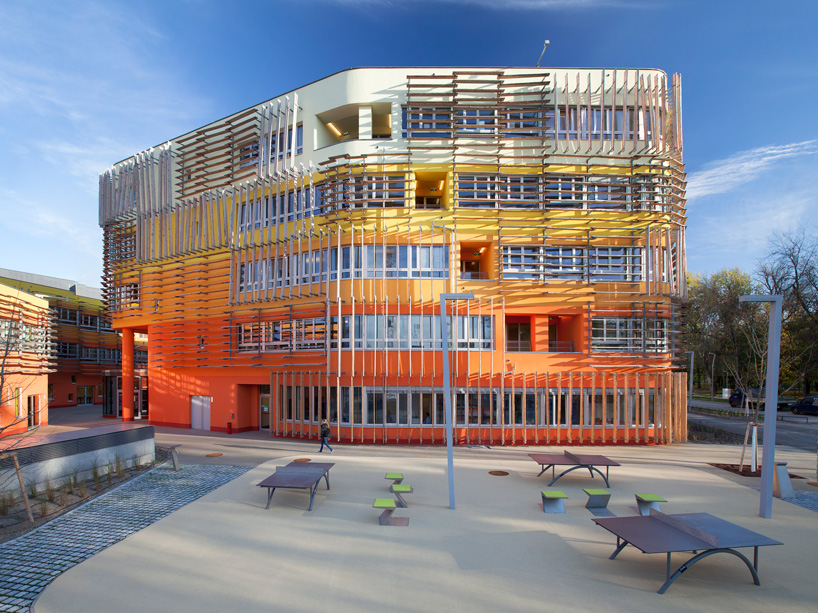 locally sourced timber louvers ensure a connection with the scheme's woodland setting
photo by ronald kreimel

a bright color scheme has been applied to the building's façades
photo by ronald kreimel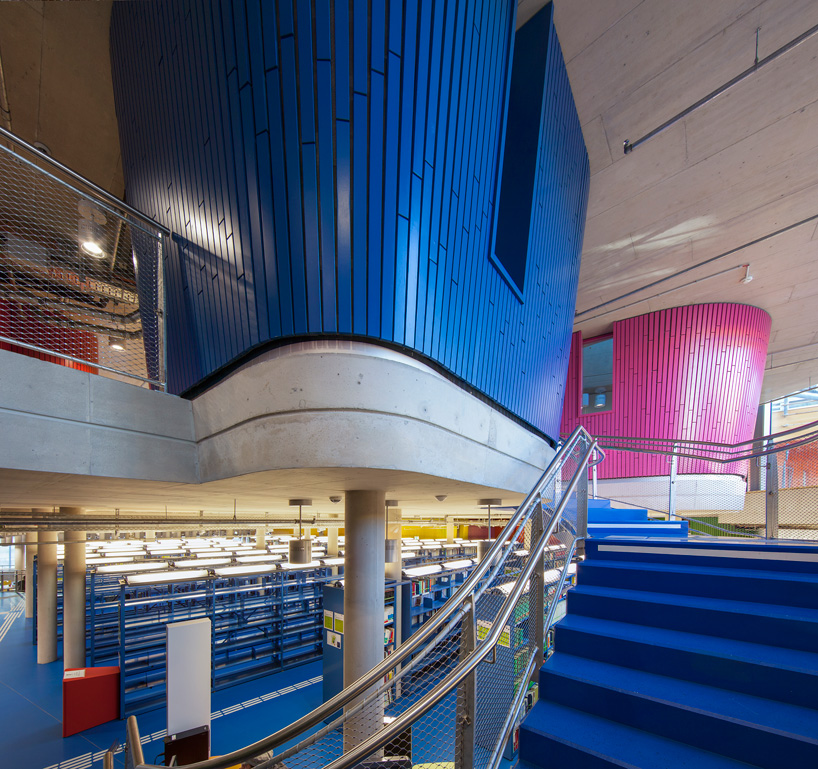 the vibrant use of colors is continued to interior spaces
photo by ronald kreimel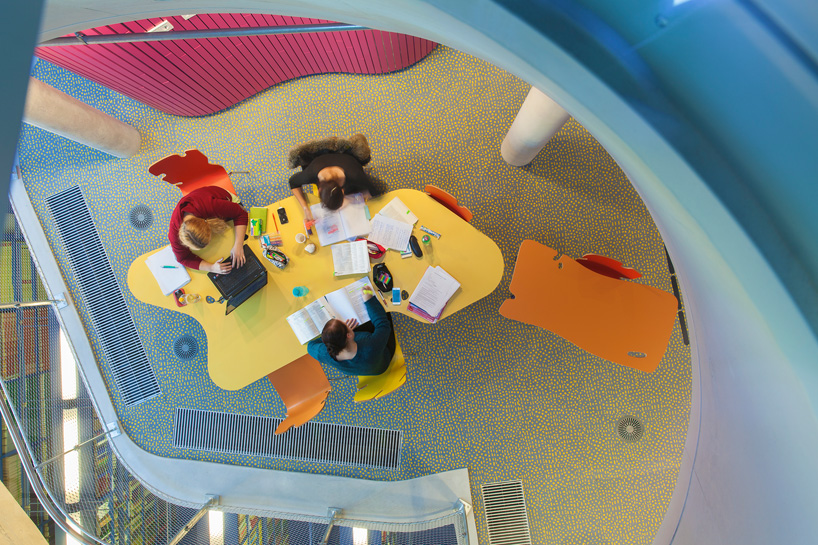 overhead view of a workspace
photo by ronald kreimel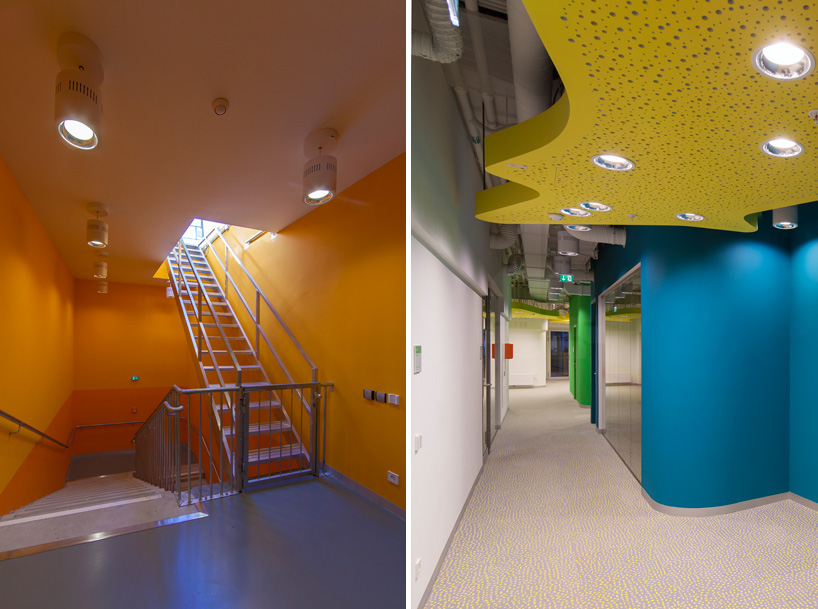 circulation spaces within the design
photo by ronald kreimel

the 'departments of law and central administration' illuminated at night
photo by ronald kreimel
project info:
full title: departments of law and central administration, vienna university
type: education
client: wirtschafts university
location: vienna, austria
budget: €29 million
primary team: prof. sir peter cook, gavin robotham, mark bagguley, stefan lengen, theresa heinen
status: completed
photography: ronald kreimel
oct 15, 2017
oct 15, 2017
aug 22, 2017
aug 22, 2017
jun 26, 2017
jun 26, 2017
jun 21, 2017
jun 21, 2017
mar 17, 2017
mar 17, 2017
mar 12, 2017
mar 12, 2017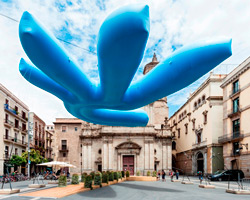 jul 24, 2014
jul 24, 2014
feb 08, 2014
feb 08, 2014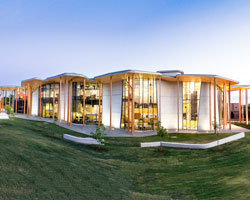 jan 13, 2014
jan 13, 2014
oct 30, 2017
oct 30, 2017
oct 27, 2017
oct 27, 2017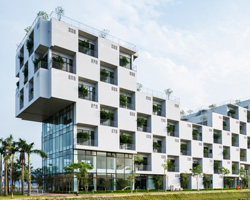 oct 24, 2017
oct 24, 2017
may 16, 2014
may 16, 2014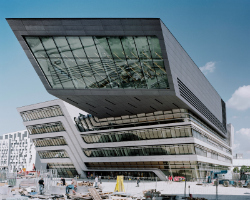 oct 08, 2013
oct 08, 2013
jun 07, 2009
jun 07, 2009