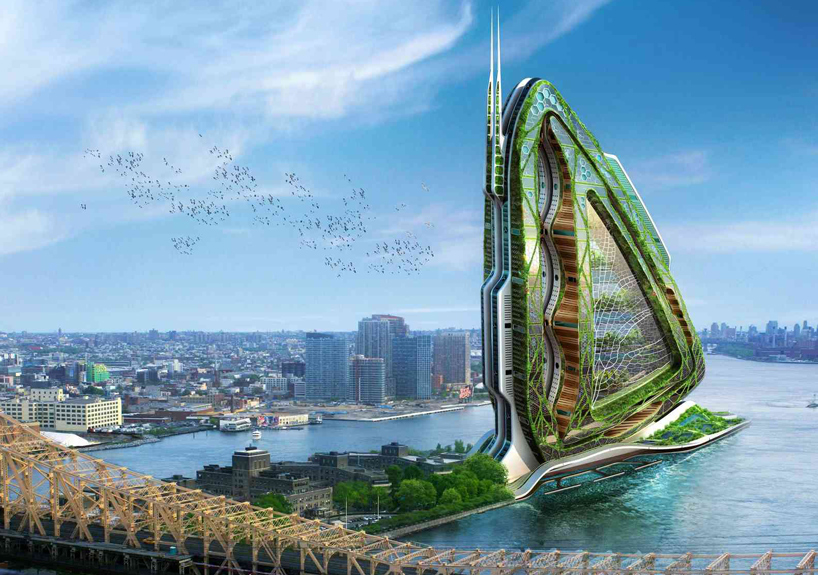 may 18, 2009
vincent callebaut architectures: dragonfly vertical farm concept in new york
belgian firm vincent callebaut architectures has designed a vertical farm based on the wings of a dragonfly. located along the east river at the south edge of rooselvelt island in new york, the tower is a true living organism being self sufficient in water, energy and bio fertilizing. spanning 132 floors and 600 vertical meters, the dragonfly can accommodate 28 different agricultural fields for the production of fruit, vegetables, grains, meat and dairy.
all images courtesy of vincent callebaut architectures
to ensure the social diversity and a permanent life cycle (24h/24) in the tower, the mixed program is mainly laid out around two poles of housing and work places. around housings, offices and research laboratories are gardens, kitchen gardens, orchards, meadows, rice fields, farms, and suspended fields. the distribution of flows is made around a true safe spine spreading in loop the numerous elevators, the goods elevators and stair wells serving all the levels by separating simultaneously the inputs and the outputs recycled from plants, animals and human beings.
project info:
program: a metabolic farm for urban agriculture / mixing uses location: new york city, roosevelt island surface area: 350,000 sqm heights: antenna: 700m, roof: 600m, top floor: 575m floor count: 132 agricultural fields: 28 model studies: philippe steels perspectives: benoit patterlini
Save
Save
Save
Save
oct 30, 2017
oct 30, 2017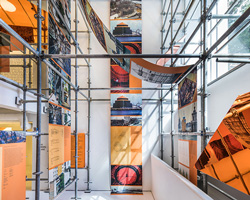 oct 27, 2017
oct 27, 2017
oct 22, 2017
oct 22, 2017
oct 21, 2017
oct 21, 2017
oct 19, 2017
oct 19, 2017
oct 17, 2017
oct 17, 2017
oct 31, 2017
oct 31, 2017
sep 08, 2017
sep 08, 2017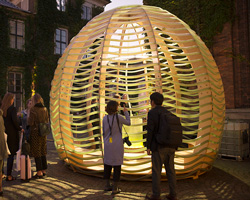 sep 05, 2017
sep 05, 2017
oct 31, 2017
oct 31, 2017
sep 19, 2017
sep 19, 2017
jun 11, 2017
jun 11, 2017