apr 20, 2016
vincent coste inks japanese restaurant in france with yakuza tattoo motifs
vincent coste inks japanese restaurant in france with yakuza tattoo motifs
all images by florent joliot
in aix-en-provence, a city in the south of france, architect vincent coste has completed the interior design of a japanese restaurant influenced by yakuza tattoos. named koï, the eatery is clad with large monochromatic illustrations that depict the japanese fish of the same name. the graphics, designed by claire leina, envelop the floor, walls, and ceiling of specified areas of the restaurant. the theme is extended throughout the remainder of the scheme, and is even applied to branded crockery.

the interior project is influenced by yakuza tattoos
the renovation also involved the design of the furniture, with the inclusion of red chairs providing a bold splash of color. made from engineered steel, the metallic seats complement the predominantly monochrome interiors, which feature pale timber flooring alongside concrete countertops, tables, and walls. a sheltered terrace at the rear of the restaurant allows for outdoor dining, while a burgundy version of the tattooed motif is also found within the restrooms.

the eatery is clad with large monochromatic illustrations

the graphics, designed by claire leina, envelope the floor, walls, and ceiling

red chairs provide a bold splash of color

the tattoo theme is extended throughout the remainder of the scheme

the renovation also involved the design of the restaurant's furniture

the metallic seats complement the predominantly monochrome interiors

pale timber flooring is used alongside concrete countertops

a sheltered terrace at the rear of the restaurant allows for outdoor dining

a burgundy version of the tattooed motif is found within the restrooms
project info:
name: restaurant koï
location: aix-en-provence, france
architecture/design: vincent coste studio design & associés
architect: vincent coste.
project manager: jérôme garzon
tattoo graphics: claire leina
area: 300 sqm
photography: florent joliot
jul 20, 2017
jul 20, 2017
jul 13, 2017
jul 13, 2017
jun 25, 2017
jun 25, 2017
jan 31, 2017
jan 31, 2017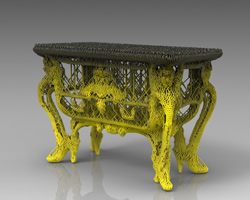 feb 06, 2015
feb 06, 2015
aug 29, 2014
aug 29, 2014