although virtual reality has become increasingly more prominent in the fields of technology and design, contemporary architecture is yet to feel the full force of its capabilities. although that could all be about to change. in santa clara, california, work is well underway on the new headquarters of visual computing firm NVIDIA. once it completes in late 2017, the two-story building will span 500,000 square feet, accommodating 2,500 employees, and providing two levels of underground parking. however, this is no ordinary silicon valley HQ. in planning the project, NVIDIA worked alongside global architecture firm gensler to craft a structure using the company's own cutting-edge software.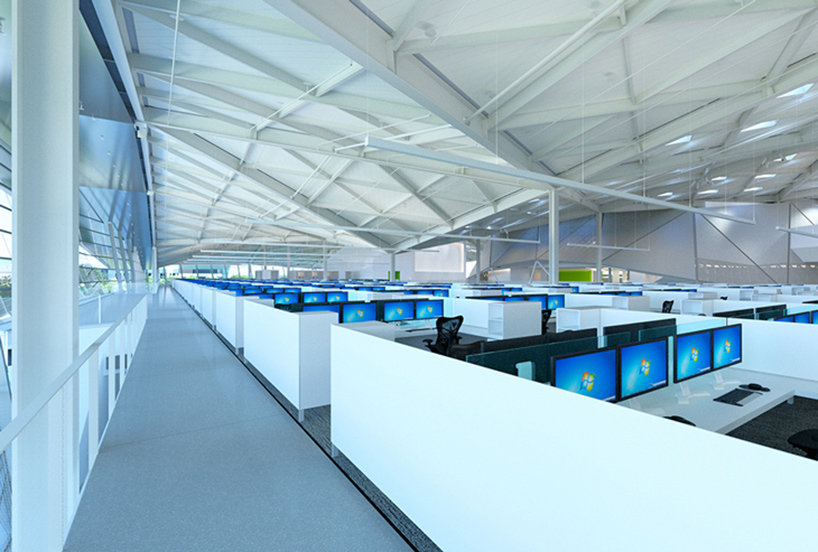 rendering of NVIDIA's new headquarters, produced using the company's iray software
image courtesy of NVIDIA iray
since its founding in 1993, NVIDIA has sought to pioneer visual computing, offering specialized platforms for the gaming, professional visualization, data center, and automotive markets. in 2013, the company revealed plans for a new head office based on triangular forms — a shape NVIDIA says is 'the fundamental building block of computer graphics'. the building responds to how people move, with oversized platforms replacing stairways as vertical connectors. gensler's design team was able to simulate the entire structure using NVIDIA iray — a physically based rendering and light simulation software. consequently, architects could constantly edit specific data — such as windows and carpets — to create a photographic-quality image of their creation in near real-time.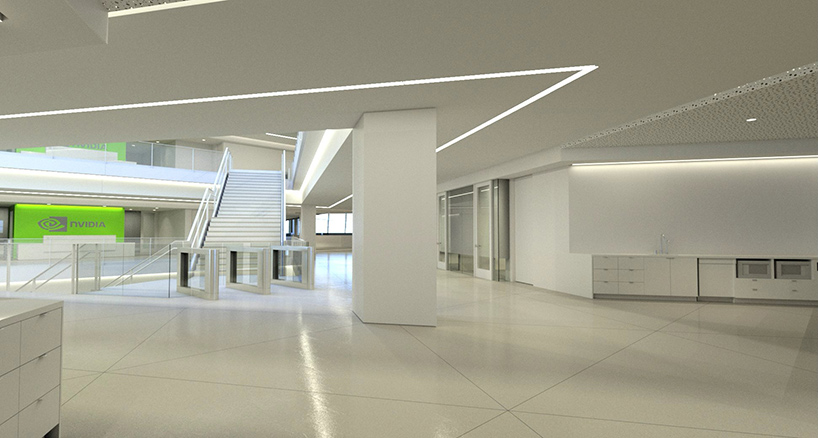 using the software, images can be updated in near real-time
image courtesy of NVIDIA iray
to understand more about how the design team utilized the technology, we spoke with gensler visualization artist scott dewoody, who explained the processes in more detail.
designboom: can you start by explaining how you were introduced to the iray software?
scott dewoody: the iray software was first introduced to me back when it was added into 3ds max, though I had only played around with it a little at the time. once I was brought onboard for the NVIDIA project, I was given a more updated version of the rendering engine. this was a standalone version of iray, which would eventually become the iray for 3ds max plug-in that is now offered by NVIDIA.


the building is located at the heart of silicon valley
image courtesy of NVIDIA / gensler
DB: what are some of the key benefits of iray in comparison to more conventional software?
SD: one of the key features of iray is the extreme accuracy of its calculation of lights and materials. this was one of the main compelling reasons why we were using it on the design of NVIDIA's new campus. the CEO was wanting to 'simulate' his building, because that is what they do for their GPUs before ever making them. so why not do the same thing for architecture? we cross-checked our findings with our lighting consultants, and found we pretty much were hitting the mark in terms of light intensity and light reflection. this became the irradiance feature that you can toggle on inside of iray now.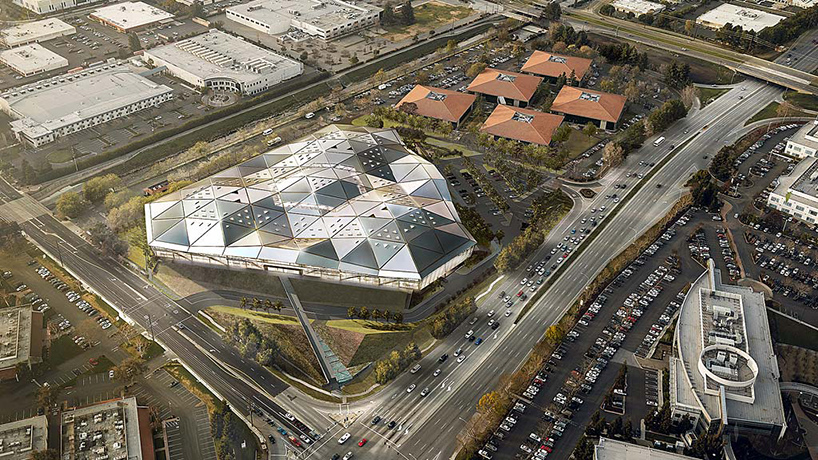 aerial view of the campus, which is currently under construction
image courtesy of NVIDIA / gensler
DB: how useful is reviewing a scheme in 'real-time'? how did this help?
SD: when your design director is a very busy man, reviewing a scheme in 'real-time' is extremely helpful. that is mainly because 'real-time' reviews make the conversation a little more unpredictable in a sense. you can easily switch a green color to a white color, and see how that drastically effects the design in seconds. so if you're trying to get buy off from someone who you only have an hour to spend with, it can be a blessing — but it also can be a curse. that level a flexibility opens it self up to being able to do 100s of iterations on design, which we did. and, although that's a lot of work, it does pay off in the end. we felt more comfortable about our design choices, because we had tried 'everything under the sun'. which is exactly what the CEO of NVIDIA was wanting us to do.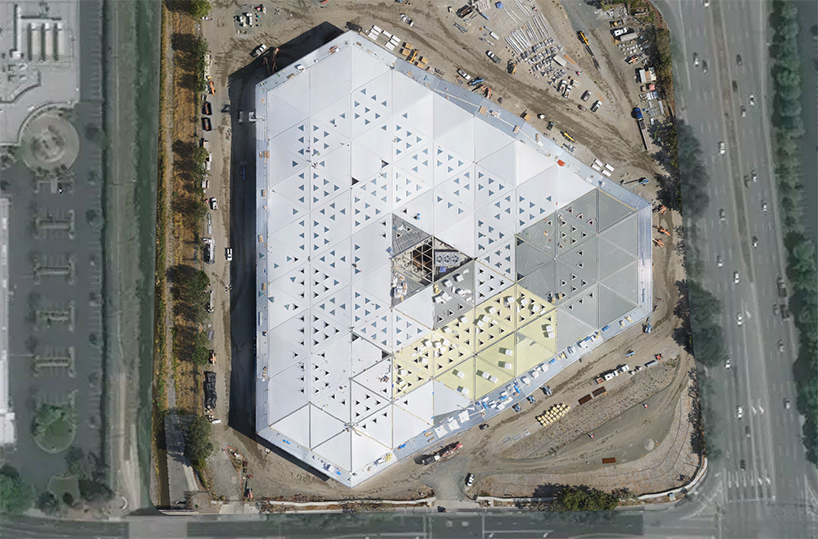 the scheme is based on the triangle, 'the fundamental building block of computer graphics'
image courtesy of NVIDIA
DB: how often was the design team using headsets to experience the building in '3D'?
SD: on the NVIDIA project, VR was not out during the main production phase of the project. however now, we are doing all major reviews in VR for the project, as it is under construction. pretty much every other project at gensler is doing some form of VR for review and client presentation. thankfully software developers realized that this needed to be something super easy for people to do, and they created workflows for VR in that mindset. the only two things we have to consider for working in VR is: 1) more design — you now have to think about full 360 degrees of your design, version designing to a single view frame; and 2) computational time – render times tend to go up as resolution of an image goes up. the minimum resolution for spherical 360 renderings is 4,000px, where cube map VR Images are 18,000px on the long side! so there is some additional time to add for rendering.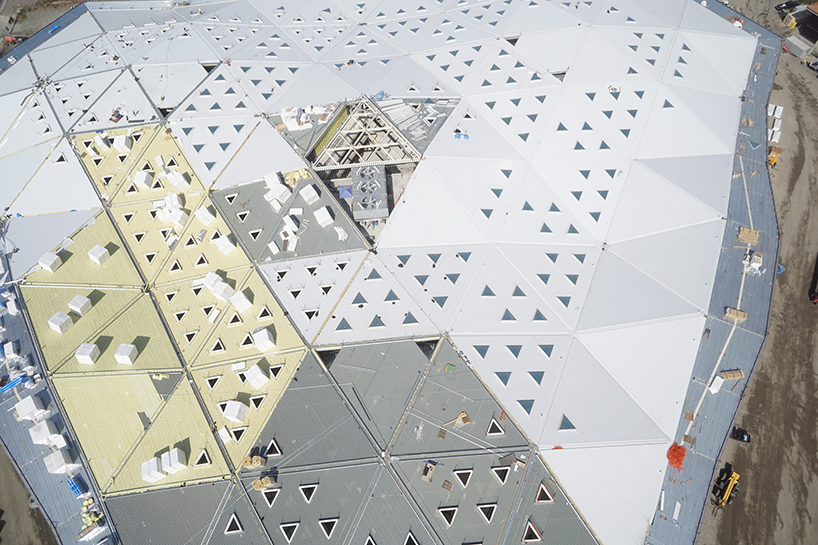 the positioning of the skylights changed as a result of the real-time visualizations
image courtesy of NVIDIA
DB: were there any key changes to the building that came about as a result of the software?
SD: I can't even count how many changes came from the result of the software. I want to say a good majority, if not all, of the design ideas were eventually rendered through iray for some kind of review or presentation. from lighting, to carpets, to paint colors, to finish changes, to the front entry in the parking garage and beyond, we rendered iteration after iteration. always tweaking something about the design because iray would show us something we ultimately did not like, or it showed us something that we had not thought about yet. another good example is how the skylights on the roof changed due to the simulation. we were able to study how much daylight was coming into the space from them, and then we were able to optimize and reduce the overall cost for the skylights. this was a massive help, especially when we were trying to optimize the over-all building to help match our budget.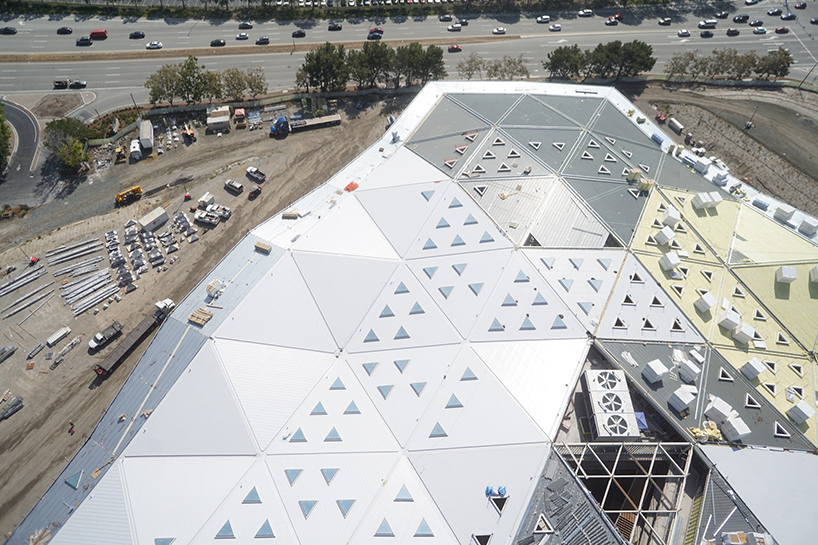 the complex is set to open in late 2017
image courtesy of NVIDIA
DB: do you feel VR headsets are going to soon be a common tool for all architects?
SD: if it is not already, then yes they will be. there is no reason an architect should not be reviewing or presenting their work in VR. it is by far the best way to experience their designs before ever building anything. the price point of some VR HMDs might seem a little high, but they are completely worth it. those devices will pay for themselves in next to no time. the bar for entry for VR is also extremely low in terms of production.
Save
Save
Save
Save
Save
Save
Save
Save
Save
Save
Save
Save
Save
Save
Save
Save
Save
Save
jul 02, 2020
jul 02, 2020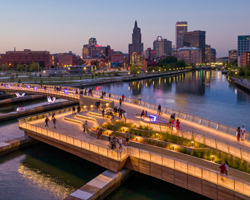 jul 01, 2020
jul 01, 2020
jun 28, 2020
jun 28, 2020
jun 27, 2020
jun 27, 2020
jun 26, 2020
jun 26, 2020
jun 25, 2020
jun 25, 2020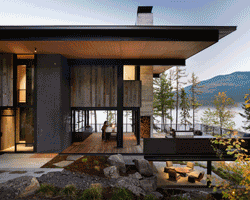 jun 23, 2020
jun 23, 2020
jun 10, 2020
jun 10, 2020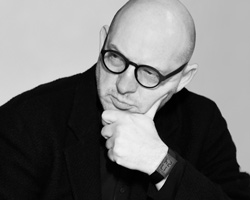 may 07, 2020
may 07, 2020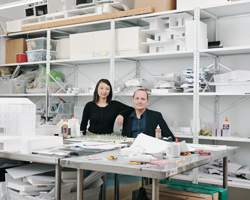 apr 19, 2020
apr 19, 2020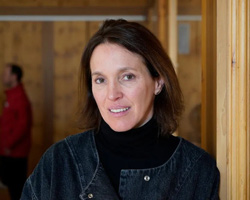 mar 13, 2020
mar 13, 2020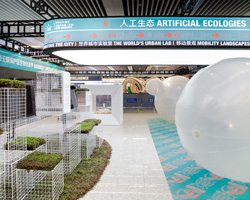 feb 26, 2020
feb 26, 2020
jul 02, 2020
jul 02, 2020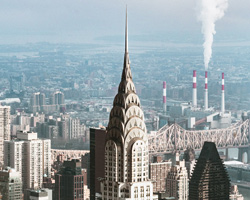 may 21, 2020
may 21, 2020
nov 22, 2019
nov 22, 2019
oct 10, 2019
oct 10, 2019
jul 31, 2019
jul 31, 2019
jul 02, 2019
jul 02, 2019
a diverse digital database that acts as a valuable guide in gaining insight and information about a product directly from the manufacturer, and serves as a rich reference point in developing a project or scheme.