nov 11, 2009
vo trong nghia: WNW bar
wnw bar by vo trang nghia co. ltd all images courtesy vo trang nghia co. ltd
vietnamese architectural studio vo trang nghia co. ltd have designed the WNW bar located in vietnam. due to the area being prone to flooding the firm created an architectural model that addresses low cost materials, high speed construction and ease of transport. in order to help residents in the flood-stricken areas to build temporary houses, tents, school classrooms, businesses such as cafes, bars and resorts, the model of wind and water bar (wnw bar) was proposed in the initial design by vo trang nghia co. ltd.
WNW bar is a structural bamboo arch system spanning 10m in height and 15m in length. the main frame is made from 48 units of bamboo elements. materials using for the roof covering are the sheets that made from the leaves having the high resistance in fire. bamboo trees are popularly grown in many places in vietnam.
the WNW bar is located in the centre of thu dau mot, binh duong province in the southern region of vietnam. this area will become a cultural center for the local residents.the construction site is located in the man-made lake, using the natural wind energy together with the cool water from the lake to make the natural air-ventilation. on the top of roof, there is a hole with diameter of 1.5m functioning to release hot air out.
the WNW bar was built by local workers in duration of 3 months (from october 2007 to january 2008).
vo trang nghia co. ltd's wnw bar was a shortlisted entry in the categories of civic and community, interiors and fit out and structural design at the world architecture festival 09.
bamboo structure
sep 17, 2017
sep 17, 2017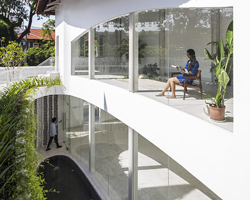 sep 01, 2017
sep 01, 2017
aug 31, 2017
aug 31, 2017
aug 29, 2017
aug 29, 2017
aug 24, 2017
aug 24, 2017
aug 09, 2017
aug 09, 2017
sep 17, 2017
sep 17, 2017
jul 24, 2017
jul 24, 2017
jun 01, 2017
jun 01, 2017
nov 12, 2009
nov 12, 2009
nov 10, 2009
nov 10, 2009
nov 09, 2009
nov 09, 2009