located on a slope bordering a quiet lake with a landscape of abundant trees, VTN  architects begin construction on its 'viettel offsite studio' project in hanoi. in order to accommodate the global telecommunications company's staff members, the headquarters includes six units: a welcoming reception, a dining area, and four studios. 

the office complex features six V-shaped wall-blocks with varying functions
all images © VTN architects
VTN architects' design features six V-shaped wall-blocks that follow the lay of land and connect through an open corridor. these blocks form triangular surface spaces: two sides close while the other side opens towards lake and abundant trees. the six walls create an open book shape, generating a sense of openness to its surrounding lively nature. the façade directly faces its surrounding environment, allowing employees to relax and be immersed in nature.

the viettel office measures 1,427 square meters, and sits among a bed of trees
by orienting the studio to the north, the office offers employees spectacular views of the surrounding vietnamese forest. the high V-shaped walls are designed to cut strong and harsh sunlight, boasting an impressive exterior façade for those who enter the office. the roof garden works as outside studio where the small perforated holes in the walls provide gentle sunlight and ventilation to the rooftop studio.

the blocks form triangular surface spaces: two sides close while the other side opens towards lake

the building's immersion into nature generates a relaxing environment for employees

small perforated holes in the walls provide gentle sunlight and ventilation to the rooftop studio

the office includes six units: a welcoming reception, a dining area, and four studios

one of the V-shaped sections houses a spacious meeting room accommodating up to 50 people

an academy providing education for engineers is included as part of the scheme

viettel is a global telecommunication company in vietnam with over 27,000 employees

the building is made up of six V-shaped wall-blocks that follow the lay of land

the high walls are designed to present an impressive exterior façade for those who enter the office
project info: 
architect firm: VTN architects (vo trong nghia architects)
principal architect: vo trong nghia
design team: design period: marek obtulovic, nguyen van thu, supervision:nguyen hoang son, doan huu chinh
client: viettel corporation
contractor: delta corp
status: under construction
program: office facility
location: thach that, hanoi, vietnam
gfa: 1,427 sqm
Save
oct 06, 2017
oct 06, 2017
sep 17, 2017
sep 17, 2017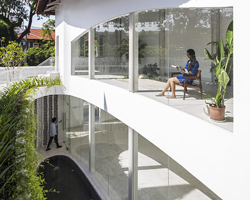 sep 01, 2017
sep 01, 2017
aug 31, 2017
aug 31, 2017
aug 20, 2017
aug 20, 2017
aug 08, 2017
aug 08, 2017
sep 17, 2017
sep 17, 2017
jul 24, 2017
jul 24, 2017
jun 01, 2017
jun 01, 2017
may 15, 2017
may 15, 2017
apr 19, 2017
apr 19, 2017
apr 11, 2017
apr 11, 2017