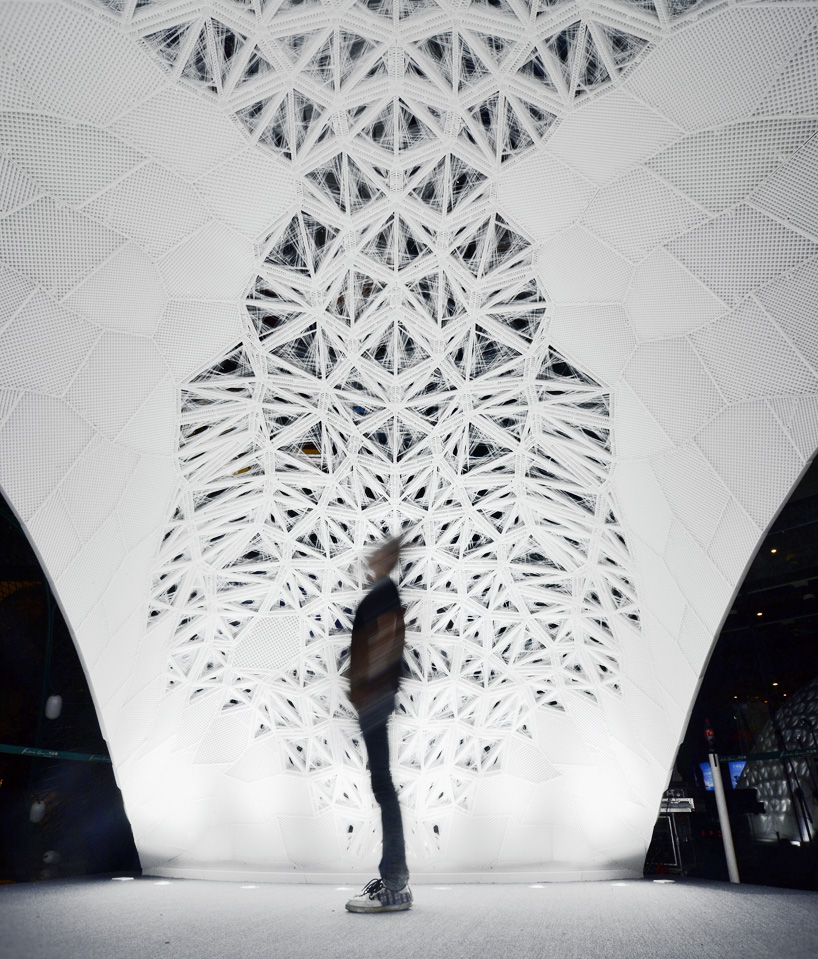 oct 07, 2015
VULCAN: the world's largest 3D-printed architectural pavilion
VULCAN, the world's largest 3D-printed architectural pavilion, opens at BJDW 2015
image by laboratory for creative design
beijing design week 2015 makes history with the reveal of VULCAN, the world's largest 3D-printed architectural pavilion. within the central atrium of the high-tech commercial/office complex of parkview green, the guinness world record award winning design spans overhead visitors in an arched configuration. laboratory for creative design (LCD) has developed a radical way of using the technology with the support of novel design techniques and construction methods applied on an architectural scale.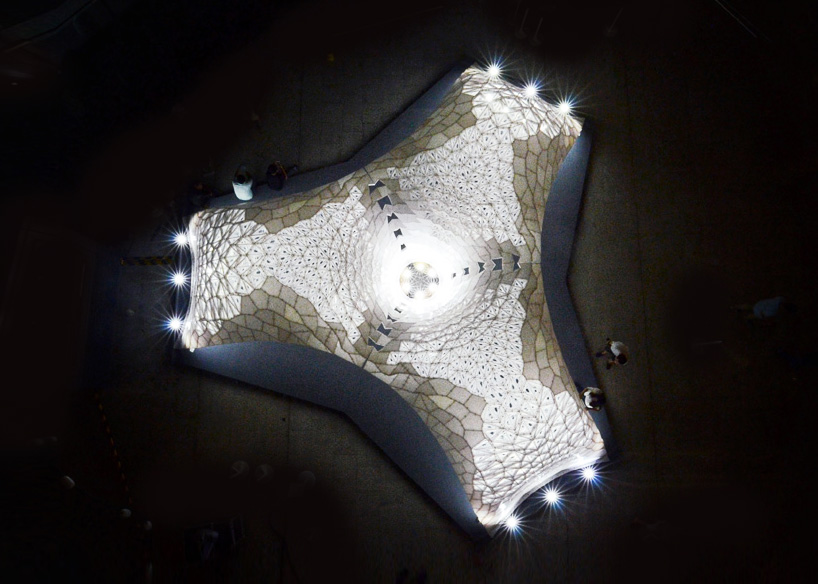 top view of the pavilion from the second level of parkview green
image by laboratory for creative design
1,086 different 3D-printed constructive units comprise the eight meter long, nearly three meter tall structure. it can be subdivided into three identical modules, thus making it flexible to fit the requirements of the exhibition site and activity area. the word 'VULCAN' is derived from latin, which in english means 'volcano' — a symbol for the unpredictable forces of nature, and the fragility of human civilization.
in its construction, the arched pavilion — aesthetically akin to the mushroom cloud that forms during an eruption — took 30 days and 20 large-scale 3D printers to complete each of the units, then 15 people for 12 days to assemble the pieces on site into the whole pavilion.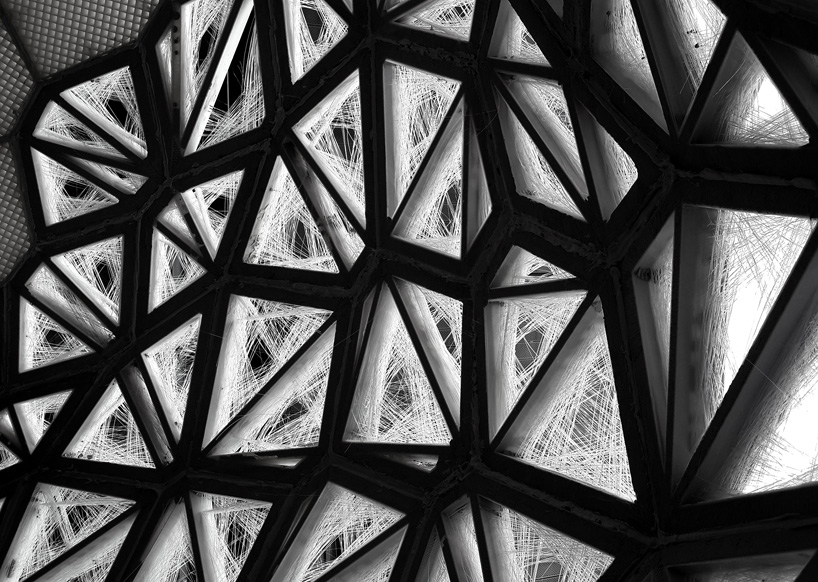 detail of the geometric units that make up the design of the pavilion
image by laboratory for creative design
'VULCAN' takes precedent from LCD's long term research in the spatial form of cocoons, where we constantly search for suitable methods for 3D printing and its artistic reinterpretations,' the team explain. 'in extrapolating the form from the cocoon's biological parent body, we seek to combine the 3D printing and spatial construction pro-cesses with the activities at the beijing international design week. it will create an open plan 'parent body' that can accommodate various activities for the public.'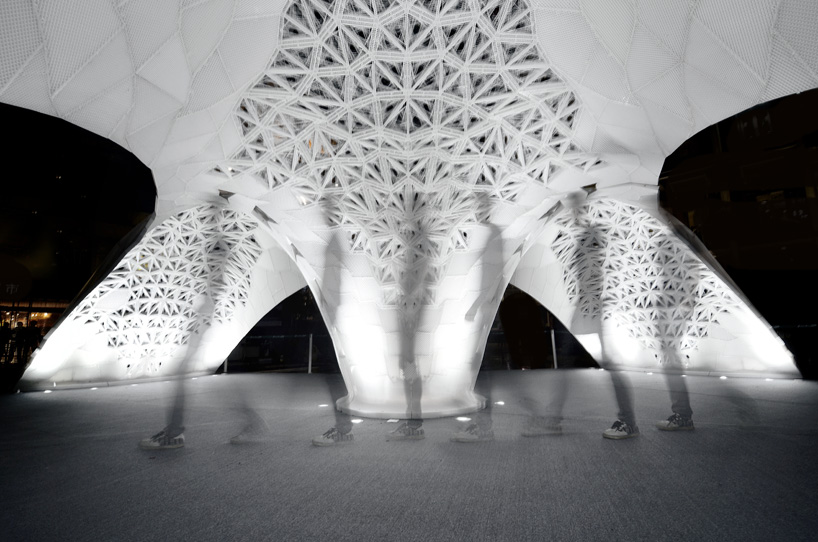 the shape is aesthetically akin to the mushroom cloud that forms during an eruption
image by laboratory for creative design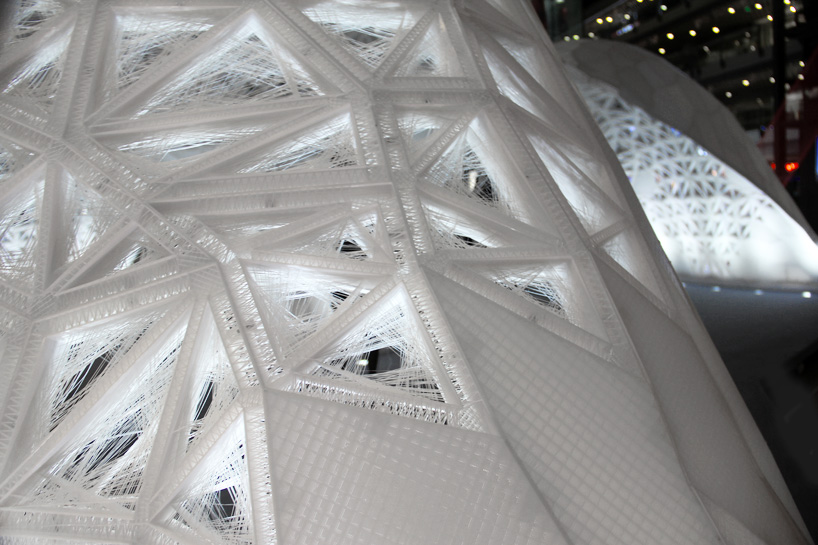 1,086 different 3D-printed constructive units comprise the eight meter long, nearly three meter tall structure
image © designboom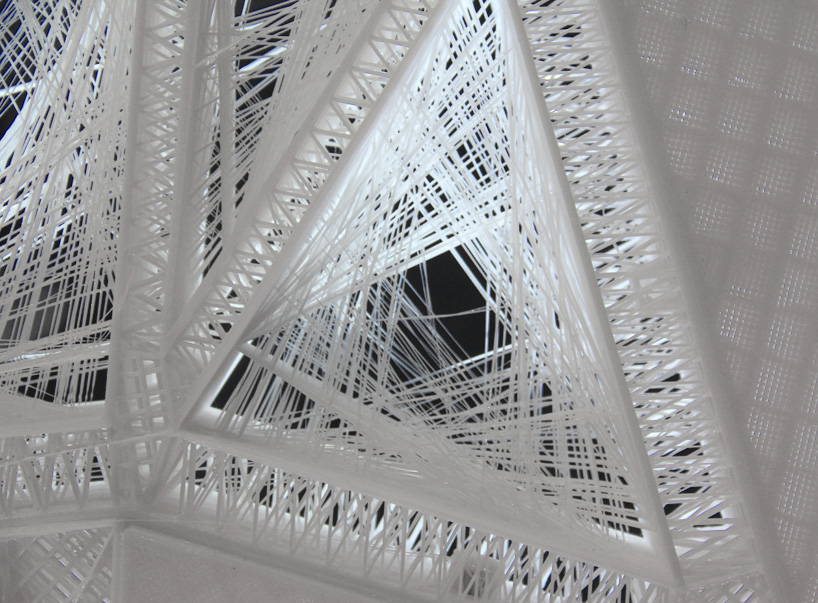 detail of the web-like filaments that stretch between triangular apertures
image © designboom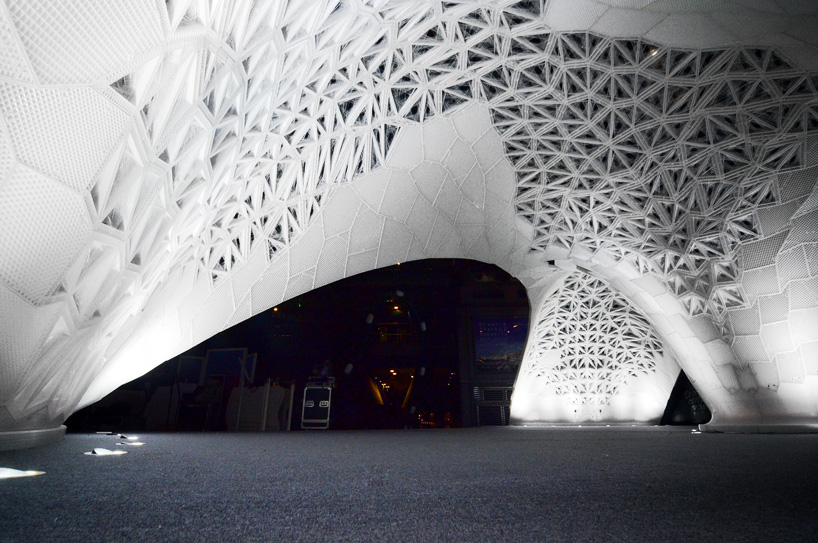 the structure arcs overhead visitors to the high-tech parkview green complex
image by laboratory for creative design

20 large-scale 3D printers were used to complete each of the units that assemble the pavilion
image © designboom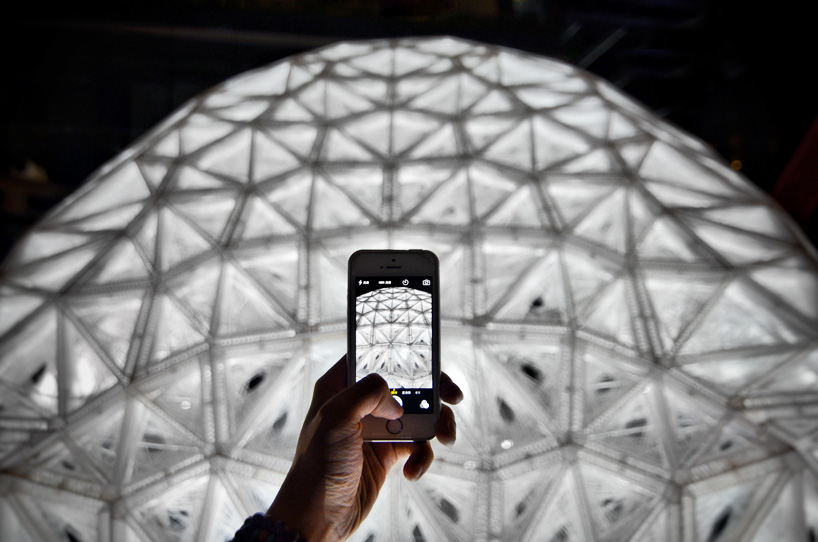 'VULCAN' is at the core of the high-tech commercial/office complex of parkview green
image by laboratory for creative design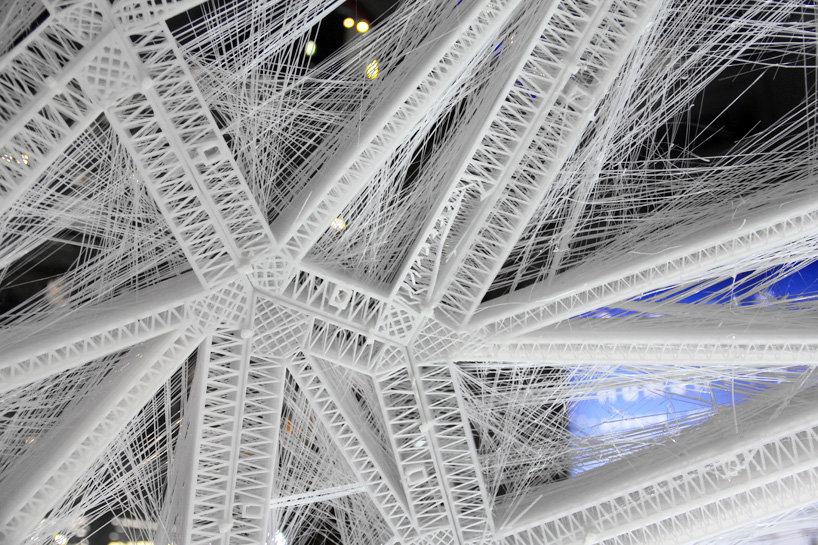 filament layers overlap and intertwine like a spider's web
image © designboom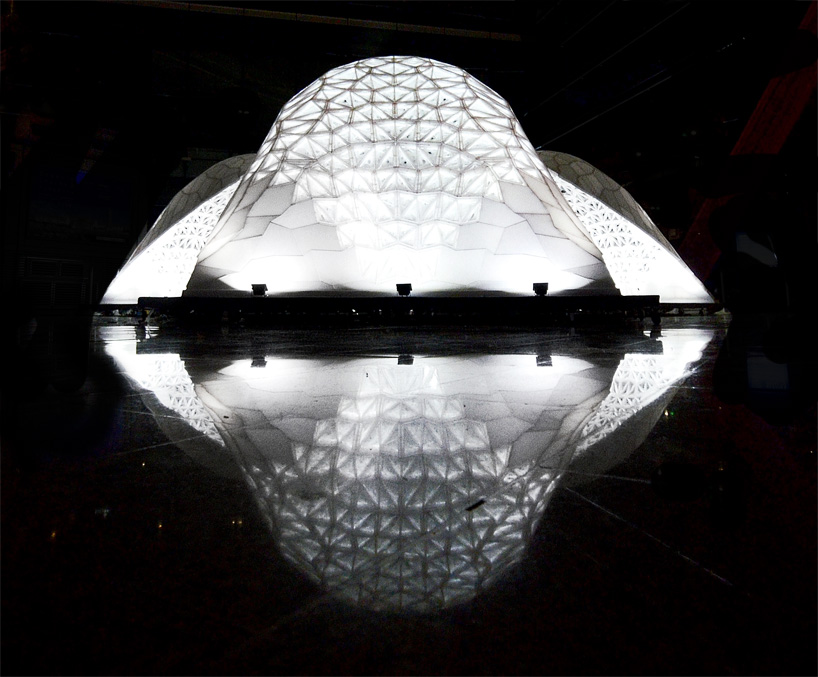 the project has been awarded the guinness world record for its size
image by laboratory for creative design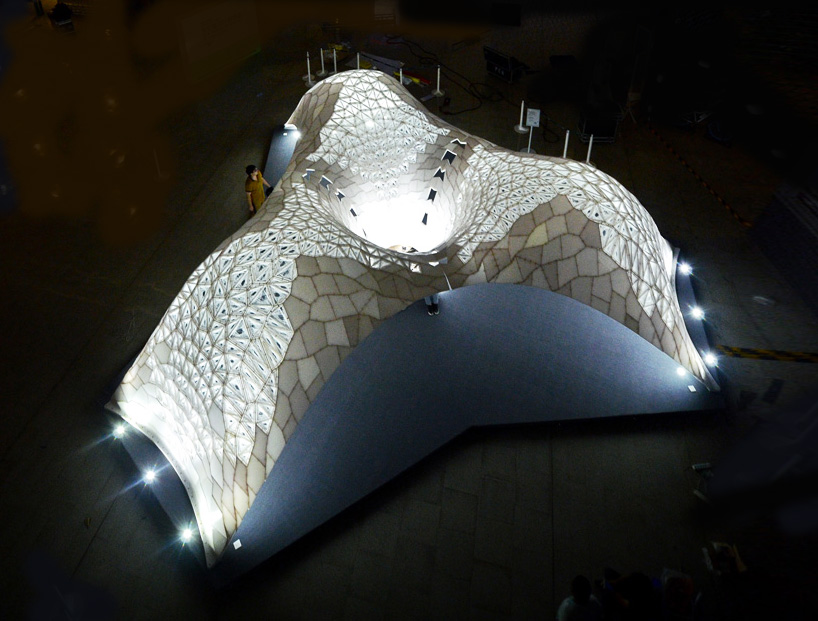 from above, the three identical modules can be easily discerned
image by laboratory for creative design
project info:
design & fabrication: LCD (laboratory for creative design)
design team: yu lei, feng xu, liu zhongyuan, xiao sai, guo wenqiang
sponsored by: beijing design week, acsc, parkviewgreen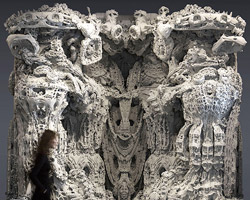 jul 14, 2017
jul 14, 2017
jul 14, 2017
jul 14, 2017
jul 13, 2017
jul 13, 2017
nov 19, 2015
nov 19, 2015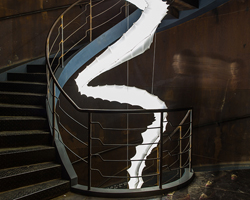 nov 16, 2015
nov 16, 2015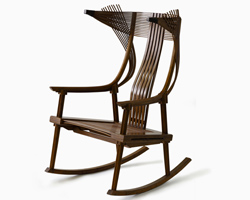 nov 07, 2015
nov 07, 2015