feb 19, 2011
WAI architecture: football school and training center
'escuela de balompié de san juan' by WAI architecture, puerto rico images courtesy of WAI architecture think tank
beijing based studio, WAI architecture has designed 'escuela de balompié de san juan', a football school and training center in san juan. the multi-purpose facility aims to create a space that improves the conditions of public education and sports development in puerto rico. intended as a paradigm of civic enterprise, education and high-level training, the building is accessible to, and merges, students and athletes from the surrounding community.
using the archetypical principle of 'anima sana in corpore sano' (sound mind in a sound body) as its ethos, the school integrates four main areas of activity – study, practice, rest and recreation – into a series of continuous spaces.
library
structured around a private garden, the facility features four intersecting wings, each housing a different program.
classrooms on the third floor branch off of the lobby to extend over the bleachers, providing shelter from the elements during games. the dormitory wing containing 28 rooms and a cafeteria, breaks away from the u-shaped plan, projected as a slender volume that overlooks the football field.
back of school and field
a contrasting plane transversely divides the structure, proving access to functions on the third floor from the playing field. benches are carved into the side of the ramp, giving it dual purpose and replicating forms that exist within the main building
entrance at night
floor plan / level 0
floor plan / level 1
floor plan / level 2
section
section
section
exploded axo
axo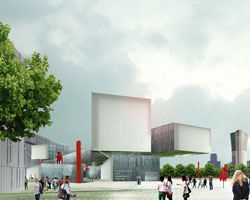 jan 12, 2014
jan 12, 2014
oct 09, 2012
oct 09, 2012
jul 14, 2012
jul 14, 2012