may 17, 2016
weiss / manfredi uses perforated brick on new performing arts center in dallas
weiss / manfredi uses perforated brick on new performing arts center in dallas
image © albert večerka/esto
new york city-based firm weiss / manfredi have completed their first performing arts venue located in dallas, texas. 'the marshall family performing arts center' houses three performance spaces: a proscenium theater with a 65-foot-high fly loft, a state-of-the-art studio theater, and a light-filled dance/choral rehearsal room. measuring at 65,000-square-foot, the design has been approached with a constant dialogue between building and campus.

 illuminated soffits and overhangs provide shade and support outdoor teaching
image © albert večerka/esto
the building's configuration has established a transition of spaces that shape an outdoor courtyard and frame views out to the existing campus. a volume containing the dance and rehearsal space cantilevers out the building to form an overhang that provides shade and support for outdoor teaching and the entrance. meanwhile, the patterned print on the glass envelope produces an interesting play of light and shadow-outside onto the courtyard and into the large atrium.
conceived as an ascending gallery of collaborative spaces, the lobby connects all the performance venues and creates a destination for informal performances and spontaneous interactions. the multi-purpose proscenium theater includes a fly loft with the studio theater seating up to 150 people. additionally, the digital film and video production lab extends the performing arts into new virtual territories.

the profile of the building emerges from the topography of the site
image © albert večerka/esto
the dramatic profile of the building emerges from the topography of the site and continuously ascends to reach the fly tower for the theater. the exterior brick complements chromatically with the materials of the rest of the campus. ultimately, weiss / manfredi uses architecture to shape and give measure to the performing arts center's commitment to teaching, performance, and production across the boundaries of individual performing arts disciplines.

one of the rehearsal spaces inside the greenhill school, a preparatory school outside of dallas
image © albert večerka/esto


the perforated detail on the main staircase
image © albert večerka/esto

the lower light-filled lobby enclosed by a curtain wall
image © albert večerka/esto

the building as a whole has been conceived as an ascending gallery of collaborative spaces
image © albert večerka/esto

the studio theater
image © albert večerka/esto

the proscenium theater can seat up to 600 people
image © albert večerka/esto

the proscenium stage from orchestra level
image © albert večerka/esto
apr 21, 2017
apr 21, 2017
apr 13, 2017
apr 13, 2017
jul 01, 2016
jul 01, 2016
jul 23, 2017
jul 23, 2017
jul 20, 2017
jul 20, 2017
jul 18, 2017
jul 18, 2017
jul 18, 2017
jul 18, 2017
jul 13, 2017
jul 13, 2017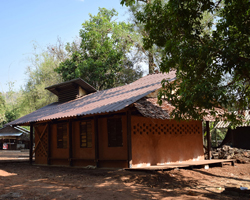 jul 03, 2017
jul 03, 2017
may 16, 2016
may 16, 2016
oct 03, 2014
oct 03, 2014
may 10, 2012
may 10, 2012