'one manhattan square' is a residential tower currently under construction in new york's lower east side. once complete, the waterfront building — which will rise to a total height of 800 feet (244 meters) — will be surrounded by a 1-acre private garden designed by urban planning and landscape architecture firm west 8. the setting includes a wide range of spaces, from barbecue areas to romantic fire pits and treehouses.
designboom spoke with west 8's co-founder adriaan geuze about the design, who explained what he and his firm wanted to achieve with the garden's layout, the challenges he faced during its development, and the importance of integrating different types of environments within a singular project. read the interview in full below.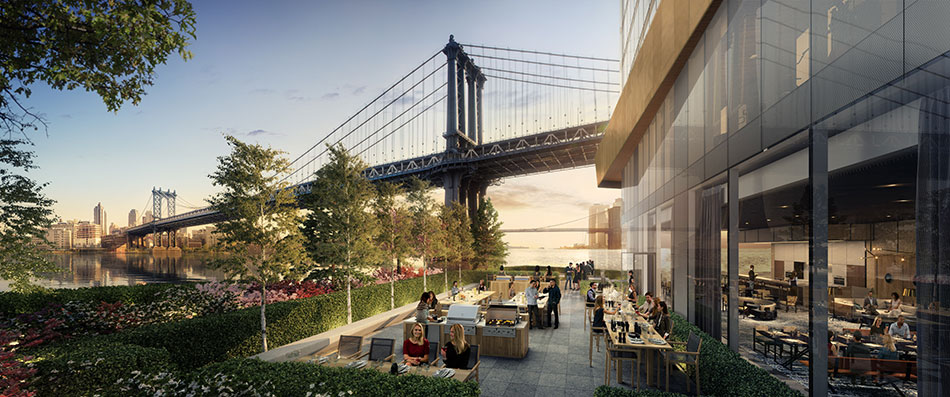 the project is located in close proximity to the manhattan bridge
image by wordsearch
designboom: what was the initial brief for the project? what kind of atmosphere are you looking to create in the garden?
adriaan geuze: the project brief called for the creation of an urban garden oasis amidst one of the most bustling and energetic areas of NYC. it asked for a landscape design that took advantage of the amazing views toward the east river and the manhattan bridge, while offering a variety of experiences and activities to future residents. west 8 expanded on this brief through the unique lenses of the landscape architect and the garden designer. we sought to create several distinct landscape atmospheres — formal courtyards, romantic azalea gardens, and wild sumac slopes. within each of these landscapes the team created rooms and pockets for different rest and recreational opportunities.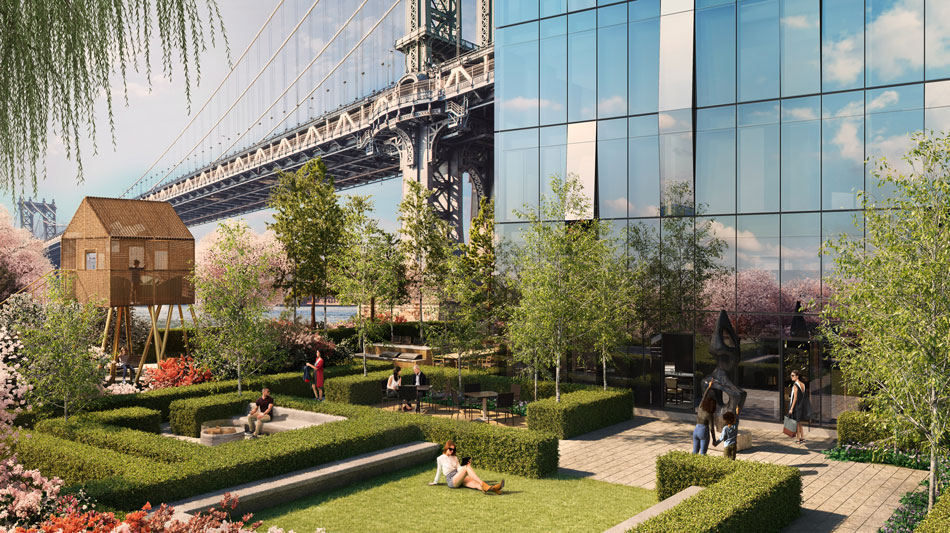 the 1-acre garden contains a range of different zones
image by wordsearch
DB: was it unusual to be asked to design a private garden of this scale in the center of new york?
AG: one manhattan square presented a unique opportunity for us. it is one of the largest private outdoor gardens in NYC, and it is a contiguous garden space that ramps from the sidewalk all the way up to the 5th floor. this type of design opportunity is practically unheard of in NYC, let alone in an area as dense as the lower east side. this is not your typical roof garden. the size and complexity of the site allowed us to create a sequence of garden spaces.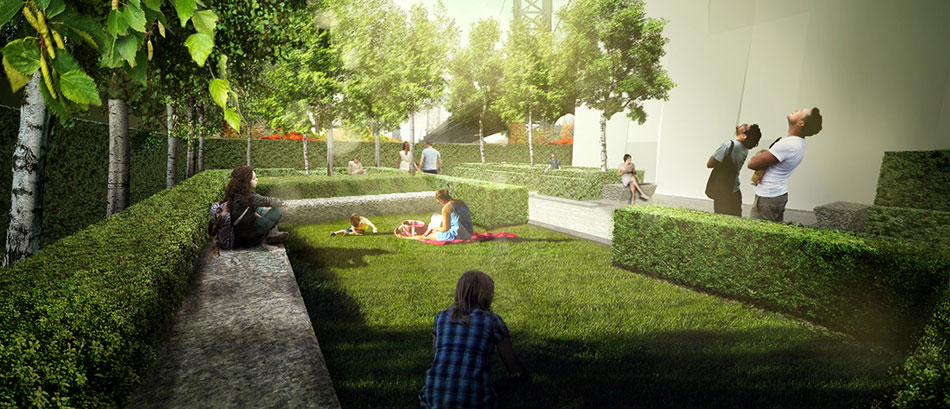 hedges have been used to block out noise
image by west 8
DB: what has been the most challenging aspect of the project and the site itself?
AG: we see the site as an opportunity, but it is a complicated site with a lot of complexity and there are many players that have come together to produce the final design. the site's proximity to the east river and the manhattan bridge is an amazing amenity for views and breezes. however, the bridge and the FDR [east river drive] do create a significant amount of noise, and the breezes coming off of the east river can sometimes be quite strong. these factors needed to be mitigated in the design, which we did by lining the entire roof garden in evergreen hedges, with overlook moments provided in key places throughout the design. these hedges provide a dignified green edge to the interior garden spaces, while partially shielding them from the wind and noises coming off the surrounding cityscape.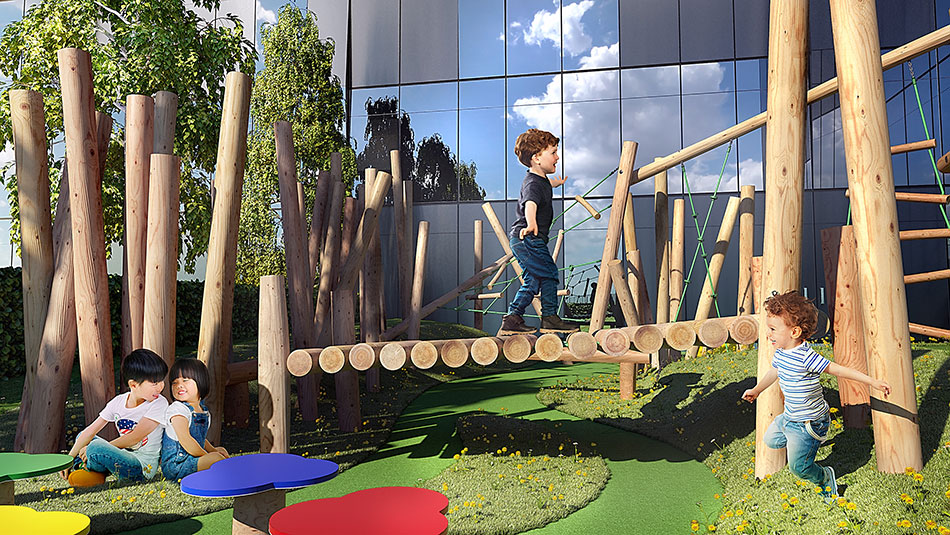 a children's play area replicates the geography of new york
image by wordsearch
AG (continued): the project coordination has also been an interesting challenge. the roofscape is not the simple, flat plane that one would expect. the architects have provided us with a base condition that includes several challenging slopes, each with a different pitch and aspect. each of these has been designed as a different garden experience, taking advantage of their unique qualities.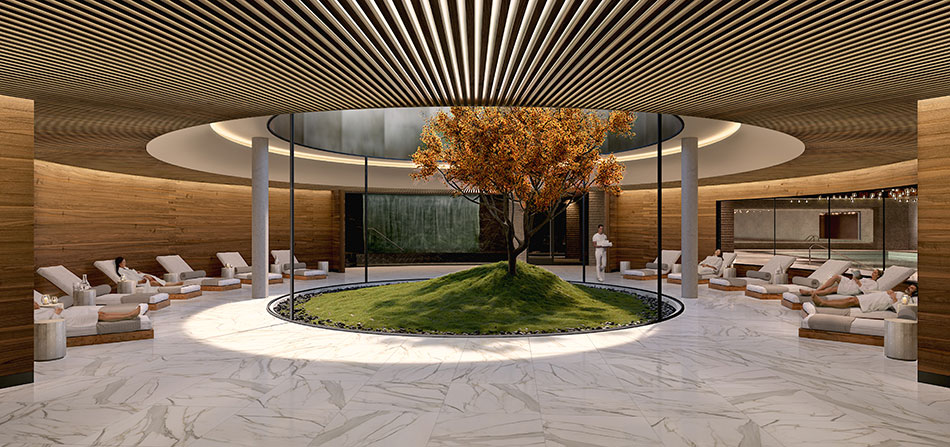 the scheme seeks to create an urban oasis for its residents
image by wordsearch
DB: how do you intend to keep the garden an active and occupied space throughout new york's changing seasons?
AG: seasonality is important in garden design, and because this is a dense and active residence year-round, our garden designs had to be beautiful and welcoming in all seasons. our approach relied heavily on plants to provide this seasonal interest. there are evergreen hedges, ground covers, and ornamental pines throughout the project that will be an amazing contrast to the snowy winters of NYC. in the spring, the cherry trees and azaleas will be the showstoppers with their colorful blooms. in the middle of summer the sumac and birch trees will render this rooftop a verdant green oasis. sumac turns the brightest red in the fall, which will compliment the yellows of the birch trees – and the red berries of the sumac persist into winter alongside the beautiful texture of the peeling birch bark.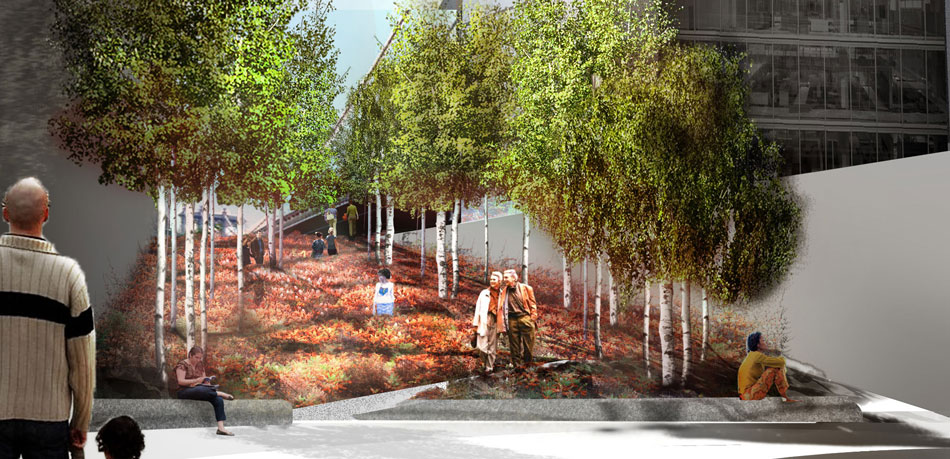 red sumac plantation will add vibrancy to the design
image by west 8
DB: how does the project compare to your previous commissions, in particular your work on governor's island? were you able to apply some of the same successful aspects?
AG: governors island is a large public space, physically separated from the city, while this is a private rooftop that is embedded in the city fabric. they are fundamentally different commissions. however, there are some noteworthy similarities: both of these projects aimed to be oases apart from the concrete jungle of manhattan. we took some of the lessons from governors island to achieve this. specifically, the use of seasonal plants, many of which are native species, was important for both projects. also, the need for quiet nooks and intimate seating areas occurs in both projects, though at different scales.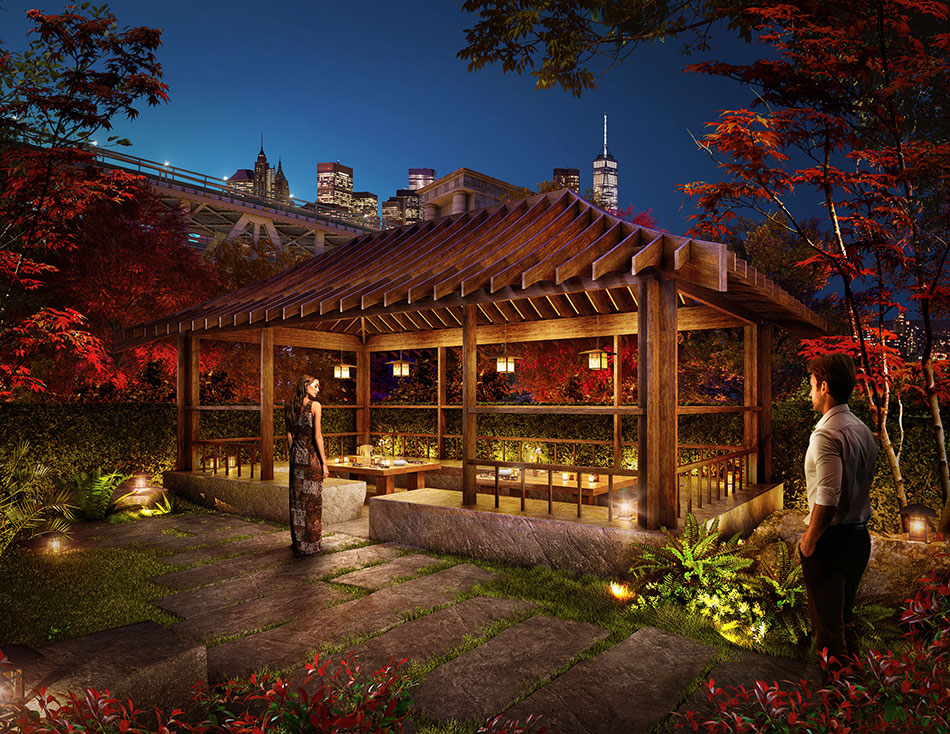 a japanese inspired tea garden includes a wooden pavilion
image by wordsearch
DB: from intimate settings, to more grand spaces, how important is it to integrate different types of environments within a project like this?
AG: creating different types of environments is essential to this type of project. this is a garden project, and the tradition of garden design calls for a variety of spaces created with the textures, colors and materials of the natural world. we wanted to bring the splendor of the natural world to the residents of one manhattan square, and to use this palette to create spaces of different sizes and characters for a variety of recreational activities and socializing.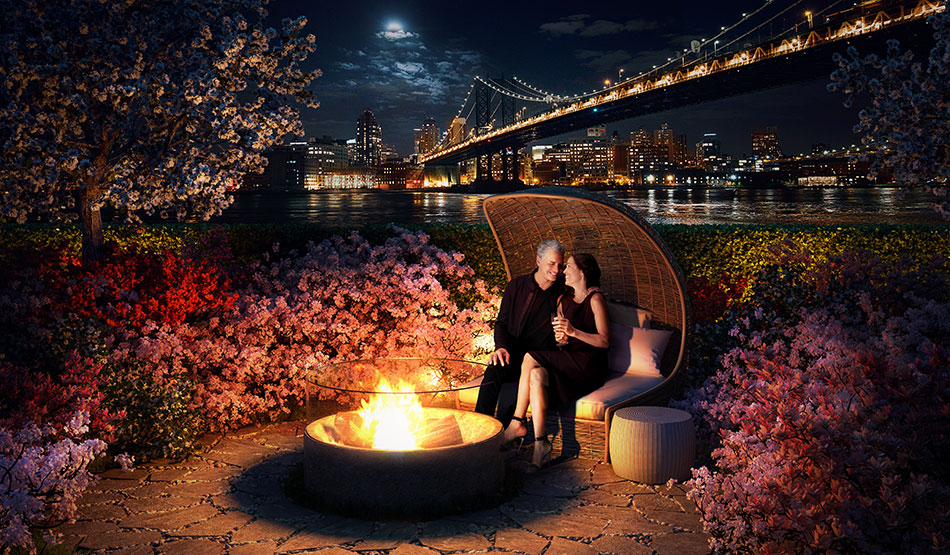 romantic fire pits are also featured as part of the plans
image by wordsearch
AG (continued): at the street level, we designed a grand public staircase and plaza with granite steps and cobbles and a circular planter contained in a sculpted seat edge. on the 5th floor is a japanese inspired tea garden with a wooden pavilion, where residents can quietly socialize in a highly composed and tranquil garden space. between these two extremes one can find every size and quality of garden space between; social courtyards for barbecues and parties, secluded outdoor fireplaces for romantic engagements, exciting play spaces for the children, and large swaths of green surrounding ramps with stone benches for respite.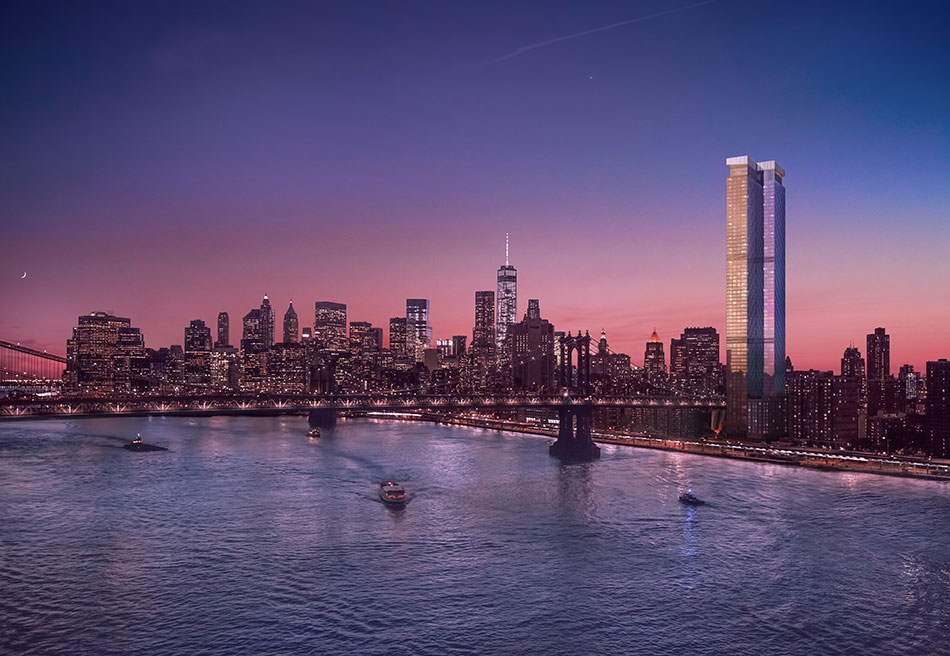 'one manhattan square' is a residential tower currently under construction
image by wordsearch
DB: generally speaking, how much and what kind of analytical research goes into each of west 8's designs?
AG: west 8 starts every project by analyzing the site for its essential conditions. for this project, for example, analysis of the building massing for sun and wind exposure in all seasons was critical because the landscape wraps all sides of the building and climbs into the sky quite dramatically. understanding these baseline conditions is important in designing the character of each space and selecting the correct materials, plants, and programs for each garden room. west 8 uses this type of analysis as a foundation, but brings a level of playfulness, ornament, and inspiration to each of its garden projects.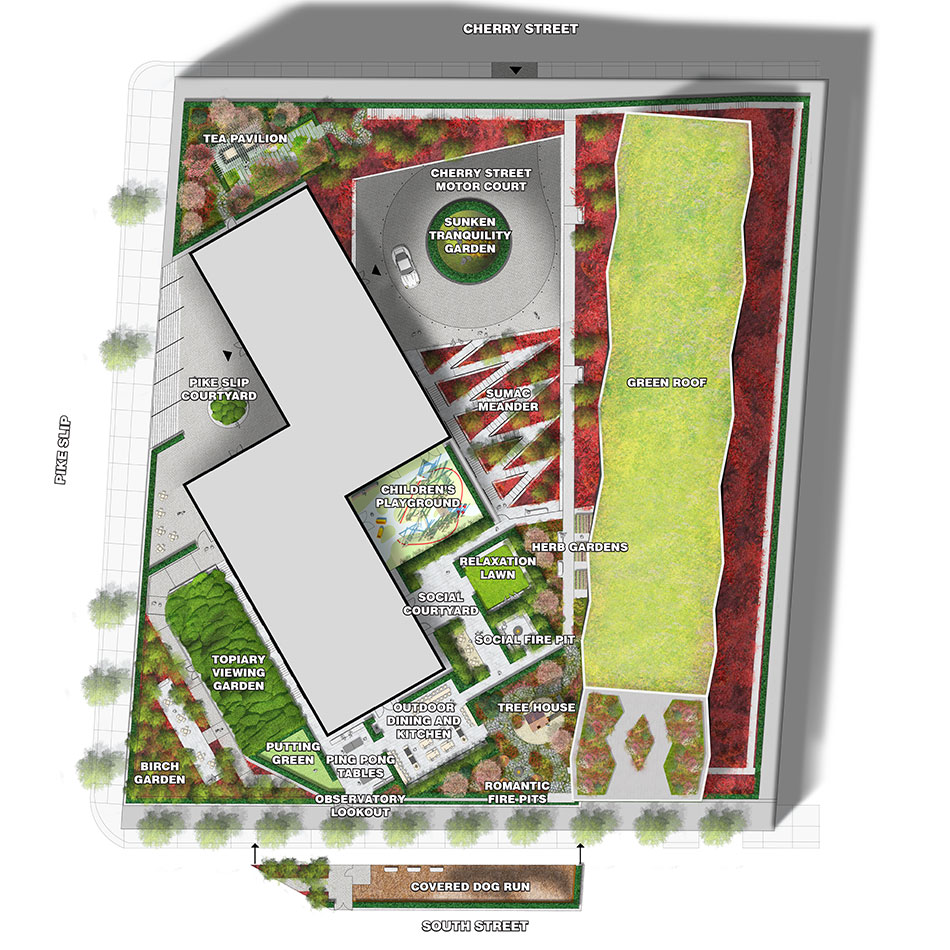 site plan indicating the garden's layout
image by west 8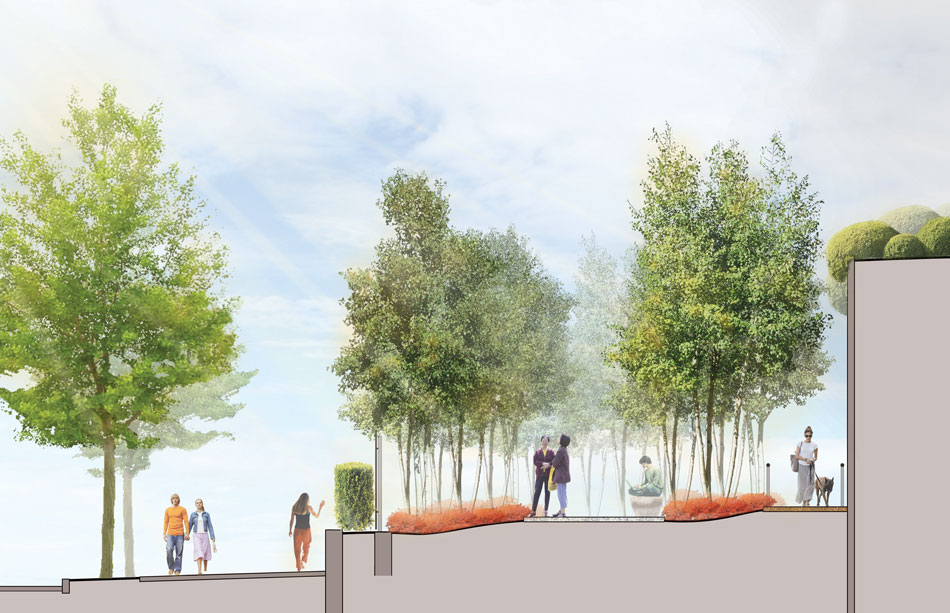 sectional diagram
image by west 8
Save
Save
Save
Save
Save
Save
Save
Save
Save
Save
Save
Save
Save
Save
Save
Save
Save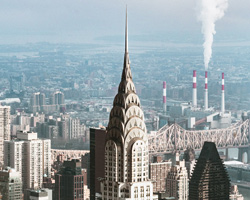 may 21, 2020
may 21, 2020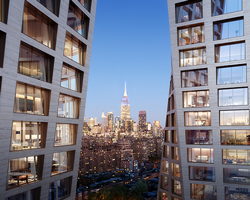 may 17, 2020
may 17, 2020
may 10, 2020
may 10, 2020
apr 05, 2020
apr 05, 2020
mar 30, 2020
mar 30, 2020
mar 10, 2020
mar 10, 2020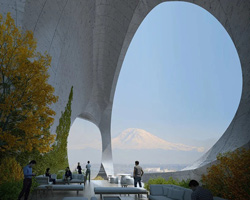 jun 04, 2020
jun 04, 2020
jun 04, 2020
jun 04, 2020
may 26, 2020
may 26, 2020
west 8
(21 articles)
jul 21, 2016
jul 21, 2016
dec 07, 2014
dec 07, 2014
aug 29, 2014
aug 29, 2014
a diverse digital database that acts as a valuable guide in gaining insight and information about a product directly from the manufacturer, and serves as a rich reference point in developing a project or scheme.