'there is another kind of emphasis this year, the urbanistic part is not there so much,' mentions winy maas, 'which is respectable, because every biennale should be different and very personal, that's what makes it interesting.' during this year's venice architecture biennale, designboom met up with the MVRDV co-founder to discuss the firm's participation at the time – space – existence exhibition, organized by the european cultural centre and the GAA foundation, its presence at the hong kong pavilion, as well as maas' fascination with albania and film.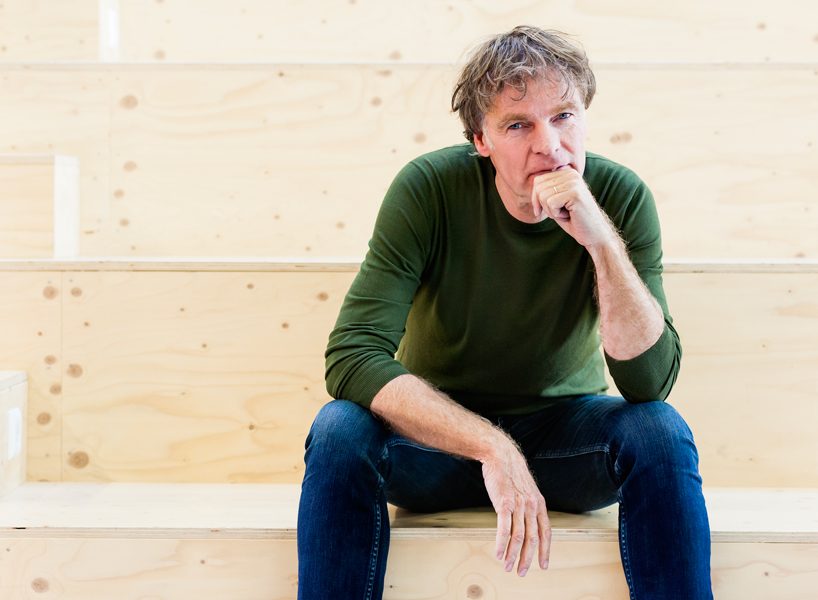 winy maas | image © barbra verbij
designboom (DB): what are your first impressions of this year's biennale?
winy maas (WM): we are showing some things here, but not as much as other times. there is another kind of emphasis this year, which is respectable because every biennale should be different and very personal — that's what makes it interesting. but that means that the topics that we are focusing on don't have the same interest. for example the urbanistic part is not there so much, as well as the so-called 'visionary' part. I did love the belgian pavilion, I think it's one of the smartest. rem (koolhaas) did it a while ago, with a new flag and work on diversity and unity, but there are not so many architects that make political statements. many of them are afraid of politics, they think they will lose connections by that… it's really irresponsible to only think about beauty. I also appreciate the israeli pavilion, because they don't take a political stand yet, but they have beautiful studies on what religion is doing and what it cannot do. they did a good job, and they worked on it a lot — I would like to see the next step.

DB: with which projects is MVRDV participating this year?
WM: one thing we are part of is the hong kong pavilion. I like hong kong a lot because I think it's one of the places in the world that has the highest density in the world, combined with the highest amount of green, and the highest amount of public transport — which is fascinating. it's good to see it as a model, as a test ground, and this is the first step in that test ground. I teach regularly at the university of hong kong and this study, with many other architects, is trying to find out if we can escape from the current housing situation. one thing that is not good in hong kong is housing, or social housing. somehow it's not so free, and it's not as diverse. at the moment hong kong has to compete with shenzhen, and we want to emphasize on quality. so the next step has to be made and that's what the exercise is about. it is a repertoire of inventions and suggestions, but it's still limited because it's still within the idea of the pencil tower, the thin tower, and it's not about urbanism.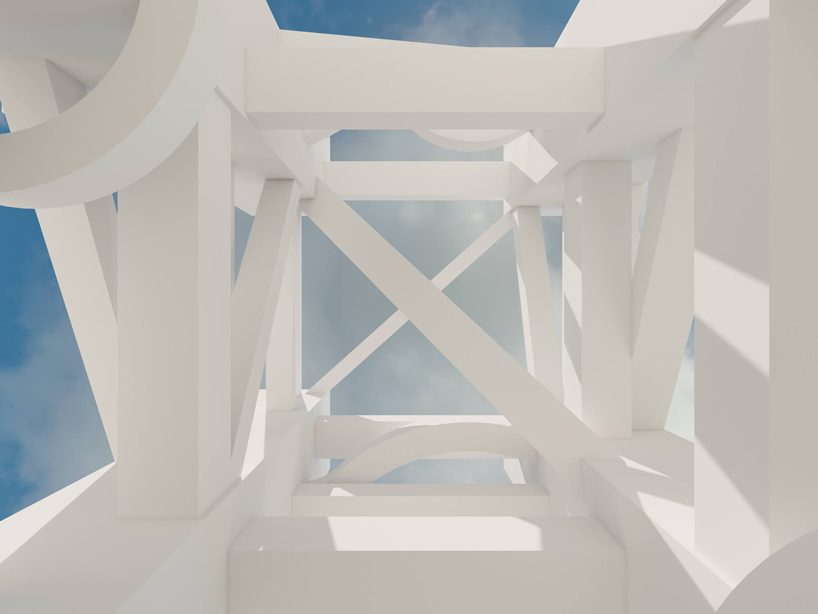 avatar 2.0, MVRDV's participation at the hong kong exhibition
image courtesy of the hong kong exhibition and MVRDV
DB: and you are also showing the crystal houses project at the 'space – time – existence' exhibition?
WM: yes, glass bricks are somehow getting popular, which is nice! we'd like to do it in other places after the chanel store in amsterdam, so I'm going to beijing to discuss that. the bricks will probably need to be thicker, and the next step is that they will also carry light.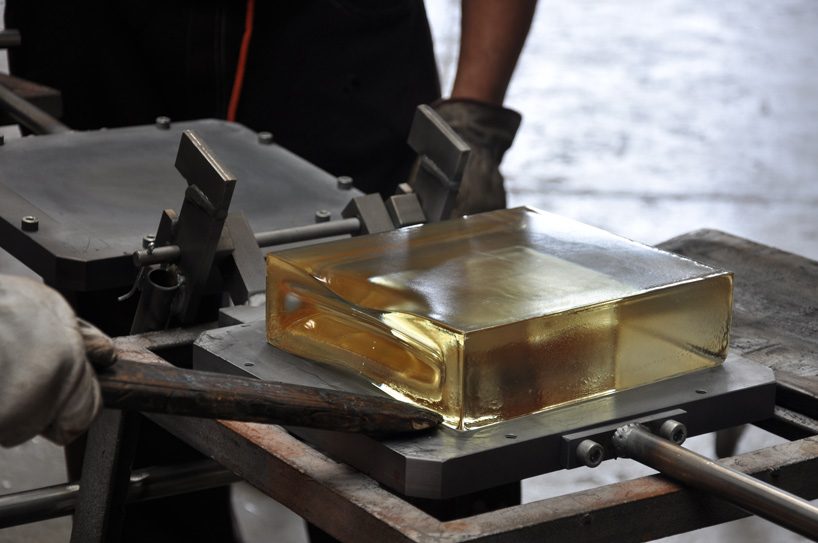 at time-space-existence, MVRDV gives some insight into the time and intensity behind the making of the crystal houses project, in collaboration with research partners at TU delft and the glass-makers at poesia
image © poesia
DB: I find it an interesting material because it deals with the topic of preservation in an innovative way. you look around venice and see that preservation translates into the city remaining as it is, which is not good or bad, but there are other cities that find ways to allow for more space for things to move forward…

WM: certain cities have to… venice doesn't have to and shouldn't probably. although it does get boring sometimes around here. however, other places have fewer problems with UNESCO. having said that, I know that somehow the crystal houses deal with that. in the same street in amsterdam, we are going to make two other exercises that deal with the same theme: one is a shop with the biggest door ever made, and it is completely invisible; and the other is a test on how concrete and glass can be submerged, as it will be a concrete façade. the big door will come soon, it's approved everywhere. so we are dealing with the last technicalities and will start soon. the development of the new submerged glass and concrete is in testing now — I hope we'll finish the tests six months from now.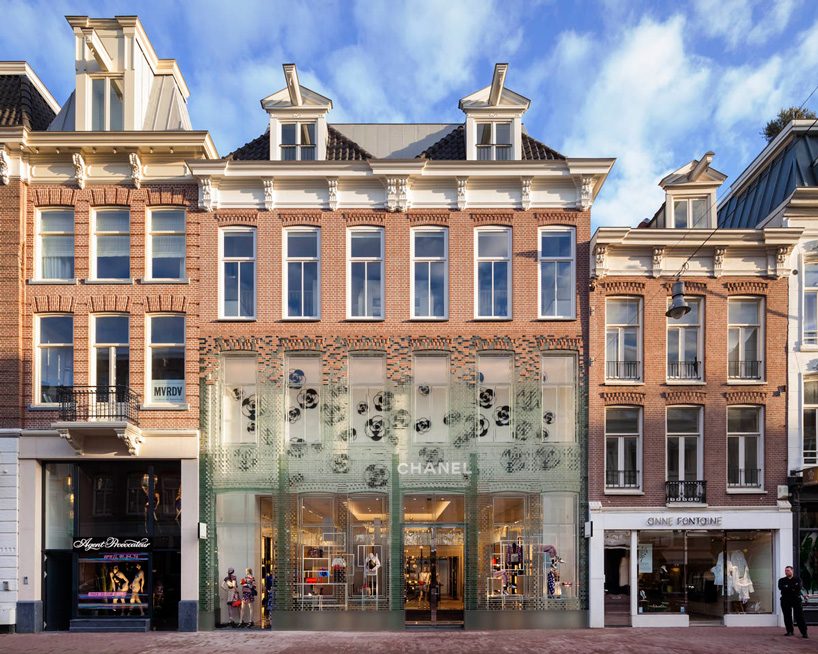 the chanel boutique in amsterdam
image © daria scagliola & stijn brakkee
DB: and you just did a bed interview at the dutch pavilion…
WM: yes, I think the format is quite interesting. it's not that new, but in this case it's kind of nice because it's commemorating yoko ono and john lennon at the hilton hotel 50 years ago. beatrice (colomina) is very nice and she is really into the domestic somehow. we talked about the act of sleeping and what you do in bed, but we also tried to extend it a little bit, push it to research on what we do on social housing. for example, the idea of getting rid of the bed or the bedroom. we talked about our hotel, the lloyd hotel in amsterdam where you have 50 types of different beds. one is in a niche, one is next to the bath, the other one is very long — 15 people can be in it — it's a nice collection. we also talked about the next hotel we are making that is called (W)ego, from ego to we-go. we did a test during dutch design week in eindhoven last october, and the hotel will be there. basically it's a transformer. all the walls, toilets, and bathrooms can move. it's modular, almost like a robot, and you can order your room and negotiate with your neighbor. that means that every bed is different. we also did a bed show there last october, it was staged in an NH hotel with a good film crew from the US. it was very nice, we were all not at ease but it felt very free and strong.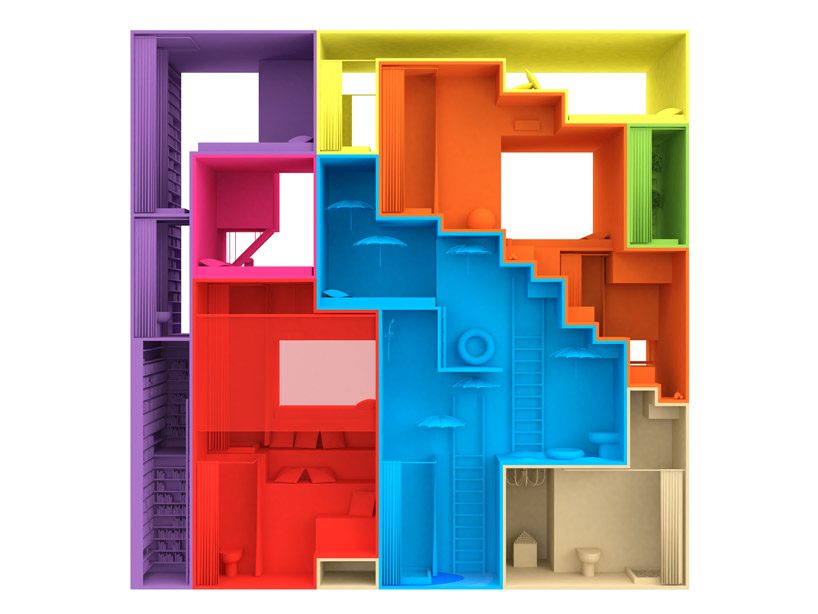 3D render of (W)ego house courtesy of MVRDV

DB: are you interested in a film-based approach to architecture?

WM: well, with the why-factory we made the 'imagination of future cities' to help filmmakers basically for sets. we have a liaison with some science fiction writers, and two science fiction films will come up, one european, which is nice because there is a difference between european science fiction and american. european science fiction is much more human, more normal, it can happen everywhere. so in that way I think it's more dangerous. I find it very nice because I think film making helps grab the attention of an audience for many minutes, so you can tell a story about many things. it's very nuanced, it's not a one-liner, and that's what I love about it. film is so virtual that you can make whatever you want. the question is, what do we want?

DB: are you in the process of making these films right now?

WM: yes, we are making the scripts. not we, there's a scriptwriter of course, but we discuss it with them. because scripts are not neutral, there are questions like what kind of city it should be, what environment it should be, what are the probabilities, what are the technicalities of a future city… that's one part of film that I like. we've also just made an installation in st petersburg, where we tried to make assumptions of what russian cities could be. why russia? because, I like it somehow. there is a huge tendency that russian cities such as moscow, st. petersburg and kazan will grow, so we are looking into how to do that. so many houses have to be renewed and other houses have to be made. it's quite massive, and there is a tradition of massiveness in russia. the question is, what can we do? so we make the students create these fantasies about what st. petersburg could be and how the city would look like when they use that fantasy. the film is nearly finished and will be shown at the hermitage in june. it's less advanced of course than science fiction films, but it has its touch. we used the same method for eindhoven, and you can see what kids did with the future of eindhoven.

ici

eindhoven workshop 'how do you imagine the future of city centre of eindhoven?'

DB: do you see these projects realized in any degree?

WM: in the case of eindhoven, it was a kind of brainstorm session at the start of my supervisor of the city role — to see what does the younger generation think and how to make these things manifest. at this very moment we have developed six high-rises for one plaza in eindhoven that talk with each other. one of the towers will be constructed in the coming year, and the other ones will start later. this is the first test of the 'eindhoven collection' of 100 different towers that somehow create a beautiful collection in the city. one third of my task concerns the urban space, so we are making a new carpet over the whole city — the tests will be open in september — and then we'll do a complete new greenery of the plantation, also on the roofs. it's an ugly city so it's easy.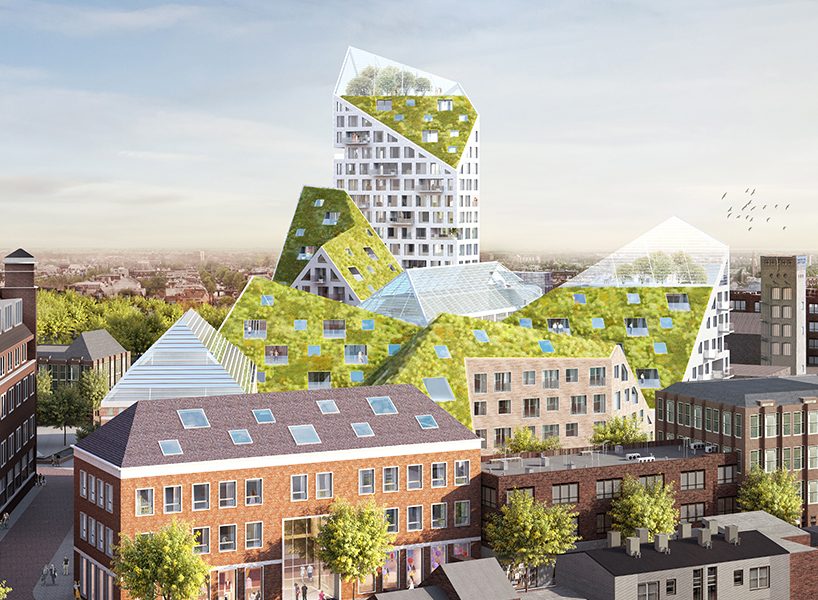 MVRDV's nieuw bergen, a series of sustainable residences featuring green roofs to be built in eindhoven
DB: can you tell us a bit about the tirana pyramid in albania?
WM: the pyramid took a while and it's one of my favorite, most passionate exercises. it's part of a big whole, part of my belief in albania — I find it a very energetic place. for 12 years we have worked with edi rama (albania's prime minister), with erion velia (tirana mayor), and with the mayors already on this emerging situation. what I said in a recent speech is 'UK out, albania in' and I tried to show the spirit of albania. the pyramid is one of the elements — of course hoxha was a horror dictator and it was funny that he made this thing, but it's also a beautiful thing and people have very mixed emotions. they went to parties there, they went to communist appearances. then, afterwards, they used it for graffiti, they used it for films. they went up and slide down, and some people were killed, because it's very dangerous. we were thinking what to do with it, and discussing with possible investors and with the government to see what it could be. we decided that first we have to open it up and get rid of all the glass so that it feels like a park. then we have to stabilize the structure, and make it accessible with stairs, so everyone can go up. right now only the youngsters can do that. then we can let it be inhabited by a young IT, tech group, a school basically, and performances of the film festival group — let it be invaded. what you see right now is the first step, first is the invasion and then the flood.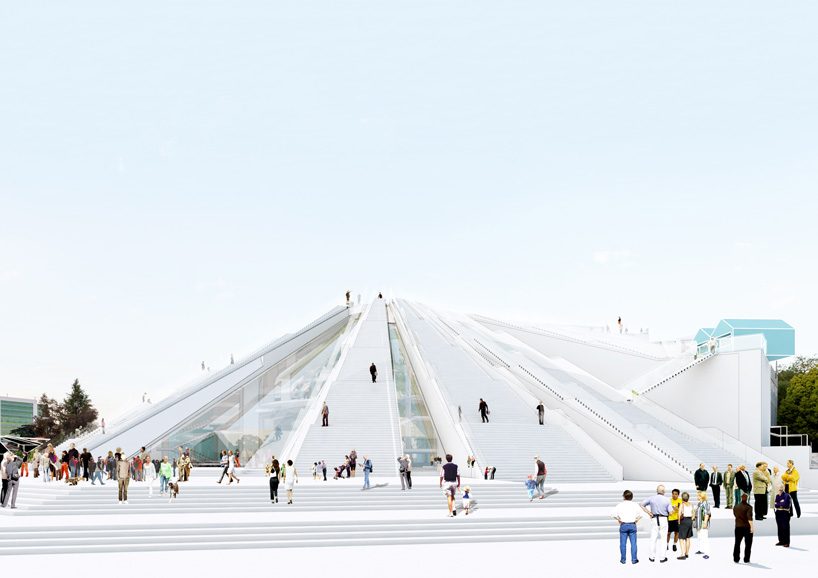 visual of the tirana pyramid by MVRDV
DB: following on from what you said, that all these years people have appropriated it in different ways, climbing on it, partying there, using it for graffiti and so on – do you think that after cleaning it up it's still going to be inviting for people to use it as they want?
WM: this is an important theme of the discussion, how far can you go before it loses its magic, and that appropriation somehow keeps its adventure. one thing is that you cannot keep it as it is — it's really too dangerous. it's also a bit of an emancipation process, like the reichstag in berlin, it's going to happen… but I find it a good question, how to keep up the spirit. it's definitely a change, and in this case more people will be able to go up. it's also the maintenance, how the new management is going to be; and it's a good point to take in the next discussion.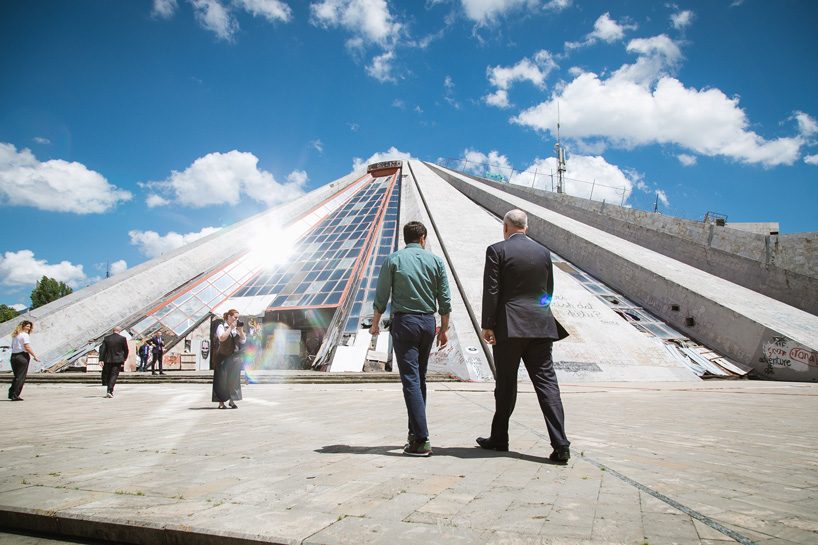 visual of the tirana pyramid
image by gent onuzi
DB: so, is albania's architecture and infrastructure on the rise?
WM: yes. for example, the new skanderbeg square. I think it's fantastic, as well as the further development of the tirana forest is beautiful. we participated in that also — for every plot we designed, we add a piece of forest, and it's very nicely done by a botanist, not by a landscape architect. the first tower we are making will be about 400 units. we have 'pushed' them in such a way, like when you push your hand onto a needle in the form of a figure, and the figure is the map of albania. it plays with that kind of emotion of nationalism of course, which makes it a tradition of the eastern european countries that have always showed a kind of pride — I like that.
that's why I say 'UK out, albania in' — I love europe because of its variety, and of course I hate nationalism, but I love the albanian flag! it's one of the sexiest flags I've ever seen, it's much better than the dutch! it needs to get some attention, it's the poorest country in europe, it has almost no economy — how can we make an advertisement for that? and what kind of advertisement?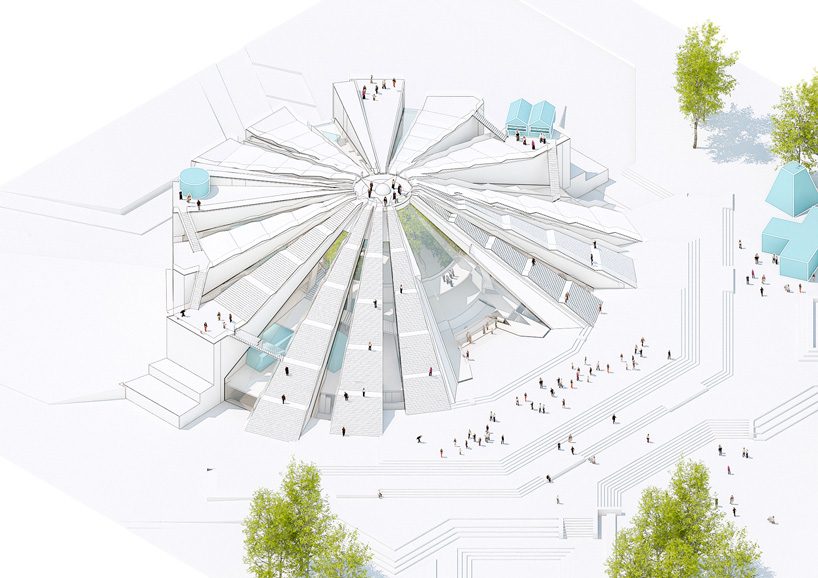 view of the tirana pyramid by MVRDV
DB: are there more projects that MVRDV is working on there?

WM: there is another tower coming up which looks like a face! that is one thing, and at the same time we do a lot at the coast. we clean it up, and try to get rid of all the impossible structures. there's a policy where every city tries to create a kind of waterfront, a walk basically, designed by different architects. we also try to facilitate the bigger hotel chains like the W, and we designed it as MVRDV. it's a huge beam with rooms and it is on top of a canyon that comes into the sea. the beam is silver and reflecting, and there are two lifts that go down to the beach — the beach remains public. it's like a dropped silver bar. you can say 'ah, but this is not hipster, this is not in the nature zone, how can you do that?', but it also facilitates a middle class, or an upcoming middle class… and it looks quite james bond!
I am involved in various things there and it's not because I earn much money with it, but it's sympathy. I sympathize with the prime minister, edi rama, and erion veliaj, the mayor of tirana, and the mayor of durrës… the country will change a lot in the upcoming years.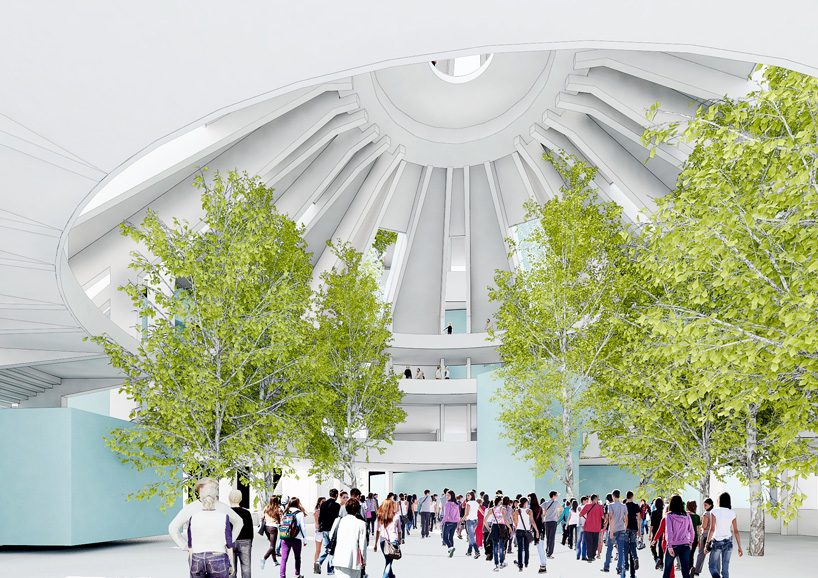 interior visual of the tirana pyramid by MVRDV

designboom's coverage of the 2018 venice architecture biennale is in partnership with leading energy company edison. edison is taking part in the 16th international architecture exhibition of la biennale di venezia by initiating a path towards sustainability and the efficient use of resources. the collaboration between edison and la biennale is based on awareness that energy is one of the fundamental elements of architecture and of the places, spaces and cities of contemporary life.
sofia lekka angelopoulou
I designboom
jun 25, 2018
KEEP UP WITH OUR DAILY AND WEEKLY NEWSLETTERS
happening now! discover how effe perfect wellness merges tradition with modern design to bring the total relaxation experience of saunas and hammams into use in private homes.
a diverse digital database that acts as a valuable guide in gaining insight and information about a product directly from the manufacturer, and serves as a rich reference point in developing a project or scheme.
designboom will always be there for you
milan, new york, beijing, tokyo

,
since 1999