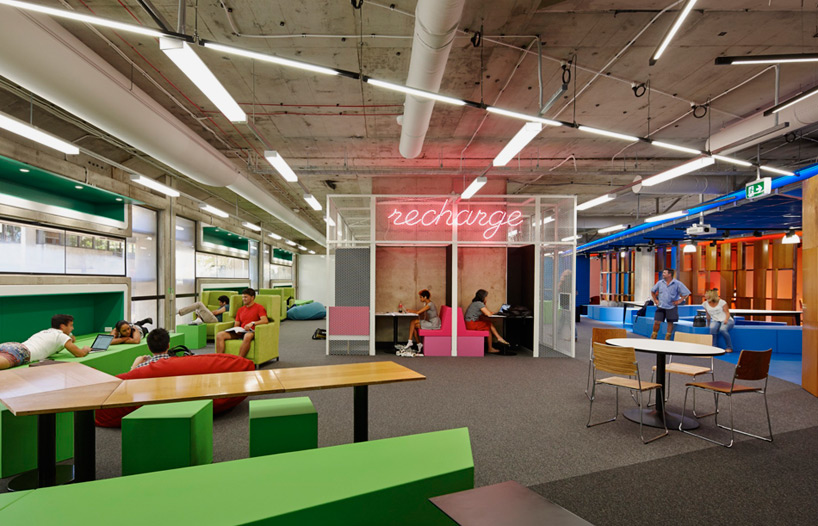 apr 14, 2014
woods bagot installs MUSE at sydney's macquarie university
woods bagot installs MUSE at sydney's macquarie university
photo © peter bennetts
all images courtesy of woods bagot
international practice woods bagot has installed a flexible and engaging student space within a vacant brutalist building in sydney, australia. located within the city's macquarie university, 'MUSE' (macquarie university spatial experience) is the result of an extensive student consultation process, which included an online survey, workshops and interactive presentations.
designed to meet the needs and requirements of the school's students, the fluid space enables interactive, collaborative and social methods of learning powered by technology. throughout the expansive volume, recycled work surfaces are introduced and hundreds of old desks re-purposed as movable and flexible dividing screens. bright splashes of color provide a bold and lively backdrop, encouraging spontaneous encounters throughout the scheme. existing materials were revealed by stripping back added finishes and exposing the building's original crafted concrete structure and the engineered column capitals. the design team created modular rubber furnitings, capable of being used in a variety of different ways – disassembled and reassembled to suit desired configurations.
MUSE also features spaces designed by bennett trimble and NBRS+partners, as well as a student connect zone designed by BNMH.

the scheme is envisioned as a flexible and engaging student space
photo © peter bennetts

the design in located within a vacant brutalist building
photo © peter bennetts

the end product is the result of an extensive student consultation process
photo © peter bennetts

the dialog with students included an online survey, workshops and interactive presentations
photo © peter bennetts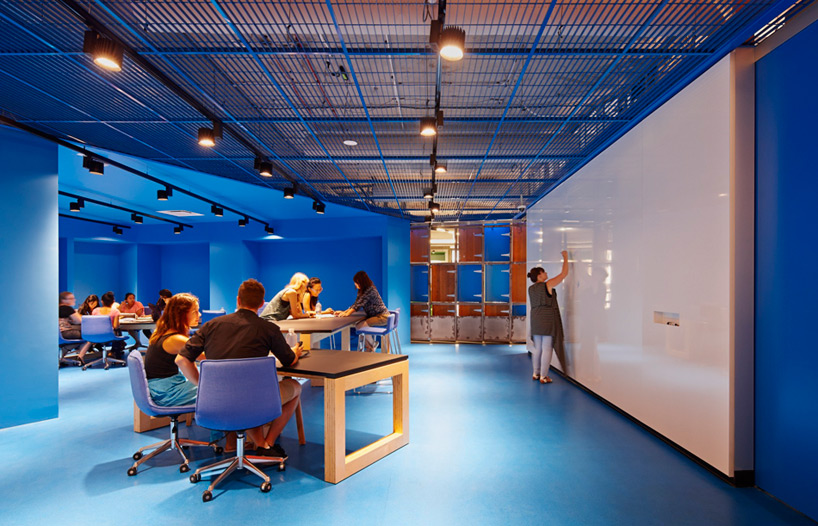 the fluid space enables interactive, collaborative and social methods of learning
photo © peter bennetts

distinct smaller areas cater for clearly defined programs
photo © peter bennetts

throughout the expansive volume, recycled work surfaces are introduced and hundreds of old desks re-purposed
photo © peter bennetts

students entering 'MUSE' – (macquarie university spatial experience)
photo © peter bennetts
project info:
location: sydney, australia
address: old library, c7a – macquarie university, sydney
area: 900 sqm
approx value: $1.5 million AUD
status: completed
completion date: january 2014
client: macquarie university
leadership team: georgia singleton, alan duffy, jo dane, kori todd, danny wehbe, danny chan, chang liu
photography: peter bennetts
oct 30, 2017
oct 30, 2017
oct 27, 2017
oct 27, 2017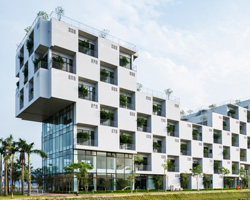 oct 24, 2017
oct 24, 2017
oct 22, 2017
oct 22, 2017
oct 13, 2017
oct 13, 2017
oct 12, 2017
oct 12, 2017
jul 07, 2017
jul 07, 2017
may 23, 2017
may 23, 2017
aug 18, 2015
aug 18, 2015