yamazaki kentaro design workshop has built a restaurant on the southern tip of japan's okinawa island. named the 'itoman gyomin shokudo', the dining outlet seeks to support and promote the region's local traditions and culture through its cuisine. the restaurant was constructed as part of a masonry workshop organized by the project's collaborators. using ryukyu limestone, a material commonly used for the region's fishing huts, volunteers came together to clad the reinforced concrete structure with locally sourced stone.

all images by nahoko koide and wataru oshiro
yamazaki kentaro design workshop used a single-slab flat roof to shield the building's interior from the hot okinawa sun, while the internal layout encourages cross vitalization. 'by choosing to make the roof from a single panel, we hope the restaurant becomes a landmark in the area and contributes to a generous landscape rooted in the culture of itoman,' explains the design team.

ryukyu limestone has been used throughout the design
the use of limestone is continued internally, where restaurant seating is raised off the ground creating a spatial balance with the surrounding landscape. a range of different seating is provided with more private zones adjoining the main dining area at the center of the plan. the building is flanked by two sunken gardens that each border an outdoor terrace.
other projects by yamazaki kentaro design workshop include a house conceived as 'as a container for living', and a nursery defined by its stepped interior.

the building is flanked by two sunken gardens that each border an outdoor terrace

the internal layout encourages cross vitalization

a single-slab flat roof shields the building's from the hot okinawa sun

seating is raised off the ground, creating a balance with the surrounding landscape

the restaurant's entrance

the dining outlet supports the region's local traditions and culture through its cuisine

the building was constructed as part of a masonry workshop

floor plan and sections
project info:
name: itoman gyomin shokudo — a 'locally-sourced' restaurant
location: itoman-shi, okinawa
, japan
site area: 473.49 sqm

floor area: 83.78 sqm

principle use: restaurant specializing in local cuisine

structure: RC (partly wooden)

storeys: 1
project management: nano-associates co.,ltd.

food direction: ryosuke tamura (azabu choko)

landscape: takio inada
structural design: ASD /ryuji tabata, takayuki tabata

graphic design: isabella testai

photography: nahoko koide, wataru oshiro
Save
Save
Save
Save
Save
Save
Save
Save
Save
Save
jul 18, 2017
jul 18, 2017
jul 12, 2017
jul 12, 2017
jul 10, 2017
jul 10, 2017
jul 05, 2017
jul 05, 2017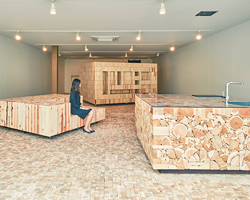 may 11, 2017
may 11, 2017
apr 12, 2017
apr 12, 2017