yamazaki kentaro design workshop, or YKDW, is a tokyo-based practice led by japanese architect kentaro yamazaki. after four years working at irie miyake architects, yamazaki established YKDW in 2008, and today is widely regarded as one of japan's most important emerging architects. from stepped nursery schools that form impromptu waterfalls, to houses with no interior partitions, yamazaki's designs reflect a desire to create unorthodox settings that foster a strong sense of community.
on a trip to tokyo, designboom met with kentaro yamazaki at his studio where he discussed some of his recent projects, and tells us why he believes the sharing economy will change our concept of space. read the interview in full below, and see more images from YKDW's studio in the gallery at the bottom of the page.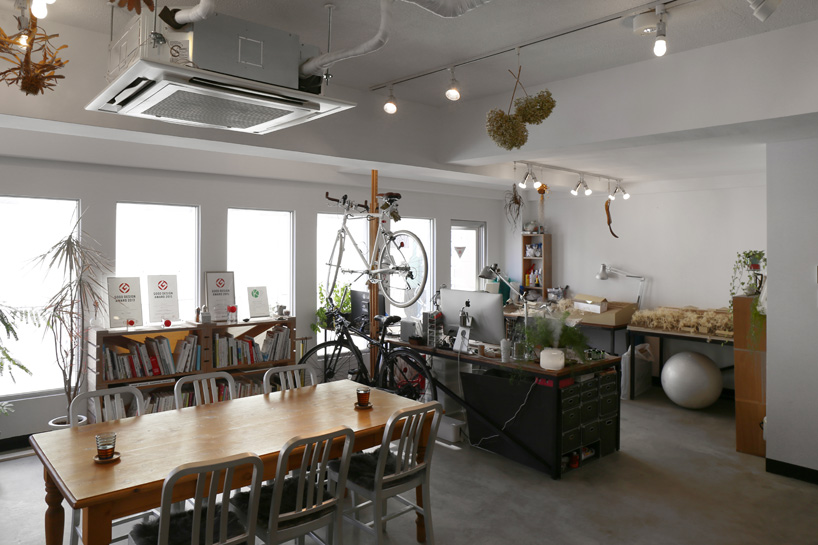 inside kentaro yamazaki's tokyo studio
image © designboom
DB: what are the main differences between designing for residential and commercial clients? do you have a preference?
KY: generally, commercial projects regard profit as the most important thing, while for residences, people have preconceived ideas for their home. both have serious problems to breakthrough, and, as architects, we need to face the essential things. we have found that clients who don't just think about profit, but also about how the project should work for the community, are increasing. specifically, a restaurant we worked on in okinawa was constructed as part of a masonry workshop in collaboration with local residents. this was because the client thought that his business would not work well without local power. a private business which has this public nature is worth designing.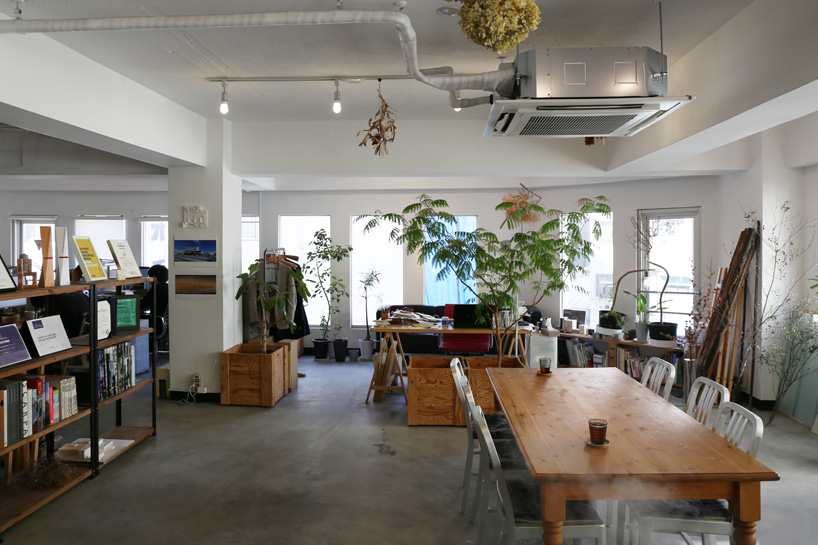 plants and greenery are found throughout the office
image © designboom
DB: overall, what would you say is your strongest asset, and how have you developed that skill over time?
KY: I think it is a sensibility where I can empathize with another person. I always want to think a great deal about locality and context in my architecture. how to execute those things become my architectural theme. in the past, I think that the points of view from users and administrators who use architecture have not been recounted. however today, being able to manage and maintain architecture is as important as constructing buildings. to empathize with a client's vision makes the project a success, so having many discussions with them is important.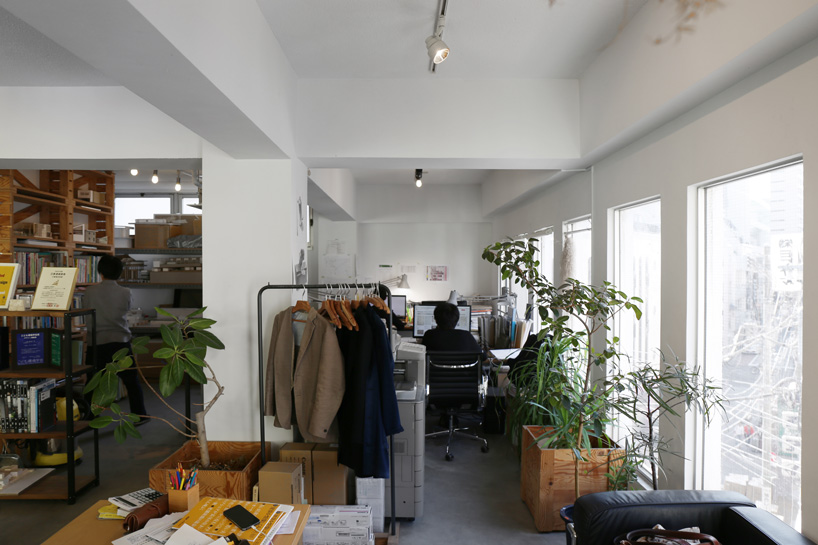 large windows provide an abundance of natural light
image © designboom
DB: who or what has been the biggest influence on your work so far?
KY: the bankruptcy of the lehman brothers in 2008 and the great east japan earthquake in 2011 are the two biggest influences on my work. I was born in 1976, and after starting my own studio in 2008, the financial crisis happened. jobs decreased sharply and I understood the danger of capitalism. then, after three years when jobs were increasing, the great 2011 earthquake happened. I realized the limitations of modernism in japan, and it seemed less important to make new buildings than before. creating relationships with communities and incorporating sustainability by reduction became more important. consequently, the success of my generation's projects encourage my creation.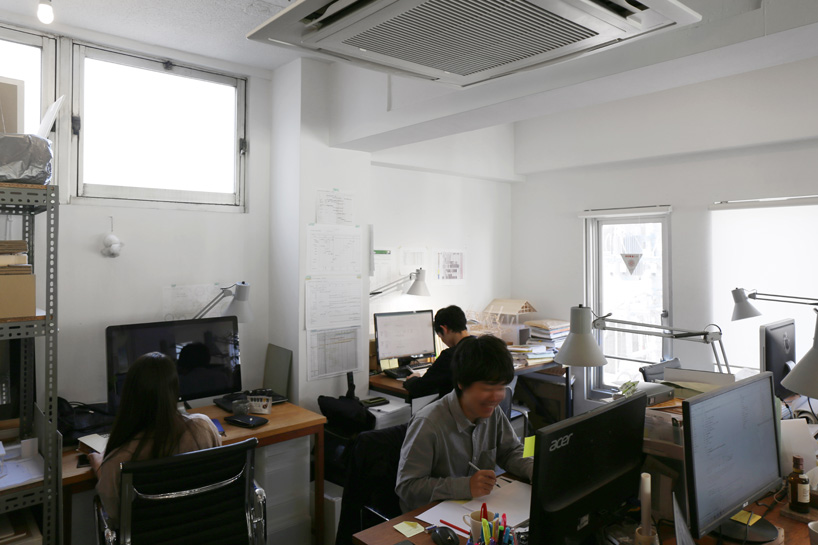 a small team works on dedicated assignments
image © designboom
DB: now that computer generated visualizations are so commonplace, do you still use physical scale models or sketch designs by hand?
KY: my staff often use the computer to make presentations, but I almost always draw sketches by hand. in creating projects, I sketch and make models. using my hands, as well as discussing and traveling, helps me develop my ideas.

see more of the firm's models in the gallery at the bottom of the page
image © designboom
DB: how does your design of the 'unfinished house' reconsider traditional living spaces?
KY: the client for this project had a strong dislike for generic japanese interiors. so, rather than dividing the spaces into typical living, dining, and kitchen areas I reinterpreted the traditional spaces and invented a new style. even though there is no privacy — the client required a space where the family could always be together. a traditional house is primarily one main space, dived by partitions. it is flexible and changeable. 'unfinished house' also has a large main space in the center with a kitchen and bedroom. the family do not need privacy while their children are young, so the main space remains one big volume. the house can be customized to make private rooms when the children are older. however, the parents expect that the children will not want them, as they are growing up in a special living space.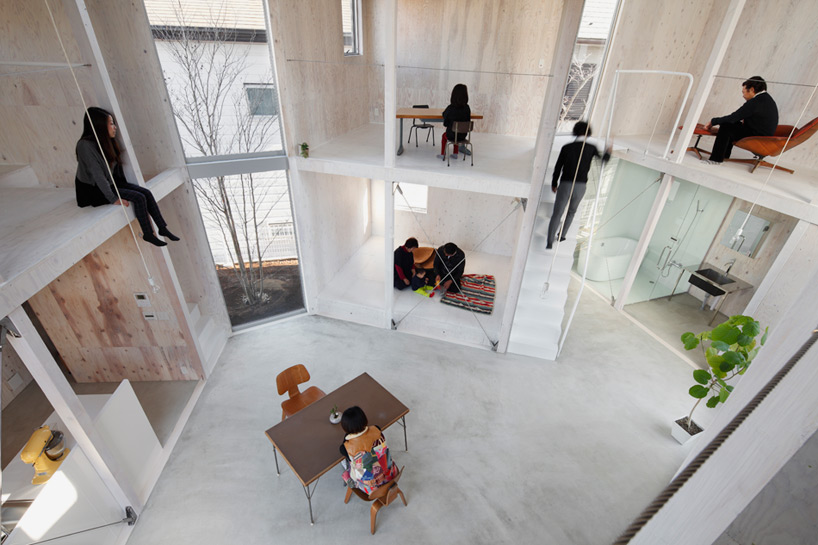 'unfinished house' / see more of the project on designboom here
image © naomi kurozumi
DB: what is the best advice you have received, and what advice would you give to young architects and designers?
KY: the famous japanese architect yuzuru tominaga said: when you do not have job, go traveling — take it as an opportunity. I understand that it is common to work in an architecture job for a long time, so I would advise young people in the same way.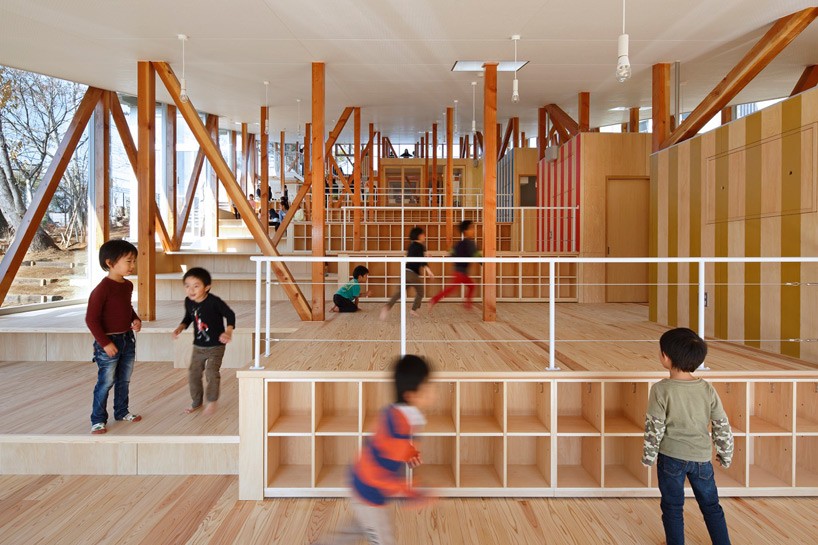 'hakusui nursery' / see more of the project on designboom here
image © naomi kurozumi
DB: the 'hakusui nursery school' encourages children to engage with each other. how did you develop your design for that project?
KY: for the hakusui nursery school, I designed the building that makes the best use of the site. the plot sloped gently to the south, so I made the floor follow the terrain. I also designed a high opening to the north that allows natural ventilation from the south. there are no gutters on the roof, so rainwater falls from the southern edge into a pond like a waterfall. I tried to create an honest architecture against the given environment, so staircase-like nursery school was born!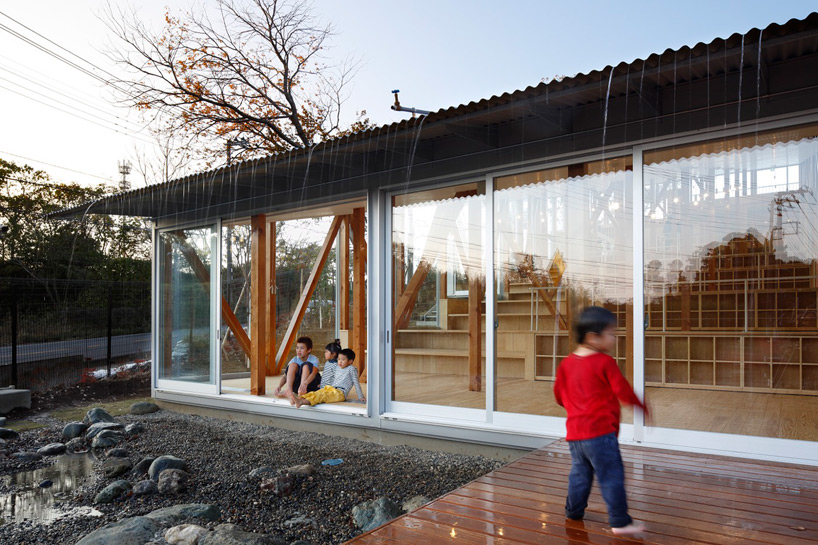 the nursery's rainwater mechanism creates a waterfall for children to play in
image © naomi kurozumi
DB: in your opinion, what is the role of the architect in 2017?
KY: through my architectural projects, I have met many wonderful clients. for example, I have designed restaurant in okinawa where the client thought about not only his business, but also about the future of community. the area where the restaurant is was once prospering, but now it has declined and many of the area's fish markets are closed.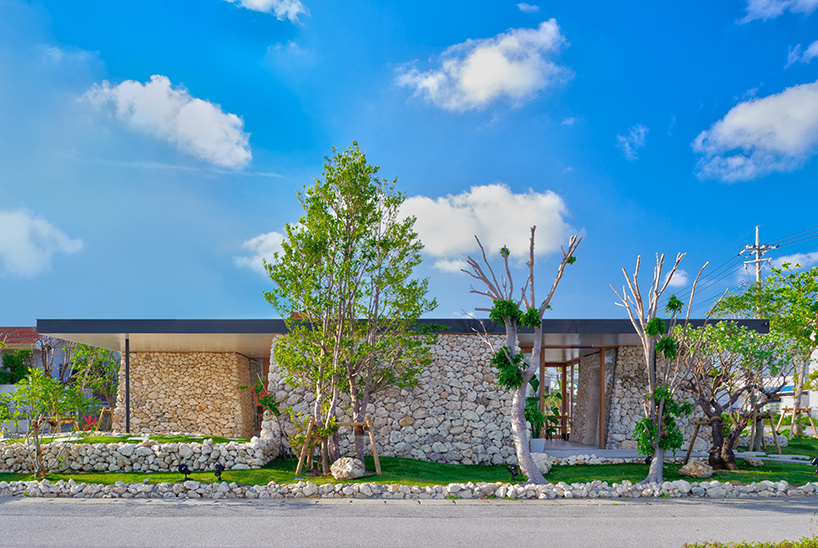 'itoman gyomin shokudo' restaurant / see more of the project on designboom here
image © nahoko koide
KY (continued): the client — whose grandmother worked for the fishery — asked me to create a 'stylish building', but I did not think that it would be a good solution for the community. instead, I designed a masonry building built by local residents. some of the stones weighed 45 kilograms (100 lbs), so I guess it was quite a tough job, but they did it! this experience helped me understand what an architect's role should be, and how an architect can help build the future.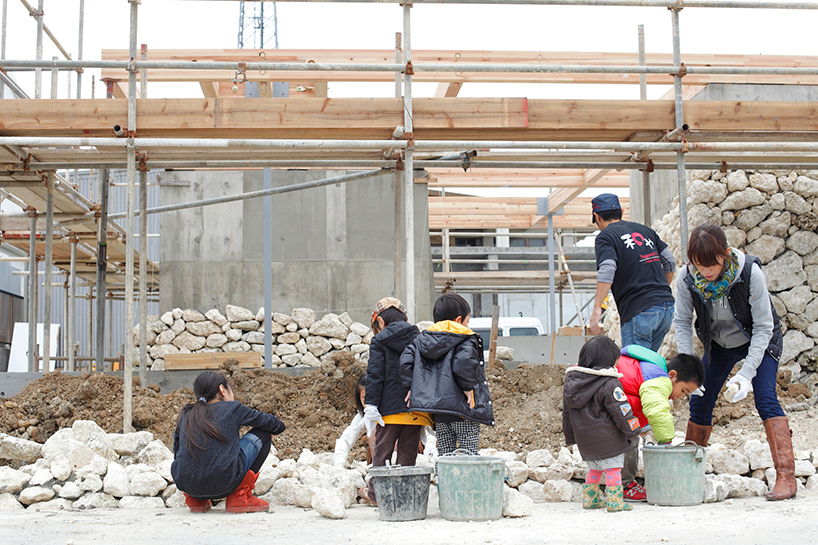 the restaurant was constructed as part of a masonry workshop
image © nahoko koide
DB: outside of architecture, what are you currently interested in and how is it influencing your designs?
KY: I am interested in the sharing economy. eventually it will influence our concept of space and we will recognize that architecture should be a place where people gather. we noticed the importance of the idea during a nursing home that we designed recently. the sharing economy has a new feeling, but it is also a nostalgic concept.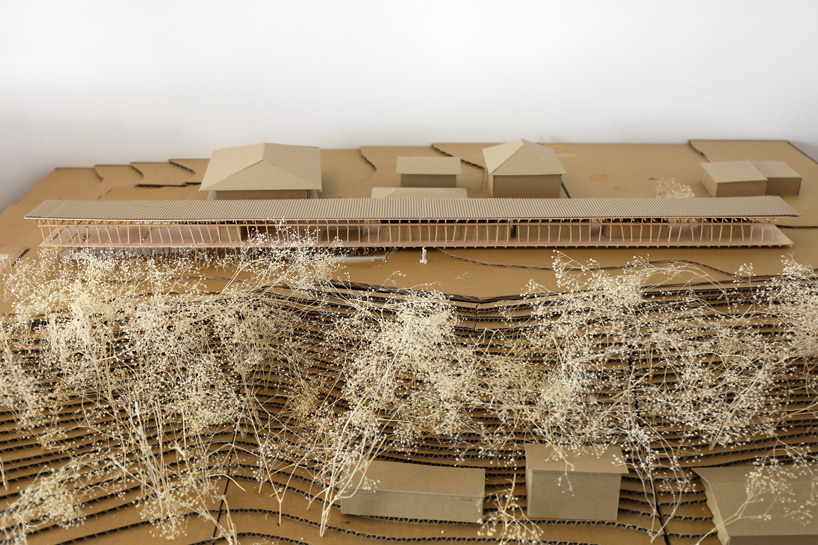 scale model of the planned nursing home in chiba
image © designboom
DB: can you tell us about any projects you are currently working on that you are especially excited about?
KY: I am currently designing a nursing home, but it is not a typical project. the user will not just be for the elderly, but also local children and other residents. it is a bridge-like building that measures about 100 meters in length. in the home users help each other.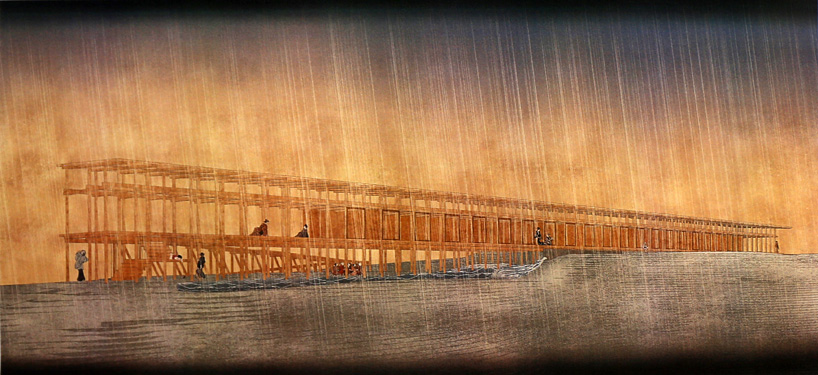 the nursing home rendered as a japanese traditional painting
KY (continued): for example, a single mother's children who cannot have breakfast at home can come here and have breakfast for free. in return, the children can clean the home or help the elderly people in other ways. active elderly people take care of the children or help with their studies. in this way, I am designing a new yet nostalgic architecture that helps develop human relations.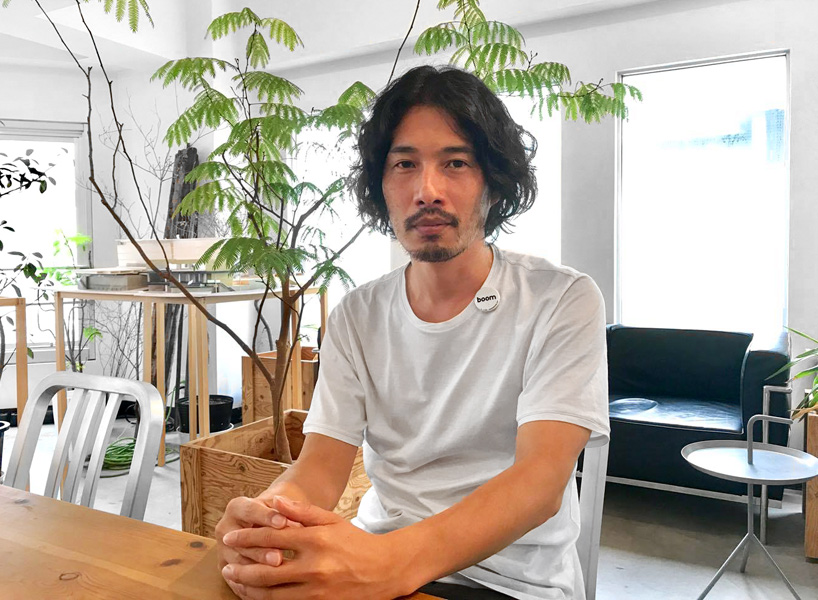 kentaro yamazaki in his tokyo studio
image © designboom
Save
Save
Save
Save
Save
Save
Save
Save
Save
Save
Save
Save
Save
Save
Save
Save
Save
Save
Save
shuhei senda
I designboom
jul 05, 2017
a diverse digital database that acts as a valuable guide in gaining insight and information about a product directly from the manufacturer, and serves as a rich reference point in developing a project or scheme.
designboom will always be there for you
milan, new york, beijing, tokyo

,
since 1999