in 1995, foreign office architects (FOA) — a young UK-based practice led by alejandro zaera-polo and farshid moussavi — was chosen to complete a major piece of transportation infrastructure in japan. opening to critical acclaim, the yokohama international passenger terminal was completed seven years later in 2002. the structure extends into tokyo bay as a large landscaped jetty, comprising a circulation system that challenges the typically linear nature of pier typologies.

all images by edward caruso
new images taken by photographer edward caruso document the project as it is now, more than 14 years after it was completed, and seven years after FOA parted ways. the scheme, which was one of the first major projects to fully explore the capabilities of computer-aided design, unfolds as an undulating terrain of connected ramps and terraces.

the yokohama international passenger terminal opened in 2002
in order to ensure that the building maximized its internal flexibility, a unique structural system was developed that forms part of the folded topography. 'a hybrid structural system of steel trussed folded plate and concrete girders allows the structural system to be coincident with the diagonal folded surface, especially adequate in coping with the lateral forces generated by the seismic movements which characterize japanese geography,' explained the design team.

the structure extends into tokyo bay as a large landscaped jetty
conceived as an extension of yokohama's urban fabric, the project can accommodate four 30,000-ton class passenger vessels or two 70,000-ton ships simultaneously. the terminal's first floor serves as a parking garage for 400 cars, while above, the second storey includes a lobby, customs and immigration areas, and a multi-purpose hall. the rooftop, the subject of many of caruso's images, functions as a promenade, open to the public 24 hours a day. form here, travelers and visitors are presented with up-close views of the terminal's cruise ships.

the circulation system challenges the typically linear nature of the pier typology

caruso has photographed the project more than 14 years after it opened

the scheme was one of the first major projects to fully explore the capabilities of computer-aided design

the terminal unfolds as an undulating terrain of connected ramps and terraces

the rooftop functions as a promenade, open to the public 24 hours a day

a unique structural system was developed that forms part of the folded topography

the project can accommodate four 30,000-ton class passenger vessels

travelers and visitors are presented with up-close views of the terminal's cruise ships
Save
Save
Save
Save
Save
Save
Save
Save
Save
Save
Save
Save
Save
Save
Save
Save
Save
Save
Save
Save
Save
Save
Save
Save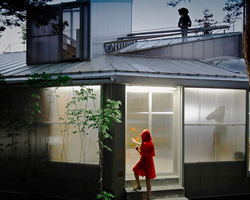 nov 02, 2017
nov 02, 2017
oct 31, 2017
oct 31, 2017
oct 31, 2017
oct 31, 2017
oct 03, 2017
oct 03, 2017
sep 14, 2017
sep 14, 2017
sep 09, 2017
sep 09, 2017
nov 02, 2017
nov 02, 2017
nov 01, 2017
nov 01, 2017
oct 28, 2017
oct 28, 2017
oct 27, 2017
oct 27, 2017
oct 25, 2017
oct 25, 2017