zooco estudio has completed a wine cellar, or 'vinoteca' in valladolid, spain. the design is characterized by a series of wooden arches which evoke ancient underground cellars.


all images © imagen subliminal
the architects employed the arch to serve as a central motif throughout the design, alluding to wooden barrels of wine cellars, bottles of wine, and antique vaulted cellars. the juxtaposed arches spatially define the venue both vertically and horizontally, forming a a dynamic store for exhibiting, tasting and browsing a refined collection of wine.


three materials define the space: wood, stone, and mirror 
the architects carefully chose materials which would magnify the experiential qualities of their store. wood is used for the ribs system, implying the wooden barrels of wine vaults. stone is used for the flooring alluding to antique cellars and mirrors are used to generate amplitude and an atmospheric world of reflections. 


the brightly lit store will host wine tastings and various sales events 


the series of arches define the spatial layout of the store


the architects allude to the ancient underground wine vaults of spain


an open air counter allows customers to enjoy wine tastings


the wooden arches resemble 'ribs'


the use of mirrors magnify the space, creating an atmospheric room


spatial distortion is created through the use of mirrors


the arches create a tunnel-like space which alludes to wine cellars of the past


foldable counters are placed throughout the space, creating a flexible arrangement for different events


valladolid, a city in the north of spain, is known as a producer of wines


the stacked wine bottles add an additional material quality to the space


the display of wine is artfully conceived, magnifying the experience for visitors


the architects describe the store as 'an atmospheric world of reflection'


the modern storefront contrasts with the surrounding neighborhood
project info: 
project: vinoteca villadolid
year: 2017
project manager: miguel crespo picot, javier guzmán benito, sixto martín martínez
collaborators: maria larriba
photography: imagen subliminal
construction: nimbo proyectos S.L.
lighting design: zooco estudio
furniture design: zooco estudio

Save
nov 01, 2017
nov 01, 2017
oct 29, 2017
oct 29, 2017
oct 25, 2017
oct 25, 2017
oct 22, 2017
oct 22, 2017
oct 17, 2017
oct 17, 2017
oct 12, 2017
oct 12, 2017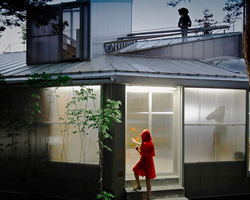 nov 02, 2017
nov 02, 2017
oct 22, 2017
oct 22, 2017
oct 17, 2017
oct 17, 2017
oct 20, 2017
oct 20, 2017
oct 15, 2017
oct 15, 2017
oct 07, 2017
oct 07, 2017
oct 14, 2016
oct 14, 2016
jun 30, 2016
jun 30, 2016
jun 24, 2016
jun 24, 2016