for more than 40 years, public art fund has brought the world's most renowned creative forces to an audience of new york city locals and visitors alike through ambitious free exhibitions, offering the public powerful encounters with art and the urban landscape. founded in 1977 by public art champion doris c. freedman, the non-profit organization has since presented more than 500 exhibitions and projects across the city's five boroughs, providing the public unparalleled experiences with the art of our time. in the 1980s, public art fund ran an exhibition series on an 800-square foot animated light board in times square, featuring the work of more than 70 artists — among them keith haring, and jenny holzer. in 2008, the city was treated to the spectacular 'new york city waterfalls' by olafur eliasson, while more recent city-wide exhibitions like 'ai weiwei: good fences make good neighbors' extended artistic practice into new realms.
from an endlessly spinning water vortex at brooklyn bridge park, to an upright swimming pool at rockefeller center, designboom looks at 10 times the public art fund transformed new york city.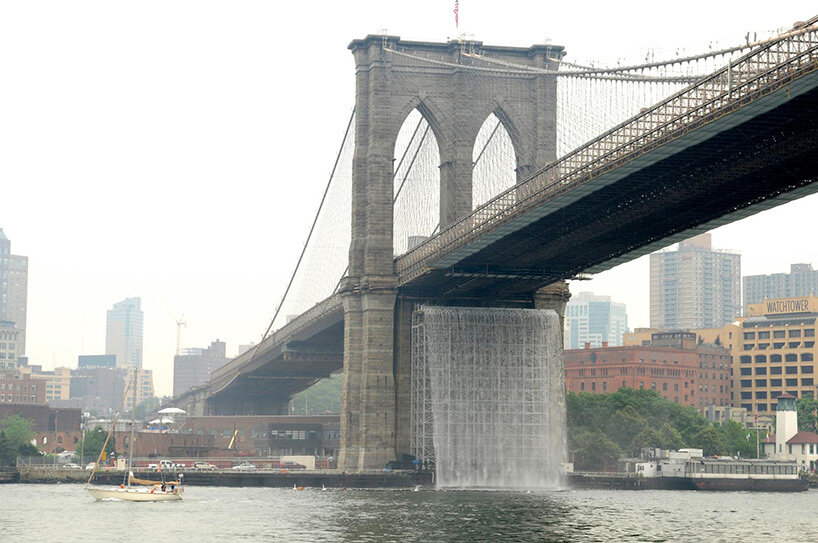 the new york city waterfalls, 2008 at the brooklyn bridge, new york
image by julienne schaer, courtesy of public art fund, NY (also main image)
olafur eliasson's 'new york city waterfalls' remains one of the most celebrated and recognizable public artworks to date. four man-made waterfalls of monumental scale were installed at four sites on the shores of the new york city waterfront. public art fund, working in partnership with tishman construction corporation, engaged a team of almost 200 design, engineering and construction professionals to create the waterfalls from building elements ubiquitous to the city. actual construction scaffolding formed the backbone of the waterfalls, and pumps cycled water from the east river to the top of each structure before it fell back into the river. all scaffolding was later re-used in subsequent construction projects. the waterfalls were designed to be sensitive to the environment, protecting fish and aquatic life by filtering the water through intake pools suspended in the river beneath each structure. they also ran on electricity generated from renewable resources and were lit with LED lights. read more on public art fund here.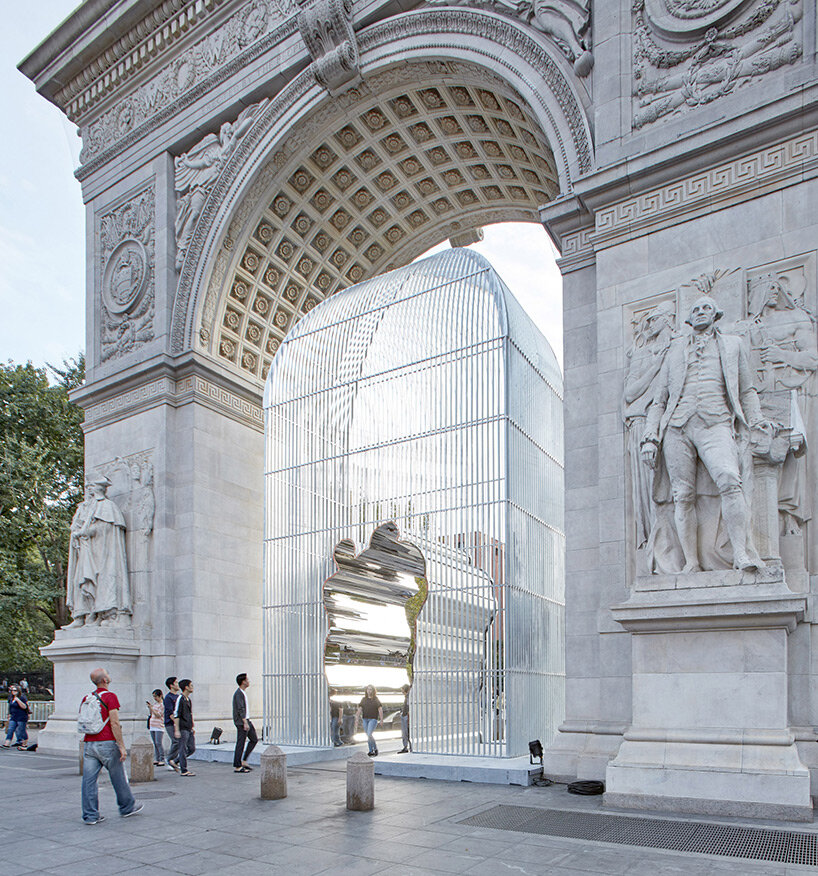 arch, 2017 | galvanized mild steel and mirror polished stainless steel
image by jason wyche, courtesy of ai weiwei studio/ frahm & frahm
in 2017, world renowned chinese artist and activist ai weiwei unveiled a city-wide exhibition titled 'good fences make good neighbors', which included a series of large- and small-scale installations addressing the international migration crisis and global geopolitical landscape. having grown up amid the upheavals of the cultural revolutions in china, weiwei has developed a particular empathy with displaced people — circumstances which led him to address the topic of 'fences'. works were installed in three major parks around the city, including 'the arch' at washington square park (pictured above), a 40-foot tall cage structure within the triumphal monument, realized and fabricated in collaboration with UAP. designboom took part in an exclusive press tour of the exhibition's major sites, where we heard more about the artworks from weiwei and nicholas baume, director and chief curator of the public art fund. read more on designboom here.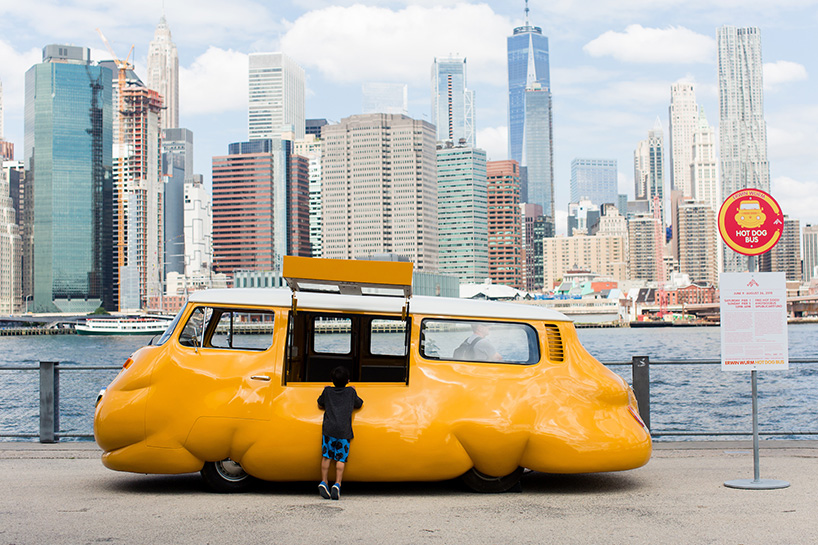 hot dog bus, 2018 | VW T2b, mixed media | 220 x 250 x 550 cm

courtesy of the artist, K11 art foundation hong kong, könig galerie berlin, lehmann maupin new york and hong kong 

image by liz ligon, courtesy public art fund, NY
in the summer of 2018, brooklyn bridge park — one of new york city's most popular destinations — was treated to a 'supersized' sculptural experience, courtesy of erwin wurm. the austrian artist parked his overstuffed 'hot dog bus' overlooking manhattan's skyline, encouraging park-goers to rethink the traditional notions of sculpture. in an extreme manipulation of form, wurm transformed a vintage volkswagen microbus into a misshapen yellow food truck from which free hot dogs were served to visitors on weekends. first exhibited in germany as 'curry bus' back in 2015, wurm's choice of the hot dog refers to a gastronomic relationship between the symbolic street food for the city, and his own austrian homeland. read more on designboom here.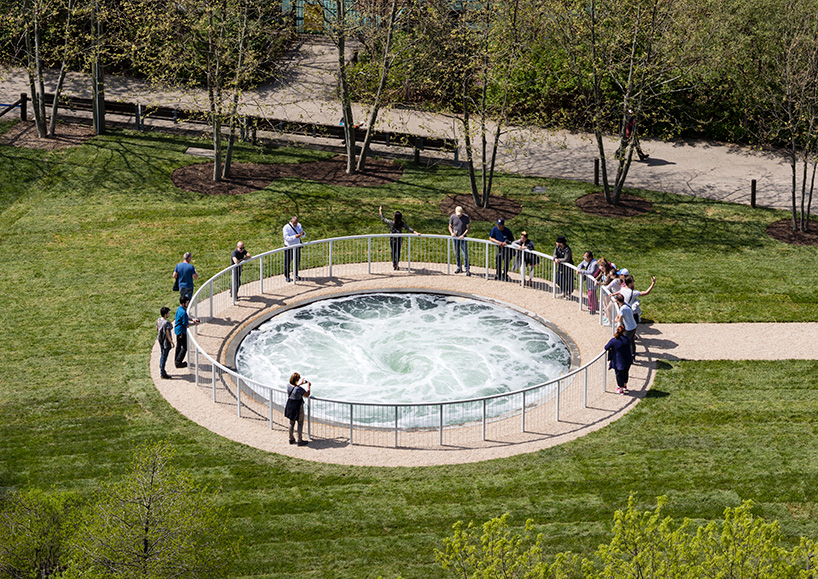 descension, 2017
image by james ewing, public art fund, NY © anish kapoor, 2017
anish kapoor's endlessly spinning whirlpool descended on brooklyn in 2017, sited at pier 1 in brooklyn bridge park. the continuously spiraling funnel of water penetrated the earth in a powerful rush of ceaseless motion, drawing viewers in to its mystifying and mesmerizing abyss. spanning 26 feet in diameter, the liquid mass converges in a central vortex, as if rushing water is being sucked into the ground. 'descension' stimulates the imagination and suggests a fictional dimension which can't be seen, but can be observed and experienced from a curious, yet careful distance. the installation turned an ordinary material like water into an extraordinarily behaving substance, disturbing the familiar notions of our world. read more on designboom here.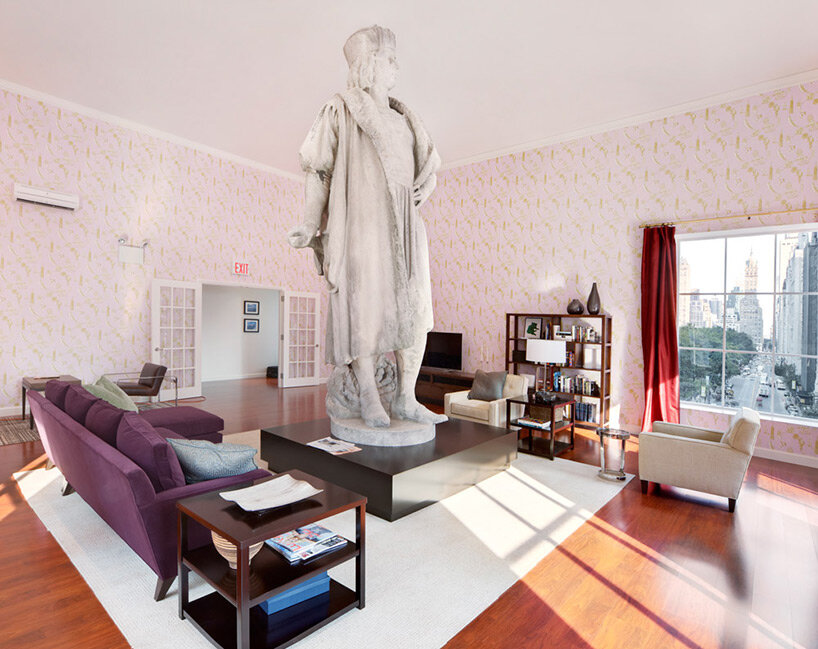 discovering columbus, 2012
image by go sugimoto, courtesy of public art fund, NY
for his first public project in the united states, japanese artist tatzu nishi chose to focus on the historic statue of christopher columbus. the marble statue, which rises to more than 75 feet atop a granite column, was designed by the italian sculptor gaetano russo. despite its prominent public location, the statue itself is little known, visible only as a silhouette against the sky or at a distance from surrounding buildings. nishi's project allowed visitors to journey up six flights of stairs to a fictional living room, and re-imagined the colossal 13-foot-tall statue of columbus standing in a fully furnished, modern domestic space featuring tables, chairs, couch, rug, and flat-screen television. nishi even designed wallpaper inspired by memories of american popular culture, having watched hollywood movies and television as a child in japan. 'discovering columbus' offered both a unique perspective on a historical monument and a surreal experience of the sculpture in a new context. read more on pubic art fund here.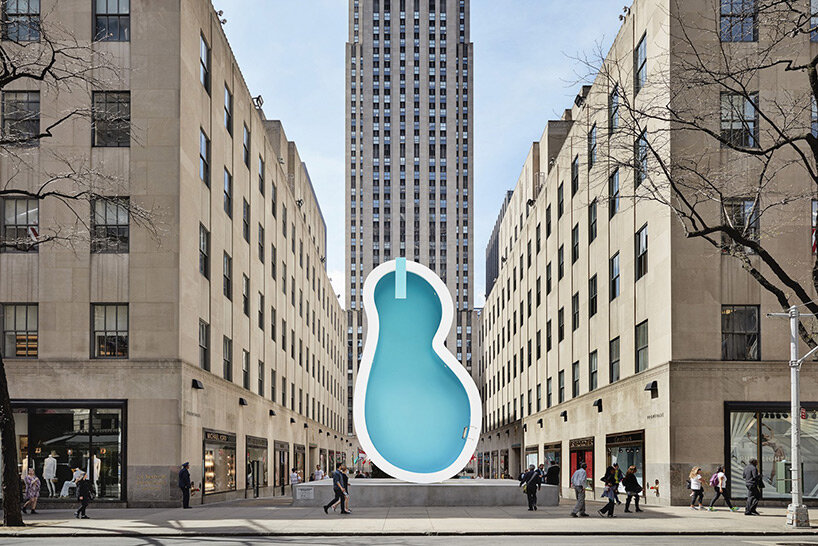 van gogh's ear, 2016
image by jason wyche, courtesy public art fund, NY
elmgreen & dragset transformed new york city's rockefeller center by adding an upright swimming pool to the pedestrian plaza's fifth avenue entrance. 'van gogh's ear' was a large-scale sculptural installation that contradicted expectations of both a familiar symbol of summer and the iconic site on which it has landed. the artist duo have carefully designed and crafted each detail of the piece to mimic a garden pool — with a cyan blue interior, polished stainless steel ladder, bright lights, and a diving board opening up to public view. from the undulating curves of the varying depths, to the protruding blue diving board, the sculptural details become particularly evident as they are isolated vertically and above ground. surrounded by tourists, commuters, skyscrapers, and city slickers, 'van gogh's ear' stands out as a surreal object uprooted from its usual environment, in turn prompting a cerebral, poetic response to the object as well as its setting. we spoke with artists michael elmgreen and ingar dragset about the thinking behind 'van gogh's ear', some of the recurring themes they've adopted for this piece, and their experience working in the public realm. read more on designboom here.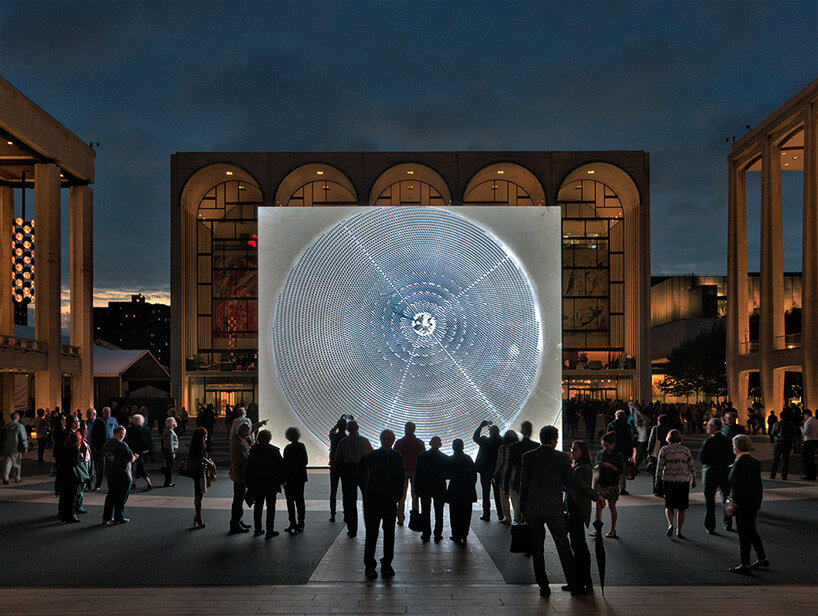 solar reserve (tonopah, nevada), 2014
image by iñaki vinaxia, courtesy of the artist, simon preston, new york and thomas dane, london
displayed on a monumental frameless LED wall on lincoln center's josie robertson plaza, john gerrard's 'solar reserve (tonopah, nevada)' was a computer simulation of an actual power plant known as a solar thermal power tower — surrounded by 10,000 mirrors that reflect sunlight upon it to heat molten salts, and essentially forming a thermal battery which is used to generate electricity. over the course of a 365-day year, the work simulated the actual movements of the sun, moon, and stars across the sky, as they would appear at the nevada site, with the thousands of mirrors adjusting their positions in real time according to the position of the sun. the astonishingly real virtual world was meticulously constructed by the artist, a team of modelers, and programmers, using a sophisticated video game engine. simultaneously over a 24-hour period, the point of view cycled from ground level to a satellite view every 60 minutes, creating an elaborate choreography among perspectives, 10,000 turning mirrors, and a dramatic interplay of light and shadow. read more on public art fund here.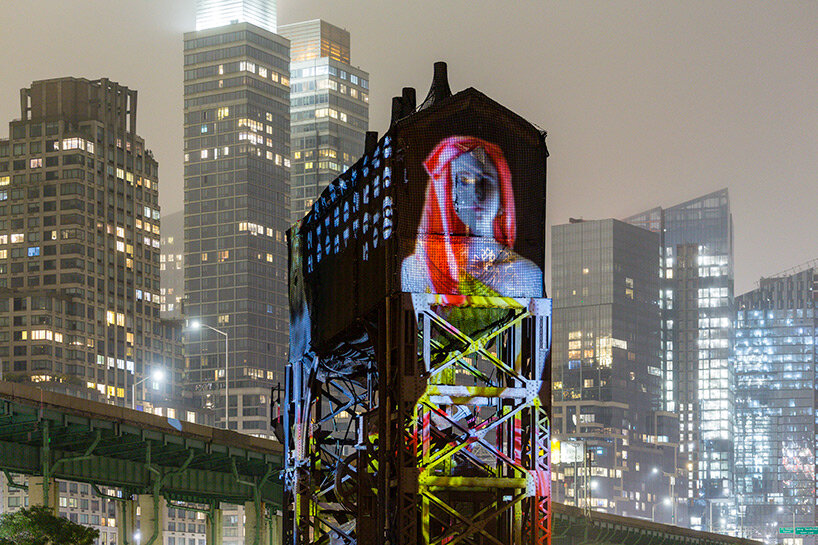 tear of the cloud, 2018
image by nicholas knight, courtesy of public art fund, NY
tony oursler's 'tear of the cloud', one of his most extensive site-specific multimedia artworks, featured five digital projections superimposed onto the landmarked 69th street transfer bridge gantry, the surrounding landscape, and the flowing water of the hudson river itself. these spectral images combined with an evocative soundscape to create a dramatic experience that transformed riverside park each night. oursler's filmed footage highlighted obscure subjects and popular culture, with performers portraying figures as wide-ranging as the hudson river school painters, the 19th century utopian community of oneida, the strong female lead pearl white of early serial silent cinema created on the palisades, and the pioneers who developed experimental music in lower manhattan and the south bronx, among others. oursler's kaleidoscopic intervention offered layered connections and multiple meanings that illuminated our complicated past, encouraged us to reflect upon the present, and inspired us to reconsider the future of our environment and culture. read more on public art fund here.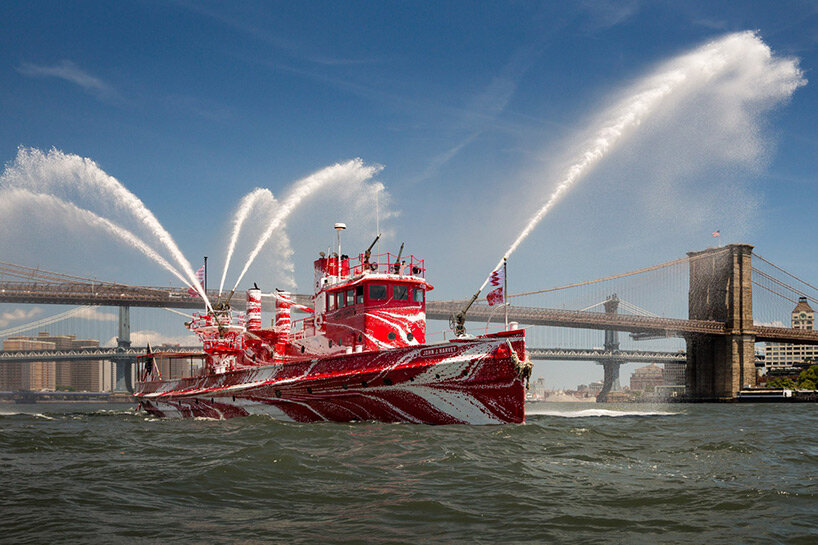 flow separation, 2018
image by nicholas knight, courtesy public art fund, NY
'flow separation' by tauba auerbach transformed the historic fireboat john j. harvey into a contemporary 'dazzle ship.' invented by british painter norman wilkinson during world war I, the original dazzle patterns were painted onto ships to optically distort their forms, confusing enemy submarines tracking their distance, direction, and speed. with their geometric shapes, the dazzle designs were heavily indebted to both animal camouflage and avant-garde movements like cubism, futurism, and vorticism. auerbach's dazzle design drew inspiration from fluid dynamics and the forms found in wake patterns left behind objects as they move through water. the artist created her design for the surface of the boat through the process of marbling paper, floating inks on a fluid bath and combing the surface to create various wake patterns before transferring them on to paper. the floating work of art was viewable from land 24 hours a day, with boat trips scheduled on weekends. read more on public art fund here.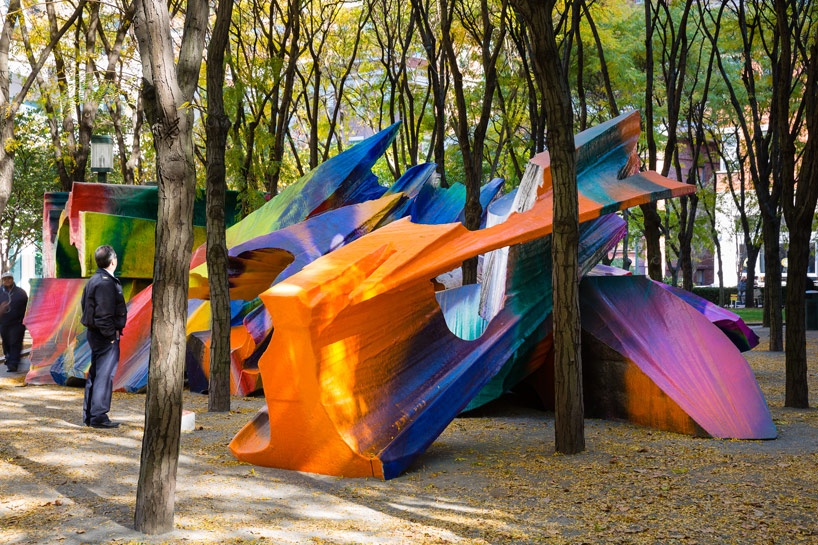 just two of us, 2013
image by james ewing, ourtesy of the artist; johann könig, berlin; public art fund, NY
'just two of us' by german artist katharina grosse was an immersive sculpture that transformed metrotech commons in downtown brooklyn, new york into an engaging architectural landscape, characterized by towering, vibrantly-colored forms piercing the earth. 18 fiberglass-coated shapes were configured around trees, creating two large irregular formations within the existing environment. the neon-chroma served as a manifestation of the cultural dynamism of the eclectic, multi-cultural neighborhood and reconfigured the urban space into an striking sculptural intervention. read more on designboom here.
nina azzarello
I designboom
apr 08, 2021
KEEP UP WITH OUR DAILY AND WEEKLY NEWSLETTERS
happening now! antoniolupi extends its expertise beyond the bathroom with the 'living' collection, a series of home furnishings that complement its esteemed collection of bathroom furniture and accessories.
a diverse digital database that acts as a valuable guide in gaining insight and information about a product directly from the manufacturer, and serves as a rich reference point in developing a project or scheme.
designboom will always be there for you
milan, new york, beijing, tokyo

,
since 1999