known for transforming historical monuments and artworks by fabricating domestic environments around them, japanese artist tatsuro nishino works under a variety of names for each project – tatzu nishi (mainly), tatzu oozu, tazu rous and tatsurou bashi, tazro niscino. upon the backdrop of the bi-city biennale of urbanism\architecture (UABB), he talks with designboom (main international media partner) in nantou old town, shenzhen, china where his latest installation sees a road suspended mid-air and penetrating a 3rd floor apartment.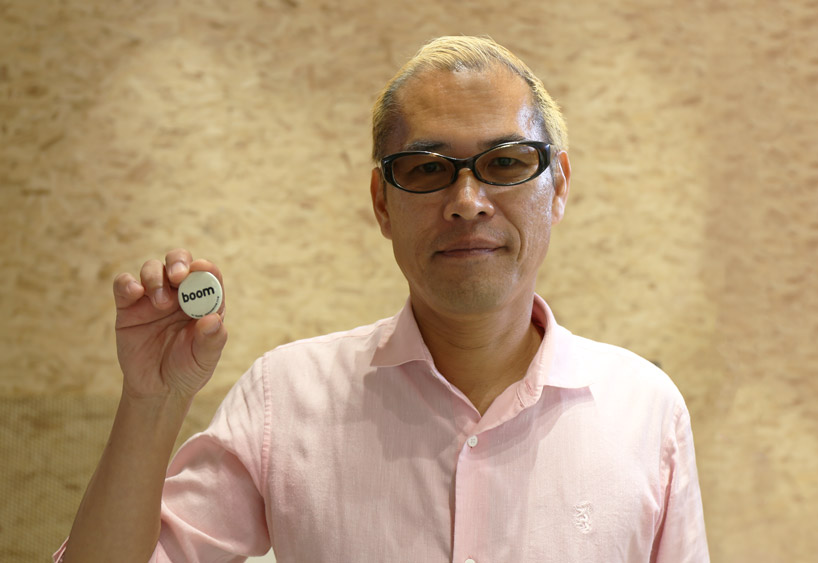 tatzu nishi
all images © designboom unless stated otherwise
1. designboom: tatzu, how did you respond to the theme of the UABB biennale 'cities grow in difference'?
tatzu nishi: I do not often think within a theme, I do try to take it into consideration though, the reason why they invited me could be that they thought my 'general style' would fit into their theme. before presenting something, I spent about 5 days seeing many things in town and so proposed three ideas and this one has been chosen. an artwork shouldn't just be for a selected group of reviewers and collectors, but for the public in general and themes that many of my works have in common are such, for example 'public and private' and 'exterior and interior'. this is important to me and fits whatever theme is given (laughs).
2. DB: can you introduce us to what you are presenting in shenzhen?
TN: 'continue forever' is a road constructed within a chinese apartment. and the idea behind it is… when I have visited china for the first time I liked it very much (so much that I wished to move here and am currently thinking about how and where to…). my impression, when I talk to local people, is that china is economically developing fast and in particular shenzhen as a city is one of the fastest in the world, but I have also heard that only 30 years ago it was a small fishing village. so I imagine that in china new buildings are being built that destroy old towns…I'm not saying it's good or bad, I just wanted to reflect on such a reality.
I had an idea to create a road in an apartment where 'normal people' used to live. in the first phase to develop a town, the first thing which will be built is a road so that trucks and construction machineries will be able to enter the town. so I built a road in an apartment to show the current state of china in shenzhen.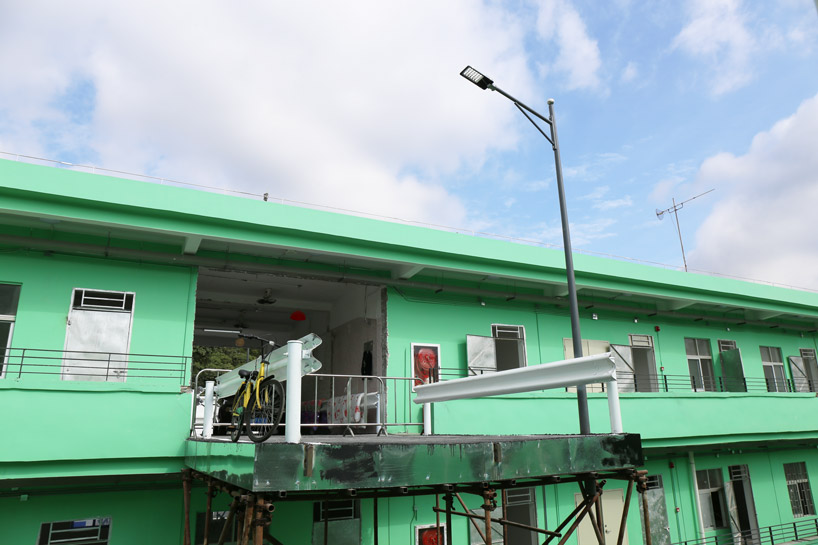 continue forever is built through a chinese apartment
3. DB: how does this project seek to transform visitors experience of the environment?
TN: the aimless position that art has is its most important thing. I wish visitors to feel and understand what they want/can. it is imprudent for artists to want visitors to understand works the same way the artist intended. I think art should not have that purpose, but purposelessness does not mean that it does not have meanings, I think art has meanings in the meaningless. what I want to say is that people, companies, organizations, they act with a similar purpose to (for example) gain money, become famous, but art does not have such purposes and that is why art is interesting.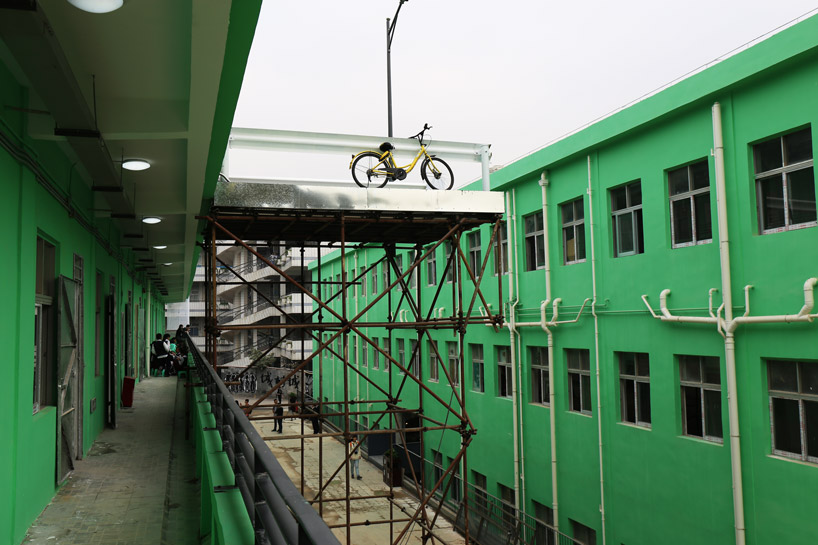 the road is suspended using scaffolding, ending abruptly in between the apartment blocks
4. DB: do you think events like the UABB are important for generating discussion with the public?
TN: I always wanted to reach those who are normally not particularly interested in art, it's a great audience so I have started exhibiting my works outdoor, in temporary installations and in all the years my attitude has not changed. I think of how to attract those people, and in such a huge outdoor exhibition, like the UABB, many people who are generally not interested in art will come. I like those events very much.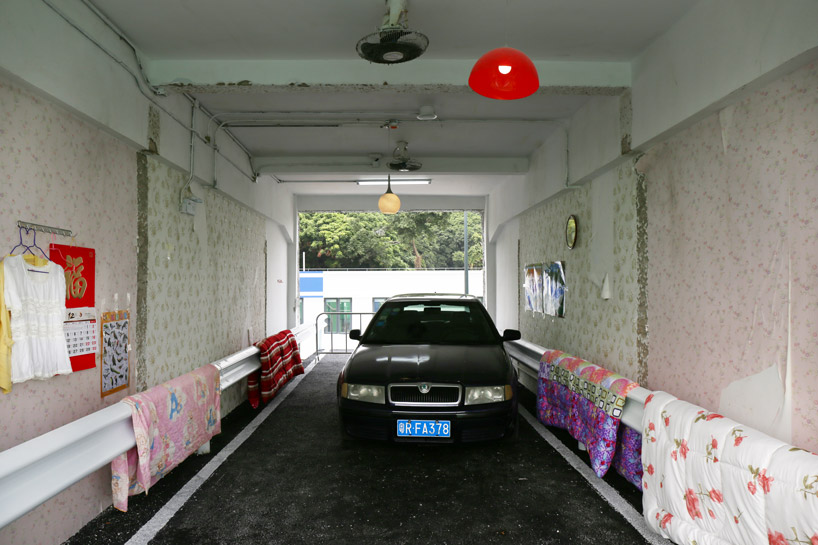 a car occupies the inside of the disrupted apartment
5. DB: what is the people's reaction to your work?
TN: they look at my artwork from the outside and don't understand. the scaffolding itself doesn't usually look all that nice. people know that an art project is going on and then they come up into the room, and see that it's a living room, and then they suddenly get the idea of what I'm trying to do.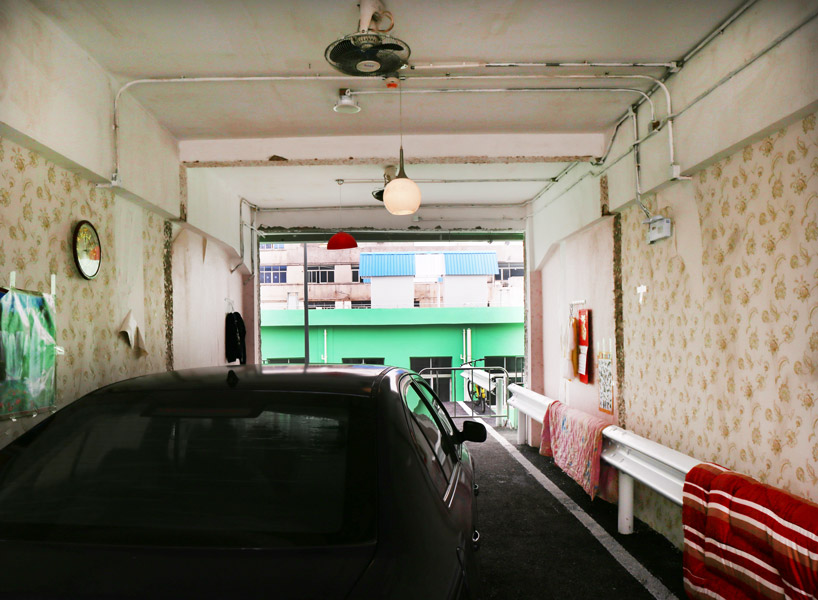 the newly laid road occupies the entirety of the once existing living space
6. DB: in your installations you are often altering scale and context and make public art more accessible in a new, intimate and domestic dimension. how did you start?
TN: moving from japan to berlin, in 1987, I was impressed by the number of public monuments and statues that populate the streets of european cities. often familiar to residents but they tend to go unnoticed. these statues are usually visible only from afar. they are part of 'high-minded public art' which tends to fade into the background. I decided to use them for my spatial interventions from a 'private' viewpoint. in most of my works, I created out-of-scale and out-of-place encounters with monuments and details of larger works of architecture, such as churches and stations.
usually visitors climb ramps to enter rooms that I had constructed around giant public sculptures. these elevated rooms allow visitors to see the sculptures at close hand, and parts of the public statues are becoming coffee table ornaments. compared to the past, art is no longer only an ornament to decorate 'rooms' of those from the privileged classes and I play with this notion. the parts are perched improbably in bedrooms and in living rooms… you can sit down and contemplate face-to-face on their quality, its external appearance, its historical background, etc. while enjoying a reasonable facsimile of someone's home. that situation is making the sculptures appear unexpected and astonishing.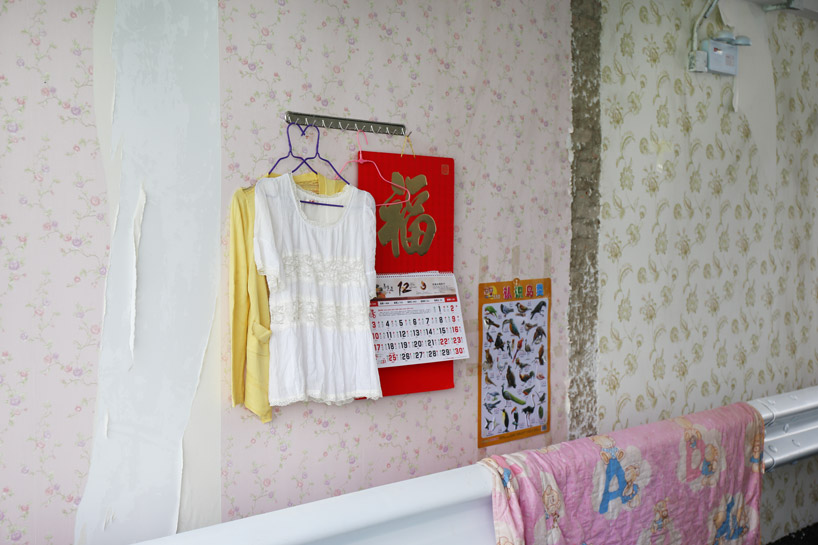 belongings of the inhabitants are left behind, acknowledging the former purpose
7. DB: how do you imagine your work broadens people's perspective and imagination?
TN: it would be great if a lot of people can find the fun in public art. I believe contemporary art is about changing matters within everyday life, and artists suggest different ways of looking at the world… this might help to separate yourself from the stereotypical way of thinking.
I've never deliberately chosen to work around a monument or place to criticise them or to elaborate on a historic period. I'd say that 'history is unnecessary' in my works, but of course, people understand my work from multiple perspectives, and I don't mind if some people see it from a historical one. when many people use their own imagination, we obtain a higher variety of thought, culture, and new forms of society can be born.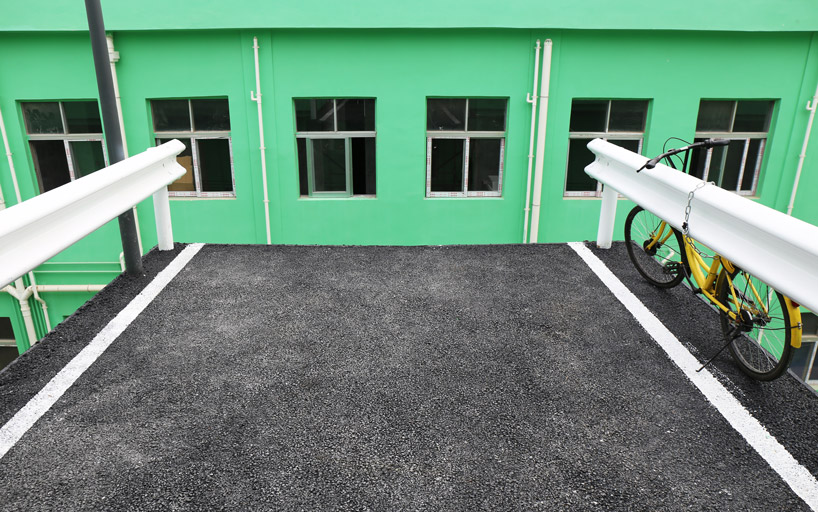 nishi's road leads to nowhere – mobilized by power and capital, china's city making has gone through a rapid development for over 30 years. the city tends to be homogeneous and generic, and in recent years, urban renewal, in a bid to improve quality of life, has further swept away time-honored historical areas and a hybrid urban life, replacing them with global commercial standards.
8. DB: what are the challenges you face making public work?
TN: the first thing I have to obtain is permission from a city office. nothing starts without permission and when it becomes a large project, groups of people will come against the project for a variety of reasons. however, from my experience, people who were against one of my projects tended to change their ideas after they saw the completed work.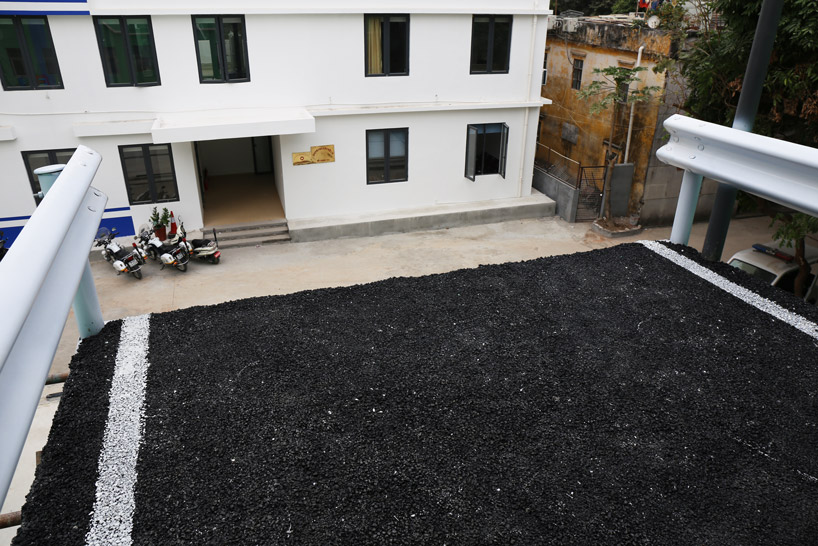 either side of the road ends abruptly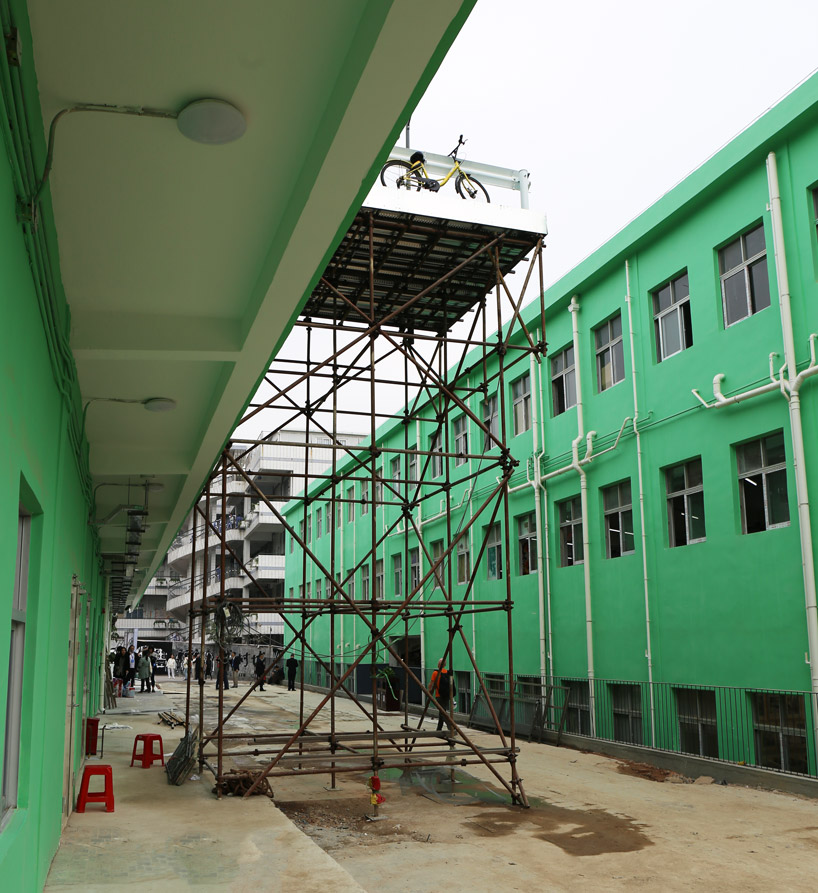 scaffolding is used to suspend the road in mid-air
9. DB: are you a conceptual artist?
TN: I try to do funny things.
10. DB: where are you currently based?
TN: berlin and tokyo, but my wife is based in tokyo and we have a child, so I am mainly based in tokyo right now.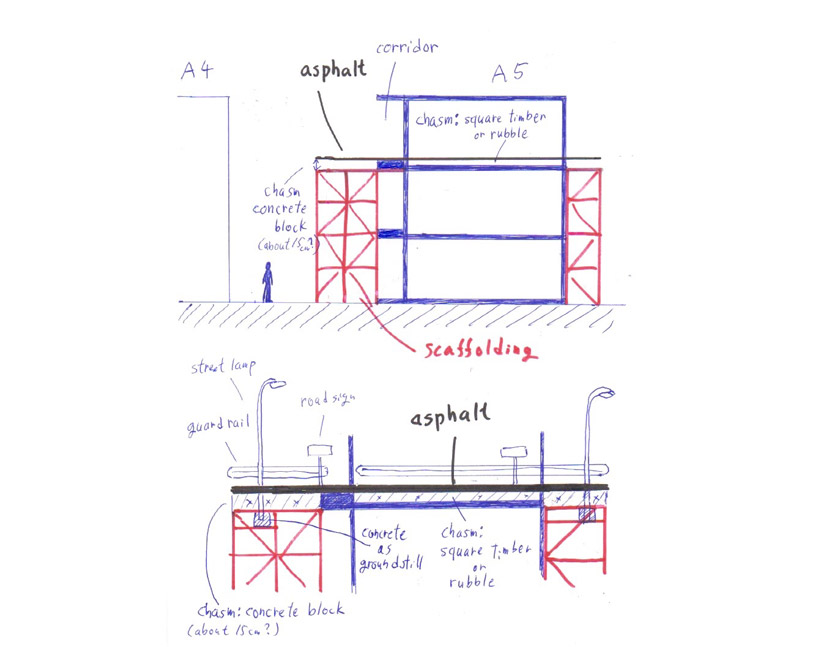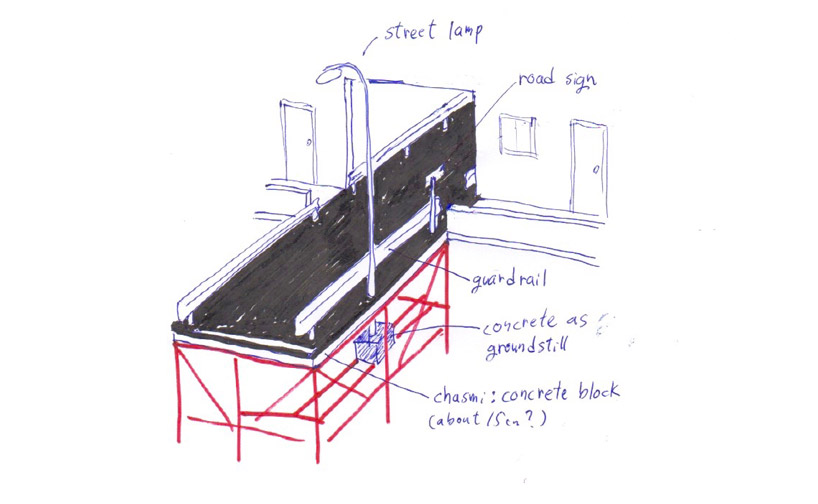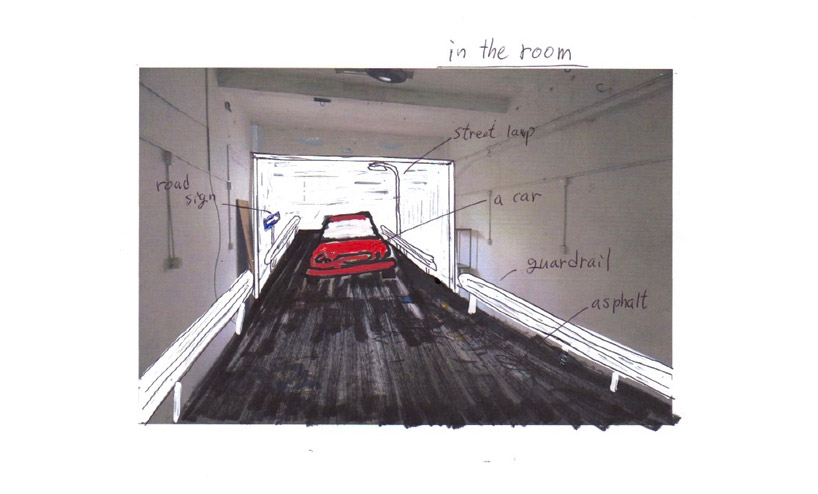 illustrative sketches of tatzu nishi's continue forever, courtesy of the artist
about the UABB
designboom is main international media partner of the UABB, the seventh bi-city biennale of urbanism\architecture in shenzhen.
UABB is the only exhibition in the world to explore issues of urbanization, and this year's edition of is jointly curated by hou hanrou (artistic directore of the MAXXI in rome) and founding partners of architecture studio URBANUS, liu xiaodu and meng yan. under the theme of 'cities, grow in difference', three sections are presented:
the two sections of urbanism, namely – 'global south' (liu xiaodu) and – 'urban village' (meng yan) are co-curated by zhu ye,
the – 'art making city' section (hou hanrou) is co-curated by yang yong.
urban villages and globally distinctive alternative practices are in juxtaposition with the interaction between the urban, architecture, art and culture for research and discussion and UABB's highlights are the site-specificic installations.
different from other biennales in the world, as a site, the UABB is witness to the most drastic urbanization of the 20th and 21st centuries. as the outcome of collision and fusion between rapid urbanization and the urban-rural dual structure in the planned economic period, urban villages have been preserved as a highly potent urban laboratory and base for breeding alternative lifestyles, where newcomers start to settle in the city. the curatorial team wants to redefine the experience for visitors, in view of the special environment of the urban village — a more diversified, open-minded understanding and imagination on urban living and evolutionary patterns, thus to critically think about the value of urban life.
UABB's main venue is nantou old town, shenzhen, china, with sub-venues set up in other urban villages around shenzhen.
december 15, 2017 – march 15, 2018
kieron marchese
I designboom
jan 11, 2018
a diverse digital database that acts as a valuable guide in gaining insight and information about a product directly from the manufacturer, and serves as a rich reference point in developing a project or scheme.
designboom will always be there for you
milan, new york, beijing, tokyo

,
since 1999