across the history of art, artists have long shared in a fascination with nature, cultivating intimate love affairs with water lilies, sunflowers and starry nights. the earth and its eternal bounty of flora and fauna has been an endless spring of inspiration, calling on creatives to interpret the landscape from their singular point of view. the all-white emptiness of a gallery's walls has urged artists to bring the outdoors in, while many others have added sculptural translations of the landscape back into the terrain from which they came. furthermore, to accentuate the inherent beauty of natural forms and manifest their magnificence in surprising ways, artists have enlarged the earth's elements to enormous proportions and epic scales.
from a riverbed running through a museum, to supersized mushrooms spinning overhead, here are 12 art installations to virtually surround yourself in the sights and sounds of spring.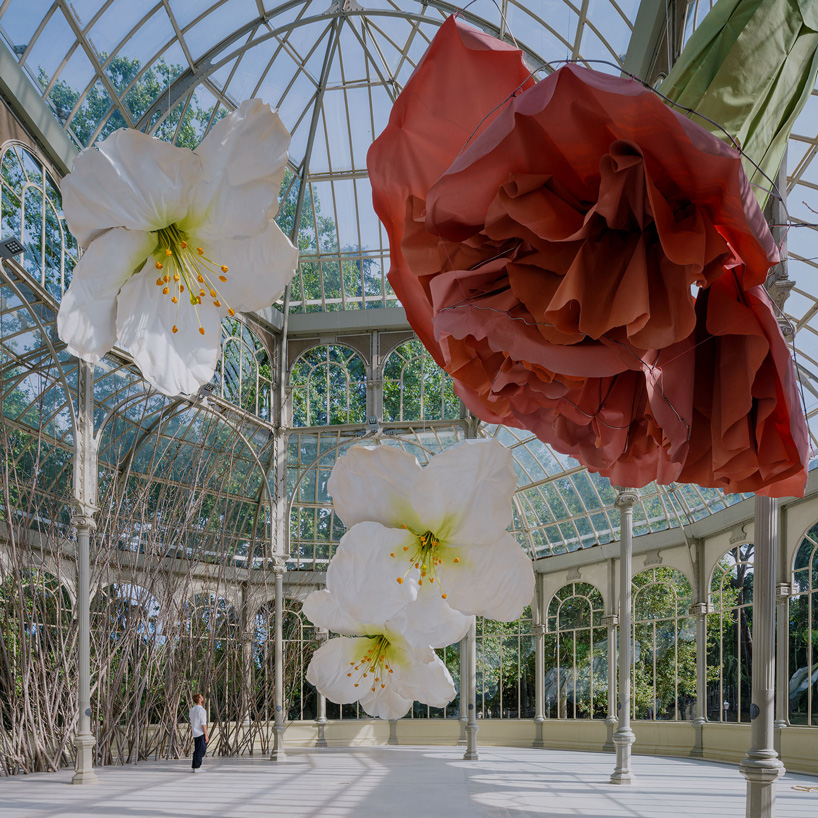 image by imagen subliminal (miguel de guzman + rocio romero) © petrit halilaj | courtesy the artist; kamel mennour, paris/london; chertlüdde, berlin
in the summer of 2020, artist petrit halilaj transformed madrid's palacio de cristal into a giant nest of massive flowers. the artist connected the temporary installation with the city's retiro park by opening windows, setting up structures, and placing feeding areas to attract birds and other creatures inhabiting or passing through the park. in collaboration with his life partner, artist álvaro urbano, halilaj has adorned his giant nest with large flowers made of delicate steel framework and painted canvas. read more on designboom here.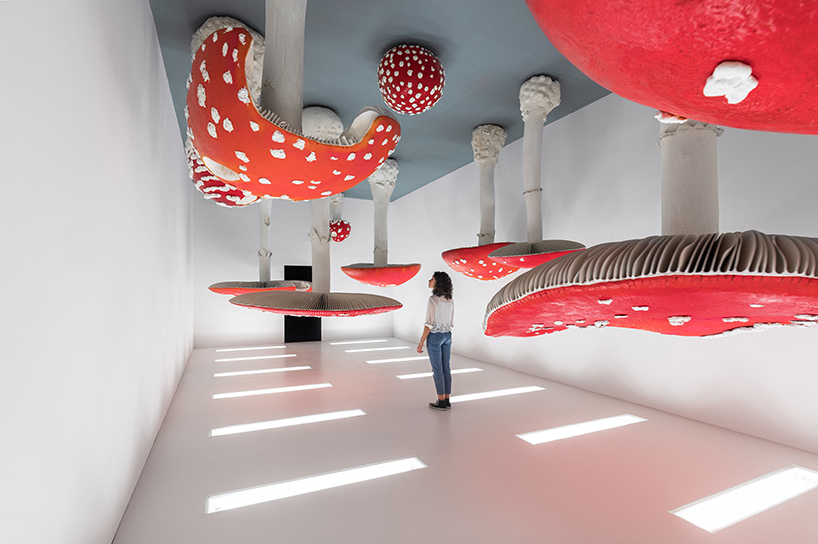 image by delfino sisto legnani and marco cappelletti, courtesy of fondazione prada
carsten höller first staged an immersive exhibition at milan's fondazione prada as a 'village of possibility' composed of psychophysical stimuli and interactive tools. within a labyrinthine, sensorial route, viewers encounter the disorienting 'upside down mushroom room', an immersive artwork comprised of oversized fungi growing from the ceiling that endlessly spun above visitors' heads. the installation now forms part of fondazione prada's permanent group exhibition, atlas, set within the OMA-designed 'torre' building. read more about the exhibition on fondazione prada here.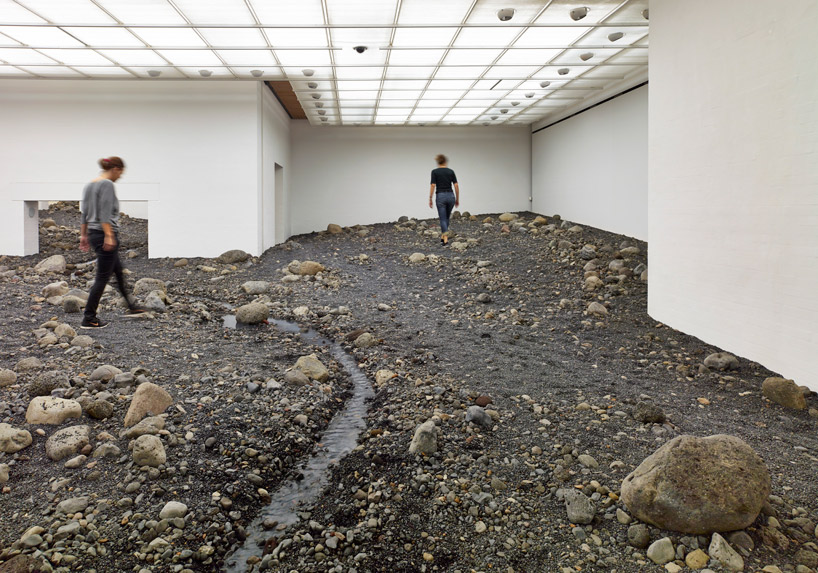 image by anders sune berg, courtesy of the louisiana museum of modern art
olafur eliasson presented 'riverbed' at denmark's louisiana museum of modern art in 2014, a giant landscape which unfolds throughout the south wing of the gallery in one great sweep. a surface of rocks canvassed the floors, creating a terrain for a stream of water winding through the interior. visitors were transported from the typical walk across a tile floor, to steps on top of loose terrain, and finally a course along a river. the installation acted as a direct reference to the history of the site — louisiana's south wing was added in 1982 on a slope that used to be home to a sculpture garden. read more on designboom here.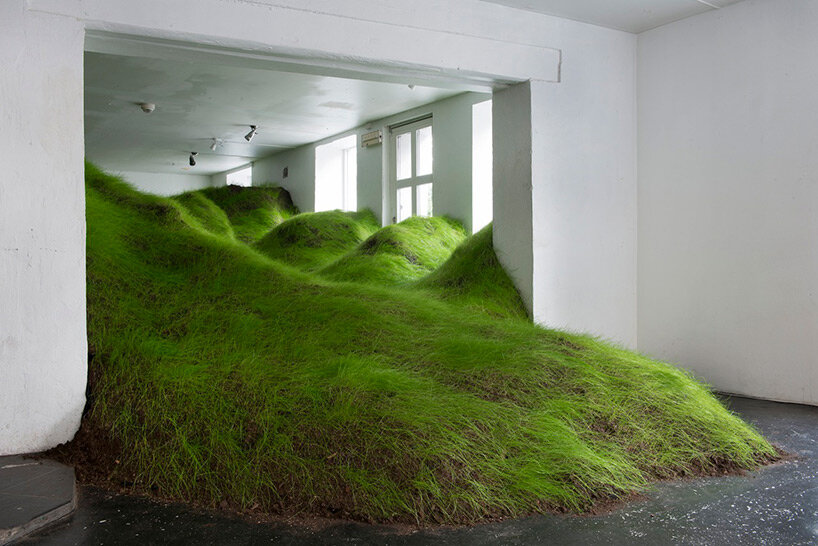 image by jason olav benjamin havneraas, courtesy of noplace
artist per kristian nygård infilled the gallery expanse at noplace in oslo, norway with a bright green cascade of grass, sweeping and swerving throughout the space. 'not red but green' comprised a natural, undulating terrain, spilling out from the entrance doorframe and pressing up against the surrounding windows and walls. lush vegetation flooded in every direction, forming a hilly landscape that beckoned an instinctual audience participation, although prohibited. by placing the mass of organic matter within the context of an indoor gallery, it changed the perception of the natural world for the viewer. read more on designboom here.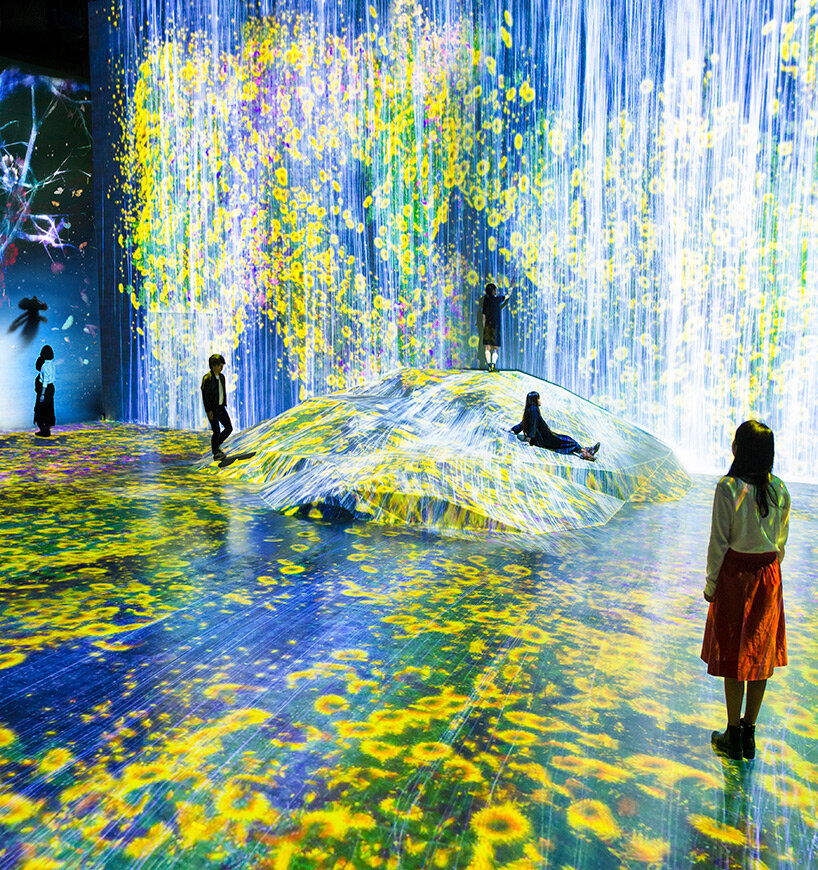 image courtesy of teamlab
set across a monumental 10,000 square meters, teamlab's mori building digital art museum features multiple 3-dimensional spaces that dissolve the boundaries between art, nature and visitors. visitors 'melt' into the digital works and become part of them as they transform according to the presence of people, with each installation calculated in real time and producing a complex, seemingly natural world. the artwork pictured above, 'universe of water particles on a rock where people gather', changes when person stands on the rock or touches the waterfall. the flow of water continues to transform in real time due to the interaction of people, with previous visual states never replicated, and never reoccurring. read more on designboom here.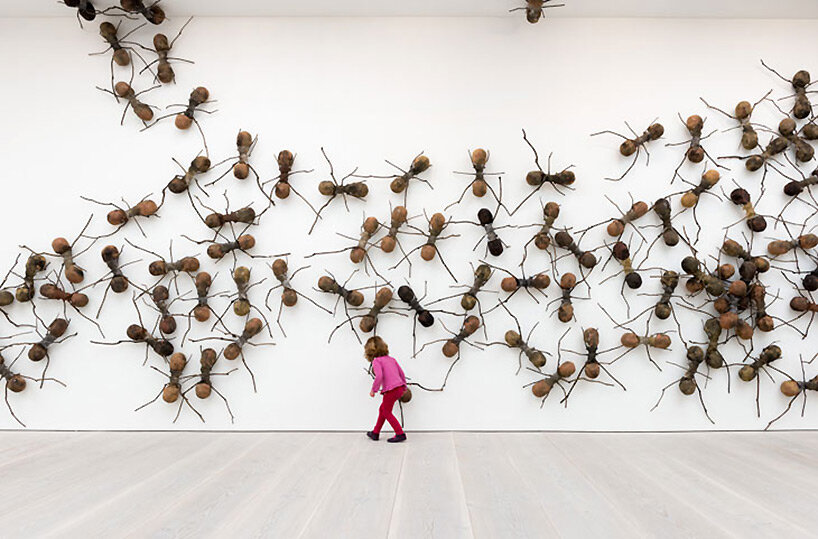 image courtesy of saatchi gallery
at london's saatchi gallery, colombian artist rafael gómezbarros installed an iteration of his more than 10-year-long project, 'house taken', featuring hundreds of oversized ant sculptures crawl up the ceiling and gallery walls. the ants have been previously deployed as urban interventions, taking over the façades of public buildings and national monuments — but here inside the gallery, the giant insects enormous proportions take on new meaning. read more on saatchi gallery here.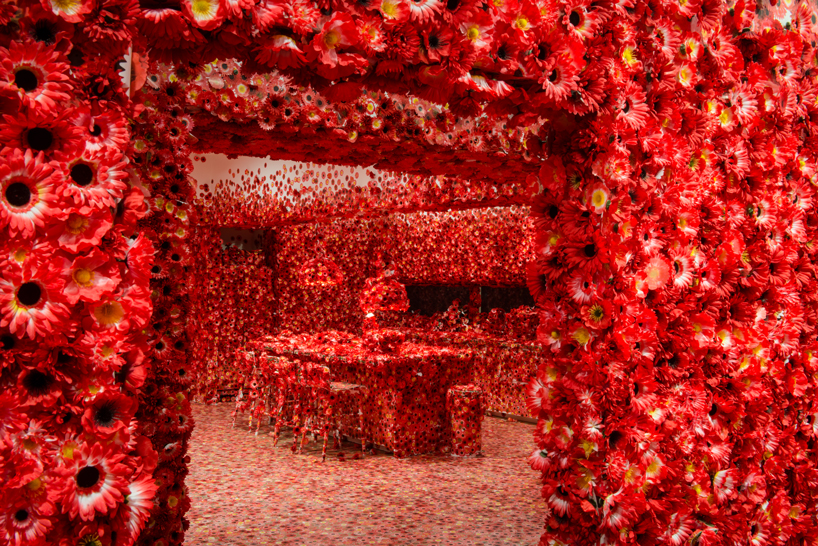 image by eugene hyland, courtesy of NGV
an exploration of obliteration by yayoi kusama came in the form of 'flower obsession' at the NGV triennial in melbourne in 2018. the installation began with a relatively normal, plainly-furnished room and was quickly transformed by a 'virus' of beautiful, red flowers left by visitors. the interactive work is in reference to one of kusama's earliest experiences with infinity. one day, when she was very young, her child-eyes looked around a kitchen and took interest in a table cloth patterned with red flowers. read more on designboom here.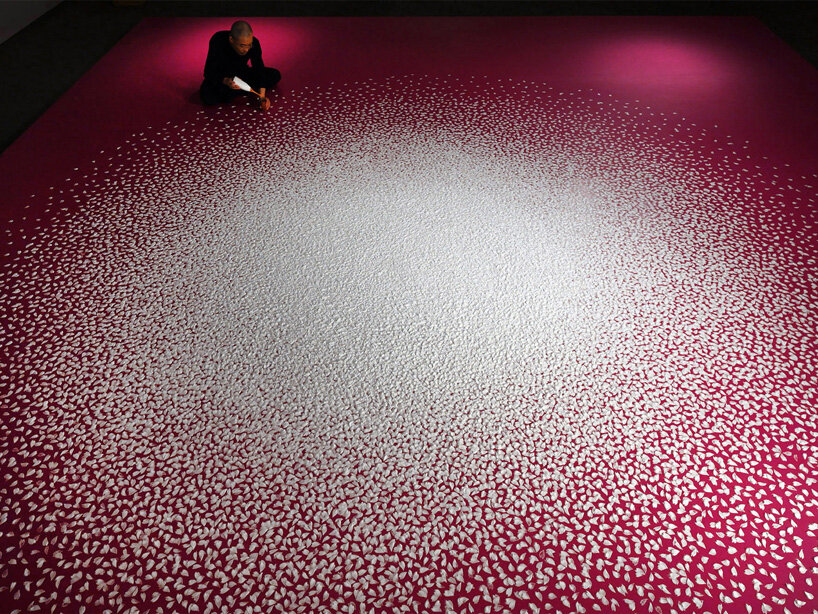 image courtesy of motoi yamamoto
motoi yamamoto created a monumental installation of about 100,000 cherry blossom petals made of salt for his solo exhibition 'sakura shibefuru' (falling cherry petals) at the setouchi city art museum. for the exhibition, which is on until may 5, 2021, the japanese artist developed the salt petals one by one, which took him 55 hours and about nine days of work. visitors are invited to pause and enjoy the meticulously crafted scenery, while contemplating 'the next season, after the cherry blossoms have fallen.' read more on designboom here.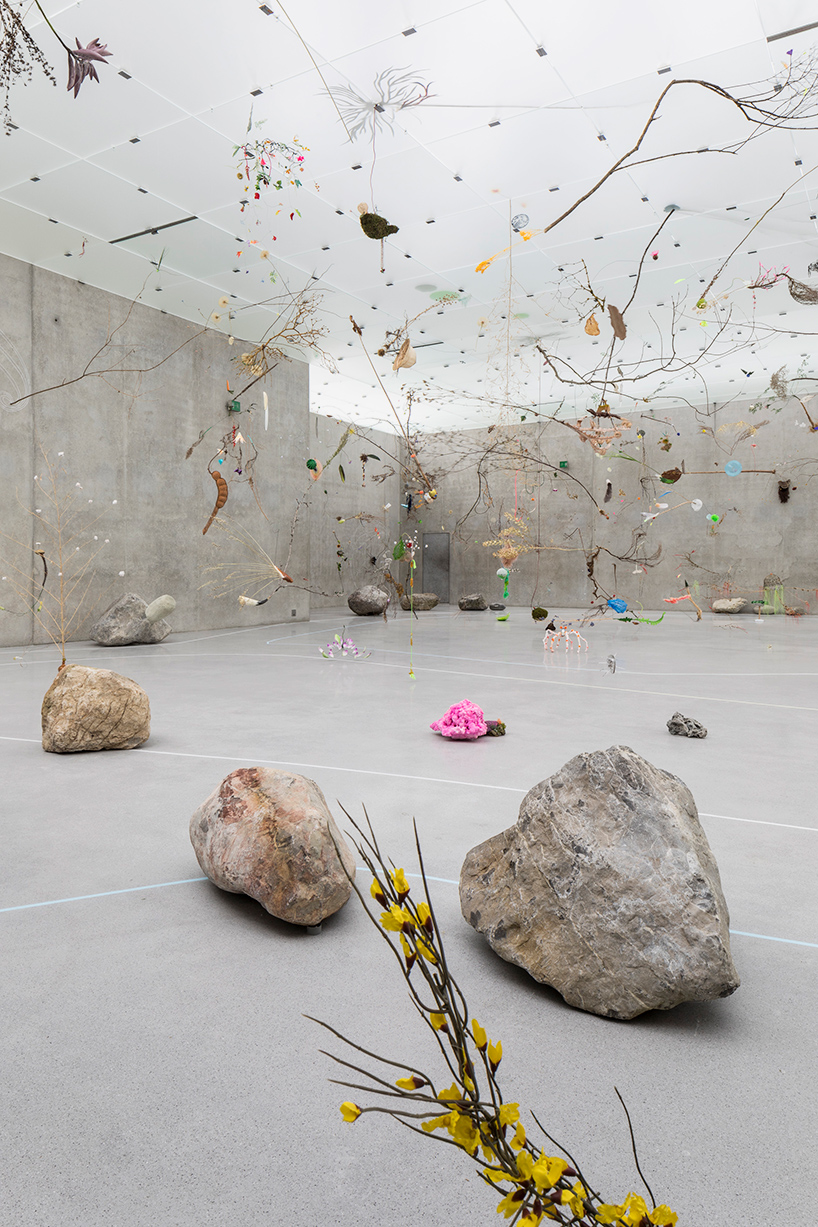 image by markus tretter, courtesy of atelier peter zumthor & partner © peter zumthor, kunsthaus bregenz
in 2017, the kunsthaus bregenz's architect peter zumthor curated an exhibition that created spaces of artistic reflection, mediation and contemplation. centering around the cultural themes he himself cherishes, zumthor's 'dear to me' turned the austrian museum into a place of architectural discussion and educational discourse, with works by some of his most-appreciated artists. descending from the institution's uppermost levels, visitors found a fantastical garden on the top floor. artist couple gerda steiner and jörg lenzlinger infilled the space with an arrangement of delicate plants, each suspended like a mobile from the museum's light-filled ceiling. made from a mix of materials, the botanical compositions engage with the architecture of the site, growing upwards, extending horizontally, and delicately overlapping interior walls. read more on designboom here.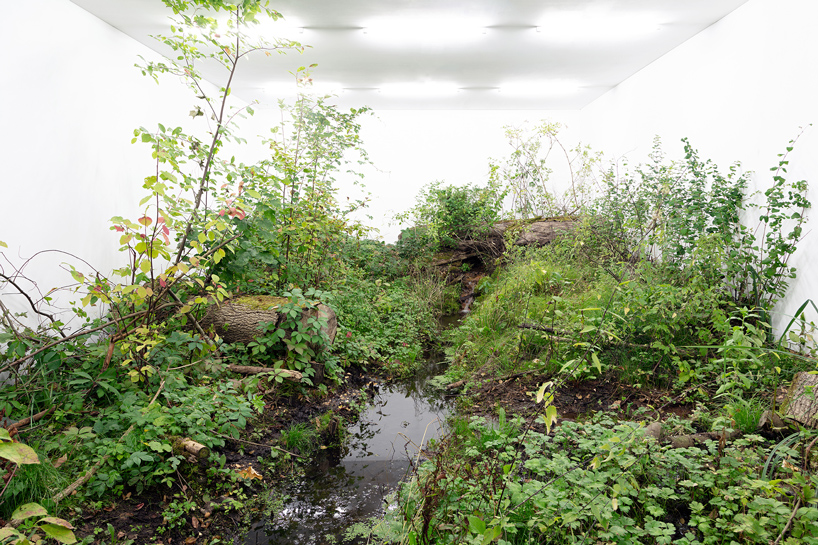 image courtesy of alexander levy
in 2019, artist fabian knecht presented 'isolation' — a white-box gallery space erected to capture true nature and transform the untouched landscape into the 'great indoors.' while the interiors suggest a series of galleries occupied by landscape installations, the work in fact comprises a white, fluorescent-lit enclosure dropped atop a fragment of landscape. decontextualized from its surroundings, this small swatch of land evokes its own set of associations, analogies, desires and anxieties. the installation serves to isolate and objectify the landscape. read more on designboom here.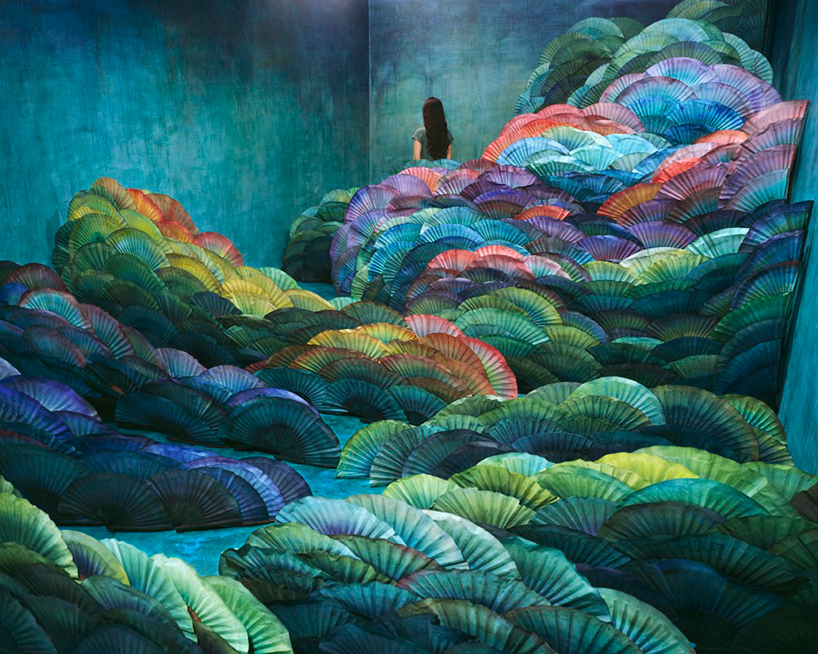 images courtesy of jeeyoung lee and opiom gallery
korean artist jeeyoung lee turned her 4-square-meter studio into an alternate universe. a series of intricate and imaginative labyrinths transport viewers to a fictional dreamscape — where oversized flowers, giant grasslands and larger-than-life leaves permeate each scene. in their making, the elaborate sets require extraordinary patience and copious creative materials, as each element is individually handcrafted to diminish the need for post-production manipulation. the compositions act as a visual representation of the artist's own thoughts and frustrations. although she includes herself in each piece, her image is not meant as a self-portrait — rather a quest for identity, a desire for personal introspection, and an exploration of her frame of mind. read more on designboom here.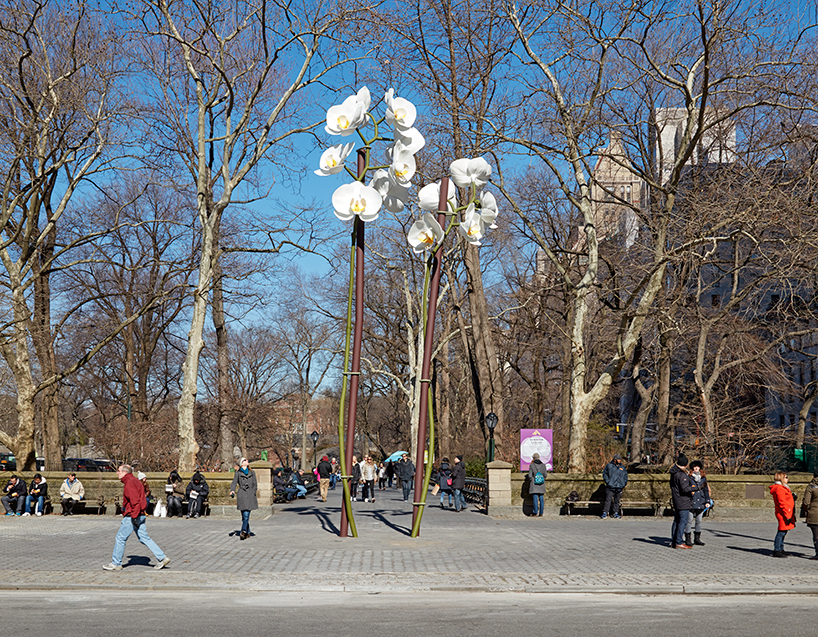 image courtesy of galerie buchholz, cologne/berlin/new york; and david zwirner, new york/london
© 2015 artists rights society (ARS), new york / VG bild-kunst, bonn
photo by jason wyche, courtesy public art fund, NY
rising above visitors entering central park from its southeast corner were isa genzken's 'two orchids'. on view in the summer of 2016, public art fund presented a pair of oversized blooms that reached heights of 34 and 28 feet in new york city's doris c. freedman plaza. originally shown at the 2015 venice art biennale, the sculptures appear delicate and willowy, despite their stainless steel framework. the remarkably thin stems are tethered to straight metal shafts that support a cluster of large white flowers. genzken's 'two orchids', whose predecessor 'rose II' was installed on the façade of the new museum from 2010-2013, achieves monumentality through its colossal scale, careful detailing, and deliberate placement within new york's urban landscape.
nina azzarello
I designboom
apr 03, 2021
KEEP UP WITH OUR DAILY AND WEEKLY NEWSLETTERS
a diverse digital database that acts as a valuable guide in gaining insight and information about a product directly from the manufacturer, and serves as a rich reference point in developing a project or scheme.
designboom will always be there for you
milan, new york, beijing, tokyo

,
since 1999