exploring 'l'arc de triomphe, wrapped' from birth to fruition
'Christo and Jeanne-Claude 'L'Arc de Triomphe, Wrapped" exhibition is now on view at 21_21 DESIGN SIGHT in Tokyo. Running from 13 June 2022 to 12 February 2023, the display traces Christo and Jeanne-Claude's life through their milestone projects, including their lifelong dream from its birth to its fruition. A historical retrospective of sixty years offers visitors an entirely new and innovative experience.
From September 18 until October 3, 2021, the Arc de Triomphe in the Place Charles de Gaulle was entirely wrapped with 25,000 sqm of recyclable polypropylene fabric in silvery blue and 3,000 m of red rope (see more in our previous article here). Thanks to the commitment of their team, their vision became a reality even though the couple had passed away. The iconic monument at the center of the busiest roundabout in Paris was completely covered, leaving passers-by speechless as they gazed at one of the greatest works of public art worldwide in 2021.
Designboom visited the exhibition in Tokyo to offer readers an insight into the rich archive. We also talked with Pascal Roulin, the curator of the exhibition, who cinematically revived 'L'Arc de Triomphe, Wrapped', offering guests a multi-sensorial journey (see the interview below). The collection consists of a large-scale installation depicting the materiality, video footage, architectural models, and a series of visual representations.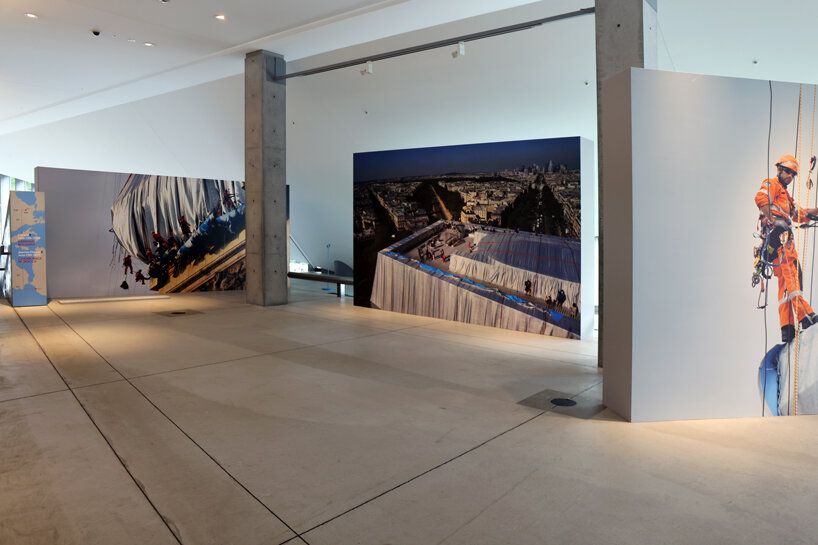 image and full-header image © designboom
'This exhibition is about a Parisian story'
'Christo and Jeanne-Claude ' L'Arc de Triomphe, Wrapped" exhibition explains the 60-year journey from the artists' first encounter in Paris, with their long-term project coming finally to life. The collection is organized in collaboration with the Christo and Jeanne-Claude Foundation, led by Vladimir Yavachev.
The artist duo was born on the same day and year, on June 13, 1935. He in Bulgaria and she in Morocco. At the age of 23, they first met in Paris and began a creative collaboration that would last a lifetime. Together, they realized numerous large-scale projects worldwide. After Jeanne-Claude's death in 2009, Christo continued to work on behalf of both, bringing to life some of the projects they had envisioned in the past. 'L'Arc de Triomphe, Wrapped' was the last one. Christo died in May 2020 without witnessing the finalization of the project. However, his supportive team, consisting of professional engineers, officials, contractors, manufacturers, and others, brought the project into reality in September 2021.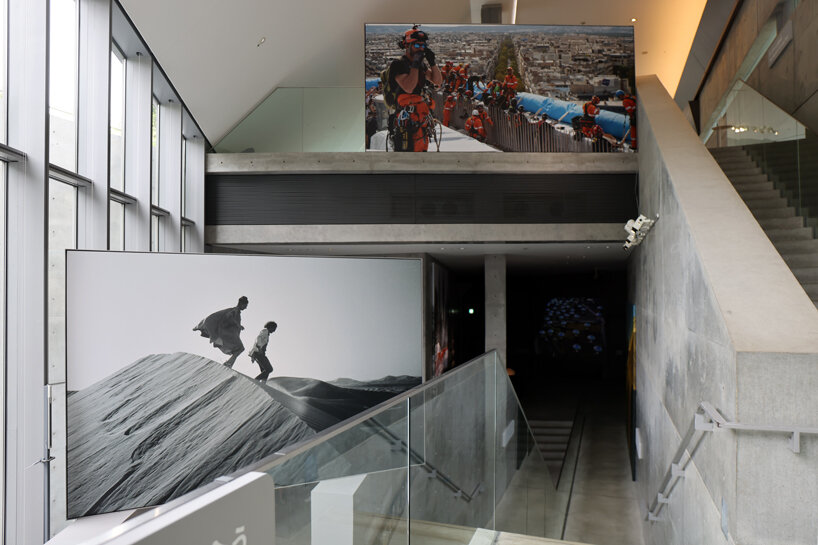 image © designboom
an insight into the exhibition at 21_21 DESIGN SIGHT
Wandering the basement lobby at 21_21 DESIGN SIGHT, guests can catch a video of Christo drawing 'L'Arc de Triomphe, Wrapped' in his New York studio. The first gallery demonstrates a meticulously designed architectural model of the Arc de Triomphe, accompanied by footage explaining the construction process. Another part of the exhibition hosts an installation representing parts of the 'L'Arc de Triomphe, Wrapped'.
Viewers can touch the material and experience the careful placement of the fabric so as not to harm the historical monument. From the first sketches through challenges and difficulties to the final realization, the visitors absorb the huge power of creativity and passion.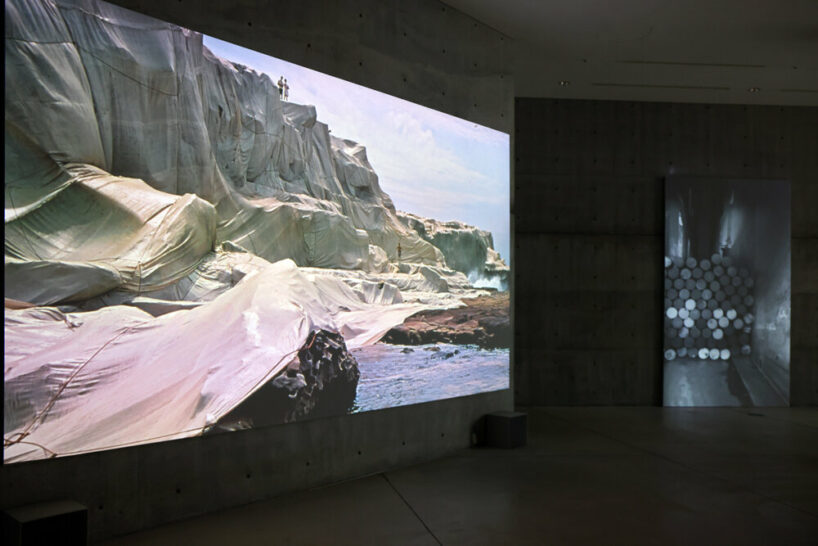 image © designboom
interview with Pascal Roulin
designboom (DB): Christo met Jeanne-Claude in Paris in 1958, and the two began their creative collaboration there in the sixties. Can you expand more on how the duo's relationship with the French capital evolved throughout the years?
Pascal Roulin (PR): Books, art historians, art critics, and many of Christo's interviews and lectures illustrate this evolution within the Paris stage carefully. In this exhibition, we have a very condensed shortcut to relate the Paris project installed in 2021 with the meeting of two young, super gifted, and inspired artists from '58. In Rue Visconti, Christo and Jeanne-Claude installed a temporary sculpture of barrels named 'Iron Curtain', referring to Christo's escape to the West from communist Bulgaria. This was in 1962, a few years before the barricades of May 68 in Paris.
In the city's Place du Trocadéro, the pair wrapped one of the gilded statues in an impromptu manner, all well filmed and documented. Their many works and collaborations with the Avant-Garde of the early sixties lead to the pair moving to America. That time marked the beginning of their large projects, which have always surprised, and forced respect and admiration in Europe, reinforced by their skill to publish and make their projects even more visible than what the art world was used to at the time (except maybe for artists in the music, theater or movie industries). In the early '80s, when a socialist party was in power in France, the artist couple, now well-known worldwide and based in New York, finally wrapped the Pont-Neuf in Paris. The large-scale temporary artwork showed that Paris was happy to welcome them back for a major creation. 'L'Arc de Triomphe, Wrapped' comes after a few dozens of giant artworks, working on a site that they envisaged as a visual project without engaging the formal presentation to realize it.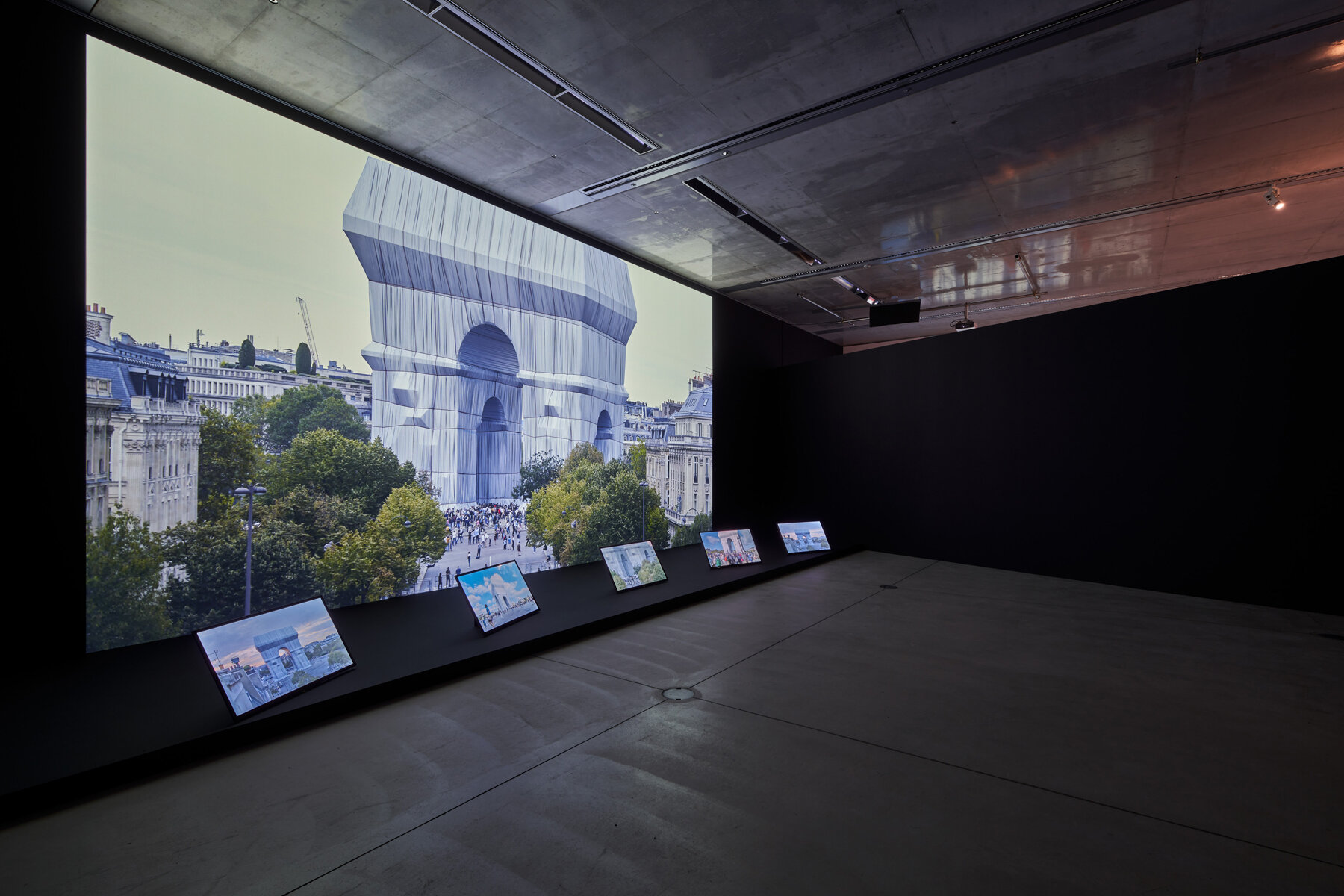 DB: What makes Christo and Jeanne-Claude's works so significant and beloved to this day?
PR: The visual and touchable reality of these large temporary works is impressive by their size and the understanding of what it is. People are invited to observe, touch, and experience the project and its materiality. The whole concept process also produces thousands of impressive artworks, which are also very understandable and beautiful, and pay for the project's realization on a large scale. Quite the perfect model of an independent enterprise. More mysteriously, the works have the power to put a smile on viewers' faces. They make people happy temporarily and create strong memories that last forever. Many brands and advertisements would love to have this power on the masses, but here it works because it's purer and more inspired.
DB: What was the biggest challenge for you to design this exhibition?
PR: One challenge is how to fit such a large and rich project with exceptional material into a unique space like Tadao Ando's 21_21 DESIGN SIGHT. We had to present a lifetime project within a context limited in time and space. We had to depict the construction site at the center of the busiest roundabout in Paris, expressing the hustle and bustle of the area. Another challenge was to show bits of 14 collaborators' interviews which were between 20 minutes and one hour each. But the biggest challenge always is the time to polish things. The ideal world needs to balance the study, the trial, the design, and the polishing, and everybody has different perceptions about how much time is allowed for each step.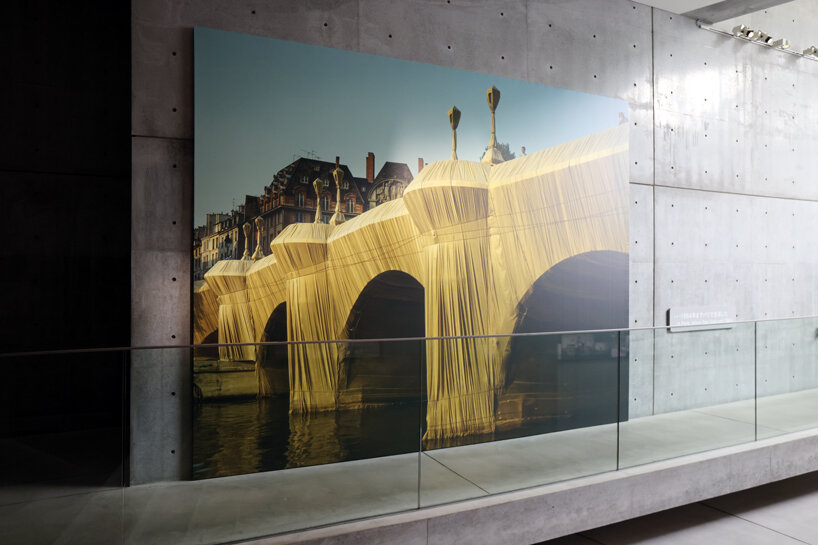 image © designboom
DB: Do you feel any special meaning in opening this exhibition in Tokyo?
PR: Issey Miyake, who was a friend and great supporter of Christo and Jeanne-Claude since ever, asked me to express how energy and teamwork with creative skills and techniques can be utilized, and how the process is exciting and rewarding to many who participate in these projects. 21_21 DESIGN SIGHT fulfills exactly that purpose, showing multiple aspects of the joy of making things. The fantastic material of Christo and Jeanne-Claude's creation through the prism of the highly skilled team that made it happen.
DB: Throughout this exhibition, visitors will find that it's not just the structure of the Arc de Triomphe that is wrapped. Is there any story related to it that remains wrapped in mystery?
PR: I lived for 25 years in Paris, and every 14 of July, on Bastille Day, the biggest celebration of military pride was presented on the Champs-Elysée. The Arc de Triomphe, which stands at the western end of the Champs-Elysée, carries sculptures that tell many stories of historical battles, dear to a lot of French who have personal memories of sacrifices for the nation. For people like me, I think Christo and Jeanne-Claude had an elegant way to wrap all of that into an imposing, peaceful, and welcoming monumental artwork.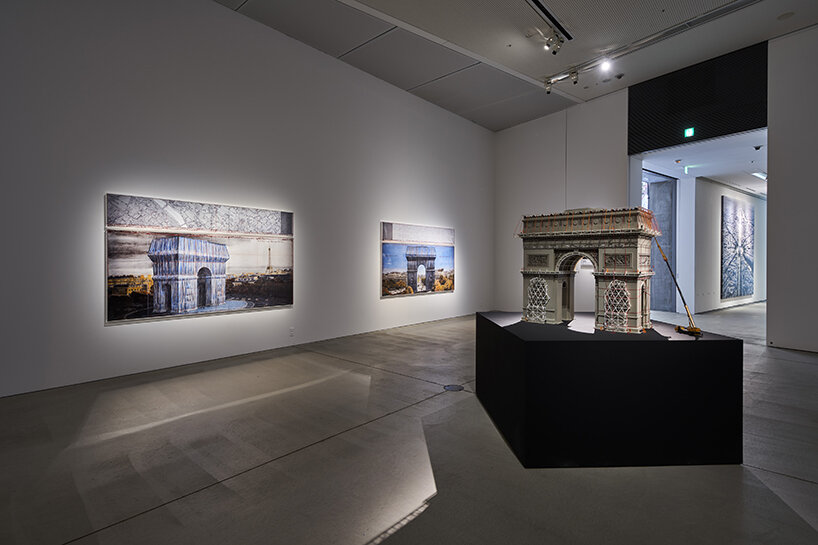 large-scale visual representations
© Masaya Yoshimura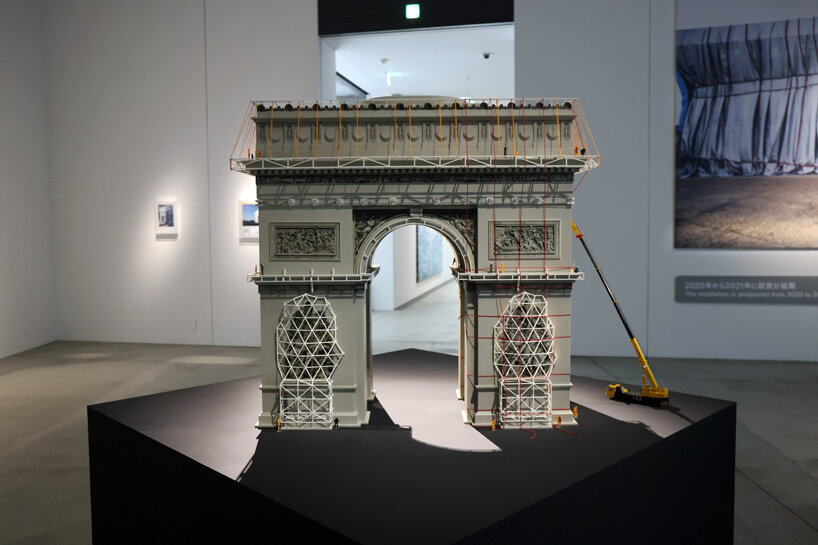 meticulously crafted architectural model of the Arc de Triomphe
image © designboom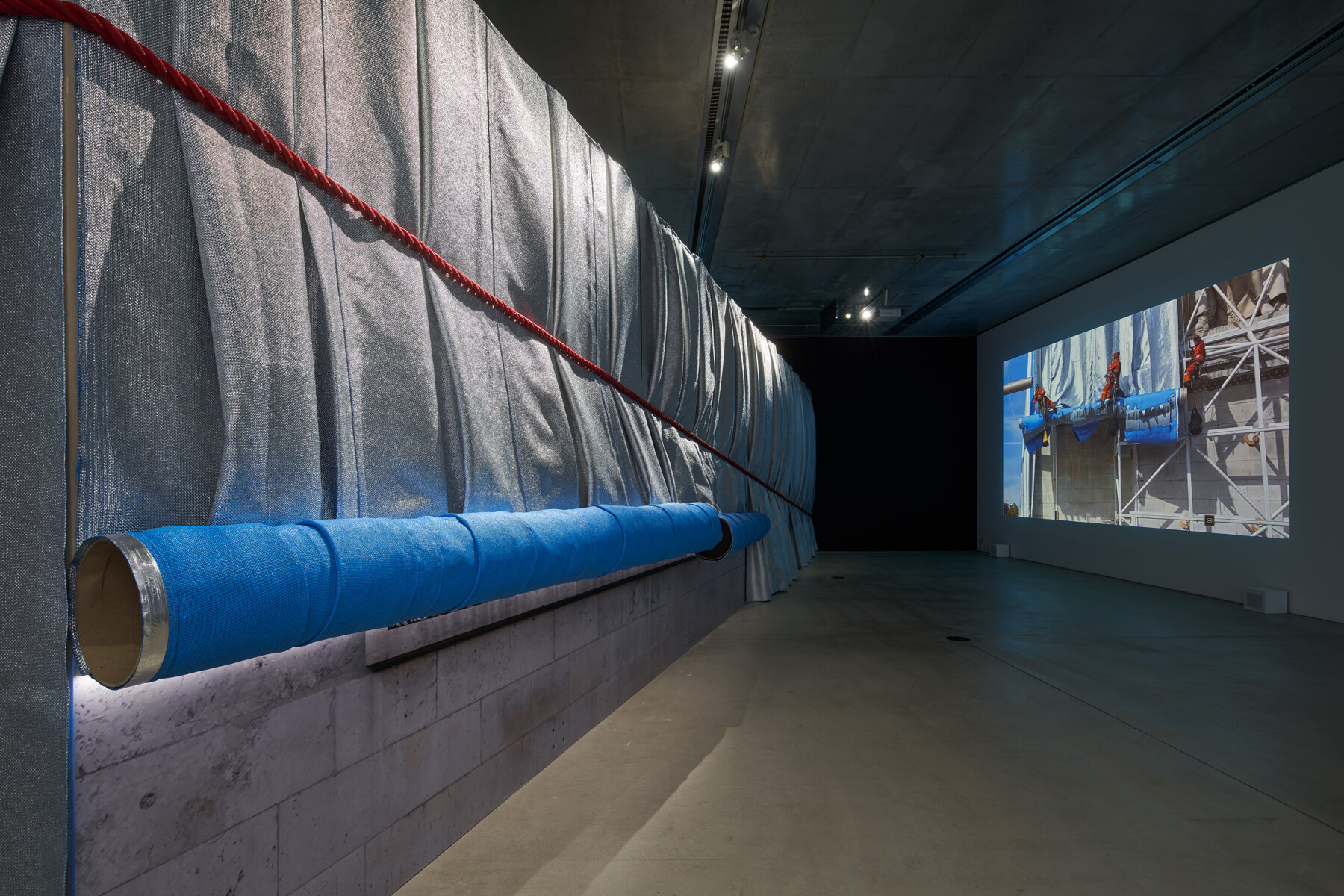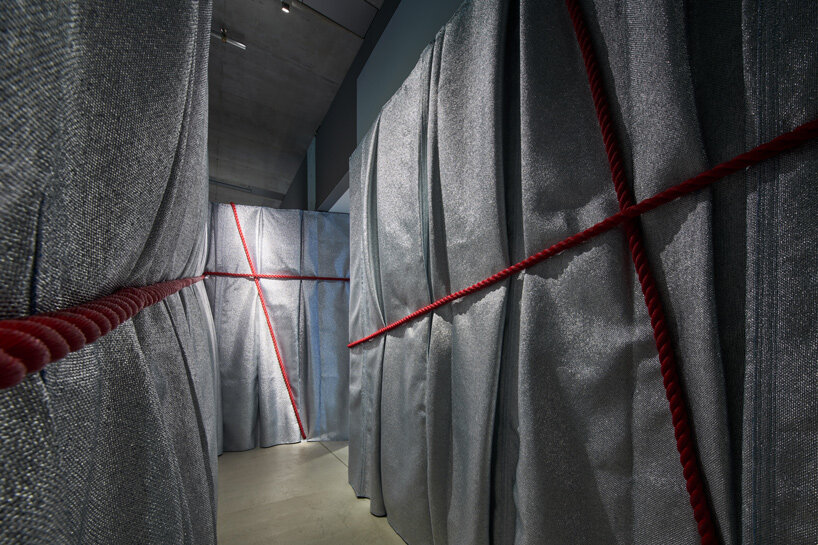 visitors can experience the recyclable polypropylene fabric wrapped in red rope
© Masaya Yoshimura
image © designboom
image © designboom
detail of the materiality, image © designboom
close view of the model, image © designboom
mock-up of the iconic monument at the center of the busiest roundabout in Paris, image © designboom
image © designboom
image © designboom
image © designboom
image © designboom
image © designboom
Photo: Benjamin Loyseau
©2021 Christo and Jeanne-Claude Foundation
Christo and Jeanne-Claude's 'L'Arc de Triomphe, Wrapped' was on view for 16 days from september 18 until october 3, 2021,
Photo: Wolfgang Volz
©2021 Christo and Jeanne-Claude Foundation
project info:
exhibition name: 'Christo and Jeanne-Claude 'L'Arc de Triomphe, Wrapped"
artists: Christo and Jeanne-Claude
venue: 21_21 DESIGN SIGHT
dates: 13 June 2022 – 12 February 2023
christina petridou
I designboom
jun 19, 2022
KEEP UP WITH OUR DAILY AND WEEKLY NEWSLETTERS
a diverse digital database that acts as a valuable guide in gaining insight and information about a product directly from the manufacturer, and serves as a rich reference point in developing a project or scheme.
designboom will always be there for you
milan, new york, beijing, tokyo

,
since 1999