ai weiwei's ongoing engagement with the global refugee crisis has reached a monumental milestone with the opening of 'laundromat' at new york's deitch projects. the exhibition brings together thousands of materials collected from an informal refugee camp in idomeni — a small village in northern greece and official border crossing into the republic of macedonia. at its peak in spring 2016, up to 15,000 men, women and children — mostly from syria, afghanistan or iraq — spent weeks in dire conditions with scarce food and harrowing sanitary conditions. in may 2016, idomeni was shut down, displacing the thousands of refugees living there. in a rush to mobilize, many left behind clothes, shoes, personal mementos and photographs. ai weiwei has collected, washed, organized and now exhibited these objects in new york as a poignant and powerful testament to a human condition at a tumultuous moment in time. through his work, he has become one of the most important advocates of human rights.

the space has been turned into a monumental display of clothes, shoes and blankets
image © designboom
from now through december 23, 2016, ai weiwei's 'laundromat' takes over deitch projects. the space has been turned into a monumental display of carefully-hung clothes, meticulously-arranged shoes and precisely-folded blankets, each which have been washed, hung to dry, steamed, sorted and organized. on the ground, 2,000 posts from 'the newsfeed' canvas the gallery floor, displaying both text and image-based snippets from the media. this ongoing project, first started in january 2016 by ai weiwei and his assistants, captures high-impact media reports relevant to the crisis as cataloged on a private whatsapp group. exhibited on the ground, these fragments of tweets, video stills and digital articles portray an overarching snapshot of the media's reaction to the historic humanitarian crisis. on the gallery walls, images of weiwei and his team in idomeni span from floor to ceiling, documenting months of life inside these informal camps and poignantly embodying the experience of the refugees.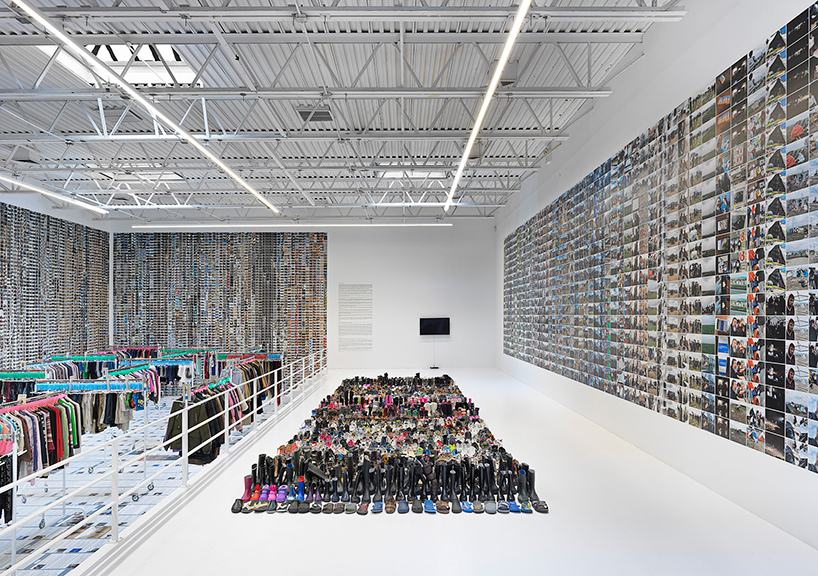 image by genevieve hanson, courtesy jeffrey deitch inc. new york
'the refugee project began while I was living under soft detention in beijing,' ai weiwei says. 'following my arrest and secret detention in 2011, my passport was confiscated and I was prohibited from traveling outside of china. although I could not leave the country, I was able to stay engaged globally through the internet.'
'in july 2015, I received my passport back from the chinese authorities and traveled to berlin. there, I visited some refugees who had recently arrived from syria. I decided to become more involved. I was unfamiliar with the situation and the scope of the issue was wide enough for me to study. during christmas, I visited the moria refugee camp in lesbos, with my son and partner. I saw how the refugees arrived on the greek shore, many of them women and children. the conditions at the camp were shocking.'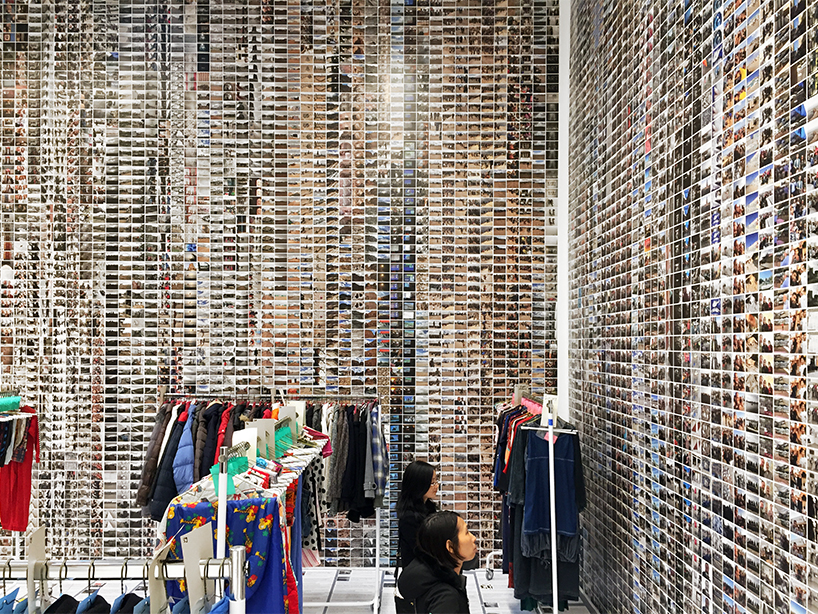 images of ai weiwei and his team in idomeni span from the floor to the ceiling
image © designboom
'I decided to follow the refugees' path,' ai weiwei continues. 'I went to the idomeni refugee camp. it had become a bottleneck when the flow of refugees entering europe was completely shut off. before, the refugees would travel through idomeni on the so-called balkan route to reach europe. once the macedonian government closed the border, the camp swelled to over 15,000 refugees.'
'I started to take many photographs, to try to record the moment. the harsh reality can act as evidence and make us reflect on these conditions. this is a condition many people refuse to see, or try to distort or ignore. many willfully believe this isn't actually taking place. when you see so many children out of school, 263 million children worldwide, you can easily predict what our future holds.'

'laundromat' takes over jeffrey deitch gallery from now through december 23, 2016
image © designboom
'when we started filming in idomeni, the first thing we noticed was people trying to change their clothes. these are the clothes they wore from syria, wet and soiled from the difficult journey across the ocean, over mountains and through woods. they had no chance to wash their clothes until they were forced to stop in idomeni. they would hand wash the clothes and throw it on the border fence to dry.'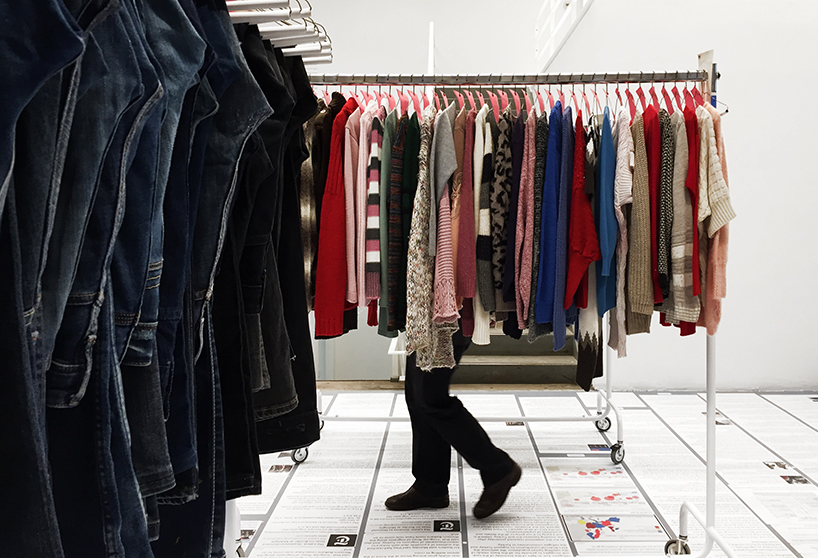 ai weiwei's ongoing engagement with the global refugee crisis has reaches a monumental milestone
image © designboom
'once the refugees were forced to evacuate to different camps from idomeni, many of those possessions were left behind. trucks came in and loaded these items up to take towards the landfill. i decided to see if we could buy or collect them so they would not be destroyed.'
'with a truckload of those materials, including thousands of blankets, clothes and shoes, all impossibly dirty, we transported them to my studio in berlin. there, we carefully washed the clothes and shoes, piece by piece. each article of clothing was washed, dried, ironed, and then recorded. our work was the same as that of a laundromat.'

the exhibition brings together thousands of materials collected from an informal refugee camp in idomeni 
image © designboom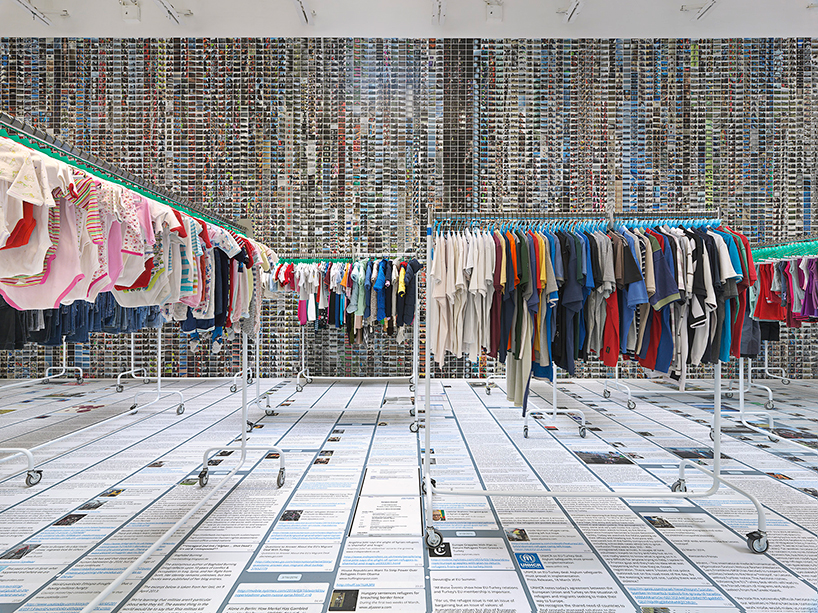 image by genevieve hanson, courtesy jeffrey deitch inc. new york

the materials have been washed, hung to dry, steamed, sorted and organized
image © designboom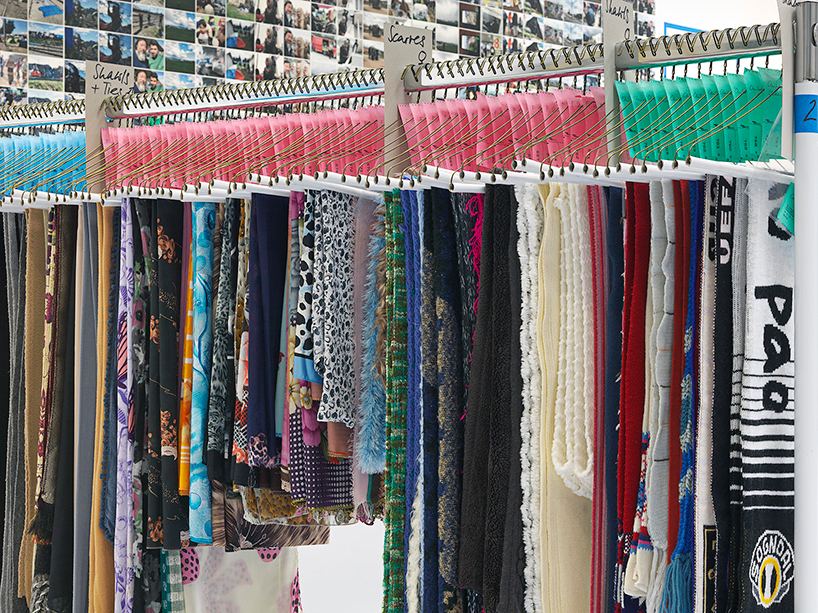 image by genevieve hanson, courtesy jeffrey deitch inc. new york

clothes, shoes, personal mementos and photographs are included in the exhibit 
image © designboom

ai weiwei has collected, washed, organized and now exhibited these objects in new york 
image © designboom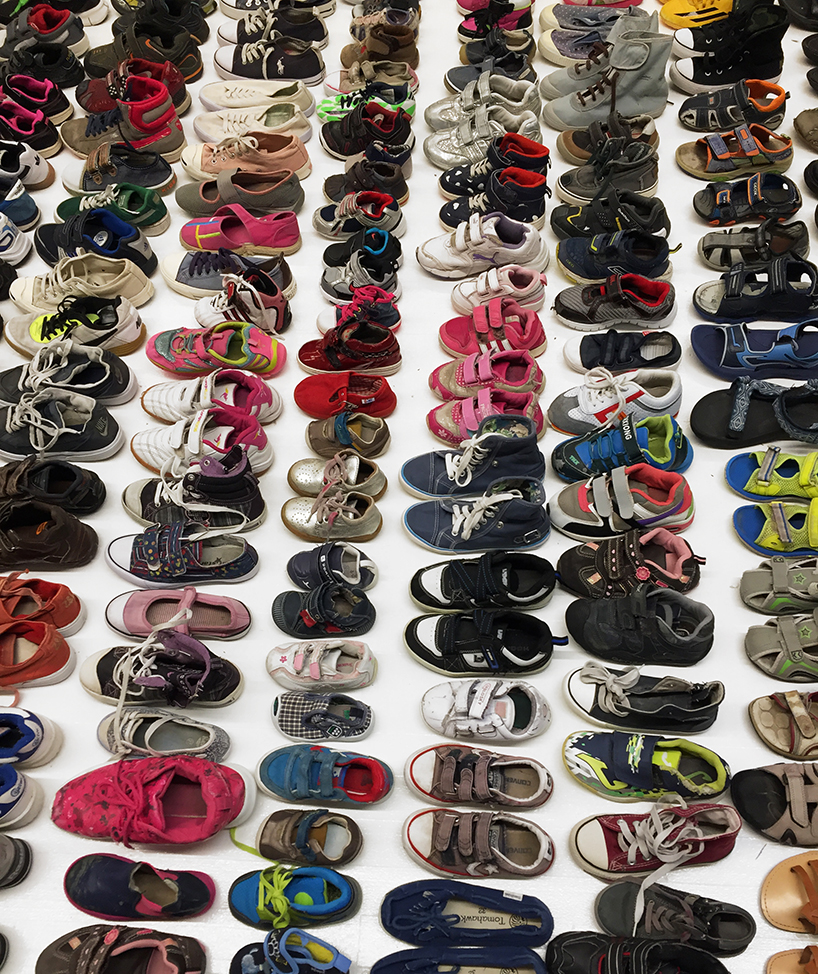 the display of objects serves as a poignant and powerful testament to a human condition
image © designboom

through his work, ai weiwei has become one of the most important advocates of human rights
image © designboom

shoes are carefully arranged on the ground of the gallery 
image © designboom

rows of shoes are displayed alongside images from the camps, clothing and blankets 
image © designboom

the exhibition forms an immersive snapshot of the ongoing refugee crisis 
image © designboom

snapshots document months of life inside these camps and poignantly embody the experience of the refugees
image © designboom

thousands of images from the artist's experience at the camp line the gallery walls 
image © designboom

2,000 posts from ai weiwei's project 'the newsfeed' canvass the gallery floor with media snippets
image © designboom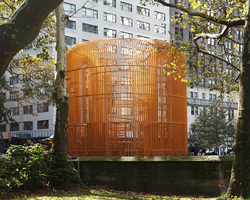 oct 10, 2017
oct 10, 2017
aug 21, 2017
aug 21, 2017
jun 27, 2017
jun 27, 2017
jun 13, 2017
jun 13, 2017
jun 07, 2017
jun 07, 2017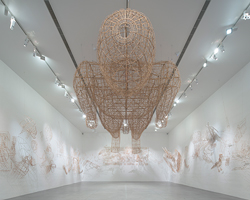 apr 12, 2017
apr 12, 2017