feb 15, 2016
ai weiwei wraps berlin's konzerthaus with 14,000 refugee life jackets
in an effort to draw attention to the ongoing humanitarian crisis, ai weiwei has used refugee life jackets discarded and collected in lesvos to wrap the pillars of the landmark konzerthaus in berlin. the six columns that receive visitors to the concert hall have been temporarily draped in 14,000 orange vests, each carefully attached to one another and affixed to the supporting colonnade. 

thousands of jackets have been carefully attached to each other and onto the columns  
photo (above + main) by oliver lang / courtesy of konzerthaus berlin
over the past month, ai weiwei has been working from the greek island of lesvos, where thousands of refugees land after battling the harsh and unrelenting sea. the chinese artist's instagram account features hundreds of photos and videos he's taken of asylum seekers as they finally reach shore, offering an unprecedented account of the daily conditions and growing community on the island.
ai weiwei's politically charged statement corresponds to his direct involvement on the greek island. the sheer abundance of jackets used by the artist highlights the countless lives changed by the crisis, with every single vest reflecting the individual life of a man, woman or child whose landing at lesvos is just the beginning. the installation has been realized for the cinema for peace gala on february 15, 2016.

he installation has been realized in conjunction with the cinema for peace gala
photo by oliver lang / courtesy of konzerthaus berlin

the six columns have been temporarily draped in 14,000 orange vests
photo by oliver lang / courtesy of konzerthaus berlin

each of the vests have been carefully attached to one another and affixed to the supporting colonnade
photo by oliver lang / courtesy of konzerthaus berlin

the installation seeks to draw attention to the ongoing humanitarian crisis 
photo by frank löschner / courtesy of konzerthaus berlin

large cranes help attach life jackets to the upper areas of the concert hall
photo by frank löschner / courtesy of konzerthaus berlin

the installation in berlin feeds off ai weiwei's humanitarian work in greece
photo by frank löschner / courtesy of konzerthaus berlin

thousands of jackets have been collected from the greek island of lesvos
photo by frank löschner / courtesy of konzerthaus berlin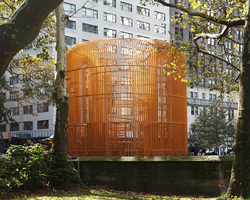 oct 10, 2017
oct 10, 2017
aug 21, 2017
aug 21, 2017
jun 27, 2017
jun 27, 2017
jun 13, 2017
jun 13, 2017
jun 07, 2017
jun 07, 2017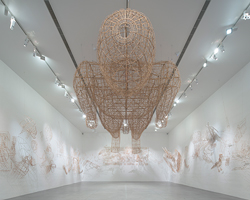 apr 12, 2017
apr 12, 2017