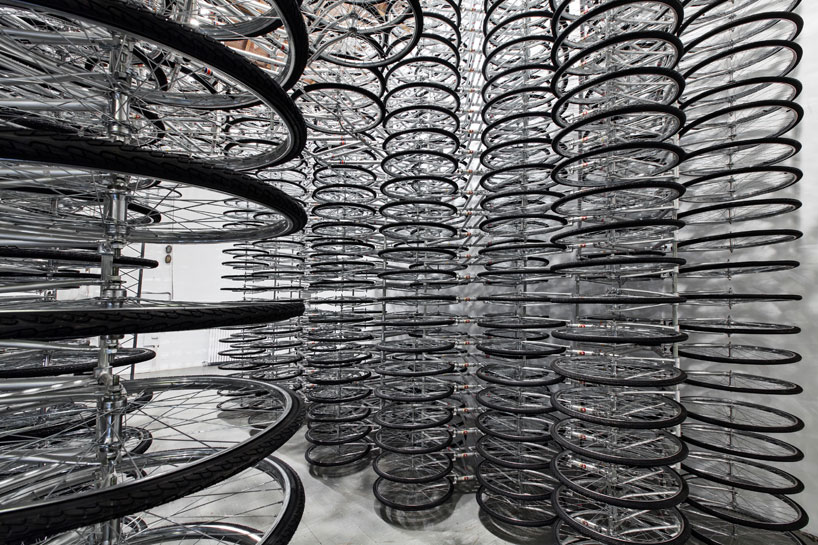 jan 11, 2013
ai weiwei: stacked - an installation of 760 bikes
galleria continua presents the first solo show by ai weiwei within its san gimignano gallery space. comprised of the chinese contemporary artist's sculptures, video and photographic works, the exhibition emphasizes his indifference to his chinese culture and traditions, displaying his ability to project himself into modernity, within an unflagging social and political awareness. 
hundreds of bikes are systematically stacked by ai weiwei all images © the artist, courtesy of galleria continua
one of the most outstanding pieces displayed is a walk-around installation composed of 760 bicycles, presented on the main stage of the gallery. a continuation of the controversial creative's 2008 work 'very yao', 'stacked' brings to light the principal means of transportation in his native country. the two-wheelers he has employed in this work are all produced by 'forever' (yong jiu pai), china's most common bicycle brand. as one experiences the hundreds of systematically arranged bikes, ai weiwei's exploration of mass manufacturing becomes evident, the chain and sprocket mechanisms in a way depictions of the matrix of people which makes up the labour force. the piece can be interpreted as an activation of a process of abstraction, as a whole, seen as a metaphor of the fabrication of china. the self-titled exhibition is on show until february 16th, 2013.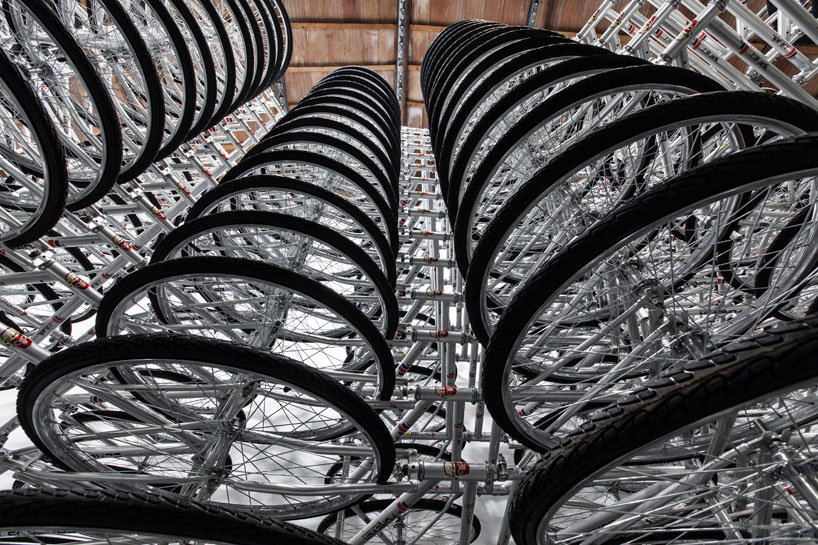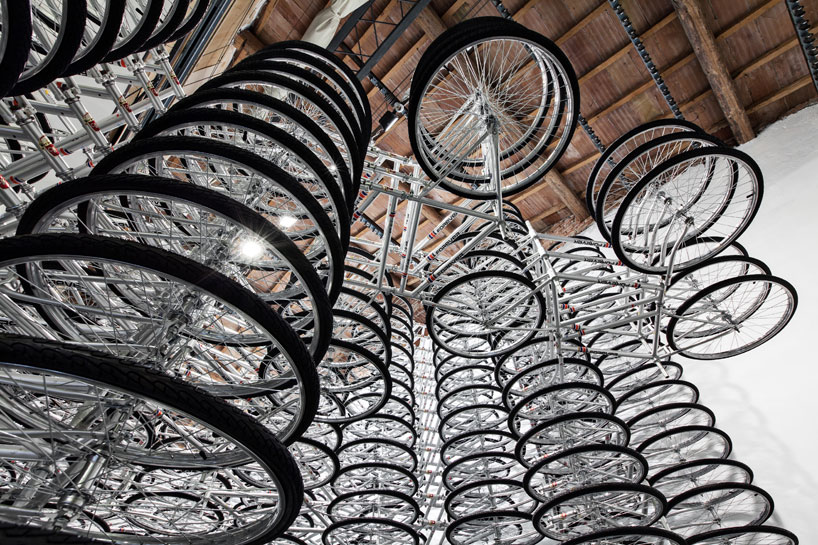 worm's-eye view
the artist has employed 760 bikes produced by 'forever', china's most common bicycle brand
the work addresses themes revolving around mass manufacturing and human labour
visitors are invited to walk within the work and experience it from all angles 
'stacked' is installed on the gallery's stage elevated above the rest of the exhibition space
ai weiwei'very yao', dimensions variable, 2008
the artist uses the bike as his medium for its symbolism in his native country of china
jun 27, 2017
jun 27, 2017
jun 13, 2017
jun 13, 2017
jun 07, 2017
jun 07, 2017
aug 17, 2017
aug 17, 2017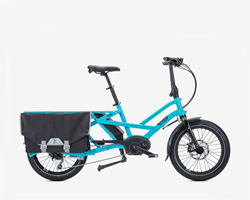 aug 08, 2017
aug 08, 2017
aug 08, 2017
aug 08, 2017