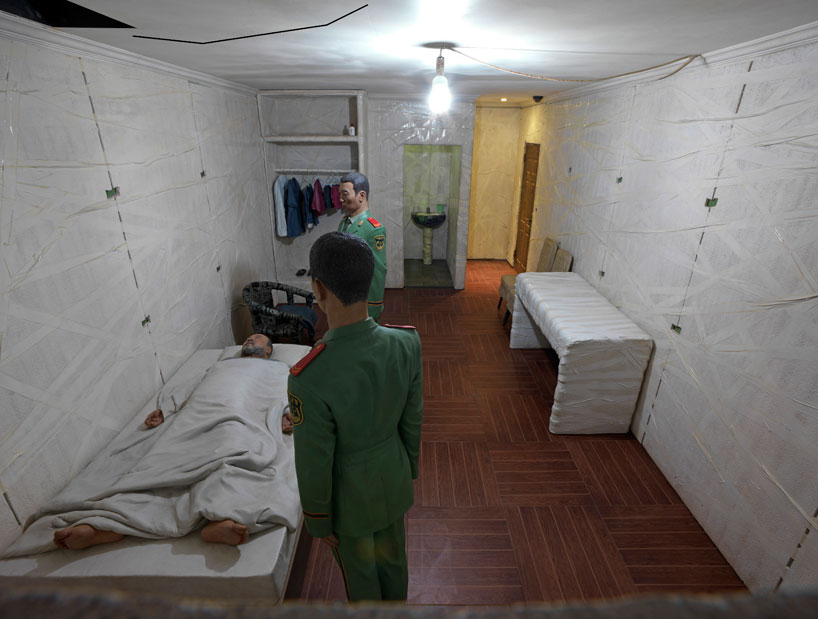 may 29, 2013
ai weiwei's S.A.C.R.E.D. depicts scenes from his incarceration
ai weiwei's 'S.A.C.R.E.D' installation is a six-part work composed of six iron boxes depicting scenes from the chinese artist's 81-day incarceration back in 2011. divided accordingly: (i) Supper, (ii) Accusers, (iii) Cleansing, (iv) Ritual, (v) Entropy, and (vi) Doubt, each unit has small apertures–similar to those found on a prison cell door–for which viewers may peer into the diaoramas where ai weiwei has positioned realist models of himself with his captors, documenting painstaking moments of his captivity in detail, and the surveillance he was under during all times (meals, bathing, going to the washroom, sleeping).  
ai weiweiS.A.C.R.E.D., 2011-2013six-part work composed of (i) S upper, (ii) A ccusers, (iii) C leansing, (iv) R itual, (v) E ntropy, (vi) D oubtsix dioramas in fiberglass and iron, each 377 x 198 x 153 cminstallation view,chiesa di sant' antonin, 2013courtesy of the artist and lisson gallery
the 2013 venice art biennale marks the first time that ai weiwei is responding to his detainment in the form of a public exhibition. no aspect of his life during this period has gone unaddressed — revealing the humiliation he experienced — by illustrating the most intimate and difficult moments he went through, underlining the suffering himself and other individuals have endured at the hands of authorities in china, as well as across the world, who seek to constrain freedom of expression with force.
curated by maurizio bortolotti, 'S.A.C.R.E.D.' is part of ai weiwei's larger exhibition 'dispostion', a collateral event of the 55th international art exhibition, presented across two venues: the sant'antonin church, and the zitelle complex, home of zuecca project space, and has been realized in collaboration with london's lisson gallery. the artist himself was forbidden to travel to the opening of his show, and so, his mother gao ying journeyed to the 'city on water' to represent her son.
ai weiwei's work is also seen represented at the german pavilion where the artist has installed 'bang', a rhizomatic structure composed of 866 wooden stools, which explores the craft traditions of his native country and ideas of cultural value and history within the context of contemporary art. see designboom's coverage of 'bang' here.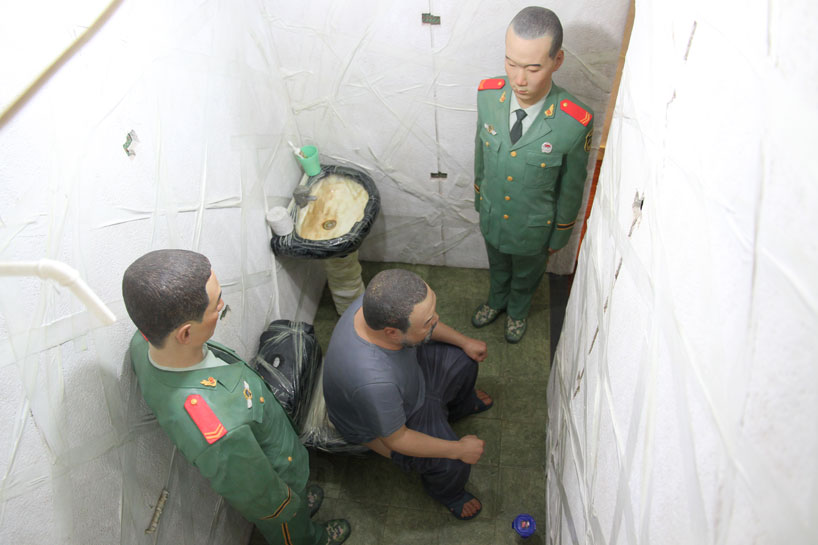 ai weiweiS.A.C.R.E.D., 2011-2013six-part work composed of (i) S upper, (ii) A ccusers, (iii) C leansing, (iv) R itual, (v) E ntropy, (vi) D oubtsix dioramas in fiberglass and iron, each 377 x 198 x 153 cminstallation view,chiesa di sant' antonin, 2013image © designboom 
ai weiweiS.A.C.R.E.D., 2011-2013six-part work composed of (i) S upper, (ii) A ccusers, (iii) C leansing, (iv) R itual, (v) E ntropy, (vi) D oubtsix dioramas in fiberglass and iron, each 377 x 198 x 153 cminstallation view,chiesa di sant' antonin, 2013image © designboom 
ai weiweiS.A.C.R.E.D., 2011-2013six-part work composed of (i) S upper, (ii) A ccusers, (iii) C leansing, (iv) R itual, (v) E ntropy, (vi) D oubtsix dioramas in fiberglass and iron, each 377 x 198 x 153 cminstallation view,chiesa di sant' antonin, 2013image © designboom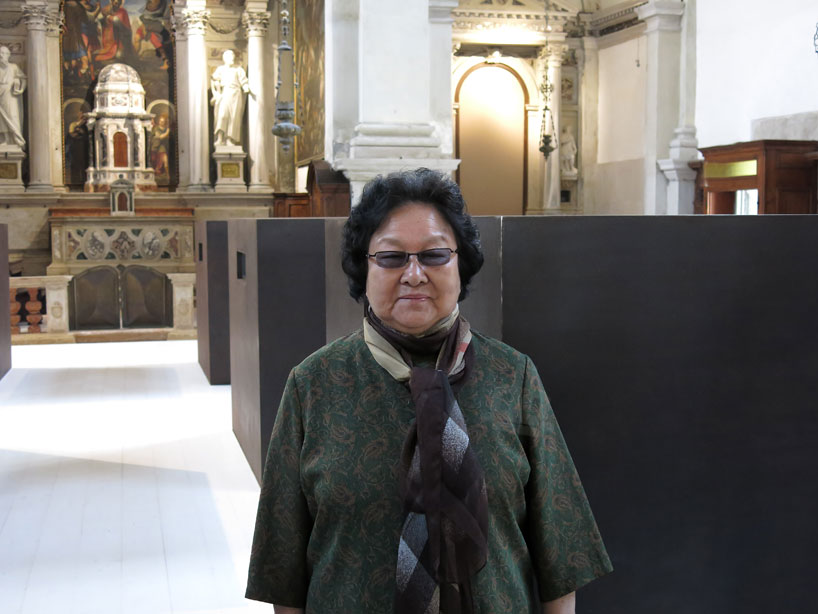 gao ying with her son ai weiwei's work S.A.C.R.E.D., 2011-2013six-part work composed of (i) S upper, (ii) A ccusers, (iii) C leansing, (iv) R itual, (v) E ntropy, (vi) D oubtsix dioramas in fiberglass and iron, each 377 x 198 x 153 cminstallation view,chiesa di sant' antonin, 2013courtesy, the artist and lisson gallery 
ai weiweiS.A.C.R.E.D., 2011-2013six-part work composed of (i) S upper, (ii) A ccusers, (iii) C leansing, (iv) R itual, (v) E ntropy, (vi) D oubtsix dioramas in fiberglass and iron, each 377 x 198 x 153 cminstallation view,chiesa di sant' antonin, 2013courtesy, the artist and lisson gallery 
ai weiweiS.A.C.R.E.D., 2011-2013six-part work composed of (i) S upper, (ii) A ccusers, (iii) C leansing, (iv) R itual, (v) E ntropy, (vi) D oubtsix dioramas in fiberglass and iron, each 377 x 198 x 153 cminstallation view,chiesa di sant' antonin, 2013courtesy, the artist and lisson gallery
ai weiweiS.A.C.R.E.D., 2011-2013six-part work composed of (i) S upper, (ii) A ccusers, (iii) C leansing, (iv) R itual, (v) E ntropy, (vi) D oubtsix dioramas in fiberglass and iron, each 377 x 198 x 153 cminstallation view,chiesa di sant' antonin, 2013image © designboom
jun 27, 2017
jun 27, 2017
jun 13, 2017
jun 13, 2017
jun 07, 2017
jun 07, 2017
aug 26, 2013
aug 26, 2013
jul 31, 2013
jul 31, 2013
jul 23, 2013
jul 23, 2013