alex brewer (HENSE) interview
top photo by maibri photography

designboom interviews alex brewer, better known as HENSE, about his artistic practice.
DB: please could you tell us briefly about your background?
AB: I'm a contemporary visual artist with a focus primarily on public art, painting, sculpture and site-specific installation work. I've been creating paintings and drawings ever since I was very young. my parents had a background in interior design and architecture and they also studied art in college which I think contributed to my wanting to be creative early on. they pushed public television and reading and I remember being inspired by the things I would see on PBS or read in a book. a also really liked the illustrations I saw in children's books that we had around the house growing up. I didn't really start thinking about having a career in art until high school. in 1992 I discovered graffiti and I basically through myself into the world of working outdoors and on multiple surfaces.
I studied art at virginia commonwealth university briefly and dropped out to peruse my work in the street. in 2000 I got a job working at an art publishing company which had an in house art studio full of all the materials I would need to experiment with. I worked for the company for several years developing works for them and for myself, while simultaneously going out to paint the streets at night. I learned about scale and working outdoors through exterior street work and I learned about painting and developing my studio practice by working with the company. I always took on my own projects or exhibitions on the side and got to a point of being busy enough to shift my focus entirely to having my own studio.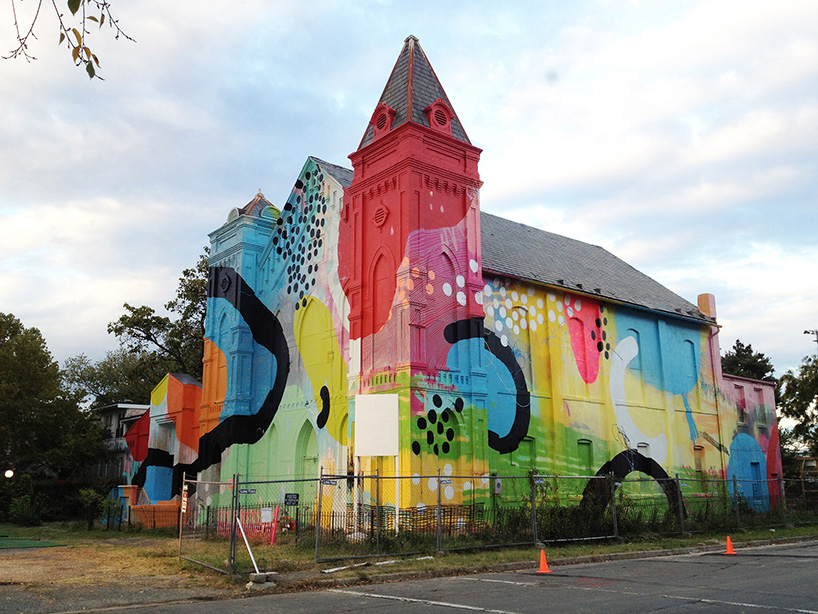 700 delaware mural on a church in washington DC, 2012
photo by HENSE and miguel martinez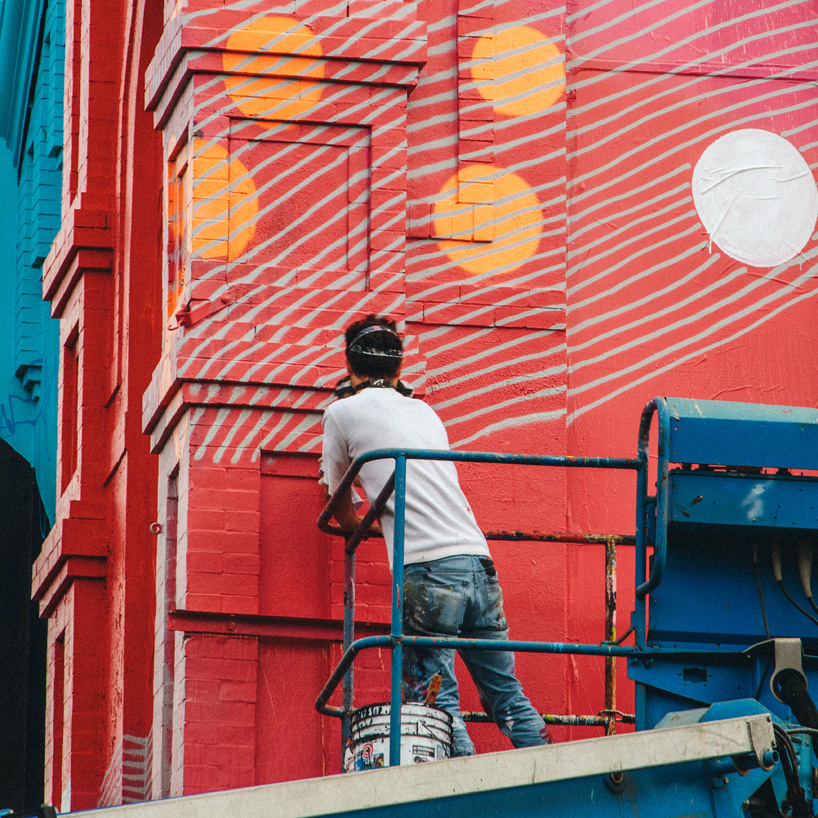 HENSE working on 700 delaware – read more about this project
photo by HENSE and miguel martinez
DB: how would you describe your work to someone who hasn't seen it before?
AB: I describe my public works as contemporary public art and my paintings as contemporary painting. I'm interested in the relationships of elements, shapes and colors and how they interact with each other. mark making is a form of expression that I like to focus on as well. I think a lot about context and where the work will be seen.
recently I've been working on cutting large shapes out of wood and painting them. I'll then play with the way they can interact with each other spatially in an environment. all of my works are nonrepresentational and purely abstract. I'm putting focus on the process and use a spontaneous act of painting. I never like to plan out my work. I'll create preliminary images to get ideas from, but I like to explore things while I'm creating the work.

public mural in lima, 2013

HENSE and his team working on the lima mural – read more about this project
DB: what has been the biggest singular influence on your work?
AB: contemporary painters working today. additionally christopher wool, sol lewitt, katerina grosse and arron curry have been recent influences to name a few.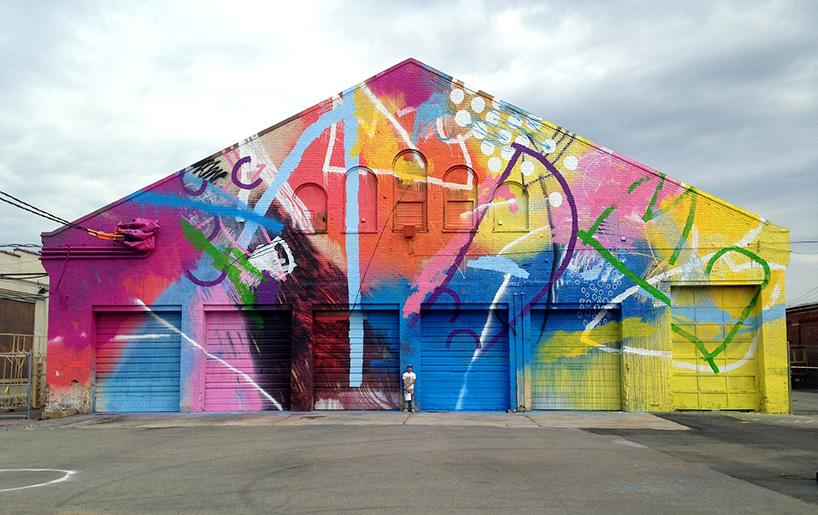 building mural in richmond, virginia, 2013
DB: what has the transition from working for yourself to working on commissions for clients taught you?
AB: I've learned that you have to work really hard at your work in order to achieve anything. I've had to fight for grants, projects, exhibits and opportunities. I feel like when you're working for yourself you have to put everything into it – you can't sit back and wait for things to happen. you have to be proactive. I treat every project with the same ambition and enthusiasm whether it's a commissioned work for a collector or personal project. I learn new things every year and I always feel like there is more to learn.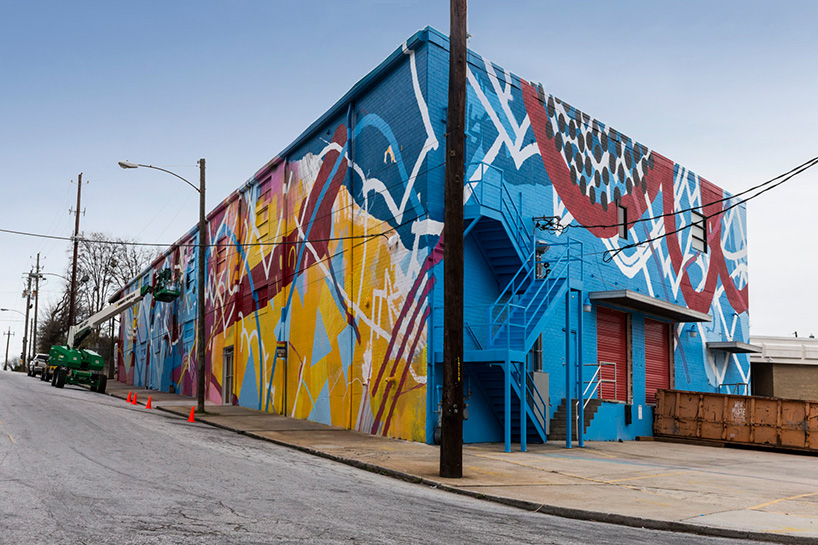 fay gold gallery & westside cultural arts center, atlanta, 2013
photo by steve cole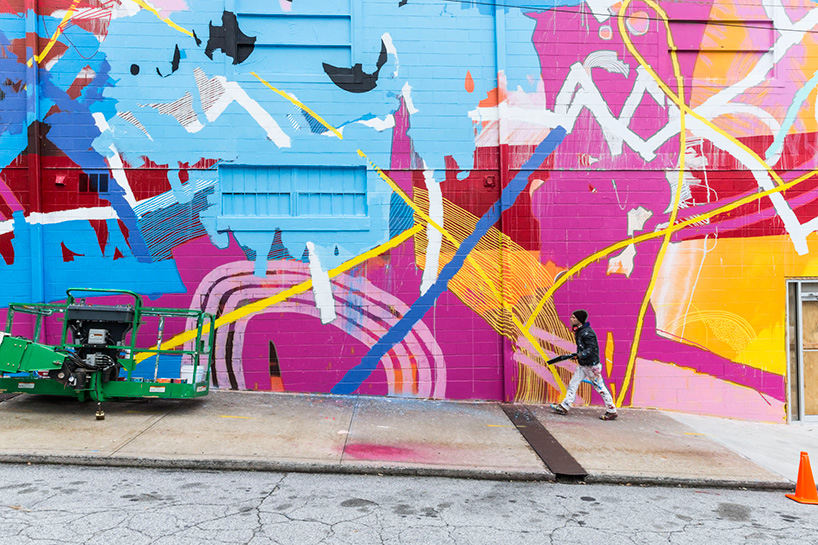 fay gold gallery & westside cultural arts center, atlanta, 2013
photo by steve cole
DB: which project have you enjoyed working on the most so far?
AB: I really enjoyed painting the church in washington DC in 2012 and my public mural in lima, peru, 2013. those two are stand outs for sure. there have been a lot of great projects over the years, but I think the scale of those two made them really fun and challenging at the same time. I also recently created a site-specific wall drawing at the high museum of art in atlanta, which was a huge highlight. being selected and commissioned by the weiland family curator of modern and contemporary art, michael rooks was truly an honor.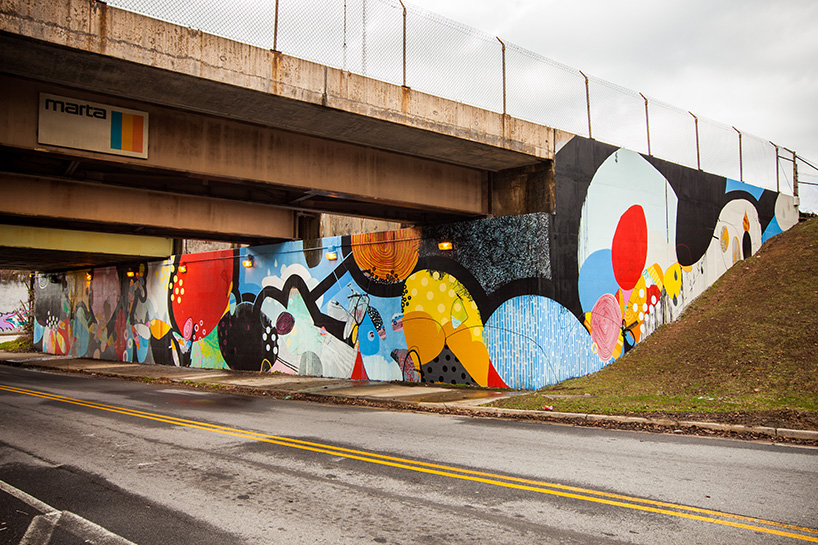 float mural, atlanta, 2012
photo by steve cole
DB: which materials and techniques do you enjoy working with the most?
AB: I enjoy acrylics, inks, latex paints and spray paint. I like the water based paints as the dry time is quicker which allows me to create depth and layers faster. the clean up is also easier with the water based materials. I generally use similar materials when working outdoors. the same layering and spontaneous mark making can apply to my murals and installations. I'm also currently enjoying working with plywood and a jig saw. I can get the same free form shapes I create on walls in the public realm with the saw and wood. it's a similar thought process. screen printing also is something I've explored with newer works on paper. I like being able to transfer a hand drawn element to paper with ink and a screen and it lends itself to a fast process which fits my work as I tend to like a fast pace act of mark making and painting.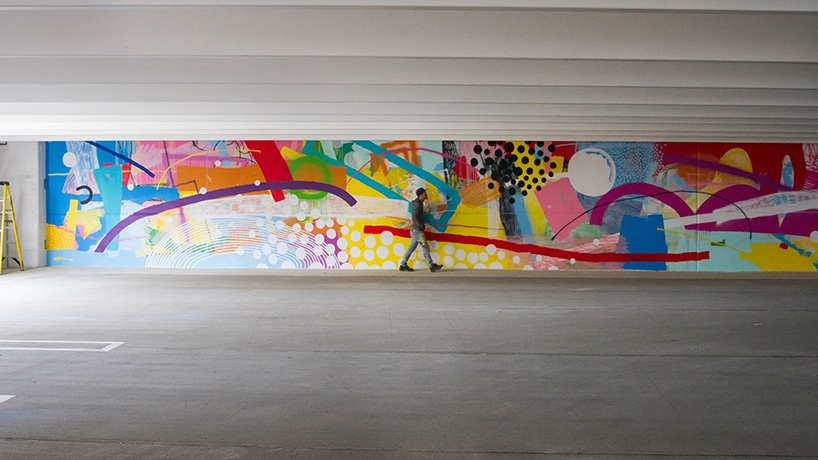 the Z lot – garage project, detroit, 2013
photo by sal rodriguez
DB: what areas of your work are you hoping to explore in 2014?
AB: I'm looking to expand my vocabulary as a visual artist into the realm of creating installations that are spatially interactive. i'd also like to continue to push contemporary painting and what that can be. I'm focused on pushing myself as well as the viewer. there are endless possibilities within painting and mark making as well as public art. I'm also looking to continue to broaden my work and projects internationally. traveling and seeing new things is an important component to my work. I find that the city, people and experience can influence the work. I enjoy days in my studio as well, but the experience of travel is always a fun part of my work.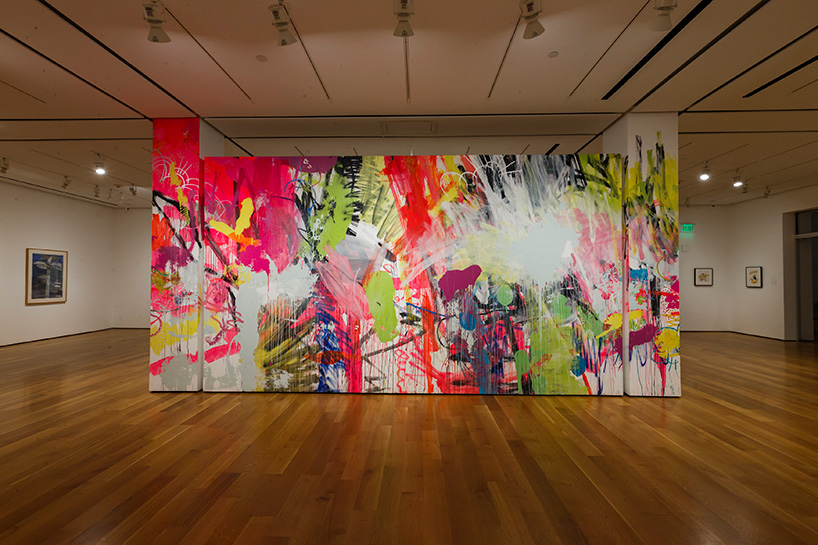 installation at the the high museum of art, atlanta, 2013
photo by steve cole
DB: what do you do to keep your ideas fresh?
AB: that's a challenge sometimes. I would say keeping a good balance of studio time and travel for projects. seeing new work by others is a huge way for me to stay inspired. I make frequent visits to museums. I also spend time online looking at sites that focus on creativity. I seem to get inspired by many forms of creativity. the right music is important as well. if I have good coffee and good music playing, I can work for hours on end.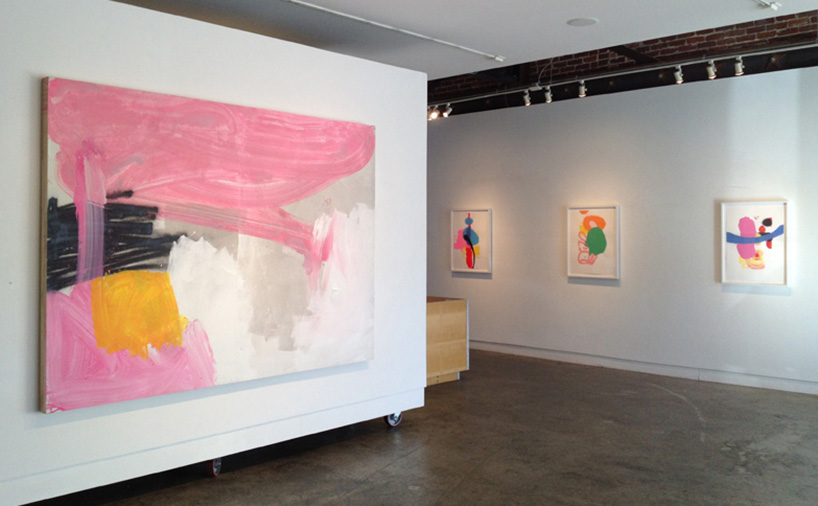 exhibition at the sandler hudson gallery, atlanta, 2012
DB: what do you know now that you wish you knew when you were a teenager?
AB: responsibility.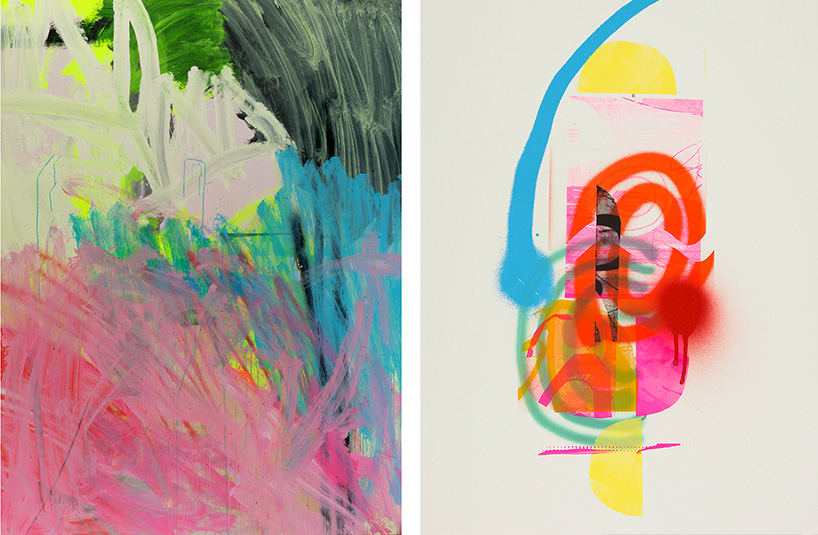 left: swash (acrylic, latex paint and spray paint on wood) 72×96 inches, 2013
right: spray series (silkscreen on paper) 22×30 inches, 2012
DB: what compels you to create art and what other compulsions do you have?
AB: I've realized that creating is really important to my happiness. I have an instinct to put paint on a surface, doodle, draw shapes or make marks. I feel like I don't know what else I would have been other than an artist. at times, there's also a child that comes out in me when I'm working and I see such genius in a child's marks or drawings. the pure freedom I experience while I work is unmatchable with any other thing in life. I think it makes me feel like I'm alive. other compulsions I have would be interacting with like minded people, eating good food and being with my wife and dogs.
left: untitled (acrylic, ink and spray paint on canvas) 18×24 inches, 2012
right: cobalt (acrylic, latex paint, ink and house paint on wood) 72×96 inches, 2013
DB: do you have any superstitious beliefs?
AB: things tend to happen for a reason it seems. other than that, sure probably some subconscious feelings or beliefs about the unexplainable.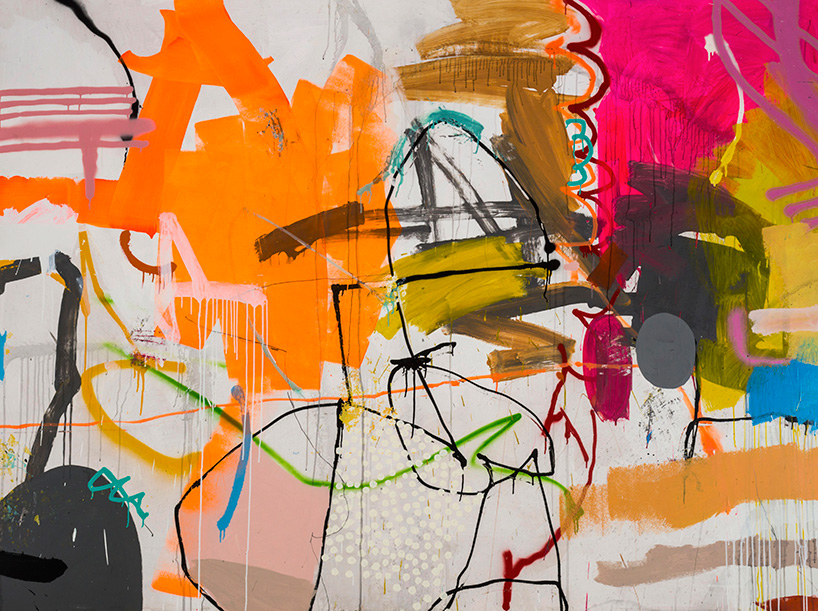 turn (acrylic,ink, graphite, spray paint and latex paint on wood) 72×96 inches, 2012
DB: what's the last thing that made you say 'wow' ?
AB: when yeezy's said 'entertaining/rapping is like going to war.'
a diverse digital database that acts as a valuable guide in gaining insight and information about a product directly from the manufacturer, and serves as a rich reference point in developing a project or scheme.
designboom will always be there for you
milan, new york, beijing, tokyo

,
since 1999