alex chinneck has melted a two-story wax house, levitated covent garden's market building, and inverted a london loft, constituting an artistic practice that spans the wild and the whimsical, the surprising and the surreal. thus, chinneck's latest installation is an extension of the brain-bending and sometimes bizarre public interventions he has become widely known to produce. coined 'six pins and half a dozen needles', the london-based sculpture takes the form of a fractured façade, where a building's brickwork splits in two halves as if ripped apart by some dramatic natural force.

all images by charles emerson
after a year of work, and the installation of 5,000 bespoke bricks and more than 1,000 stainless steel components, 'six pins and half a dozen needles' is materialized on the façade of assembly london, a mixed-use office complex in hammersmith. referencing a torn sheet of paper, the intervention seemingly separates the exterior surface of the site into two parts, dramatically altering the quality of the site. chinneck hopes his permanent work invites a surprising sense of wonder and awe for both local residents and casual passersby. 

the artist's practice spans the wild and the whimsical, the surprising and the surreal
'the work was conceived to engage people in a fun and uplifting way,' chinneck says. 'although we use real brick, it was designed with a cartoon-like quality to give the sculpture an endearing artifice and playful personality. I set out to create accessible artworks and I sincerely hope this becomes a popular landmark for london and positive experience for londoners.'

chinneck's installation is an extension of the brain-bending public interventions he has become widely known for

coined 'six pins and half a dozen needles', the london-based sculpture takes the form of a fractured façade

a building's brickwork splits in two halves 

the tear seems to ripped apart by some dramatic natural force

5,000 bespoke bricks and more than 1,000 stainless steel components comprise 'six pins and half a dozen needles'

the intervention is materialized on the façade of assembly london, a mixed-use office complex in hammersmith

referencing a torn sheet of paper, the intervention seemingly separates the exterior surface of the site into two parts

chinneck hopes his permanent work invites a surprising sense of wonder and awe 

making-of: sheets of the broken brick façade are lifted into place 
sep 17, 2015
sep 17, 2015
oct 28, 2014
oct 28, 2014
oct 02, 2014
oct 02, 2014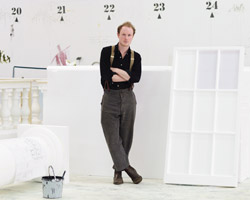 sep 22, 2014
sep 22, 2014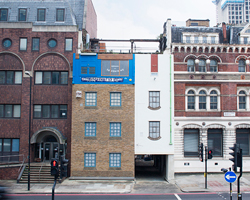 dec 10, 2013
dec 10, 2013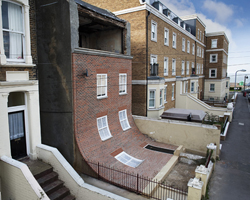 oct 02, 2013
oct 02, 2013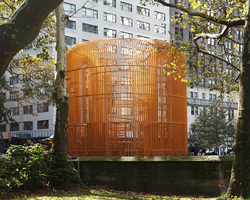 oct 10, 2017
oct 10, 2017
oct 10, 2017
oct 10, 2017
sep 10, 2017
sep 10, 2017