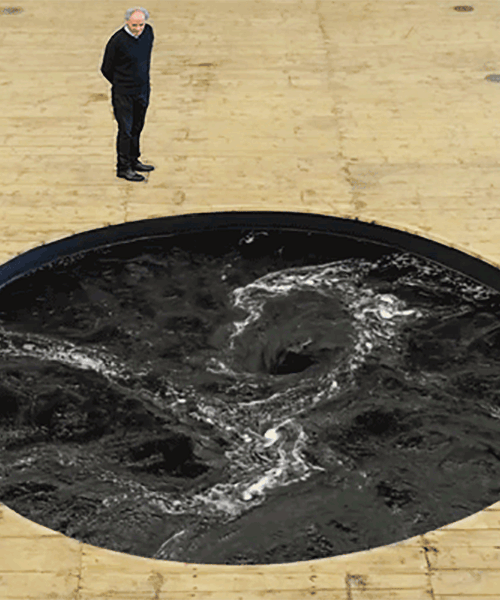 feb 17, 2017
anish kapoor to install an endless black whirlpool in brooklyn
the public art fund has announced that in may 2017, anish kapoor will bring 'descension' — a continuously spiraling funnel of dark water — to brooklyn, new york. sited at pier 1 in brooklyn bridge park, the 26-foot diameter installation will create a striking juxtaposition to the adjacent east river, continuing kapoor's long-standing interest in the destabilization of the physical world. the spiraling whirlpool is treated with an all-natural black dye, creating a seemingly endless hole, into which visitors are invited to carefully peer. 

anish kapoor's first realized 'descension' for the kochi-muziris biennale in india (see more on designboom here)
image courtesy of kochi-muziris biennale
the presentation of 'descension' in brooklyn follows its first display as a smaller, interior work at india's kochi-muziris biennale, following which it travelled to galleria continua in san gimignano, and later to a solo exhibition at versailles. this latest commission by the public art fund, curated by public art fund director nicholas baume, marks the first time kapoor brings 'descension' to north america.
video of 'descension' at kapoor's solo exhibition at the château de versailles
'anish kapoor reminds us of the contingency of appearances: our senses inevitably deceive us,' public art fund director nicholas baume says. 'with descension, he creates an active object that resonates with changes in our understanding and experience of the world. in this way, kapoor is interested in what we don't know rather than in what we do, understanding that the limit of perception is also the threshold of human imagination.'
(main image) 'descension' at galleria continua | image by ela bialkowska, okno studio, courtesy the artist and galleria continua, san gimignano / beijing / les moulins
may 04, 2017
may 04, 2017
dec 08, 2016
dec 08, 2016
apr 28, 2016
apr 28, 2016