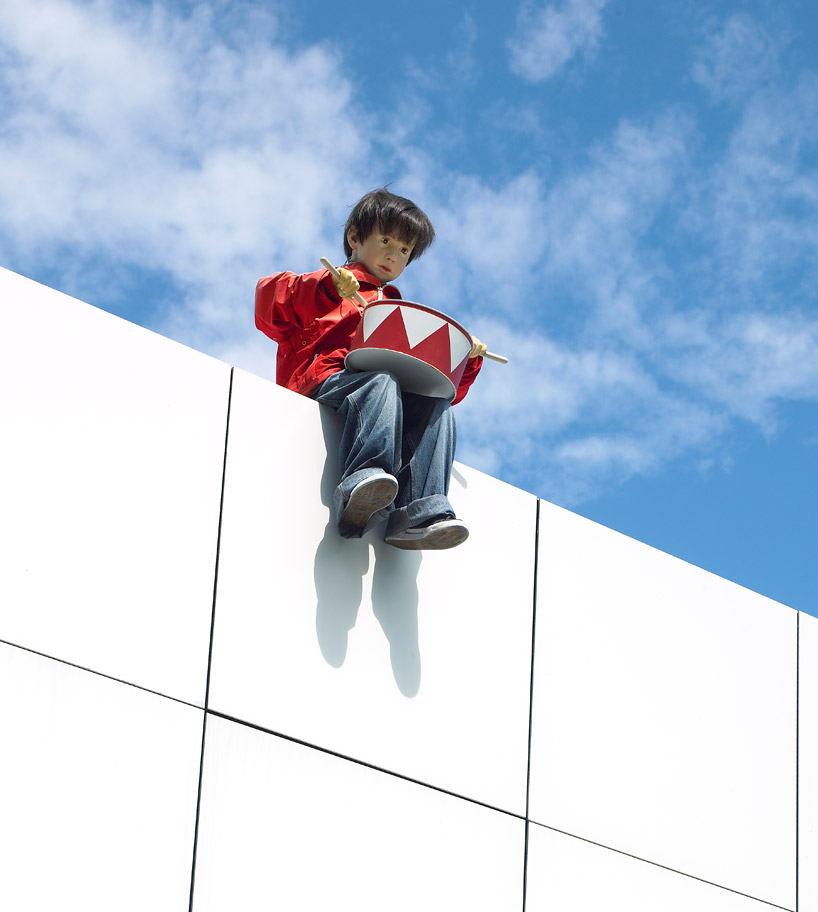 jun 03, 2014
fondazione prada considers the relationship between art and sound
fondazione prada considers the relationship between art and sound
(above) maurizio cattelan: untitled, 2003
resin body, synthetic hair, clothes, electronic device and bronze drum / 86.5 x 84 x 60 cm
photo: michael bodycomb / courtesy maurizio cattelan archive

on the occasion of the 2014 venice architecture biennale, the fondazione prada presents 'art or sound' at its venetian venue of ca' corner della regina, an exhibition conceived as an investigation of past and present by considering the relationship between the two creative disciplines. iconic aspects of the musical instrument, the role of the artist-musician, and areas in which the visual arts and music have come together are explored and discussed through the eclectic array of pieces on display.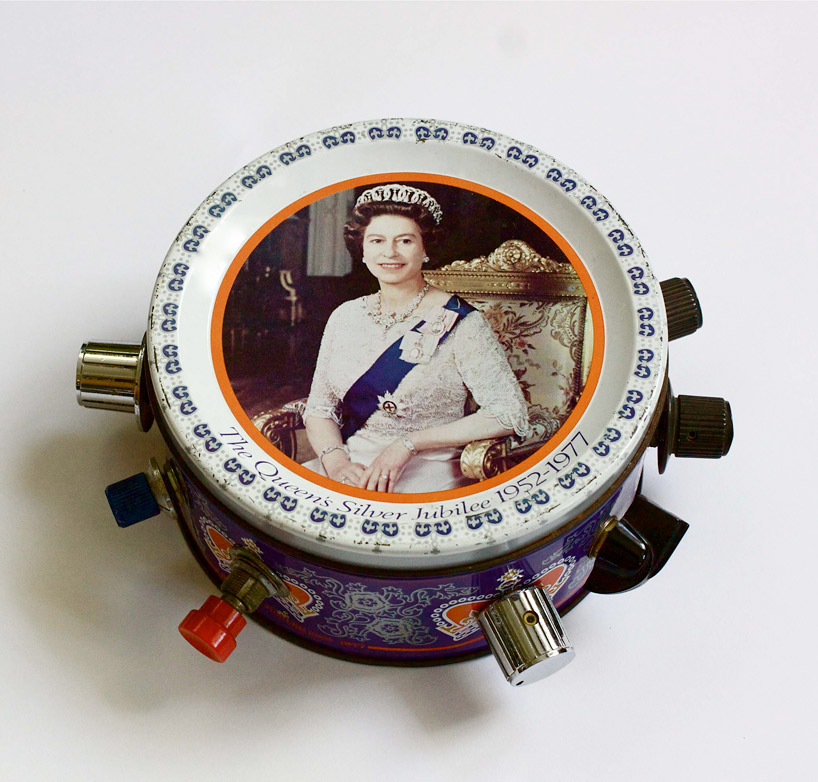 ed potokar: silver jubilee, 1999
tin, electronics / 20.5 x 7.5 cm
photo : amy rosenfeld / courtesy of the artist
the show occupies the ground floor and two main floors of the palazzo, leading visitors through various reinterpretations of the musical instrument as both an object and idea. organized on a historical basis, the exhibition begins with 17th century instruments made from unusual materials by michele antonio grandi and giovanni battista cassarini; self-operating musical machines follow, one of which is made by swiss watchmaker pierre jaquet-droz in the 18th century — these prove to be complex artworks that combine the production of sounds with aesthetic values; then, 19th-century mechanical devices, capable of giving visual expression to music through light and color and research in the field of the synesthesia will be presented, along with experiments carried out by historical avant-gardes.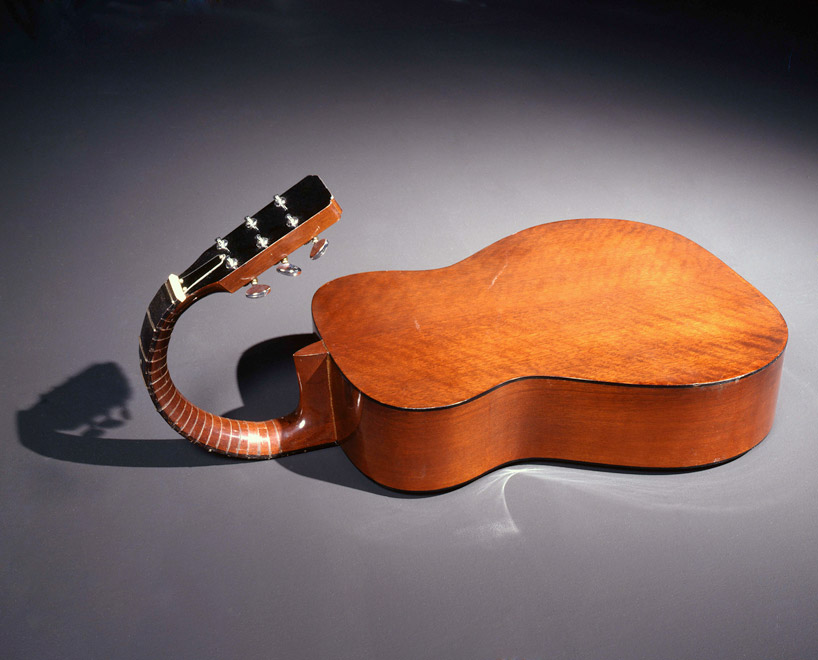 christian marclay: vertebrate, 2000
altered acoustic guitar / 28 x 67 x 39.5 cm
courtesy paula cooper gallery, new york / © christian marclay
also exhibited are works from the 1960s, represented by original scores, sound boxes, kinetic sculptures and installations. examples of both the formal appropriation of the musical instrument and hybrid tools are presented, which stand as examples of genuine sculptures that can be played. the exploration of the ambiguous overlap between art and sound also goes on to cover the more recent research of artists and the production techniques of a newer generation.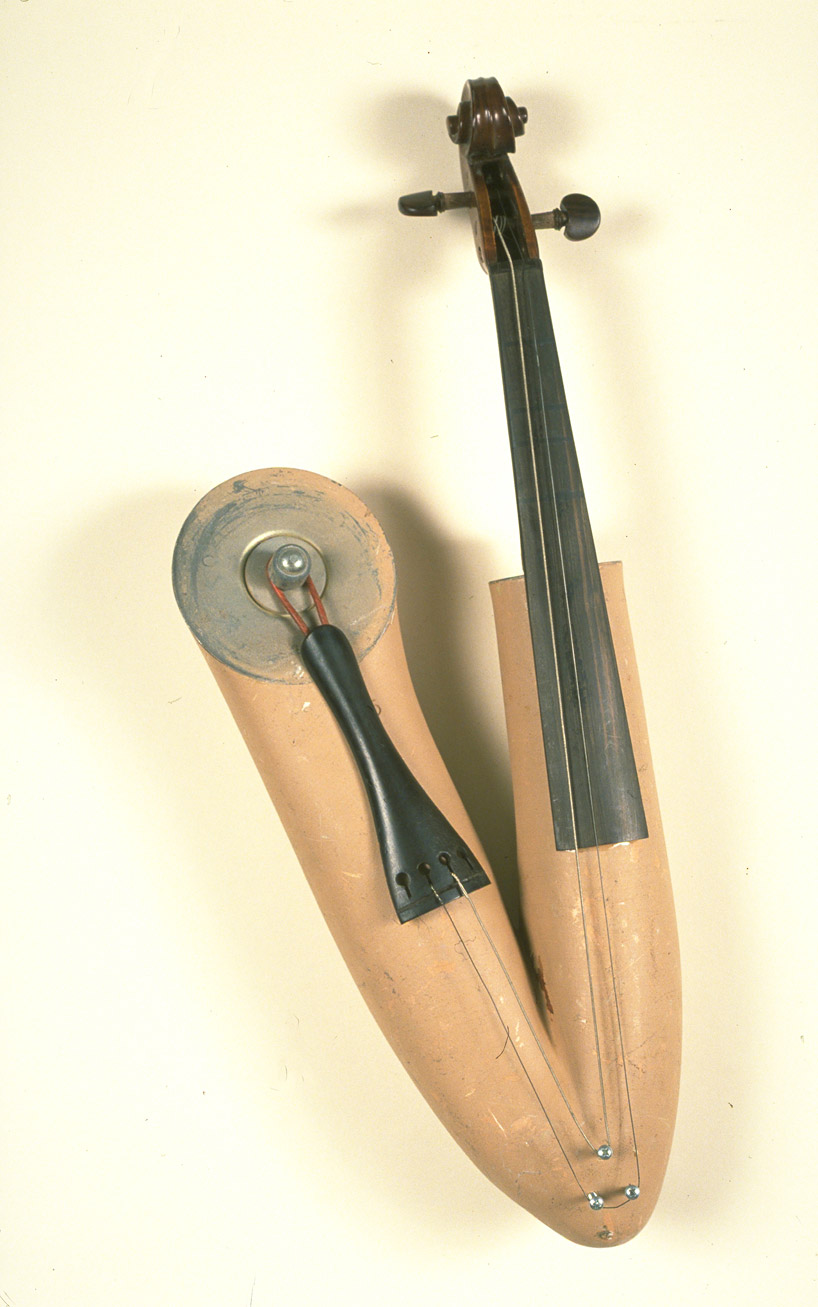 ken butler: bent arm violin, 2002
mannequin arm, violin components
46 x 18 x 7.5 cm
courtesy of the artist
the exhibition aims to emphasize the inherent link that exists between works of art and sound objects, offering a reinterpretation of the musical instrument and the way it can become a sculptural-visual entity. through the historical context, and chronological order of the display, the relationship between art objects, sound-making devices are analyzes according to their ambiguities, analogies and parallels.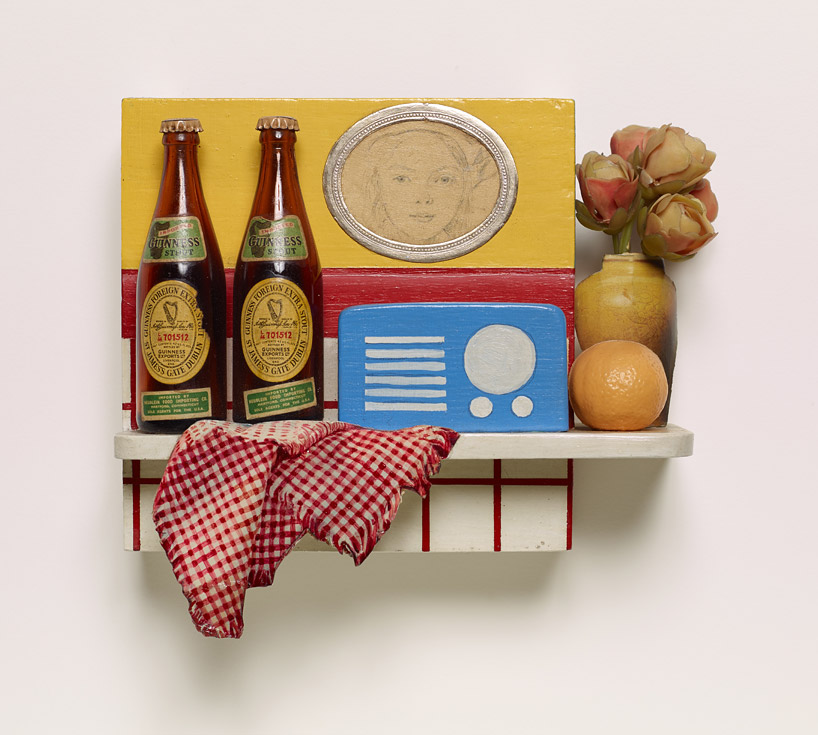 tom wesselmann: little still life #18, 1964
acrylic, collage and assemblage on board with working radio / 12.5 x 15 x 10.5 cm
photo: jeffrey sturges / courtesy claire wesselmann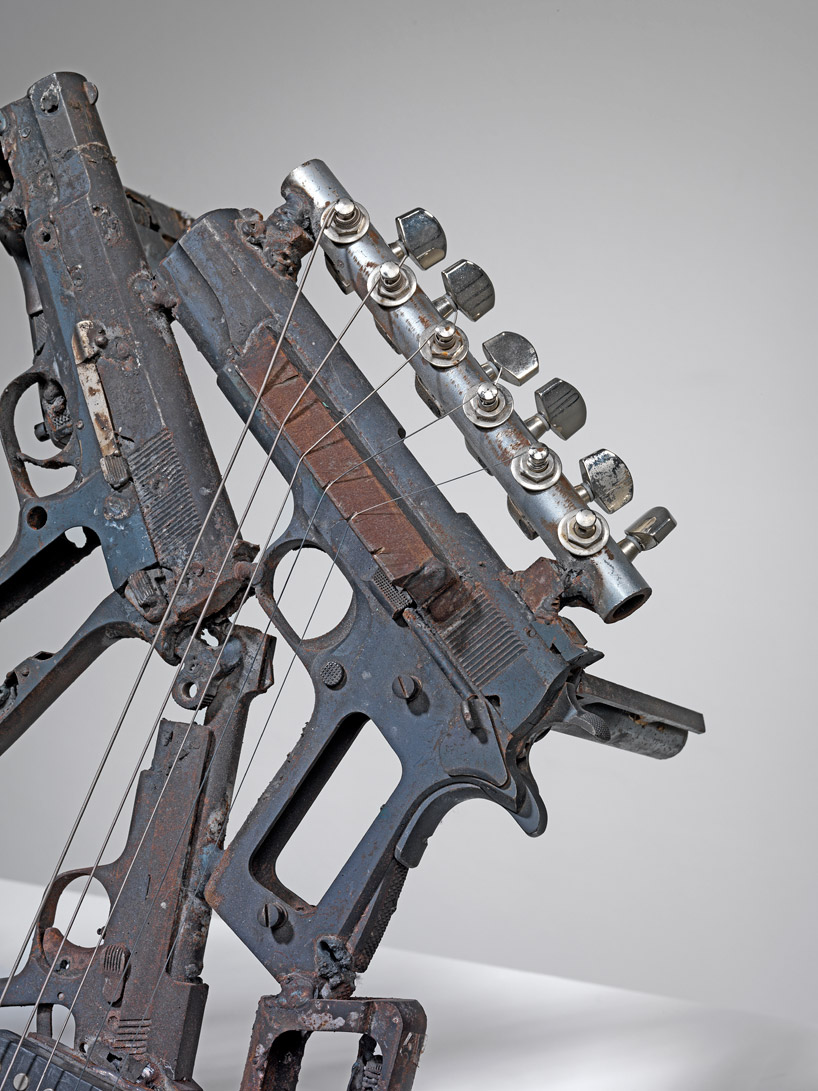 pedro reyes: imagine (double psaltery), 2012
recycled metal / 20 x 50 x 50 cm
photo: ken adlard / courtesy lisson gallery and fundación alumnos47 / © pedro reyes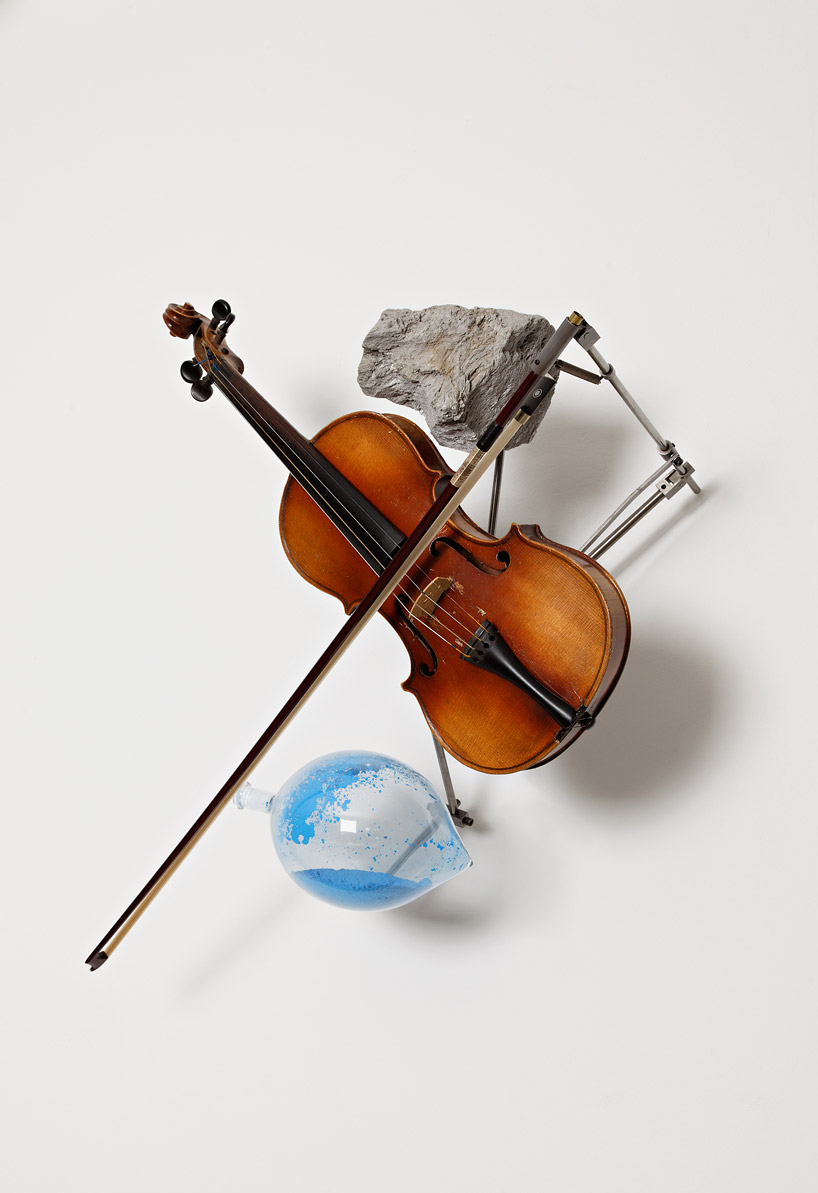 rebecca horn: sighs of the winds, 2009
violin, stone, glass, pigment, steel, electronic monitor / 69 x 77 x 38 cm
photo: heinz hefele / © rebecca horn by siae 2014 / © rebecca horn, vg blind kunst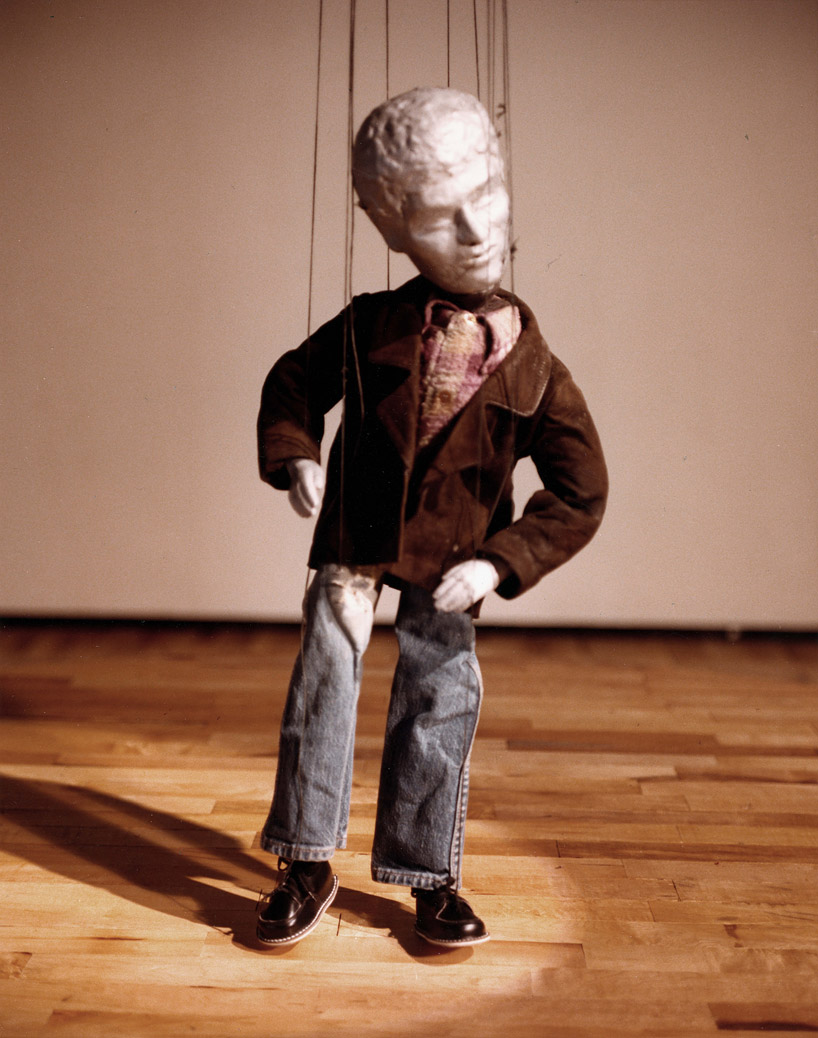 dennis oppenheim: theme for a major hit, 1974
motor driven marionette, tape recording, circular stage, spotlight marionette / 76 x 25.5 cm
collection of dennis oppenheim estate / courtesy galleria fumagalli, milan

stephan von huene: washboard band, 1967
wood, leather, washboard, cymbal, gong, cowbell, harmonium, metal parts, circuit, mechanics, pneumatics; 2 elements
220 x 77 x 40 cm (overall)
photo: frank oleski / courtesy private collection, düsseldorf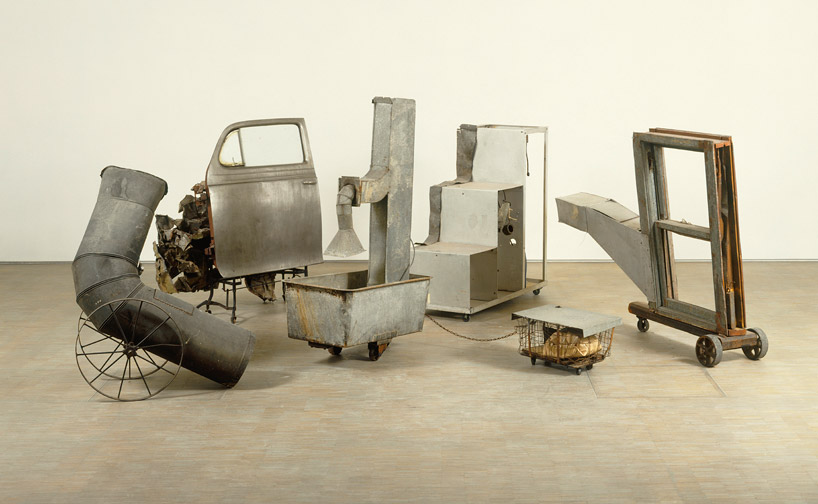 robert rauschenberg: oracle, 1962-1965
galvanized sheet metal assembled objects, water, audio system; 5 elements / 236 x 450 x 400 cm (overall)
photo: service de la documentation du musée national – centre pompidou, mnam-cci (diffusion rmn)
© estate of robert rauschenberg by siae 2014 / © robert rauschenberg / adagp, paris

haroon mirza: lo-tech proposed, 2006-14
plastic bucket, led circuit, wood, mirror, speaker, amp,
water, mist maker
65 x 66 x 46 cm
courtesy of the artist
jun 05, 2017
jun 05, 2017
may 10, 2017
may 10, 2017
may 08, 2017
may 08, 2017
aug 15, 2017
aug 15, 2017
jul 04, 2017
jul 04, 2017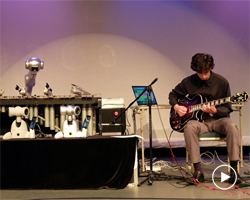 jun 20, 2017
jun 20, 2017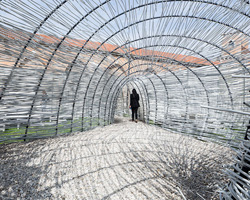 nov 19, 2014
nov 19, 2014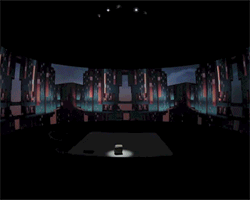 nov 17, 2014
nov 17, 2014
oct 15, 2014
oct 15, 2014