for his project, 'sephirothic flower: diving into the unknown', azuma makoto has plunged enormous bouquets into the abyss of the deep sea. the japanese floral artist presents the work as an installment of 'in bloom', a series of experimental projects in which flowers are arranged in situations beyond nature.

'god to god' bouquet was placed at a depth of 881 meters with an atmospheric sea pressure of 885 pa
all images courtesy of azuma makoto
three bouquets of various flowers and a bonsai pine tree were emerged 1000 meters deep into the suruga bay and shizuoka prefecture. azuma makoto's creations were later observed using a deep sea remotely operated exploration vehicle.

'god to god bouquet' encounters mysterious sea creatures
the artistic team documented the contrast between the beautiful flowers and the harsh environment of the deep sea. the bouquets weather the sea current, encounter mysterious sea creatures, and endure the low sound and high pressure of the sea in a stunning photography series.

the installation contrasts with the darkness of the deep sea
the flowers were swallowed slowly into the darkness, where not a single ray of light shines. past experiments in the 'in bloom' series include exobiotanica, which saw plants launched into space'.

the intricate arrangement is immersed in darkness

'red god' was plunged to a depth of 1,057 meters with an atmospheric sea pressure of 1065 pa

the plants endure the low sound and high pressure of the sea

the artistic team used the advanced marine technology of japan

'red god' 

the exposed roots of 'pine god' sink to the ocean floor

'pine god' was sunk to a depth of 1,019 meters with a sea pressure of 1027 pa

'summer bouquet'

the artist collaborated with robot communications inc to monitor the flowers
sep 25, 2017
sep 25, 2017
aug 20, 2017
aug 20, 2017
jun 25, 2017
jun 25, 2017
apr 13, 2017
apr 13, 2017
mar 02, 2017
mar 02, 2017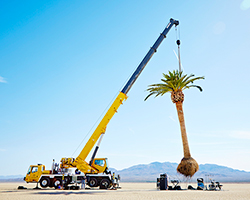 sep 12, 2016
sep 12, 2016