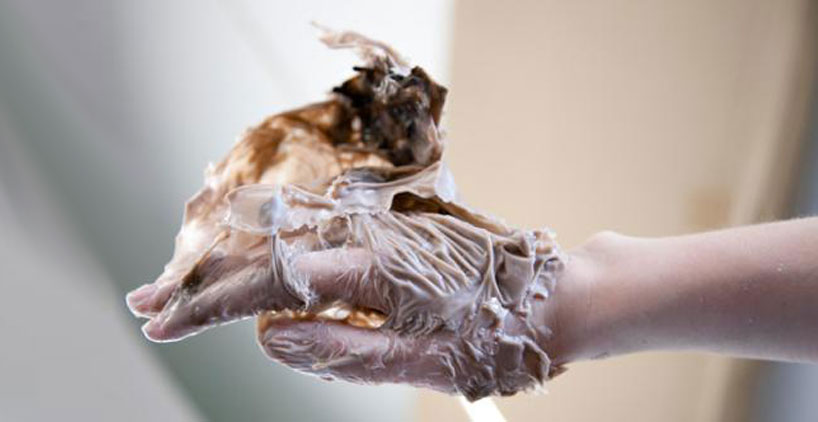 sep 16, 2013
bart hess in future perfect at lisbon architecture triennale
bart hess in future perfect at lisbon architecture triennale
bart hess creates digital artefacts which are a representation of what the future of fashion could look like.
in his new work 'garment district', commissioned especially for the exhibition future perfect (on show in the museu da eletricidade ) a programme of 'close, closer ' at the 3rd lisbon architecture triennale, we see the dutch designer slowly dipping a model into a large tank of melted wax, using the viscous substance to explore the shapes and forms of the human body.

the making of bart hess's 'garment district'
video © designboom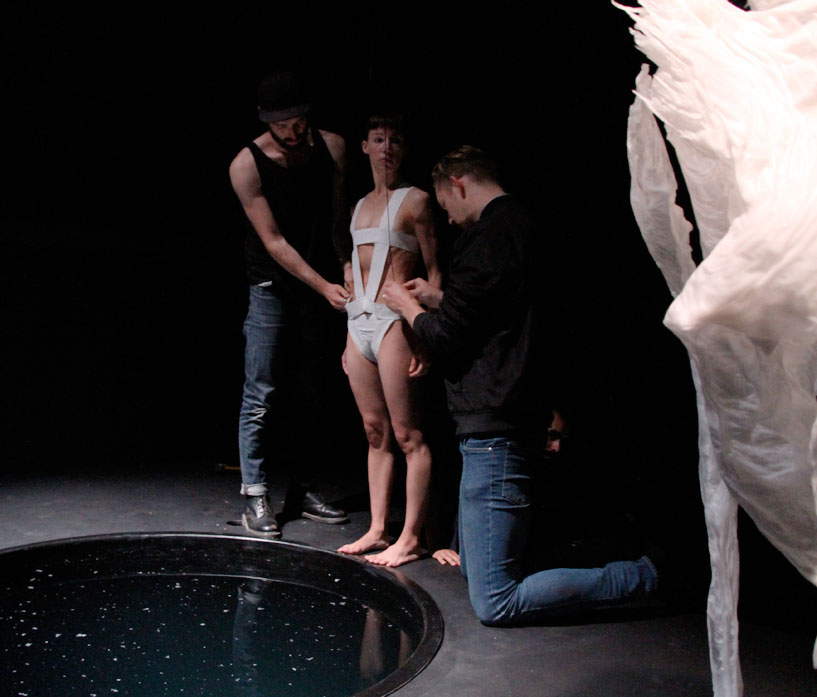 preparing to be submerged in wax
image © designboom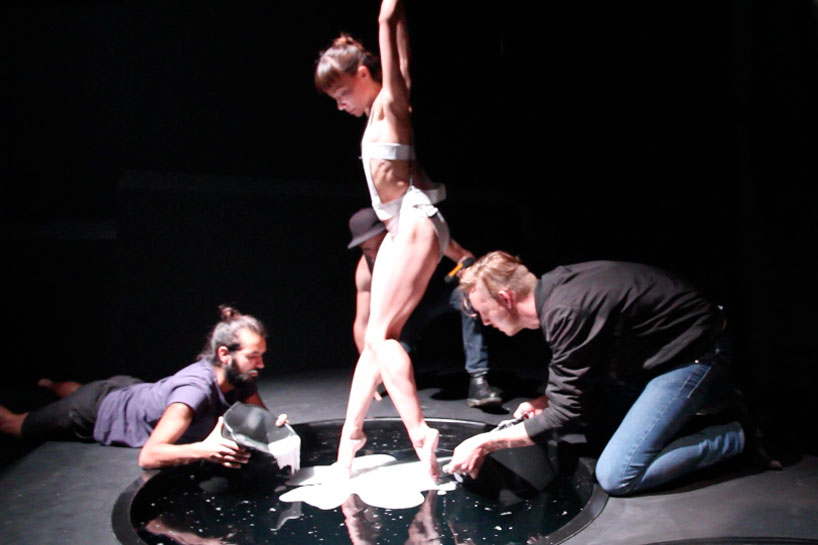 a model is lowered into a tank of wax
image © designboom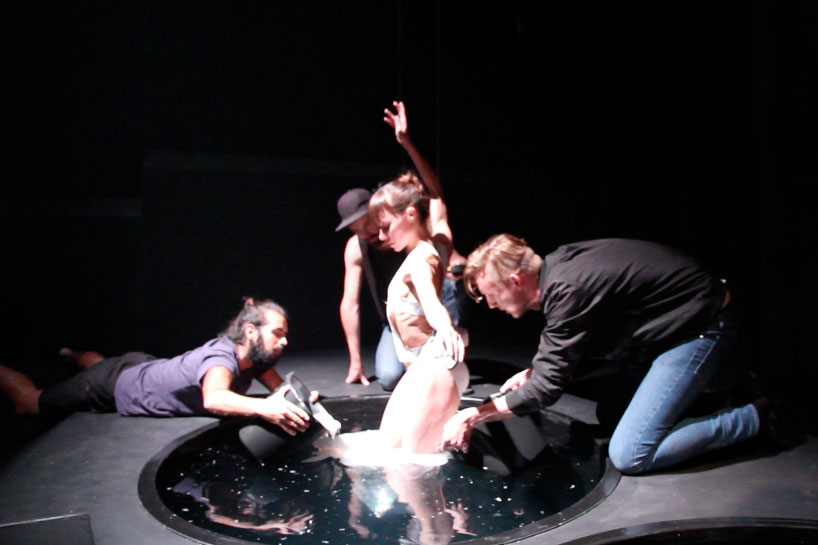 the wax slowly starts to form around the models body
image © designboom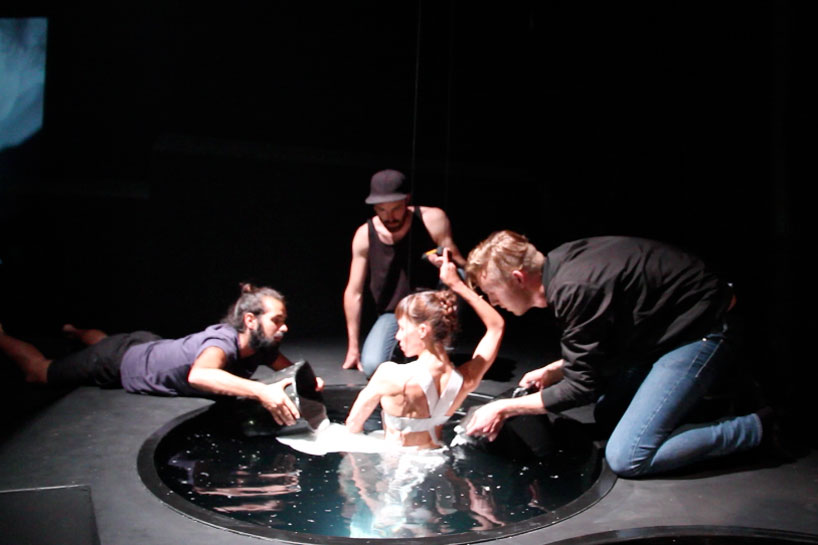 the garment nearing completion…
image © designboom
bart hess explains:
'our bodies are end­lessly photographed, monitored and laser scanned with millimetre precision. from this context of surveillance, facial recognition, avatars and virtual ghosts, we imagine a near future where digital static, distortions and glitches become a new form of ornament. for the youth tribes of future perfect the body is a site for adaption, augmentation and experimentation. they celebrate the corrup­tion of the body data by moulding within their costumery all the imperfections of a decaying scan file. shimmering in the exhibition landscape is a network of geometric reflec­tive pools of molten wax. their mirrored surface is broken by a body, suspended from a robotic harness, plunging into the liquid. a crust of wax crystallises around its curves and folds, growing architectural forms, layer by layer, like a 3D printer drawing directly onto the skin. slowly the body emerges, encased in a dripping wet readymade prosthetic. it is a physical glitch, a manifestation of corrupt data in motion, a digital artefact. they hang from hooks like a collection of strange beasts and frozen avatars. body prints, imperfect and distorted and always utterly unique.'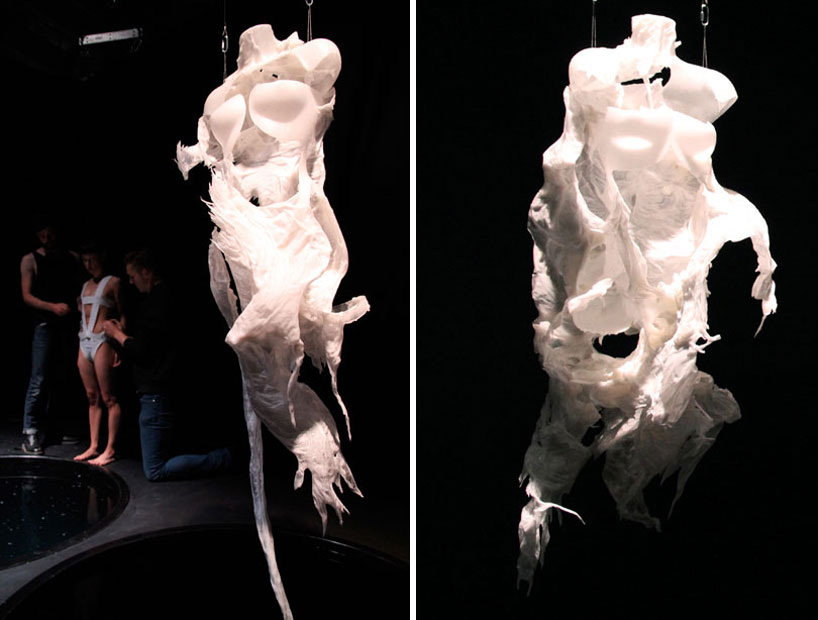 a result of bart hess's garment making process
images © designboom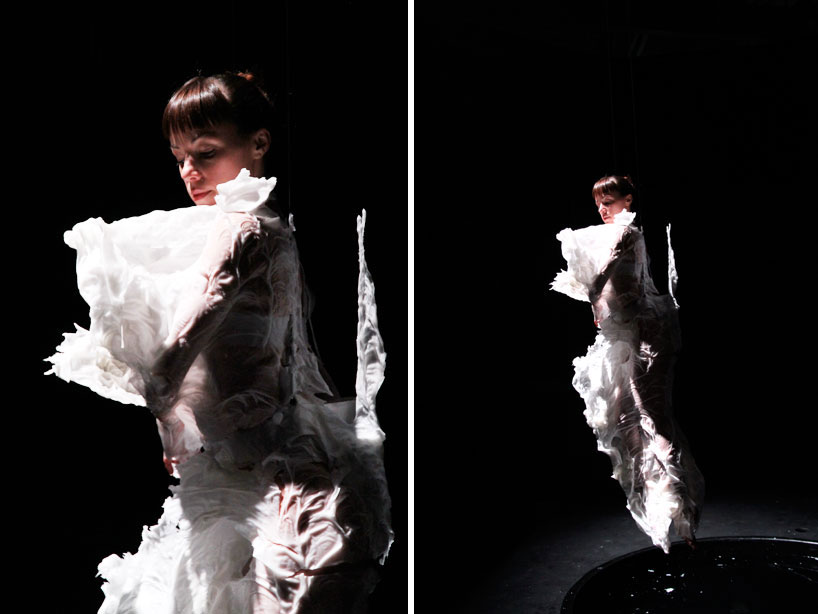 the model being lifted out of the tank, dressed in wax
images © designboom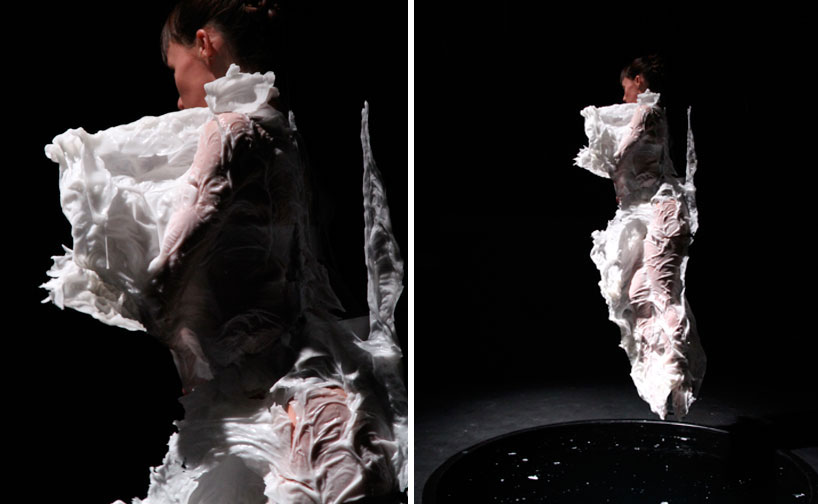 images © designboom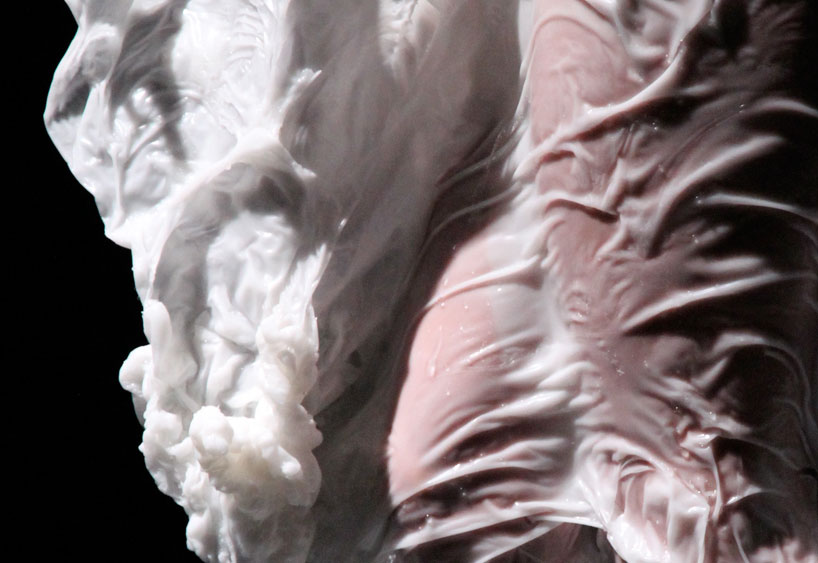 detail of the natural creases and folds
image © designboom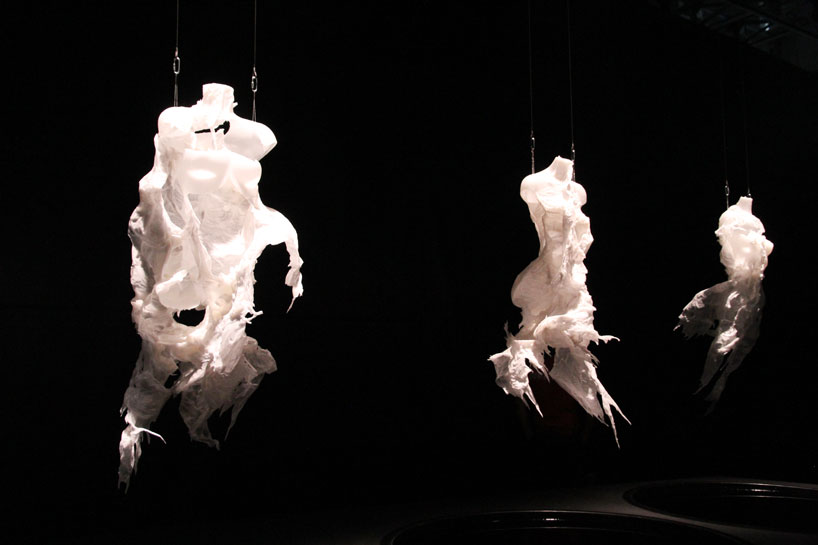 a selection of garments
image © designboom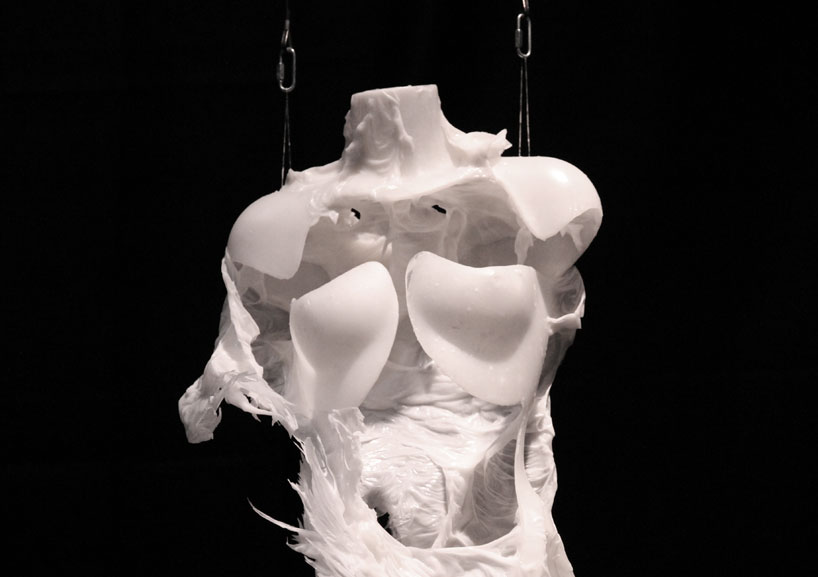 up close
image © designboom
future perfect
is a fictional, future city. a think tank of scientists, technologists, designers, artists and science fiction authors have collectively developed this imaginary place, the landscapes that surround it and the stories it contains. the exhibition is a stage set for a collection of fictions, emerging infrastructures and design experiments that can be inhabited as large-scale districts of the future city.
it is a speculative urbanism, an exaggerated present, where we can explore the wonders and possibilities of emerging biological and technological research and envision the possible worlds we may want to build for ourselves. for the future is not something that washes over us like water, it is a place we must actively shape and define. through fictions we share ideas and we chronicle our hopes and fears, our deepest anxieties and our wildest fantasies. some of us will be swept up in what the city could be, others will be reserved and look on with caution. we have not walked these streets before, what things may come, in a future perfect.
participating artists:
bart hess (NL), bruce sterling (US), factory fifteen (UK), marshmallow laser feast (UK), mediated matter, MIT media lab (US), rachel armstrong (UK), revital cohen & tuur van balen (UK), tim maly (CA), tim maughan (UK), warren ellis (UK).
from his studio in east london, bart hess explores several fields combining material studies, animation and photography in a surrealist manner. with his fascination for the human body and the manipulation of it, hess pushes the boundaries of the textile design profession: his designs transcend the craft, as hess chooses to extend them via other media such as film, photography and animation. his futuristic materials and textures blur the boundary between textile and skin, human and new species.
with his work hess has obtained an independent position in the world of fashion, design and art. his list of international collaborations and clients include
prestigious names such as lady gaga, lucy mcrae, palais de tokyo and nick knight.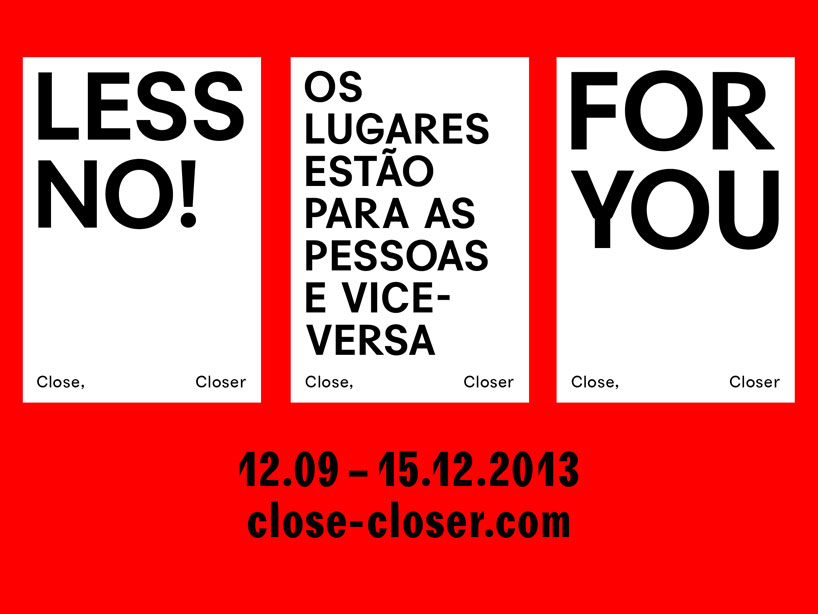 lisbon architecture triennale
12 sep – 15 dec 2013
entitled 'close, closer' the 2013 lisbon architecture triennale is made of a series of exhibitions and public programmes which aims to challenge and question the role of the architect in contemporary society. there is more designboom coverage to come, please stay tuned.
oct 30, 2018
oct 30, 2018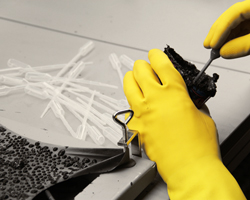 apr 15, 2014
apr 15, 2014
apr 16, 2009
apr 16, 2009
dec 03, 2013
dec 03, 2013
oct 30, 2013
oct 30, 2013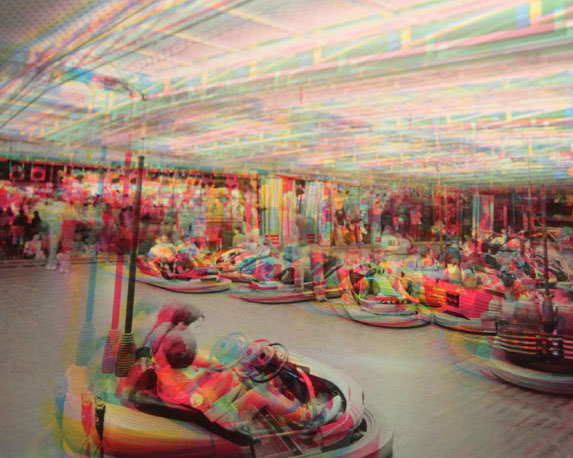 sep 20, 2013
sep 20, 2013
a diverse digital database that acts as a valuable guide in gaining insight and information about a product directly from the manufacturer, and serves as a rich reference point in developing a project or scheme.