jun 20, 2015
ben butler deploys over 10,000 sticks of poplar wood for unbounded installation
ben butler deploys over 10,000 sticks of poplar wood for unbounded installation
image © nash baker
'unbounded' by ben butler
rice university art gallery, houston, TX, USA
on view until august 28, 2015
from ant colonies to human cities, artist ben butler is fascinated by how complex phenomena emerge from simple processes. currently on display at rice university art gallery, butler's 'unbounded' installation is a distillation of this idea, as simple and predictable units — over 10,000 sticks of poplar wood — are accumulated to create a complex form that cannot be preconceived or planned.
'I was drawn to poplar because of its abundance, low cost, and its exceptional malleability,' explains butler. 'all of these factors allow for freedom of process, as I could easily generate a seemingly endless supply of materials. the hand-pegged, three-dimensional cubic grid is something that evolved in my studio over years of contemplating and playing with these sticks. previous works utilized the grid, but the space of rice gallery allowed for a large-scale exploration of the potential of this unit.'

ben butler | unbounded
video courtesy of rice gallery
the site-specific installation grew organically as the artist constructed the handmade latticework form to snake through the gallery space. butler equates the final step of the process of trimming the ends of sticks to shape the amorphous edges to pruning a giant bonsai. like a garden maze, the resulting installation has pathways and spaces to explore, discover, and get lost within.
'the title of the installation 'unbounded' alludes to the notion that its form has no defined boundary, that it is untamed and fills the space according to its own logic,' butler continues. 'I often find that to create an engaging sculpture means to build something that embodies contradictions. on one hand the grid is entirely predictable, constant, and precise; yet the boundary of that grid is seemingly in flux, unpredictable, and alive.'

the handmade latticework snakes through the gallery space
image © nash baker

like a garden maze, the resulting installation has pathways and spaces to explore
image © nash baker

view are provided through the intricacies of the structure
image © nash baker

the installation comprises over 10,000 sticks of poplar wood
image © nash baker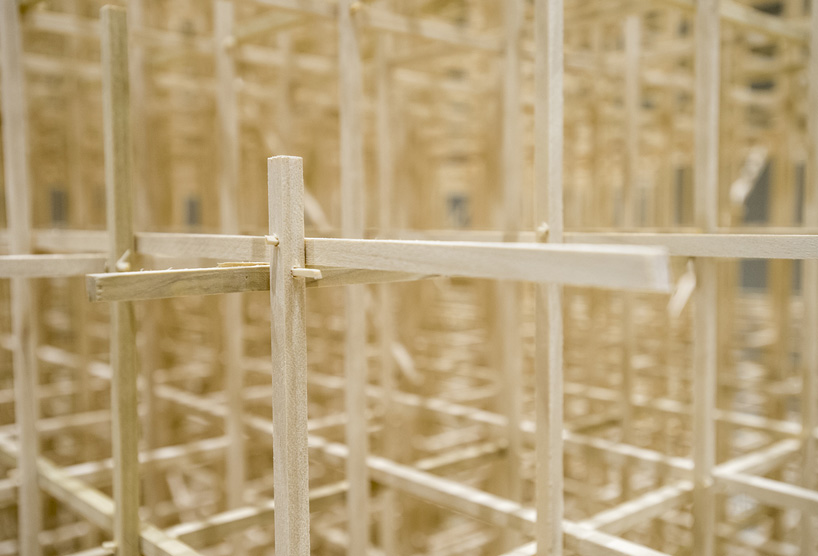 the final step of the process involves trimming the ends of the sticks to shape the amorphous edges
image © nash baker

the complex form is perceived differently from different angles
image © nash baker

the exhibition remains on display until august 28, 2015
image © nash baker

creating 'unbounded': an installation by ben butler
video courtesy of rice gallery