may 31, 2013
book sculptures by odires mlaszho at the venice art biennale
odires mlászho: brazil pavilion at the 2013 venice art biennale
image © designboom
brazil presents 'inside/outside' at the venice art biennale 2013.
commissioned by luis terepins (fundação bienal de são paulo)–curated by luis pérez-oramas and deputy curator andré severo–the south american country's pavilion within the giardini venue explores this idea of the 'constellatory structure', featuring the work of five artists including odires mlászho.
born josé odires micowski, mlászho takes many of his creative influences from the work of max ernst and lászló moholy-nagy, so much so that his alias is a culmination of their names. the book sculptures which he has created especially for this occasionconvey his attempt to re-invent the possibilities of collage, particularly its developments in our digital world. his work,in conjunction with fellow exhibitor hélio fervenza, present a constellation of pieces which represent a brief archeology of the möbius strip in art. the books sculptures which mlászho has conceived employ volumes arranged in such a way that they are rendered in twisting formations, worked into one another, referring to principles associated with a möbius strip. to emphasize the use of a its mathematical properties in art, his and fervenza's pieces are being shown in relationship to bruno munari's 'concave/convex' (1947), max bill's 'tripartite unity' (1948-49) and lygia clark's 'soft work' (1964).
top view of the volumesimage © designboom
image © designboom
the sculptures have been manipulated to refer to the mathematical properties of a möbius stripimage © designboom
image © designboom
international law directory, 2013image © designboom
detail of international law directory, 2013image © designboom
blind books, 2012image © designboom
blind books, 2012image © designboom
blind books, 2012image © designboom
odires mlászho at the 2013 venice art biennaleportrait © designboom
aug 26, 2013
aug 26, 2013
jul 31, 2013
jul 31, 2013
jul 23, 2013
jul 23, 2013
jul 14, 2013
jul 14, 2013
jul 14, 2013
jul 14, 2013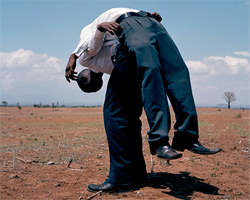 jul 12, 2013
jul 12, 2013