sep 08, 2011
bovey lee: new work / interview
sewing highways, 2011
— designboom caught up with pittsburgh-based artist bovey lee, as she presents her latest paper cut pieces. —

DB: please can you tell us a little bit about your background and professional career? BL: I grew up in hong kong with my parents and two sisters. I learned chinese calligraphy at age ten and painting and drawing in my formative years. early on, I realized and loved that every second and minute in the creative process is different, new, and exciting.
in college, I evolved as a painter. shortly after graduation, I came to the united states and earned my first masters of fine arts degree in painting and drawing from UC berkeley in 1995. at that time, graphics software and the internet were budding as potential creative media and
outlets for artists. recognizing the possibilities while fuelling my curiosity, I obtained a second MFA degree in digital arts at pratt institute in new york.
after practicing digital arts for years, I began to miss creating with my hands. I sought an expression to satisfy my creative impulses and combine my skills. in 2005, I created my first cut paper work. using the very same chinese rice paper for calligraphy, I define what I do as drawing with a knife. when I cut paper, it is a visceral reaction and natural response to my roots and affection for precision, detail, and subtlety.
cut paper has been around for a long time in many cultures and traditions. my work is inspired
by chinese paper cutting but at the same time defies it, breaking every traditional rule there is. my professional career as a cut paper artist came at the time when the medium, as interpreted by my peers, gradually gained traction and attention in the international art stage.
sewing highways, 2011 (detail)
making of 'sewing highways'
why did you decide to use paper as the main material in your work? I work with paper because it's a very intimate material and also familiar to everyone we handle and use paper everyday. I also like that it is accessible, simple, and humble. the paper that I use, chinese rice paper, is both personally and culturally significant. chinese invented paper so it's part of my lineage. it is also the first art material I knew that evokes memories and history.
what is the typical preparation process for a cut paper piece? my creative process is three-fold – hand drawing, digital rendering, and hand cutting. typically, I develop drawings before making a digital template on the computer. after completing the template, I print it out and use it as a positioning and visual guide. the template is largely photographic and I spend a lot of time translating continuous tones into patterns of solid and void. the final step is to spend lots of hours, hand cutting the image.
how long does it take to design a composition? it's very difficult to clock time because of the way ideas come to me that is so fluid. once I have an idea, working it out visually may take from days to weeks, sparing additional time in between to rethink and polish.
what tools do you use? an x-acto knife, blades, rice paper, cutting mat, computer, and printer.
ironing oceans, 2011
ironing oceans, 2011 (detail)
making of 'ironing oceans'
preparatory for 'ironing oceans'
when deciding a new theme for a piece are you always looking to 
challenge yourself with more complex cuts? not really. I just do what each particular piece asks of me.

which artists do you admire and how have they influenced your work? I admire the anonymous chinese paper cutting artists who are generations of women; grandmothers, mothers, daughters, and grand daughters. they made paper cuttings not for fame and fortune but for self-expression and familial bonding. their beautiful spirit and works over thousands of years inspire me every day.

have you ever been commissioned to create a piece for advertising or other commercial purpose? yes. I have created original cut paper works for FP journe's hong kong and beijing stores. annabelle magazine in switzerland commissioned 'the zodiac project', a set of twelve cut paper pieces. last year, I developed the theme and provided artistic direction for pacific place's chinese new year campaign in hong kong.
bamboo ballet, 2011
bamboo ballet, 2011 (detail)
paper streets, 2011
paper streets, 2011 (detail)
pushing mountains, 2011
lassoing cows, 2011
bovey lee
in recent years more and more artists and illustrators have emerged who work with paper in a sculptural context – why do you think that is? like these artists, I see three-dimensionality and installation as a natural progression to expand one's work. cut paper is interesting because it's '2.5 dimension' if you will, while paper is flat and two-dimensional but the shadow makes it instantly three-dimension.
what can we expect from your future works? at the moment, I am working on a new body of cut paper works for two upcoming solo exhibitions, one at grotto fine art, hong kong in december and another at rena bransten, san francisco in fall 2012. I also want to create more installations.
—
designboom design-aerobics courses
design-aerobics 2011: PAPER course
september 15 – november 15, 2011
beyond a writing surface, paper can be used for so much more.
furniture, lighting, packaging–
from the planning stages to finished works,
this fall designboom will explore the infinite possibilities
of this material.
to see a sample lesson and information on how to enroll click here.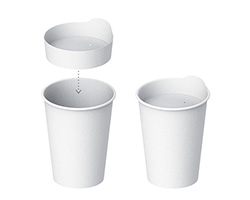 jun 16, 2020
jun 16, 2020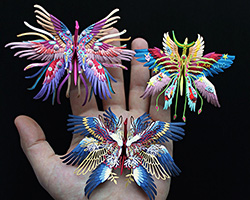 jun 11, 2020
jun 11, 2020
may 08, 2020
may 08, 2020
apr 29, 2020
apr 29, 2020
apr 01, 2020
apr 01, 2020
mar 06, 2020
mar 06, 2020
a diverse digital database that acts as a valuable guide in gaining insight and information about a product directly from the manufacturer, and serves as a rich reference point in developing a project or scheme.