dec 16, 2010
brazilian street art: rui amaral + mazu prozac
são paulo, brazil, could very well be considered epicentre for graffiti artists – an influential international hub for creative street art ideas. designboom friend rodolfo nakakubo of ideiaforte, who previously informed us of brazilian designer andré farkas' move into street art, has recently sent us videos he has produced with artists rui amaral and mazu prozac, two important figures within the brazilian graffiti scene.
rui amaral's renewal of the buraco da paulista
48 year old rui amaral is a multimedia visual artist and cultural activist, who is one of the pioneers of the brazilian graffiti movement. he is also responsible for one of são paulo's largest mural installations to date. he has been part of the season called generation 80, which was one of the greatest exponents of brazilian graffiti, invading biennales, and important museums and galleries. amaral also formed the group tupynãodá that rocked the art world of são paulo. its members were the first to graffiti in during daylight hours. throughout his creative history, amaral has gone through his share of hardships, suffering persecution from the police, and eventually being arrested and prosecuted several times by the city. he is now the founder of artbr, an instigator of broadband for the country, coordinating art projects and education programs, geared to the enhancement of citizenship among disadvantaged communities.
mural up close
rui amaral working on the buraco da paulista mural
amaral at work
finished portions of the mural
detail
finished section
amaral hard at work
you can see more documentation of the buraco da paulista renewal on rui amaral's flickr
'o alquimista' (the alchemeist) by rui amaral image courtesy of artbr
'o alquimista' (the alchemist) by rui amaral (detail) image courtesy of artbr
vila mariana, são paulo, mural by rui amaral image courtesy of artbr
vila mariana, são paulo, mural by rui amaral (detail) image courtesy of artbr
vila mariana, são paulo, mural by rui amaral (detail) image courtesy of artbr
rui amaral – ideia forte / rodolfo nakakubo
rui amaral in action:
mazu prozac 'be water…'
mazu prozac is an artist who emerged with the boom of graffiti in the neighorhood of vila madalena in são paulo during the 90s. since 1998
he has been involved in graffiti and street art projects, art education, acted as a technician in art exhibitions, and worked in fashion, painting, drawing, illustration, animation, digital and pin-hole photography. prozac graduated in fine arts from the fundação armando alvares penteado (FAAP) in july 2000.
prozak, the name of the most used synthetic drug in the world, prescribed to cure all kinds of bad feelings, is the name of this artist who was born in são paulo. his art describes a world of coexistence between the modern and the obsolete, the tropical myth of the 'land where everything grows and blossoms', and of the equally mythological industrial modernity imported for a high price and paid in lifetime installments. however, using a fine irony, and multiple symbols, prozac's art points in the direction of something more pure and simple.
you can view more on mazu prozac's flickr and fotolog.
mazu prozac – ideia forte / rodolfo nakakubo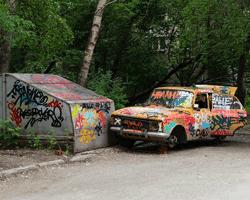 jul 13, 2017
jul 13, 2017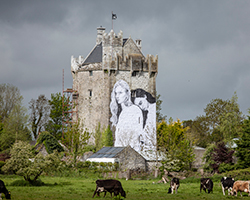 jun 29, 2017
jun 29, 2017
jun 19, 2017
jun 19, 2017