'building images' — an annual exhibition of architectural photography — opens at london's sto werkstatt on february 9, 2017. for this fourth installment, the show highlights the world's most renowned architectural photographers, celebrating the importance of image in the way we experience and engage with the built environment. broken down into four categories — sense of place, interiors, exteriors, and buildings in use — the exhibition explores different architectural qualities and the broad range of photographic styles used to capture them. 

SENSE OF PLACE | photographer: paul turang
hygge house warming hut, winnipeg, canada
architect: plain projects, pike projects, urbanink
(banner image) INTERIORS | photographer: matt emmett
covered reservoir, finsbury park, london, united kingdom
architect: east london water works company 1868
at sto werkstatt, in collaboration with arcaid, 'building images' puts the spotlight on the world's most renowned architectural photographers, including overall winner matt emmett for his shot of the 'covered reservoir' in london's finsbury park. short listed entrants include fabrice fouillet, adrien barakat, julien lanoo, laurian ghinitoiu, torsten andreas hoffmann, nick almasy, iñigo bujedo-aguirre, edmund sumner, sebastian weiss, james newton, kilian o'sullivan, will scott, victor romero, paul turang and mark wohlrab. in the shortlisting process, the panel of judges — which included last year's winner fernando guerra — was asked to examine the photographer's interpretation of the architecture captured, exploring nuances of the image's sense of place, atmosphere and scale.

SENSE OF PLACE | photographer: mark wohlrab
bruder klaus field chapel, mechernich-wachendorf, germany
architect: peter zumthor
'I believe architectural photography has the unparalleled ability to make works of architecture and their artistic interpretation accessible to the wider public,' amy croft, curator at sto werkstatt said. 'this encourages people to explore architecture in various contexts and forms, which stimulates discussion. this year's winning entry provided a unique glimpse into a historic architectural site, a place most people will not happen upon. the captured image allows viewers access to a restricted area, furthering the democratisation of art and architecture.'

SENSE OF PLACE | photographer: julien lanoo
the stage for haduwa arts & culture institute, ghana
architect: [a]fa [applied] foreign affairs

SENSE OF PLACE | photographer: victor romero
baku national stadium, azerbaijan 
architect: rossetti with heerim architects

SENSE OF PLACE | photographer: inigo bujedo aguirre
blok 23, novi beograd, belgrade, serbia
architect: aleksandar stjepanovic

BUILDINGS IN USE | photographer: laurian ghinitoiu
'forest of light' for cos, salone del mobile, milan, italy
architect: sou fujimoto architects

BUILDINGS IN USE | photographer: julien lanoo
independance square, accra, ghana

BUILDINGS IN USE | photographer: adrien barakat
allianz headquarters, zurich, switzerland
architect: wiel arets architects

BUILDINGS IN USE | photographer: fabrice fouillet
musee de confluences, lyon, france
architect: coop himmelb(l)au

BUILDINGS IN USE | photographer: torsten andreas hoffmann
dharavi, mumbai, india

EXTERIORS | photographer: edmund sumner
lattice house, kashmir, india
architect: sp+a architects (sameep padora)

EXTERIORS | photographer: julien lanoo
vitra shaudepot, weil am rhein, germany
architect: herzog & de meuron

EXTERIORS | photographer: sebastian weiss
olympic stadium, helsinki, finland
architect: yrjo lindegren and toivo jantti

EXTERIORS | photographer: inigo bujedo aguirre
sesc pompeia, sao paolo, brazil
architect: lina bo bardi

EXTERIORS | photographer: nick almasy
shanghai tower, shanghai, china
architect: gensler/marshall strabala

INTERIORS | photographer: james newton
serpentine gallery pavilion, london, united kingdom
architect: selgascano

INTERIORS | photographer: fabrice fouillet
jesus church, san sebastian, spain
architect: rafael moneo

INTERIORS | photographer: will scott
helical staircase in workshop, littlehampton, united kingdom
architect: finkernagel ross architects

INTERIORS | photographer: kilian o'sullivan
interior and portrait of derry road resident on the queen's birthday.
architect: bell phillips architects
Save
oct 03, 2017
oct 03, 2017
sep 14, 2017
sep 14, 2017
sep 09, 2017
sep 09, 2017
sep 03, 2017
sep 03, 2017
aug 23, 2017
aug 23, 2017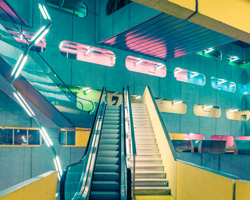 aug 22, 2017
aug 22, 2017