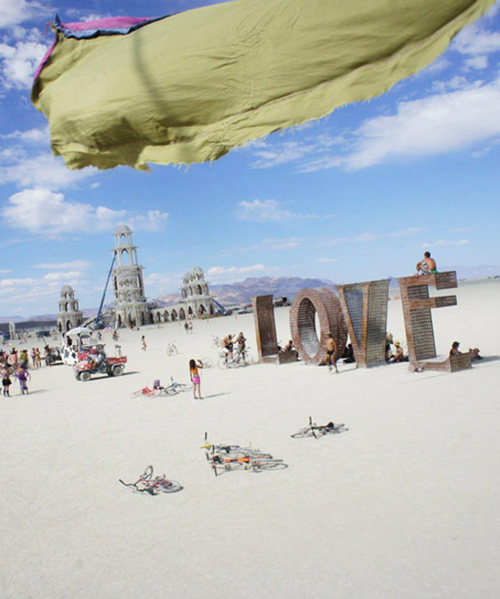 oct 11, 2011
burning man: a brief history of the desert festival and black rock city
twenty-five years ago burning man was a thought that festival founder larry harvey shared with his friend, jerry james. harvey's hope was to build an eight-foot figure to burn in a pure spontaneous act of radical self-expression to celebrate the summer solstice. in the company of twenty friends and strangers, james and harvey brought their wooden man monument to baker beach in san fransisco, california. it was in the assembly of this community comprised of individuals– valuing total inclusivity, public expression, and the act of ritual as a necessity, gathered to celebrate and ignite the humanoid figure — that the very first burning man festival was held
wide-view of the playa as seen from atop a living-structure image courtesy of bryan snyder
from the first burn in 1986 until 1989, harvey and friends continued to conduct a yearly gathering on baker beach. the attendance of the festival had grown to 100 individuals in 1990 as 'the man' grew to a height of 40 feet– it was in this year that burning man founders created black rock city, the more contemporary and widely understood form of the festival. the festival moved from baker beach to a dry, dusty lakebed in northern nevada, usa, known as black rock desert, or 'la playa' to festival goers. due to this shift in space, the event took on a new life with greater space for mobility and platform for expression. black rock city was created by the gathering and its founders as a dadaist temporary city—a community existing only once a year in the period of seven days before labor day weekend, and it is still recreated in this location today.
jellyfish-like lanterns carried by festival goers in an act of collective public performance and inclusivity. image © patrick roddie
the primary concern of a community member in attending burning man is that of survival — to maintain health, wellness and creativity in the blistering desert heat. the force sustaining citizens of black rock city is in the constant actualization of art and unconditional inclusively within the community. participants are expected to bring food, water, and shelter in order to maintain their self-sufficiency and burning man distributes a survival guide to aid in this effort. the only rules of the city are created to ensure the health and safety of all participants—leave no waste, engage in no commerce, no use of non-mutant cars moving above five miles per hour, and no interference with any other citizens immediate experience.
the consistency of shape is both a nod to the original shape of the man as well as homage to the black rock city location image courtesy of nick wolfe
the first themed camp at burning man arose in 1993, however, it was not until 1996 that burning man organizers announced a central concept — hell. however, themes are never a rule as participants are encouraged to enrich the artistic community whether or not their contribution be directly related to this encompassing idea. the burning man theme of 2011 was 'rites of passage'. designs, encampments, costumes, vehicles and artistic media produced by the community are greatly influenced by this concept. sculptural structures found through out the burning man site and are often constructed by artists who are grant recipients from the burning man organization. the burning man organization funds near $50,000 worth of artwork for the event each year and in 2011, was able to fund 44 installations for black rock city.
one of the several mutant vehicles accepted by burning man's own transportation registration system image © patrick roddie
black rock arts foundation is a resource for artists after they return to their lives post-black rock city, as they continue to exhibit the outsider and visionary art that appreciates the festival theme. BRAF is the ideal environment for burning man artists, as their organization funds and displays only highly interactive, public, community-driven works of art. in addition to the foundation, burning man websites and forums, the first appearing in 1994, are a platform in which participants of this experimental society are better able to maintain connection with the community. it was not until 1997, with participation rates of 10,000 that burning man had a direct connection to the media.
performance art such as fire spinning is widely practiced and appreciated at burning man image courtesy of bryan snyder
the concentric, semi-circle design of the modern black rock city construction was developed by burning man founder friend and san fransisco landscape designer, rod garrett in 1997 to house 10,000 festival goers. with thirty years of experience in a field that was not directly connected to urban planning, garrett's concept was innovative and fashioned in a way that recognizes the new urbanist perspective. it is a walkable, connected, centrally oriented, mixed use and housing community city structure and was borne from the necessity for the festival to have city planning after the crowd grew to 8,000 individuals in 1996. the original plan has been re-shaped and oriented annually since its initial sketch and implementation with garrett remaining the primary architect of the city plan until his death in august of 2011. the C shaped plan spans 240° with axes of the half-wheel made on each half-hour mark, intersecting with the ten concentric semi-circles that comprise the city in its entirety. the semi-circle promotes the interconnectedness of the city and encourages citizens to engage in the central space, where 'the man' is located.
the harsh conditions of black rock city create necessity for community members to properly attire themselves image courtesy of bryan snyder
in 2011, for the first time in the twenty-five year history of burning man, the festival sold out. on 29 august 2011, 50,000 individuals moved their lives to their plot of land in black rock city, the desert utopia that garrett help to orchestrate for a week of total creation. the entirely temporary black rock city. during the time of the festival, black rock city is the tenth largest urban area in nevada, USA coming in just behind carson city, nevada, USA at 52,457.
art-bikes yet are another platform in which community members may choose to express themselves image courtesy of michael lattizori
sculpture works by unknown artists images courtesy of michael lattizori
collective performance art installation on the playa image © patrick roddie
wooden circular snake sculpture by an unknown artist image courtesy of nick wolfe
images courtesy of nick wolfe
aerial view of black rock city, nevada, USA, home of the burning man festival image courtesy of geoeye
left: the man, mid-way through the burn on the final evening of the festival right: the wooden horse sculpture as seen mid-burn. image on left © patrick roddie; right image courtesy nick wolfe
a mutant vehicle, navigates the playa, pointed in the direction of the man image © patrick roddie
jan 18, 2020
jan 18, 2020
oct 27, 2019
oct 27, 2019
sep 03, 2019
sep 03, 2019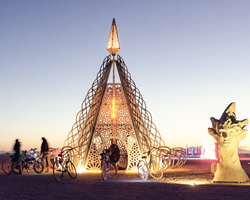 sep 02, 2019
sep 02, 2019
aug 27, 2019
aug 27, 2019
dec 23, 2018
dec 23, 2018
a diverse digital database that acts as a valuable guide in gaining insight and information about a product directly from the manufacturer, and serves as a rich reference point in developing a project or scheme.