may 14, 2015
rapture by camille norment at the nordic pavilion, venice art biennale 2015
camille norment at the nordic pavilion for the venice art biennale 2015
photo by OCA / matteo da fina
camille norment has realized a site-specific installation within the nordic pavilion at the venice art biennale 2015. 'rapture', curated by katya garcía-antón, unfolded during the opening days of the international art exhibition as a set of performances by musicians and vocalists at specific times; and a three-part publication which explores the relationship between the human body and sound, through the visual, the sonic and the architectural body.

installation view of 'rapture' by camille norment at the nordic pavilion
image © designboom
the oslo-based artist works with the glass armonica – an 18th-century instrument invented by benjamin franklin that creates ethereal music from the touch of fingers on glass and water – and a chorus of 12 female voices. weaving these elements together within the pavilion itself, norment creates an immersive, multi-sensory space, which reflects upon the history of sound, contemporary concepts of consonance and dissonance, and the water, glass and light of venice.

detail of 'rapture'
image © designboom
norment comments, 'I am interested in how music has long been used to facilitate both the forging and transgressing of cultural norms. sound permeates all borders. throughout history, fear has been associated with the paradoxical effects music has on the body and mind, and its power as a reward-giving de-centralizer of control. recognized as capable of inducing states akin to sex and drugs, music is still seen by many in the world as an experience to be controlled – especially in relation to the female body – and yet it is also increasingly used as a tool for control under the justification of war'.

the multi-sensory installation includes a composition by a chorus of 12 voices heard throughout the pavilion
image © designboom
'rapture' reflects on how the body can be defined and potentiated by sound, with the pavilion speaking of the tensions between harmony and dissonance. if, as the norwegian experimental composer arne nordheim said, 'music lives in the span between poetry and catastrophe', the visitor to the nordic pavilion walks into a sculptural and sonic installation torn between these two ideas, a space between a body in trauma and a body in rapture.

'rapture' reflects the tensions between harmony and dissonance
photo by OCA / matteo da fina 
spanning performance, installation, drawing and sound, norment's work explores how the body is connected through sound with our environment, contemplating the power of dissonance and its ability to carve out a space for new, affirmative thinking. 'camille norment is one of the most exciting artists working in norway today, creating work to be experienced viscerally and poetically. her practice is unusual in that it crosses the fields of art and music, mining historical and sonic dichotomies to trace unresolved social dialogues that continue today', says katya garcía-antón, curator of the nordic pavilion at the venice biennale 2015.

a visitor engages in the musical performances being played into the architectural space
image © designboom

'rapture' extends outside of the nordic pavilion
image © designboom

the site-specific installation speaks to how sound permeates all borders
image © designboom

'rapture' by camille norment
image © designboom

image © designboom

'rapture' taking over the patio of the nordic pavilion
image © designboom

the way in which sound resounds through body and space is projected in the installation
image © designboom
a short documentary presenting artist camille norment and her project at the 56th international art exhibition:

official inauguration of 'rapture' in the nordic pavilion at la biennale di venezia
photo by OCA / marta buso

photo by OCA / marta buso

photo by OCA / marta buso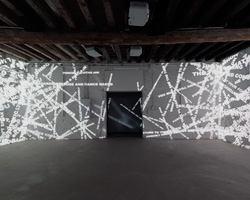 jul 12, 2015
jul 12, 2015
may 22, 2015
may 22, 2015
may 20, 2015
may 20, 2015