when you think of a city like london, bright block colours and playful graphic patterns may not always be the first images to jump to mind. look through the eyes of artist camille walala however—a graduate of textile design from the university of brighton and founder of her eponymous studio WALALA—and things may just appear a little bit more vibrant.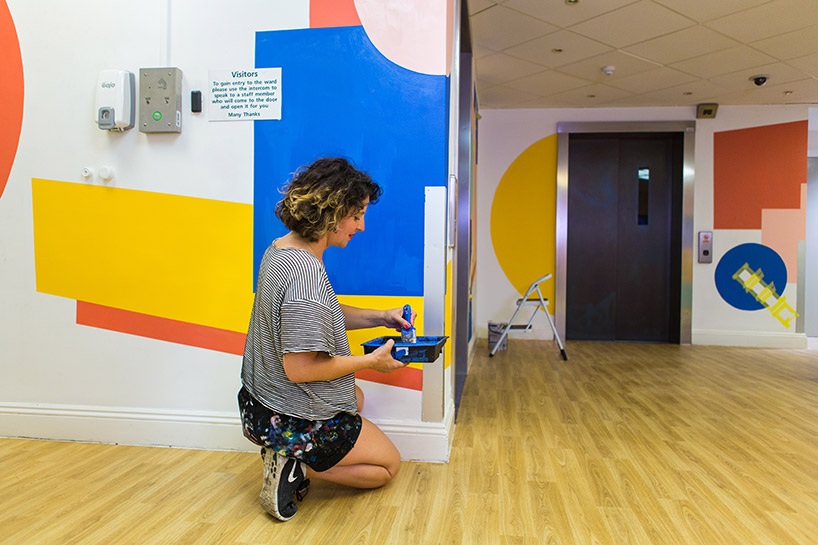 walala adding a splash of her signature colour at london's park royal centre for mental health
all images courtesy of the artist
camille walala first moved to london in 1997, for what was was originally only supposed to be a three month stay. based in the city ever since, the designer has slowly been carving out a name for herself as an artist whose joy-infused work seemingly knows no bounds, working on projects as diverse as pedestrian crossings, street murals, nightclub interiors and multi-coloured labyrinths, as well as commercially for brands such as nintentdo, koppaberg, giorgio armani and the barbican festival.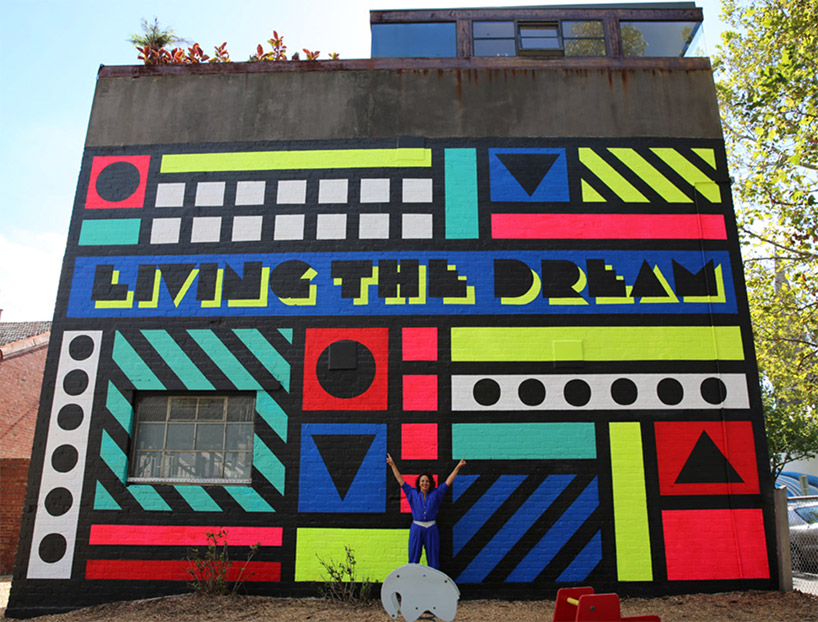 walala in front of commissioned mural in melboure, australia
as diverse as her portfolio may be, walala's work is imbued throughout with a playfulness and enthusiasm that's hard to resist. influenced by artists like the memphis group and morag myerscough, walala's pop-tribal aesthetic oozes with optimism, energizing everything she lends her hand to with a sense of childlike wonder—no matter the medium. some standout projects include her 'better bankside' crossing, which saw her transform a pedestrian crossing on london's southwark street into a bold composition of shapes and shades and her colourful conversion of a cleveland bank into a bustling social hub.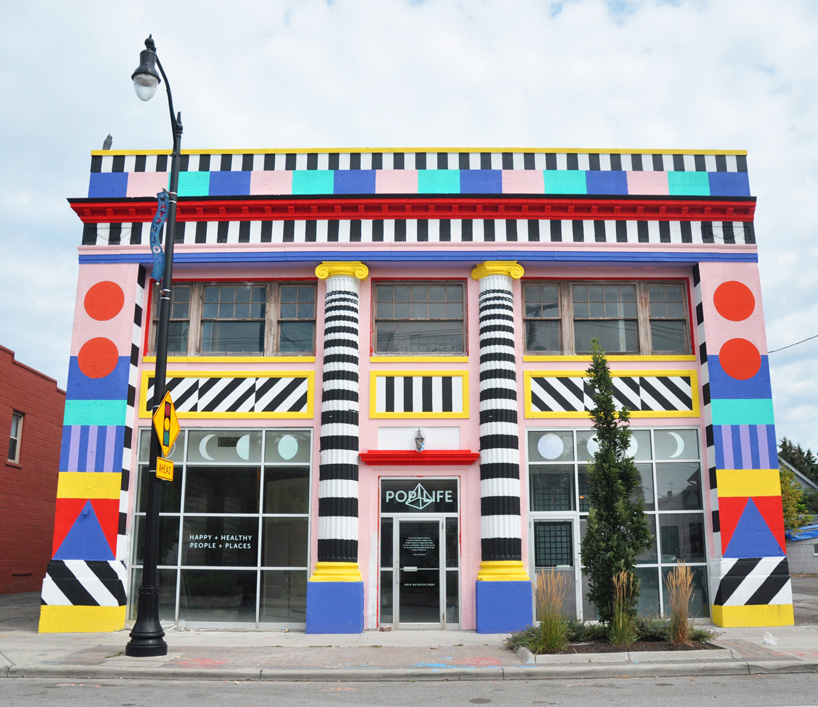 with a facelift courtesy of WALALA, this bank was transformed into a gallery space, juice bar and yoga studio
in july 2017, walala worked alongside the nightingale project, an initiative aimed at brightening up hospitals with music and art. the collaboration saw the artist adorn the reception area of london's park royal centre for mental health in lively patterns and muted hues. she followed this up with WALALA X PLAY, an immersive installation at NOW gallery that took the form of a psychedelic labyrinth in which visitors could lose themselves in a world of geometric patterns and shifting perspectives.
most recently, the designer made waves at london design festival 2017 with the inflatable architecture of 'villa walala', a dazzling and tactile installation that transformed one of the city's busiest tube stations into an oasis of curious exploration and mental rejuvenation. encapsulating everything that makes walala's work so exciting, villa walala's vibrant hallways and whimsical structure gave the city's suited masses a chance for play in the middle of the workday.
recently, designboom caught up with the artist to talk about her recent projects, and colourful plans for the future.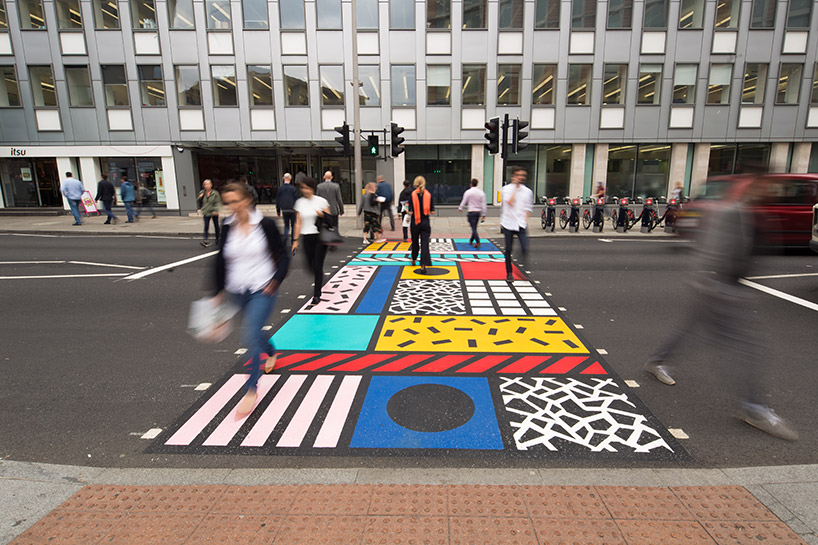 commissioned by better bankside & transport for london, walala's colourful crossing coincided with LDF 2016
designboom: have you always wanted to work in art and design? what has your journey been like to this point?
camille walala: I haven't had a clear path to art and design. I was very unsure of what I wanted to do growing up. I studied many different things before I landed on design. the journey has been a struggle, but I appreciate all the challenges I have had to face along the way.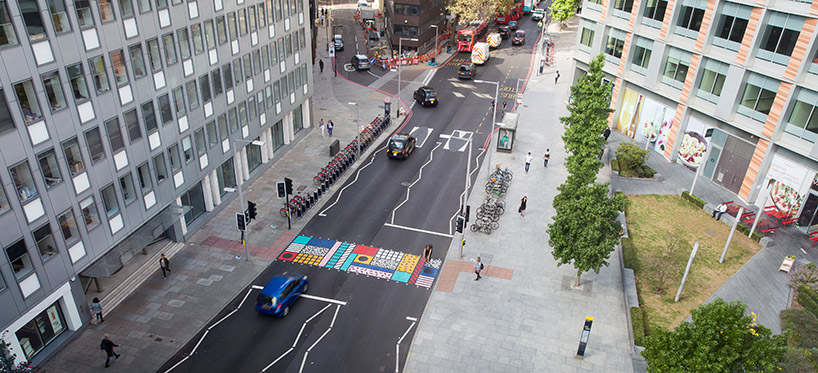 originally from france, walala quickly fell in love with london as a melting pot of different cultures and colours
DB: can you walk us through a day in the life of your studio?
CW: a day in my studio usually starts with a coffee. then the mammoth task of trawling through all the correspondence I receive every day. once I have finished with this I can get down to the fun stuff!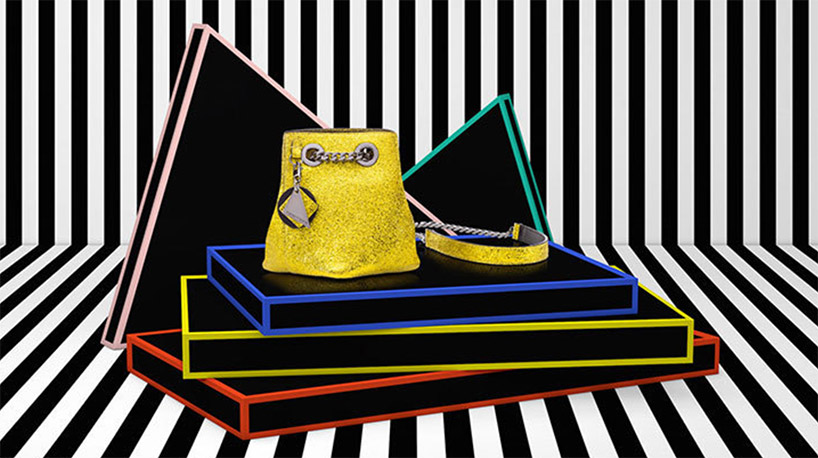 the artist teamed up with armani for its NEW POP collection of accessories
DB: colour is obviously a huge aspect of your work. why is colour so powerful for you, and do you have a favorite shade?
CW: I love colour and I feel it's a very overlooked mood enhancer. colour makes people happy and making people smile is what my work is all about. my favorite colour is blue if I have to choose.
DB: your body of work is really diverse, including graphic design, interiors, street art and even an inflatable villa. how does your process change from project to project, and is there a medium you haven't touched on yet that you'd like to try?
CW: what is great about pattern design is that it can be applied to any surface. I love to create patterns that can be applied to volume to enhance the space or shape or create perspectives that don't exist. there are many things I haven't tried yet that I would love to attempt. at the moment though, I'm very much enjoying working with buildings and architecture.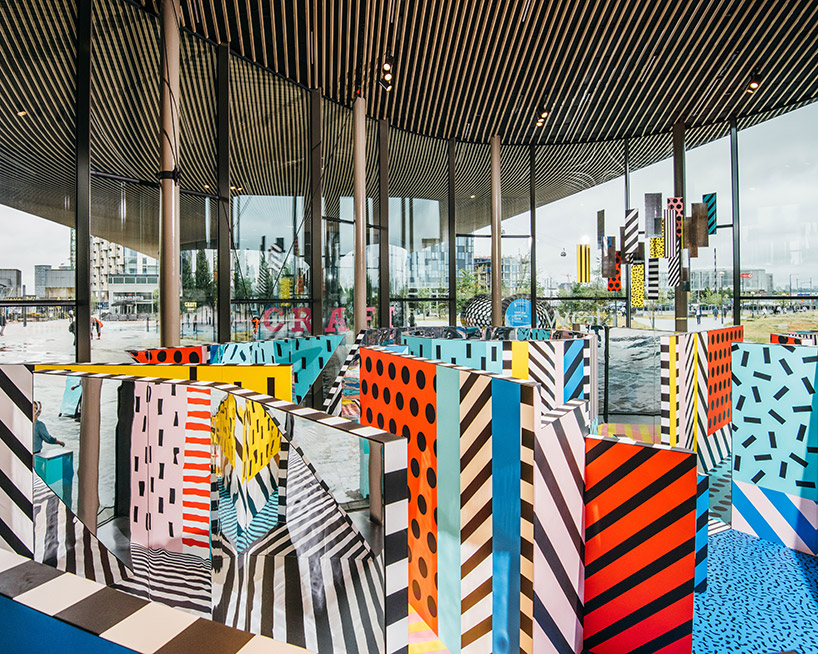 WALALA X PLAY saw the artist bring a multihued maze to london's greenwich peninsula
DB: your mural and installation work really toys with pre-conceptions of the 'traditional' cityscape. what is it that attracts you to working on an urban canvas?
CW: I love being able to bring colour to spaces that are predominantly grey. my dream would be to work with areas that are in desperate need of a splash of colour to bring a bit of joy to peoples lives.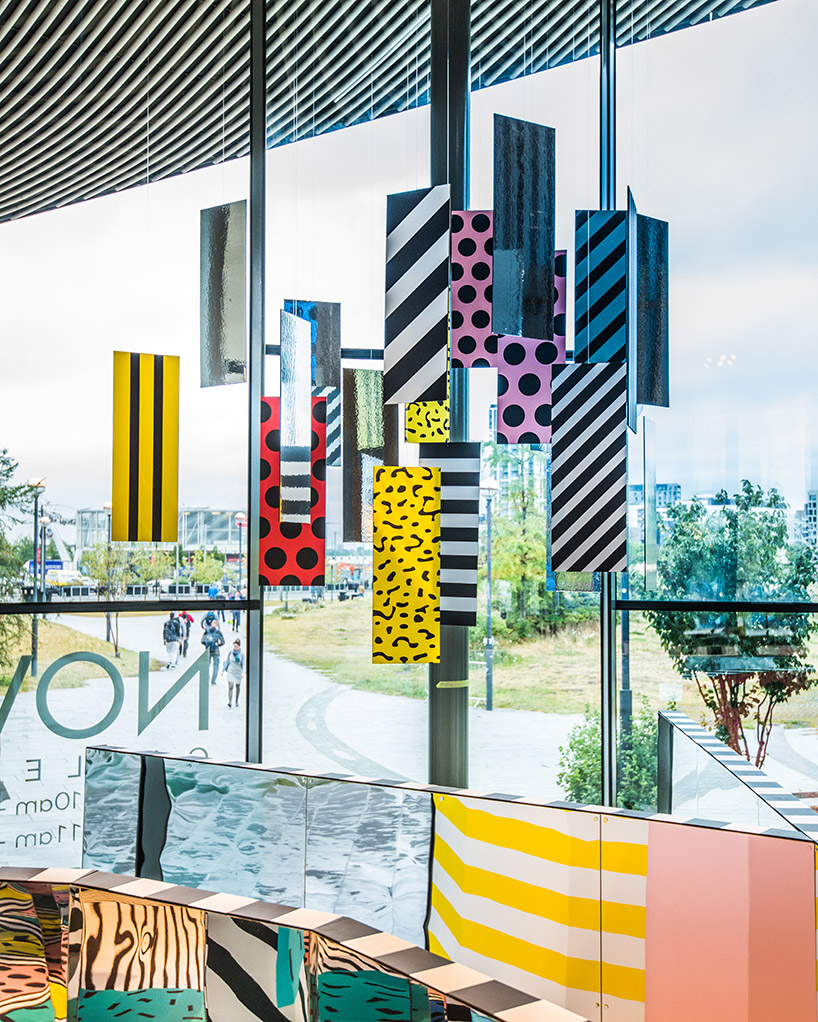 'I love being able to bring colour to spaces that are predominantly grey'
DB: for your installation at NOW gallery you worked closely alongside an architect — how important is collaboration for you as an artist, and from what other fields do you draw inspiration?
CW: the more I work in mediums I don't fully understand, collaboration becomes increasingly important. it's great to be able to push ideas further with people that have a different kind of knowledge to my own.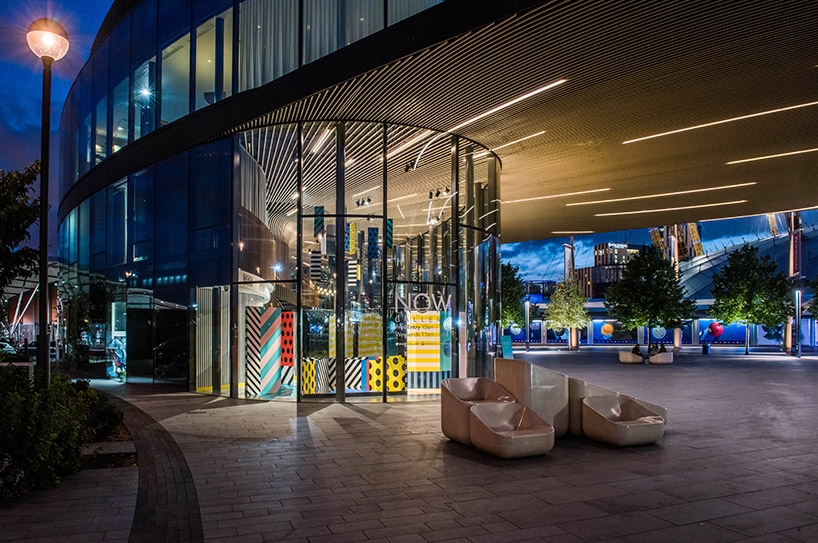 exterior view of WALALA X PLAY
DB: are there any other artists who have influenced your work, or to whom you turn for motivation?
CW: there are many artists whom I love. my go-to artists have always been sonia delauney, bridget riley, vasarely, the ndelbele and the memphis group.

walala's collaboration with les printemps, paris
DB: how does your own personal history or culture influence the way you create or find expression in your work (if at all)?
CW: the biggest influence from my childhood would have to be the vast array of bright colours in my family home and the memphis furniture my dad owned. I think I'm quite lucky to have been surrounded with these things from a young age.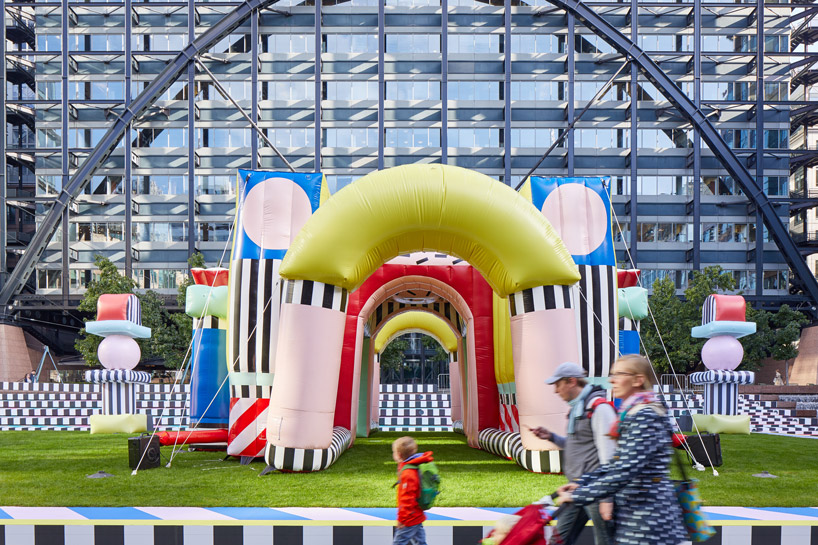 villa walala took over london's liverpool street tube station as part of london design festival 2017
DB: can you tell us a bit about your villa walala installation for london design week? how did the project come about, and what were some of the things you wanted to achieve? how does it feel now that it's over?
CW: I wanted to create something unexpected and fun in an area which has a serious business work ethic. I wanted to create something colourful where people could go and relax during their lunch break and unwind from the day to day stresses of life.
I have never worked with inflatables before so it was a big challenge and I think it turned out well! as with any project, the end is always a bit of an anticlimax. however, I'm hoping to be able to re-use the inflatable at some future events.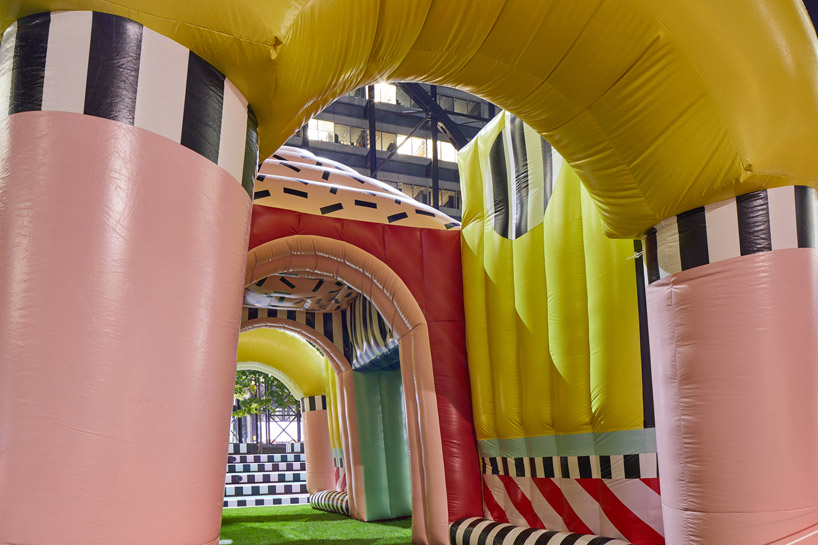 the bouncy installation served as a creative oasis in the middle of the city
DB: how has WALALA evolved since its inception, and in what direction would you like to see the studio moving in the future?
CW: WALALA has evolved further than I have ever dreamed it would. it's been a very exciting journey. I would love to split my time a bit more by doing some longer running projects that perhaps may take a bit more time in perfecting the design and doing social projects. I would love to paint some council estates!
DB: any personal mottos or words of wisdom you try to live by?
CW: PERSEVERANCE! it's written on my computer.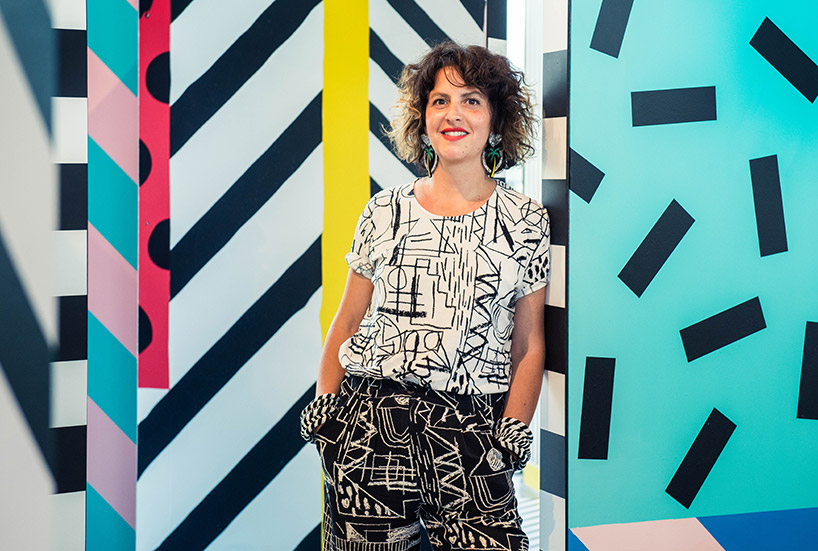 nov 13, 2019
nov 13, 2019
sep 22, 2019
sep 22, 2019
nov 30, 2018
nov 30, 2018
aug 16, 2018
aug 16, 2018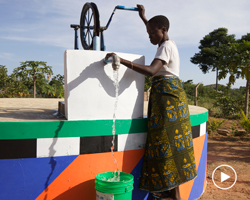 jul 08, 2018
jul 08, 2018
may 17, 2018
may 17, 2018
a diverse digital database that acts as a valuable guide in gaining insight and information about a product directly from the manufacturer, and serves as a rich reference point in developing a project or scheme.