in cleveland's waterloo art district, camille walala covers an abandoned 'key bank' building with a large-scale, transformative, urban mural. the london-based artist has created a vibrant geometric color mosaic — inviting visitors to enter the 'pop life' gallery space, juice bar, and yoga studio within.

camille walala creates a vibrant, eye catching installation on the exterior of an old, cleveland bank building
all images by paige moag
the waterloo / collinswood area has become an urban space dedicated to promoting the arts. this neighborhood, like many areas east of cleveland's center, has undergone an exciting, and rather rapid, process of revitalization. the building, originally built in the late 1920s, functioned primarily as a bank for most of its history. in the years before pop life's owner, jack mueller, proposed plans to restore the existing building, many unsuccessful projects were proposed for the space — leaving the building abandoned for almost ten years. the interior still contains elements of its initial function, including the original bank safes.

the mural extends from the front facade onto to the sides of the building
camille walala embraces the design of the facade by highlighting existing elements with pops of color. stripes of black and white accentuate the columns' generous height, becoming progressively thinner as they travel up towards the columns' bright yellow, ionic capitals. these elements from the facade, such as the deep fire-truck-red cornice, extend and stretch along the east wall — adding a dynamic flair. 

the artist's iconic, geometric forms highlight some of the building's surviving, historical features

the red from the facade's cornice, stretches and extends onto the east wall

the addition of black and white stripes, emphasize the dimensionality of the existing facade

the artist uses a variety of bold colors interspersed with black and white details 

the triangle becomes a repeated symbol throughout the mural 

the stark contrast between neighboring blocks of color can be seen clearly at the building's corner

pop life is an art gallery, juice bar, and yoga studio founded by jack mueller

pop life emphasizes 'art is for everyone' and aims to bring thought-provoking art to the surrounding community 

the artist's signature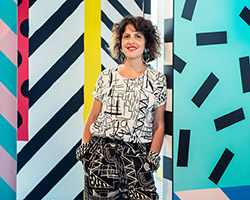 oct 29, 2017
oct 29, 2017
sep 18, 2017
sep 18, 2017
jul 14, 2017
jul 14, 2017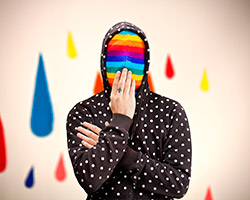 nov 01, 2017
nov 01, 2017
oct 10, 2017
oct 10, 2017
sep 20, 2017
sep 20, 2017