jun 24, 2012
carved bookstacks by kylie stillman
'eucalypt' by kylie stillman, 2012 book carving all images courtesy utopia art sydney
kylie stillman has developed several new sculptural works carved from layered paper. the melbourne-based artist brings out the shapes of birds and plants from the once flattened forms of discarded books stacked atop one another or from a thick tablet of the blank writing material. in each of her pieces stillman enlivens the repurposed mixed media, infusing her collection with both the traditions of art and craft and her own unique treatment of each subject depicted. her meticulous knife-drawn collection depicts natural or wild plants or creatures captured in a tamed environment.
'rural backyard (pardalotes, wrens, gold and green finches, honeyeater and wagtails)', 2012 paper carving 76 x 52 x 3cm
the artist says of one of her most recent piece, 'rural backyard' that the 'hand-carved from a tablet of paper rural backyard depicts a collection of small birds found in the artist's rural garden just outside of melbourne. contrary to traditional natural history documentation this framed exhibit is bleached of colour and reveals only the contoured impressions (their absence) as a guide to define the specimens'.
'the opposite of wild – lavender, basil & rosemary', 2011 book carving 37 x 23 x 16cm; 37 x 23 x 16cm; 34 x 23 x 16cm
paper
(178 articles)
sep 20, 2017
sep 20, 2017
sep 10, 2017
sep 10, 2017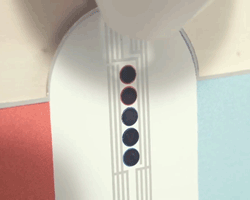 aug 12, 2017
aug 12, 2017