memory and nostalgia. light and color. beauty and loss. through her use of intricately threaded installations, japanese artist chiharu shiota intertwines all of these and more, imbuing both the site of her works — and the objects suspended within — with a powerful, dark and dreamlike potency.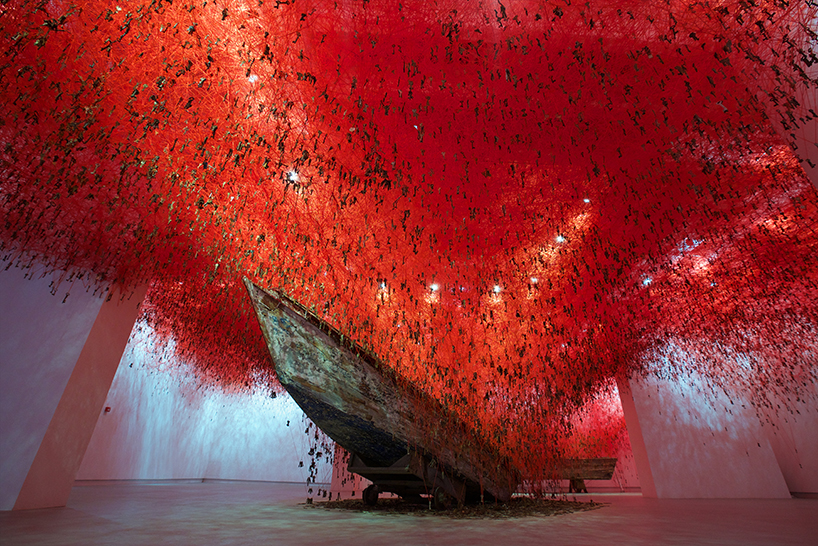 the key in the hand, 2015, japan pavilion, 56th venice biennale, italy, photo by sunhi mang
born in osaka in 1972, the berlin based shiota was trained in the 90s by renowned performance artist marina abramovic. shiota initially studied to be a painter, but soon became known for her large scale environments woven from thread. stepping into one of shiota's installations is akin to entering another world, one rife with the haunted beauty of ghostly objects and half-forgotten narratives.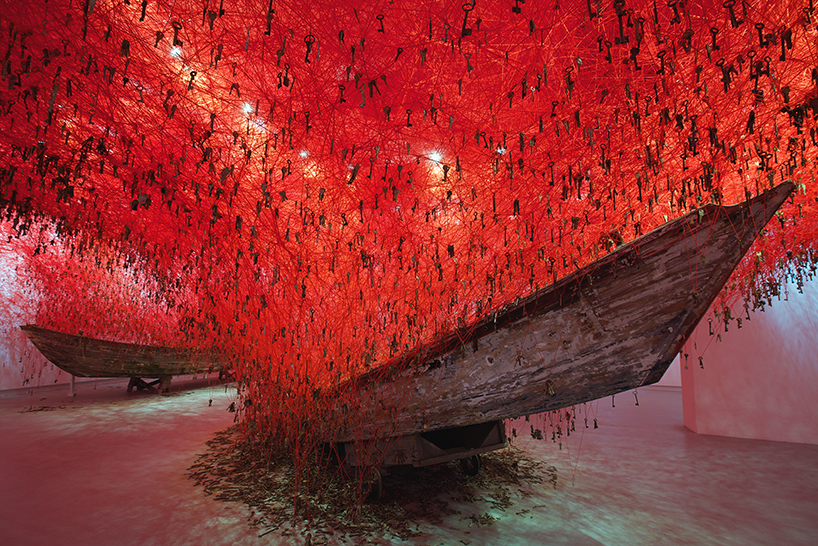 the key in the hand, 2015, japan pavilion, 56th venice biennale, italy, photo by sunhi mang
ships, keys, chairs and pianos: in shiota's work, household objects are either suspended or created outright from thousands fragile strands of string, crafted into structures both so delicate and expressive that a new kind of spacial poetry is created, one where mundane items exude fresh significance. shiota spoke to designboom recently about her journey as an artist, and creating a universe from a piece of thread.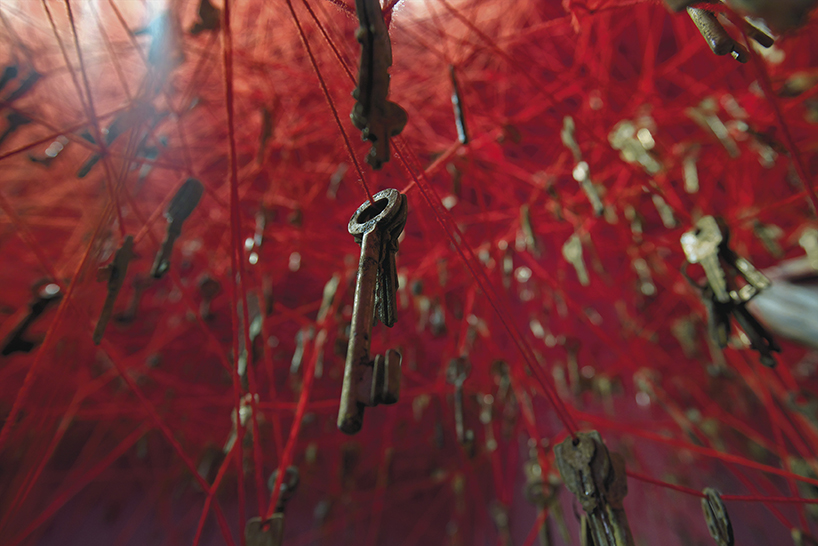 the key in the hand, 2015, japan pavilion, 56th venice biennale, italy, photo by sunhi mang
designboom: you originally started as a painter, what first brought you to work in three dimensions, and what specifically do you find appealing about working in string?
chiharu shiota: I studied painting at an art school in japan. in the second year of art school I couldn't paint anymore because for me painting was just colour on the canvas. it had no other meaning whatsoever. I couldn't connect my life to just painting because it had no sense of belonging. I then stopped painting because I had lost my way. I didn't know how to get back to creating. I couldn't go either forth or back. I was then given the opportunity to go to australia but I would still be at the painting department.
I was struggling so much that I once dreamt I was inside a two-dimensional painting. I began to think of possible ways to move inside the painting. I was fighting to breathe while surrounded by oil colours. this experience brought me to the point of questioning my own limitations. drawing on a two-dimensional canvas was still too limited so I began exploring with thread. weaving gave me the opportunity to expand and I feel as if I am drawing in the air on a limitless space.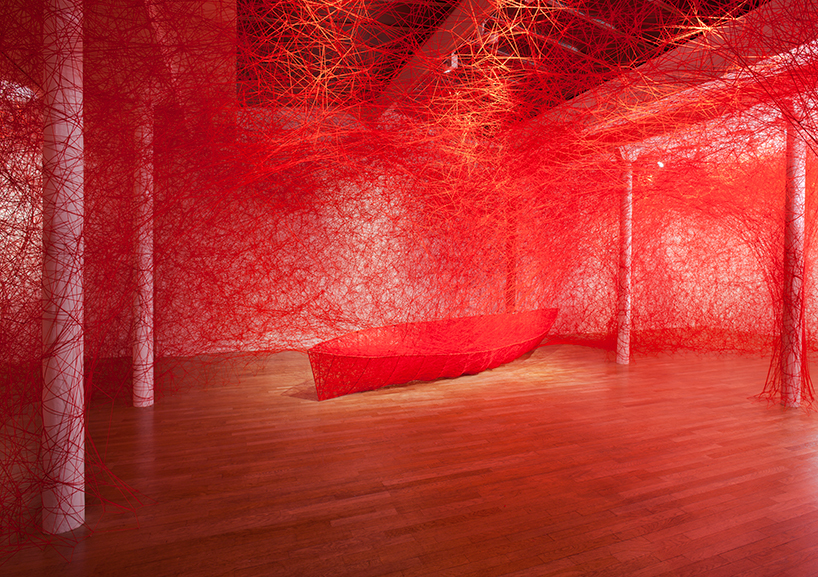 destination, 2017, galerie templon, paris, france, photo by b.heut-tuti
DB: your work is incredibly intricate. can you talk us through the process of creating one of your installations, and what physical or mental challenges this entails?
CS: I first visit the space I have been offered to do the installation in. the minute I walk in my body transcends another dimension and I can really picture my work within that room. I then do some simple sketches. the weaving process is quite random except for the triangle pattern I follow which marks the rhythm of the set up. weaving is a meditative process for me and even though I am aiming for a deadline or a gallery specifications and conditions, I feel as though I am never done. I am never fully satisfied when I finish my work.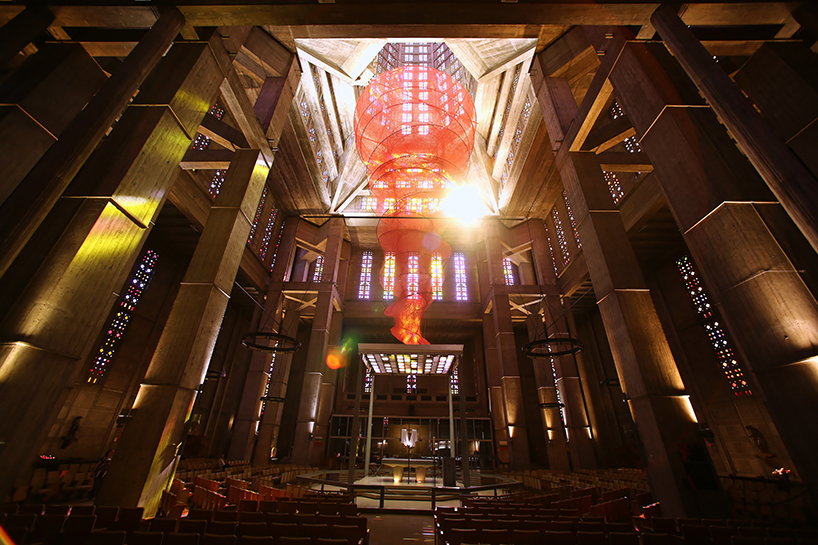 image by philippe bréard
DB: themes of identity and belonging are often associated with your installations. how has your identity as a japanese artist influenced the way you create work?
CS: I never want to be tagged as a japanese artist but as chiharu shiota, an artist. I may be influenced by my educational background and could relate more to other mindsets such as buddhism but nothing else.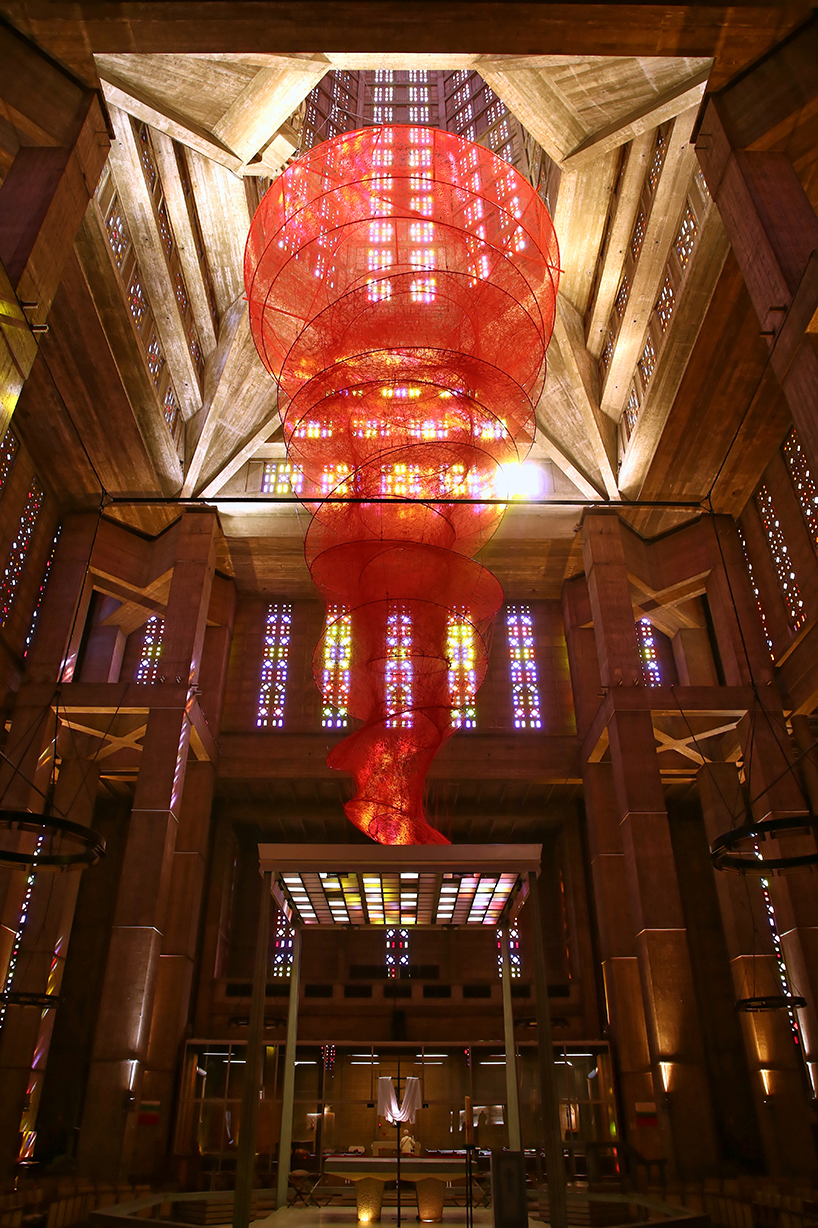 accumulation of power, 2017, le havre, france, photo by philippe bréard
DB: everyday items are incorporated into your work and become tokens of memory and nostalgia; keys, chairs, stones, shoes. what is it about these objects that attracts you to them?
CS: old objects have a history within them. what really attracts me to them is the fact that they have once belonged to a person who has their own story or attachment to that object. I can see the trace of a human life in that object, I can see the existence in the absence.

infinity lines, 2017, scad museum of art, savannah, georgia, u.s.a., courtesy of savannah college of art and design
DB: the colours black and red are prominent in your body of work. can you talk a bit about your relationship to colour and its significance to you?
CS: an accumulation of black thread forms a surface and I can then create unlimited spaces that gradually expand into a universe. when I can no longer trace a yarn installation or art object with my eye, it begins to feel complete. piling up layer after layer creates a deep black. I believe that the truth emerges from a work for the first time when you can no longer see it with the eye. I also use red thread because it symbolises the colour of blood.
it represents an invisible line within a rope. it is in the inside, you cannot see it but it is actually the thin red thread that holds everything together and connects it. the red colour of the thread symbolises the inside of the human body. these webbed threads draw the complex system of the human brain just as the neurons in it are trying to answer questions about our sense of belonging.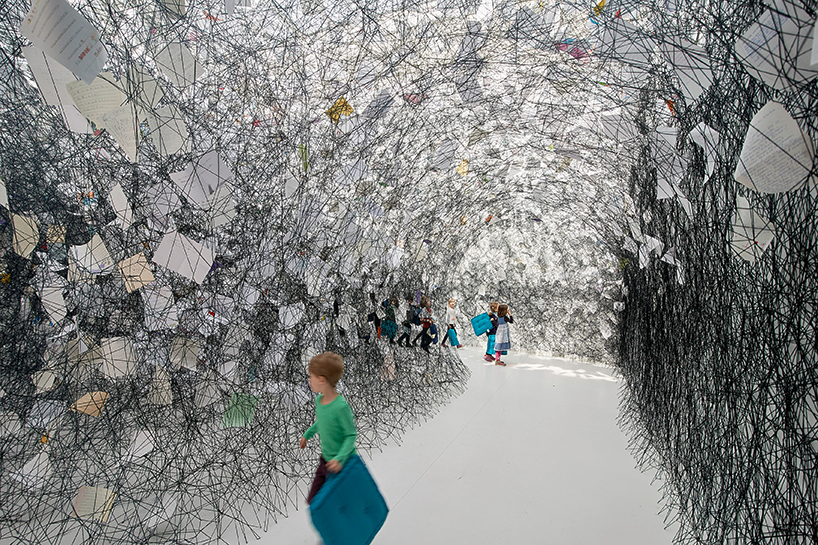 letters of thanks,2017, kunsthalle rostock, germany, photo by fotoagentur nordlicht
DB: are there any other artists you are currently fascinated with and how do they feed into your process
CS: whenever I visit a museum or gallery exhibitions from other artists around the world I get inspired and I can start building up ideas for my own works. these artists serve mainly as inspiration.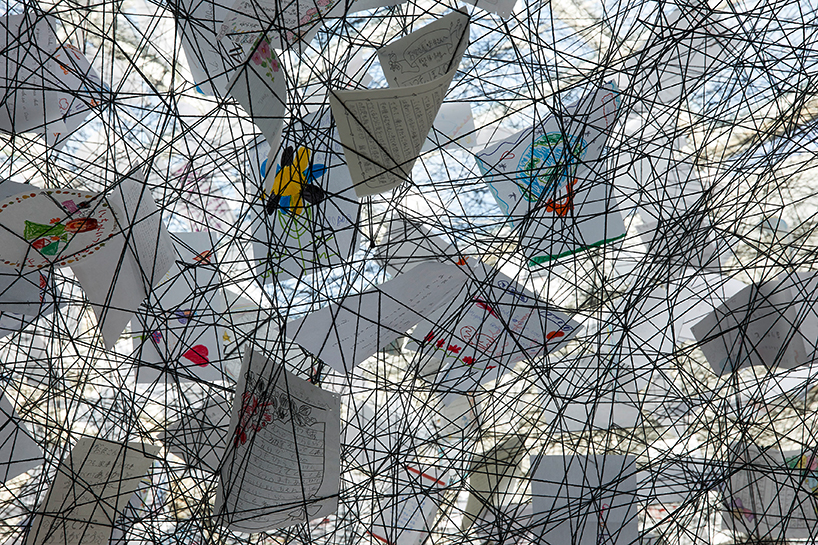 letters of thanks,2017, kunsthalle rostock, germany, photo by fotoagentur nordlicht
DB: is there anything you haven't done as an artist that you would like to try and achieve? a dream project?
CS: there are many things I would love to try but my dream would be to be completely satisfied when I exhibit my works. I could then rest or say 'I am done'.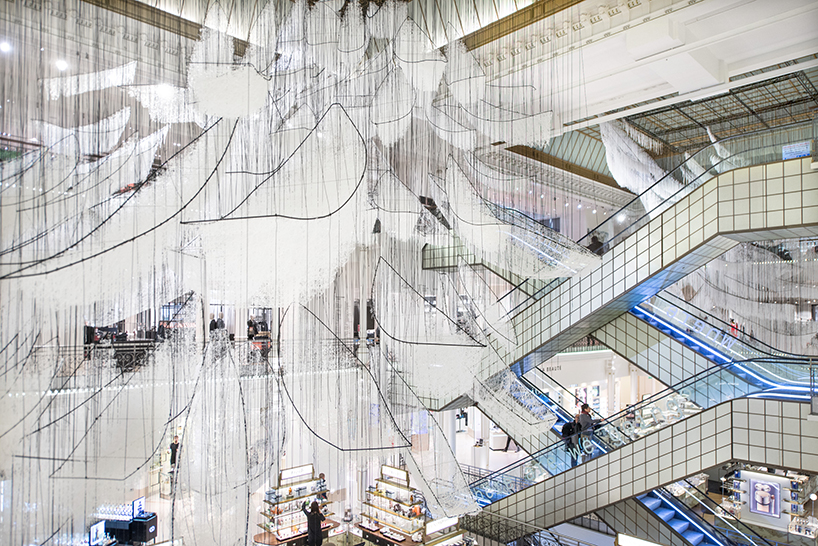 where are we going?, 2017, le bon marché, paris, france, photo by gabriel de la chapelle
DB: do you have a particular piece of work that is your favourite?
CS: I don't have a favourite one, no. that is the reason why I can't stop creating. I am never fully satisfied.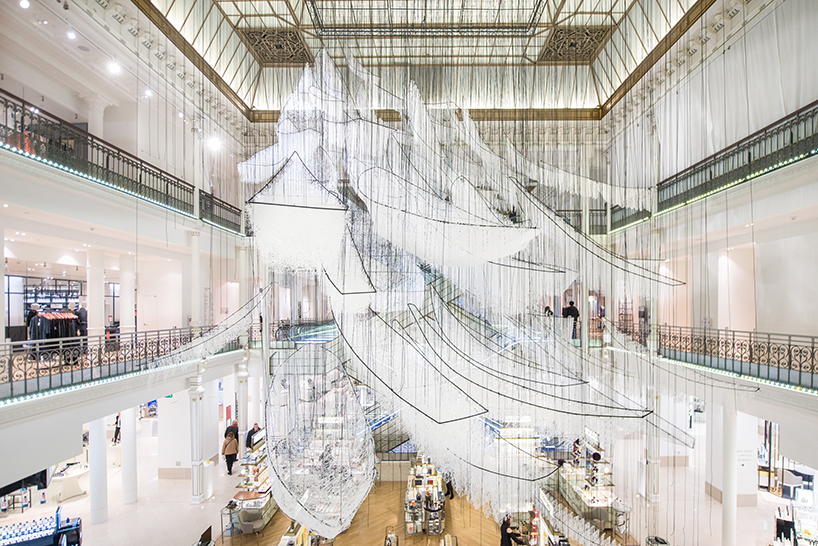 where are we going?, 2017, le bon marché, paris, france, photo by gabriel de la chapelle
DB: do you have a personal motto you try to live by?
CS: I don't have a tangible motto I live by, it's more about a feeling I try to follow. there is always a piece missing that I am trying to reach and gain but I cannot seem to figure out what it is I am searching for. I don't have a clear definition of my void.

flow of life, 2017, power station of art, shanghai, china, courtesy of the artist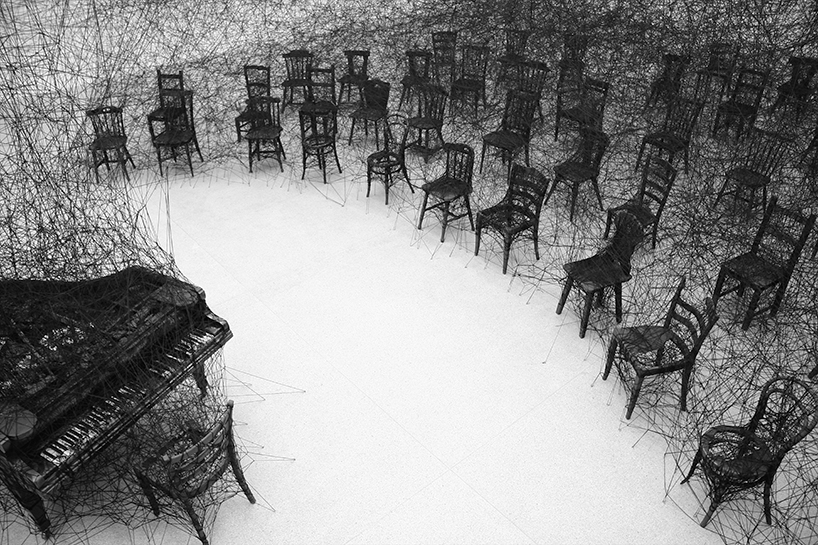 in silence, 2008, centrepasquart, biel/bienne, switzerland, photo by sunhi mang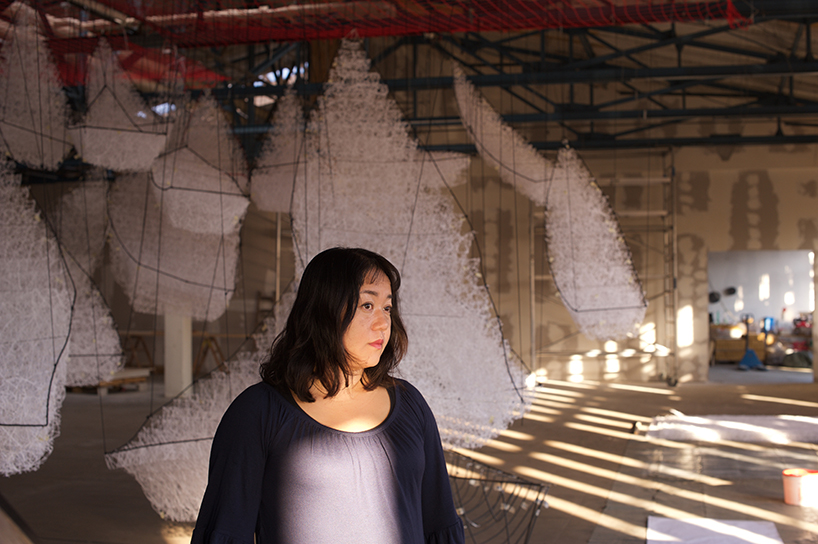 photo by sunhi mang
mar 17, 2017
mar 17, 2017
jan 24, 2017
jan 24, 2017
nov 17, 2016
nov 17, 2016
sep 15, 2016
sep 15, 2016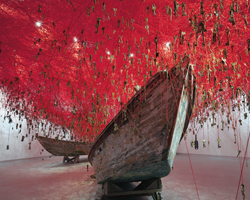 may 06, 2015
may 06, 2015
oct 08, 2013
oct 08, 2013
dec 23, 2014
dec 23, 2014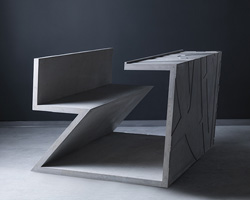 oct 30, 2014
oct 30, 2014
jul 07, 2014
jul 07, 2014
aug 23, 2013
aug 23, 2013
apr 07, 2010
apr 07, 2010
sep 21, 2001
sep 21, 2001