chiharu shiota presents 'uncertain journey', a monumental, site-specific exhibition at berlin's blain|southern from september 17 – november 12, 2016. the japanese artist is best known for her immersive, intricate installations made of woven thread, such as the key in the hand, which she presented for japan at the venice art biennale last year. 'uncertain journey' revolves around a powerful red artwork that dominates the gallery's vast atrium.

dense webs of red yarn seemingly grow from the ceiling and surrounding walls
all images courtesy the artist and blain|southern / photos by christian glaeser
shiota's installation 'uncertain journey' fills blain|southern's central space with dense webs of red yarn that seemingly grow from the ceiling and surrounding walls. stretching throughout the volume, the complex mesh labyrinth reaches down towards a series of hollow, sculptural boat hulls that rest on the floor of the gallery. the blood red color of the yarn is laden with symbolism, alluding to the interior of the body, while the thin thread strands refer to the neural connections in the brain. the boat skeletons — enclosed by the vibrant canopy overhead — intend to raise existential questions of fate and belonging, evoking musings that can be as complex as the tangled yarn itself.

the complex mesh labyrinth reaches down towards a series of sculptural boat hulls

the blood red color of the yarn alludes to the interior of the body

the thin thread strands refer to the neural connections in the brain
Save
Save
Save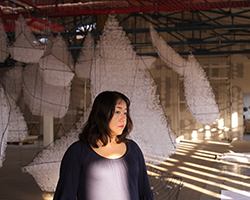 jul 16, 2017
jul 16, 2017
mar 17, 2017
mar 17, 2017
jan 24, 2017
jan 24, 2017
nov 17, 2016
nov 17, 2016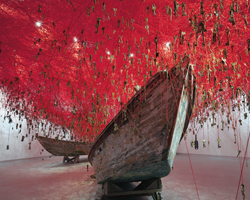 may 06, 2015
may 06, 2015
oct 08, 2013
oct 08, 2013