christie's autumn auctions hong kong presents a curated selection of masterworks by artists from around the globe, spanning across eras, genres, mediums and cultures. the modern and contemporary art sales on december 2 and 3, 2020 highlight work by artists zao wou-ki, zhang xiaogang, andy warhol, and yayoi kusama, as well as important pieces by leading abstract artists, a significant group of southeast asian artworks, and a masterpiece by the chinese-french painter sanyu. the evening sale on december 2 culminates in a special live-streamed event — a relay auction of 20th century art connecting collectors across time zones, beginning in hong kong and continuing on to new york. all of christie's auctions are fully accessible for online browsing and bidding, meaning you can easily place a bid from the comfort of your home through christie's LIVE, or by phone.
read on for further highlights from the auctions — including work by zao wou-ki, léonard tsuguharu foujita, and more — which spotlight a use of black in these sought-after masterworks.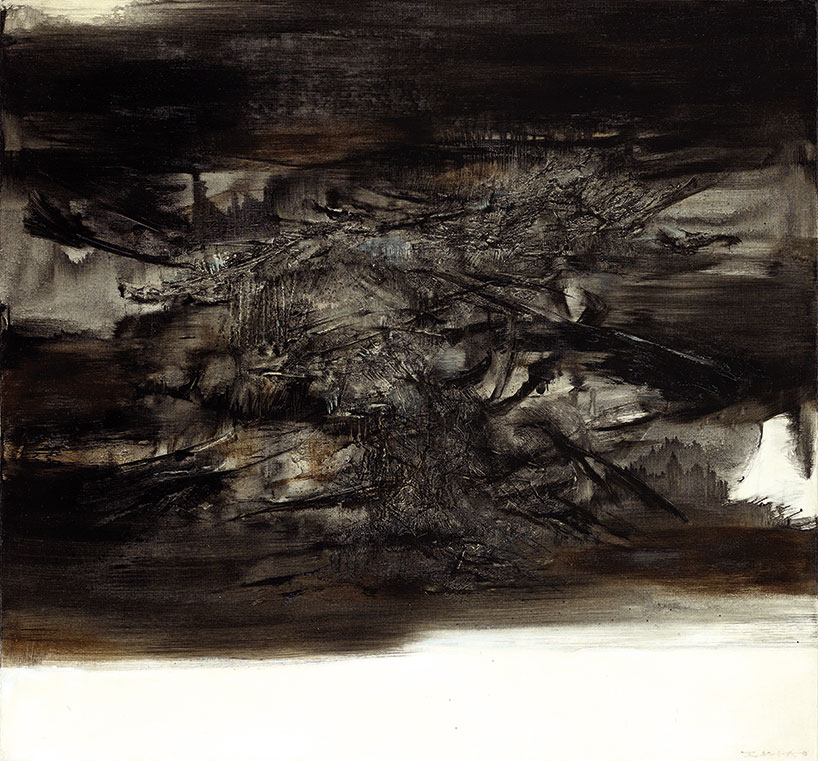 zao wou-ki (zhao wou-ki, 1920-2013), 20.01.67
oil on canvas | 150 x 162 cm. (59 x 63 2/4 in.) | painted in 1967
HK$58,000,000-78,000,000 / US$7,600,000-10,000,000
at the start of the 20th century, impressionist painters in the west began to pay more attention to the texture of their paintings. they realized that focus on singular colors was the key to moving beyond historical norms, making it a core tenet in the development of modern art. ironically, such a 'modern' approach has already been the modus operandi in traditional chinese paintings since time immemorial. zao wou-ki knew well that he needed the purest black to fully realize the essence of traditional aesthetics, and he took all his knowledge of textures and brushstrokes from his other works and put them in 20.01.67 , making it an ink wash painting without equal.
to traditional chinese painters, black ink is not a single color — it can be dry, dense, heavy, light, diffuse, and otherwise flexible enough that viewers can experience a range of textures and colors through it. having been exposed to traditional ink wash paintings from childhood, zao instinctively limited his palette to answer the rising movement in the global abstractionist scene, but ultimately managed to forge his own way that put him on a completely different path from his contemporary western artists. when viewing 20.01.67, one immediately notices how zao limited his palette to just black, white, and ochre; then, after marveling at the effect of removing rich colors, one also realizes that doing so actually highlights the spatial depth.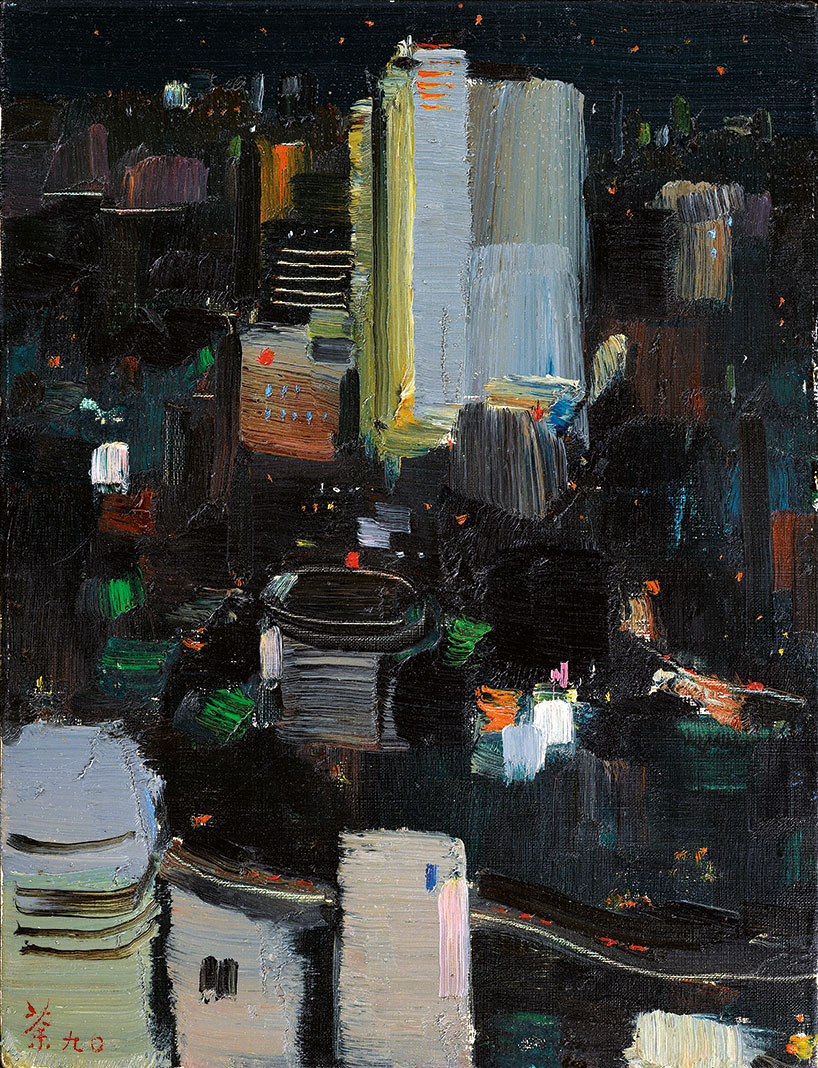 wu guanzhong (1919-2010), tokyo in the night
oil on canvas | 40.5 x 31.5 cm. (16 x 12 3/8 in.) | painted in 1990
HK$6,000,000-8,000,000 / US$780,000-1,000,000
wu guanzhong frames and composes the scene of tokyo night on his canvas in an almost photographic manner. the city's avenues flow like rivers, snaking and uneven; the buildings rise like sheer mountains, proud and lofty. wu draws out his brushstrokes either horizontally or vertically in ways that blur the clear, concrete shapes of the buildings, but still fully project the sense of a towering forest of buildings in an urban setting. the enchanting evening scene in tokyo night is built around a palette primarily of black. deep black suggests feelings of power, mystery and the unknown. as in pierre soulages, where we see shifting lifts within the black darkness, wu's black background sets off the vague glow of some areas and the real feel of bright city lights in others. the nighttime forms of buildings themselves should not be either silver or light-colored; instead, it's the dazzling and prosperous metropolis and the neon lights everywhere that complete this grand and colorful scene.
'I love black, strong black, black painted so it's really strong. I've encountered criticism for my black paintings, but it hasn't for a second reduced my feeling for that colour. black has come to symbolize death, to be a sign of mourning, precisely because it is ultimate end of visual stimulation.' – wu guanzhong, the three colours of the pure land: grey, white, and black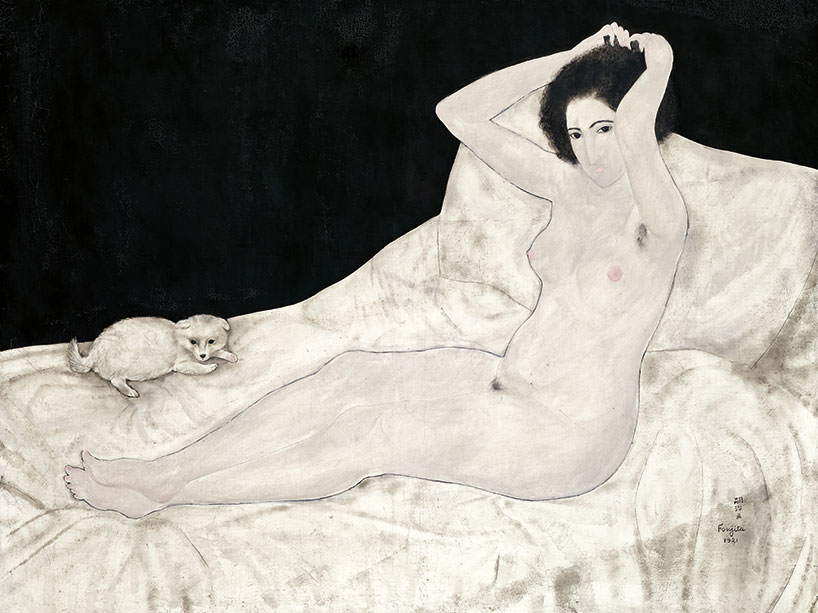 léonard tsuguharu foujita (1886-1968), nu sur un lit, avec un chien (reclining nude with a small dog)
oil on canvas | 89 x 116 cm (35 x 45 5/8 in.) | painted in 1921
HK$10,000,000-15,000,000 / US$1,300,000-1,900,000
painted almost a decade after léonard tsuguharu foujita left tokyo and settled in paris, 'nu sur un lit, avec un chien (reclining nude with a small dog)' comes at a time when the artist was clearly influenced by a blend of japanese and european artistic traditions. the nude had become a symbol for representing artistic growth and rebirth, and many artists invested significant energy into the genre, including modigliani, picasso, and matisse, with whom foujita was well acquainted with. despite working on a subject chosen by numerous western artists since antiquity, foujita retained much of his japanese nihonga-style training and visual aesthetic. the current painting's composition follows the lines of a classical female nude. though the subtle application of color, which borrows from japan's traditional ukiyo-e paintings, foujita softens the contrasts of light, shadow within separate planes, while enhancing color contrasts at the center of the painting, using the deep black background to set off his subject's lighter skin color. given these contrasts, mimina's skin tone is flawlessly white and emits an aura of purity.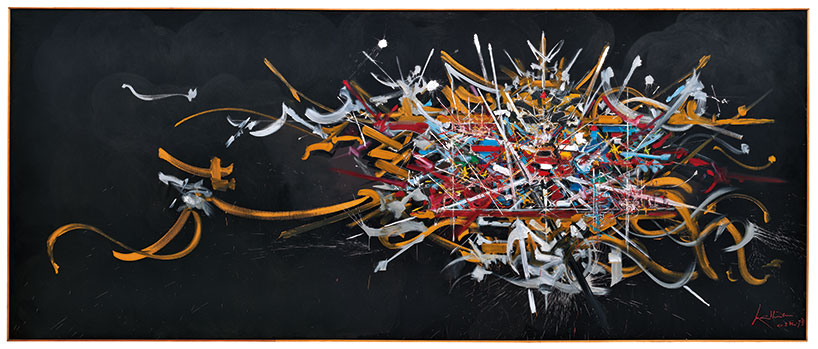 georges mathieu (1921-2012), souvenir de la maison d'autriche (remembering the house of austria)
oil on canvas | 250 x 600 cm. (98 3/8 x 236 1/4 in.) | painted in 1978
HK$14,000,000–24,000,000 / US$1,900,000–3,100,000
georges mathieu's 'souvenir de la maison d'austriche (remembering the house of austria)' is a monumental painting that celebrates the exuberance of color and form for which his work is so renowned. one of seven large-scale paintings completed in 1978 for a major retrospective organized by the galeries nationales du grand palais, paris, the complex composition knits together chromatic ribbons with architectural elements to build an active and striking composition.
the composition is a well-balanced yin-yang, with a polychromatic 'big bang' style concentration of forms in the right half of the canvas. here, mathieu loosely delineates forms, unleashing ribbons of paint directly from the tube, spreading heavy impastos, drips and splashes against a dark ground. the surface vibrates, dances, and fizzes with a vitality that revels in the liberated gestures of the artist's hand. following his previous monochromatic canvas, in the present work mathieu celebrates color.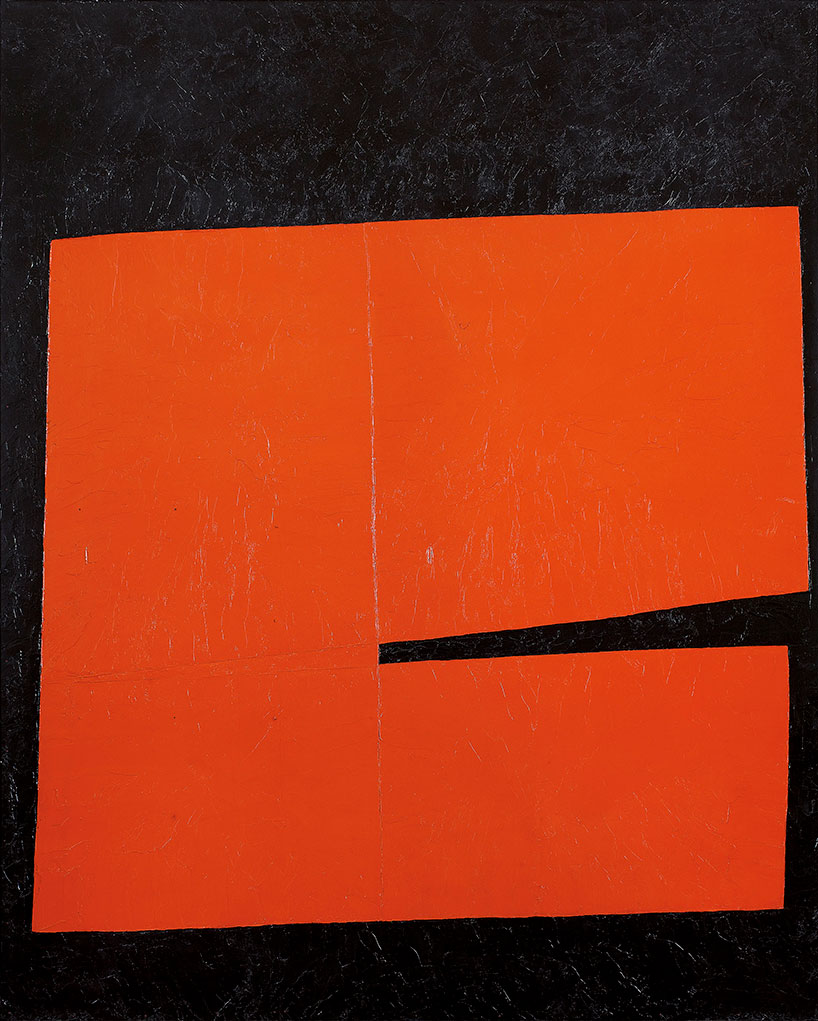 takeo yamaguchi (1902-1983), fu (floating)
oil on board | 162 x 130 cm. (52 1/8 x 45 5/8 in.) | painted in 1963
HK$3,000,000-5,000,000 / US$390,000-650,000
towards the late 1950s and '60s, takeo yamaguchi's style reached its zenith. against the pure black background, a unique geometric shape in crimson or ochre seems to float weightlessly. this is not a conventional geometric shape, with contours that give it strong dimensionality and an eccentric perspective making the shape lively and energetic; there is none of the usual strict and regimented experience with graphical form that was par for the course, instead the unassuming shape and color combine to create an organic dynamism. the use of crimson in 'fu (floating)' calls to mind the red earth of the korean peninsula, which is further accented and given palpable texture against the simple single shade of black background.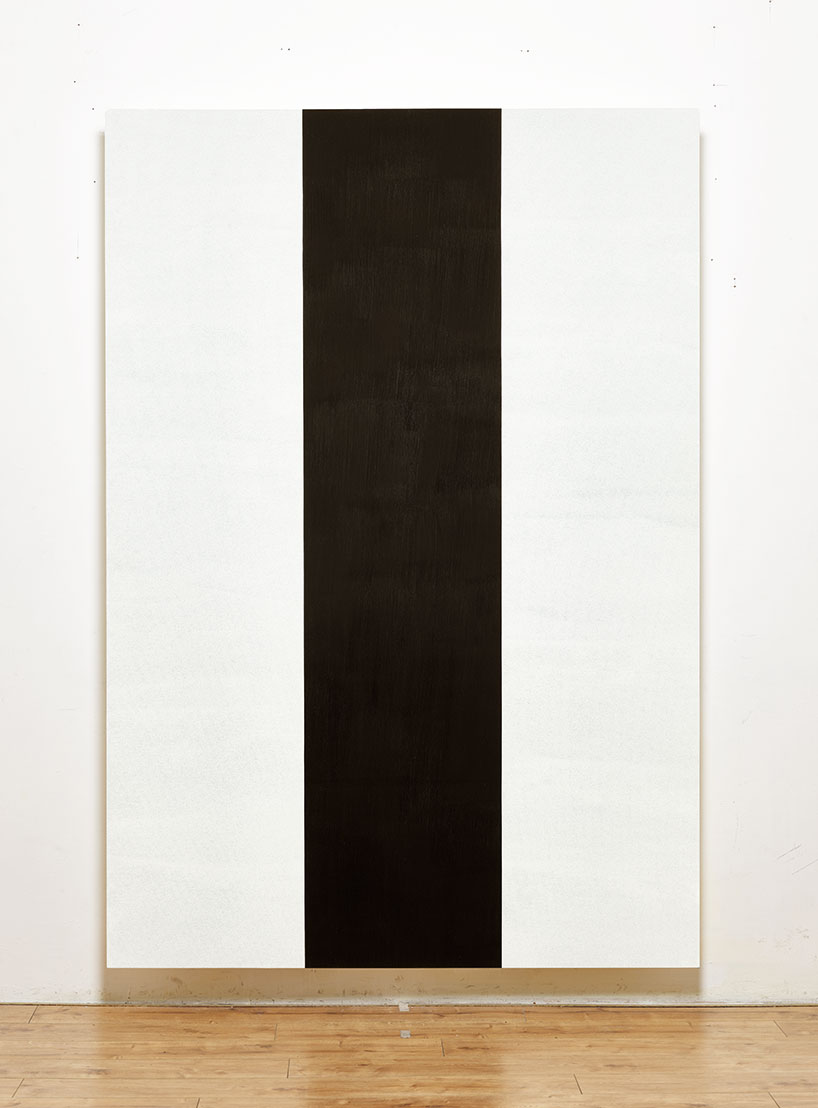 mary corse (b. 1945), untitled (white/black inner band beveled)
glass microspheres in acrylic on canvas | 213 x 147.3 x 9.3 cm. (83 7/8 x 58 x 3 5/8 in.) | executed in 2014
HK$1,500,000-2,500,000 / US$200,000-320,000
mary corse's nearly six-decade long practice has been devoted to the perceptual qualities of light and the dynamic physical and visual interplay between the viewer and the painting. 'untitled (white/black inner band beveled)', 2014 is one of the first works in the black band series. in these works, a matte black acrylic band of black at varying widths is painted between two fields of white microspheres filled with corse's evident brushstrokes. these works play with the viewer's perception of distance – at times, the black band seems to float in front of the white microsphered fields, while from other viewpoints it seems to recede into the background of the composition.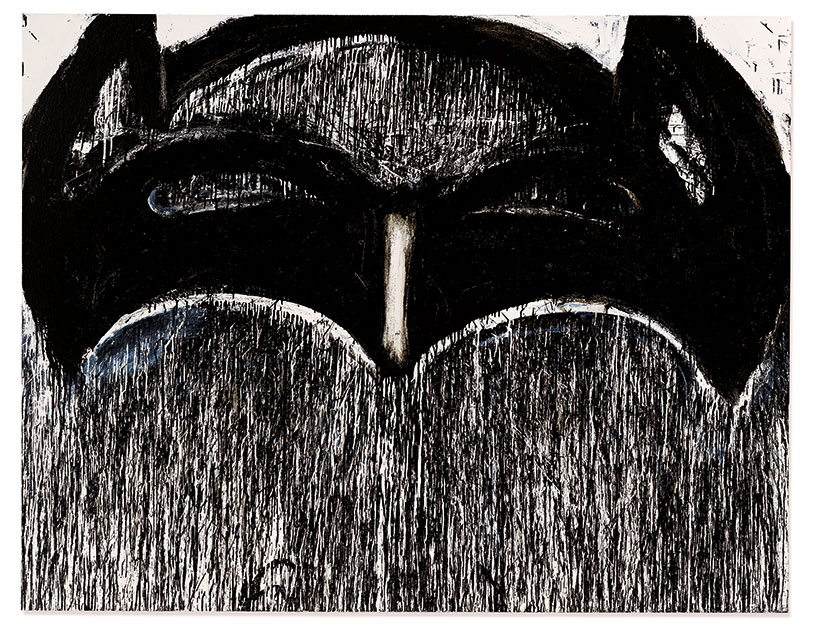 joyce pensato (1941-2019), sunset batman
enamel and metallic paint on linen | 177.8 x 228.6 cm. (70 x 90 in.) | executed in 2016
HK$1,800,000-2,800,000 / US$240,000-360,000
joyce pensato's large-scale painting 'sunset batman' is striking portrait of america's most revered fictional superhero. using broad gestural brushstrokes and torrents of enamel drips and splashes, the artist imbued popular culture characters with the gripping angst of the german expressionists. pensato drew much of her inspiration from her surroundings in her hometown of brooklyn, new york. from street murals to graffitied walls, the artist embodied the same graphic quality in sunset batman with successive layers of industrial black and white enamel paint. the thick, yet quick-drying temperament of enamel paint enabled pensato to create batman's mask using bold linear gestures and rapid splattering in an instant.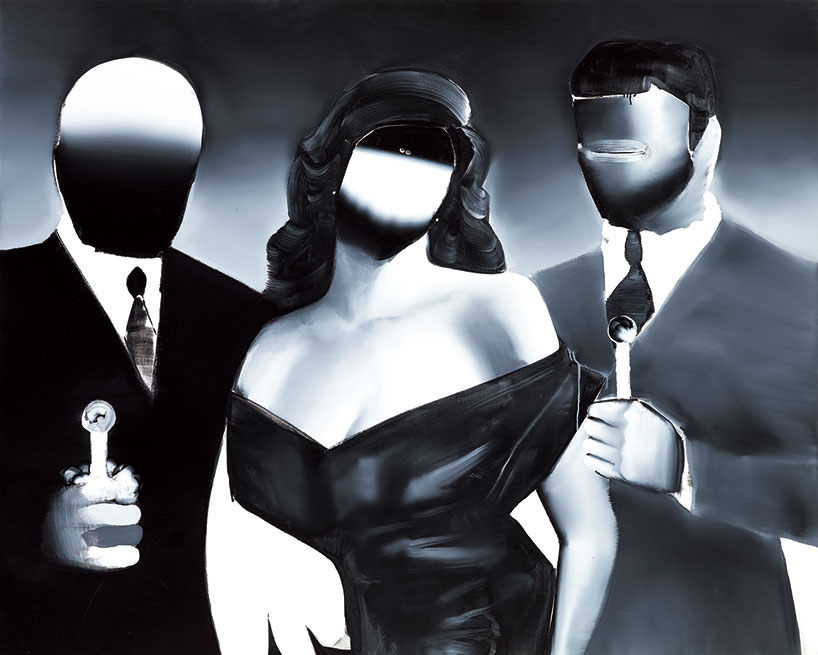 tomoo gokita (b. 1969), vanity fair
acrylic and gouache on linen | 129.5 x 162.5 cm.(51 x 64 in.) | painted in 2015
HK$1,800,000-2,800,000 / US$240,000-360,000
recognized as a leading japanese contemporary artist, tomoo gokita started off his career as a successful graphic designer in the fashion and music industry in the 1990s. he gradually established himself as a full-time artist in 2005. due to financial limitation starting off as a novelist, he painted with a limited monochromic palette of black, grey and white, an aesthetic which was cultivated over the years and now became a representation of gokita's iconic oeuvre.
nina azzarello
I designboom
nov 19, 2020
KEEP UP WITH OUR DAILY AND WEEKLY NEWSLETTERS
a diverse digital database that acts as a valuable guide in gaining insight and information about a product directly from the manufacturer, and serves as a rich reference point in developing a project or scheme.
designboom will always be there for you
milan, new york, beijing, tokyo

,
since 1999