claude cormier + associés enhances the sky above st. catherine's street, in montréal, québec, with eighteen hues of vibrant colors for his 2017 work titled,'18 shades of gay.' the installation created in collaboration with SDU du village and the ville-marie borough, is part of 'aires libres,' an annual festival held in montréal's gay village.

the installation spans the entire street and is over 1 kilometer in length
the artwork's 1 kilometer span is made up of 180,000 resin-colored balls organized in an 18 tone sequence, each represented by an equal 10,000 spheres. the redesigned canopy stems from claude cormier's earlier work 'boules roses,' a similar artwork installed in this location back in 2011. as the name implies, the earlier version contained the same resin balls all painted a uniform pink. with changes in the local atmosphere and the community — the art must adapt as well.

each of the 18 color hues are represented by 180,000 hanging resin balls
cormier describes the evolution of his artwork stating, 'as gay culture evolves and the LGBT community becomes more nuanced, as attested by the addition of new letters, the diversity of tones to a redefined resin-ball canopy was an indisputable artistic choice… also, the concept of '18 shades of gay' is to some degree a reflection of this ongoing evolution…'

street activity below mimic the lively energy of the hanging colors above
'color walk,' the term used to describe this specific element of the aires libres festival, refers not only to cormier's work, but the overall curatorial changes along the traffic-less street to enhance the pedestrian experiences. claude cormier + associés is a landscape architecture and urban design team dedicated to transforming and enhancing a space.'18 shades of gay' adds another exciting dimension to a visitor's unfolding journey down st. catherine street.

the aires libres summer festival combines installation art with festival events

'18 shades of gay' is a redesign of claude cormier's earlier resin-ball canopy — 'boules roses'

the street is closed to all traffic, making it a desirable hang-out space and community meeting point 

2017 marks the 10th year of aires libres and 35th anniversary of montréal's gay village

with changes in the local atmosphere and the community — the art must adapt as well

claude cormier + associés is a landscape architecture and urban design team based in montréal, québec

seamless transitions between the colored segments is made possible by intermingling colored, strands

 150 weeping willow trees were also installed along the street to embellish the pedestrian experience

the installation is in collaboration with SDU du village, the ville-marie borough, and aires libres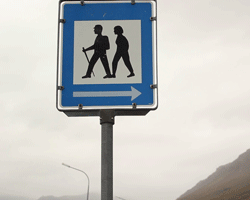 oct 31, 2017
oct 31, 2017
oct 29, 2017
oct 29, 2017
oct 28, 2017
oct 28, 2017
oct 23, 2017
oct 23, 2017
oct 22, 2017
oct 22, 2017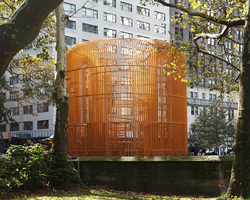 oct 10, 2017
oct 10, 2017