jul 07, 2011
custom art cars: art in the streets at MOCA, los angeles
'ultima suprema deluxa' (1981) by kenny scharf in 'art in the streets' at MOCA, los angeles image © designboom
the museum of contemporary art in los angeles's current exhibition 'art in the streets' features several customized cars as sculpture: kenny scharf, keith haring and mister cartoon contribute different takes on the concept of the personalized car pervasive in street art culture.
los angeles native kenny scharf's 'ultima suprema deluxa' features a 1961 cadillac with colorful psychedelic imagery in spray paint and urethane enamel. the car is additionally decorated on the inside and outside with plastic dinosaurs and other toys. using the name 'van chrome,' scharf has a history of customizing cars like this one since the early 1980s, and even once drove one cross country to an exhibition at larry gagosian's los angeles gallery.
interior detail image © designboom
driver door detail image © designboom
passenger side detail image © designboom
installation view image © designboom
'untitled' (1983) by keith haring image © designboom
nearby scharf's car, the exhibition features a 1966 buick special handpainted by pop artist keith haring. the car is covered with the illustrations of the artist's trademark reptilian figures and geometric patterns in orange and blue enamel. haring once drove this car around manhattan's lower east side.
driver side view image © designboom
front view image © designboom
installation view of 'mister cartoon's midnight express' (2010) image © designboom
los angeles based mister cartoon contributes a customized ice cream truck as well as 'midnight express', a 1939 chevy master deluxe with colors of bentley black and candy cobalt blue over a charcoal base. though formerly focused on graffiti, the artist switched to graphic design to better translate his clean lines and great precision: he has since worked closely with numerous hip-hop artists to design their album covers, apply tattoos, and provide custom paint jobs such as this one.
image © designboom
— 'art in the streets' is on display at the geffen contemporary at MOCA, los angeles now until august 8, 2011. for more on this exhibition please see designboom's general overview as well as coverage of work by banksy and swoon.
jul 16, 2017
jul 16, 2017
jul 16, 2017
jul 16, 2017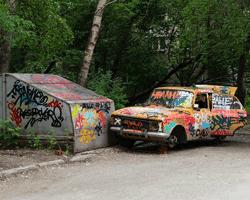 jul 13, 2017
jul 13, 2017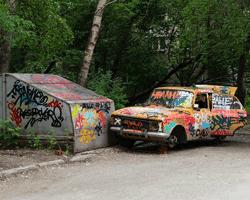 jul 13, 2017
jul 13, 2017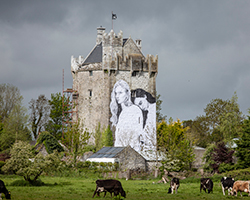 jun 29, 2017
jun 29, 2017
jun 19, 2017
jun 19, 2017