interview with damián ortega at his first solo exhibition in italy
portrait © designboom
damián ortega: casino
hangarbicocca, milan
on now until november 8th, 2015
hangarbicocca in milan presents 'casino', the first solo exhibition of damián ortega in italy — a retrospective that offers a survey of the various forms and mediums in which he works. for the past twenty years, ortega has presented himself as one of the most significant contemporary artist on the global stage. through his creative practice he has reformulated the notion of sculpture through everyday objects, his act of deconstruction and aggregation becoming the representation, in which parts are suspended in an exploded view of sorts — with matter, energy and transformations being the core themes of his artistic research. and so, the title 'casino' ('mess' / 'chaos' in italian) is fitting as ortega presents the known world as a complex physical system, something that is not entirely controllable to man, within the hangarbicocca's 'shed' space.
curated by vicente todolí, 'casino' showcases nineteen works in total — from sculpture, installations and films — highlighting the way in which ortega manages to use irony filled with meaning, and mundane objects, to convey some of the challenge issues that speak of the world of production, processes of transforming matter, entropy and the relationship between sculpture, space and architecture.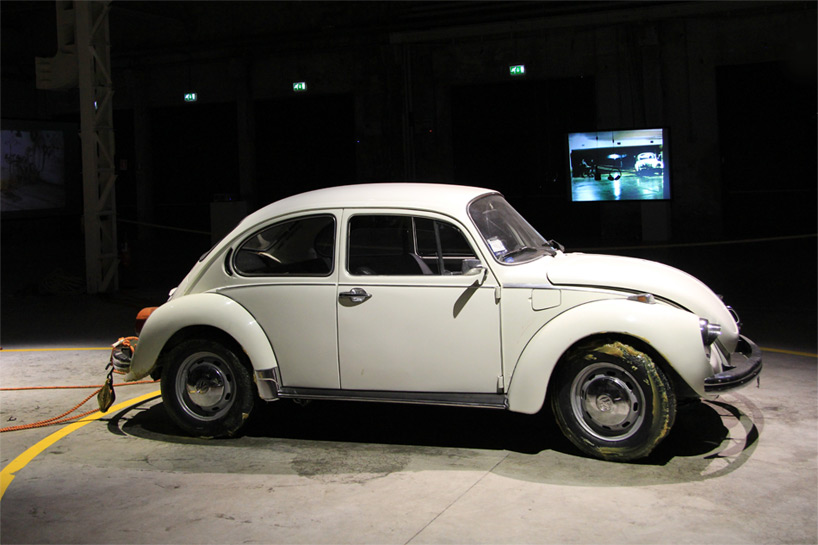 'moby dick', 2004
courtesy of the artist
image © designboom
on the occasion of his exhibition opening at hangarbicocca, designboom interviews damián ortega about his practice as an artist, what has influenced his creativity, and how he went about selecting the works for 'casino'.
designboom: what originally made you decide to become an artist?
damián ortega: you know in some way, it was very easy, and I never decided. I just started. I always liked art. since I was very very very very young, I drew cartoons, drawings and made plasticine sculptures everyday — and actually I was a really bad student. I spent all my time in the workshops, in the atelier in my school and it was something that was really fluid. a really normal transition in my life.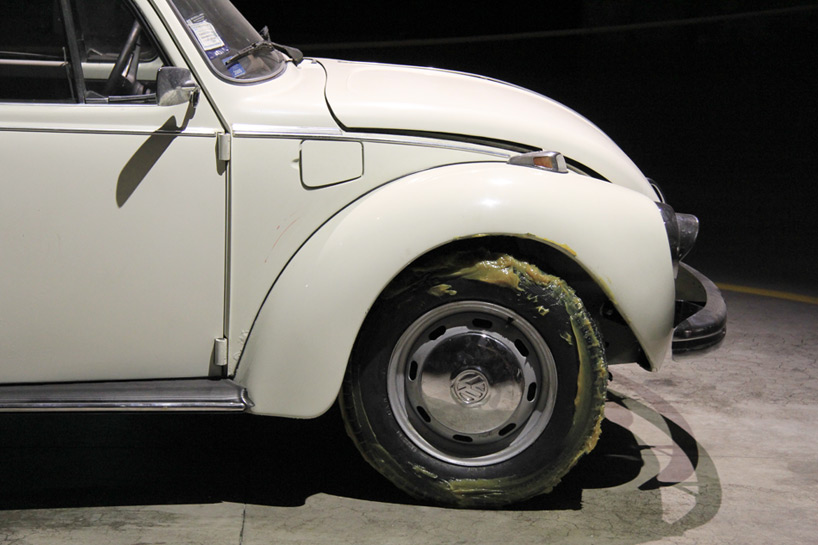 'moby dick' is a performative work in which the artist engages in a physical fight with an old white beetle that slides on a floor that is covered in grease, while the led zeppelin song of the same name is played in the exhibition space
image © designboom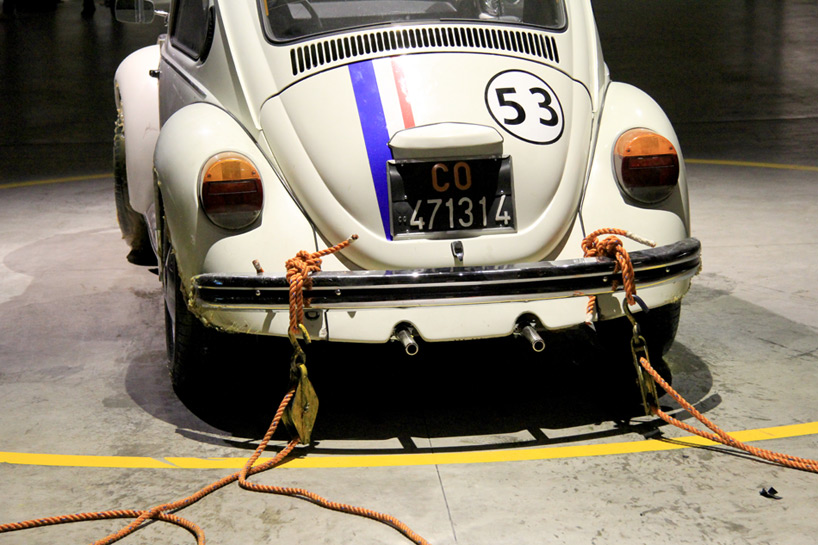 ortega pulls the old vehicle around the exhibition space using pulleys and ropes
image © designboom
DB: what has had a major influence on your artistic practice?
DO: my family is really into the arts. my father is an actor, and my mother was a professor, and it was common to enjoy and discuss with other artists — during weekends, dinner or lunch with friends of my parents — and communication with these people became really interesting for me. also, the school I went to was really experimental and they always tried to teach the very young students through workshops like ceramics, carpentry… always with some manual process of construction. after a few years, when I decided to be more professional let's say, the relationship with my friends who were also artists became very important. mexico is a very constructive city, place. everywhere you see self-made furniture, houses… whatever the people need, they make it themselves. I feel it's really normal to be an artist in mexico.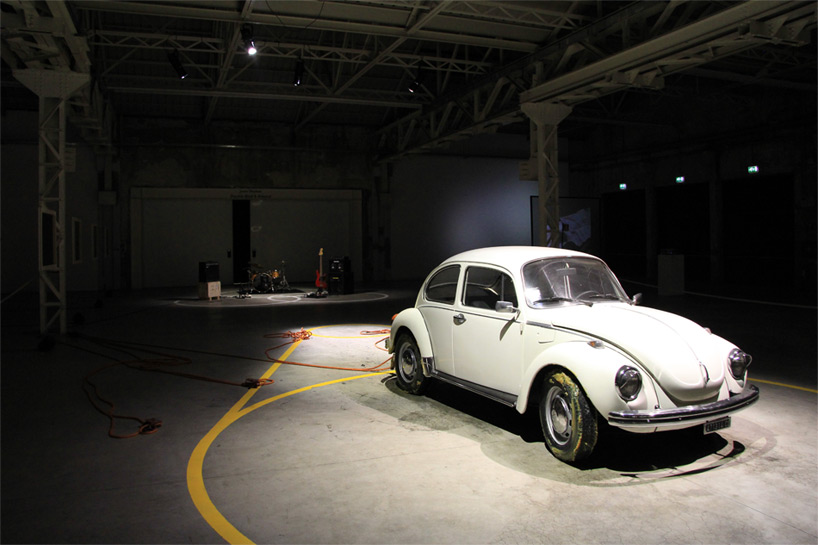 general view of 'moby dick' with a band set-up in the background for the live performance
image © designboom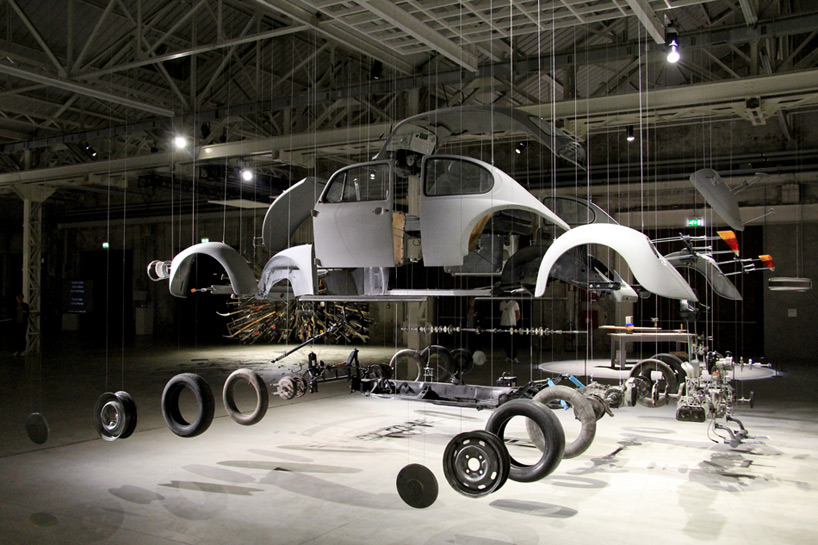 'cosmic thing', 2002
beetle '83, stainless steel, wires and plexiglass
variable dimensions
courtesy of the museum of contemporary art, los angeles, purchased with funds provided by eugenio lópez and the jumex fund for contemporary latin american art
image © designboom
DB: what would you say is your strongest skill / technique and how have you honed this skill over the years?
I'm a little bit against technique. I aspired for this show 'casino' to permit myself to explore different techniques, materials, scales. I have become a bit known because of these hanging pieces, because I am always using metal wire to suspend objects and for me this is interesting for me because in some way I am producing a three-dimensional schema or model — like a physical didactic exploded view of different objects.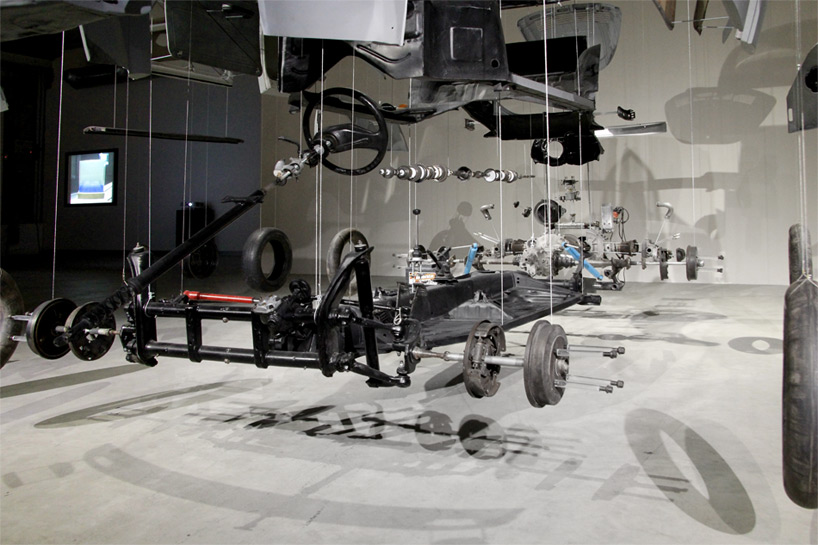 'cosmic thing' can be noted as one of ortega's most iconic works in which he has dismantled a volkswagen beetle — the symbol of mexican identity on the road as it is one of the most common cars in the country. the installation breaks the car down into all of its individual components, each suspended in a way that makes it look like it is exploded in space.
image © designboom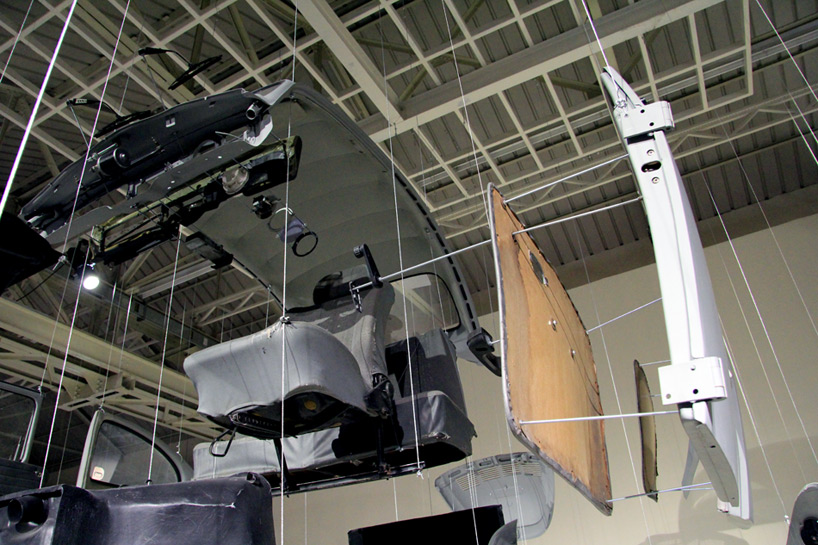 'cosmic thing' appears as an exploded view of an old volkswagen beetle
image © designboom
DB: why have you chosen the word 'casino' to title this exhibition? can you describe its meaning to you?
DO: I have heard a few times friends of mine say 'questo è un casino' [this is a mess]. I didn't understand exactly what it meant, but I thought it really was a chaos, a big disaster and I loved the idea of naming the show 'chaos'; or 'disorder'; or 'out-of-order', because this is a very rich area or landscape to work and think, and generate new ideas. then I talked to vicente todolí, the curator of the show, and he really agreed with it and enjoyed the idea of naming it 'casino'.
DB: how did you curate the pieces for 'casino'? what was the selection process?
the basic idea is to show the trilogy, the volkswagen trilogy, the beetle triology. we have the spine or column which aligns the three pieces along the centre of the space. after that, we found some works who had a really nice or important interaction between all of them, really focussing on these three steps of the trilogy. the first pieces are in reference to fragmentation, the fragmentary, the construction of the object; the second is about the tension of the contained and of the emptiness (or the vacuum); and the third group is more about the chaos.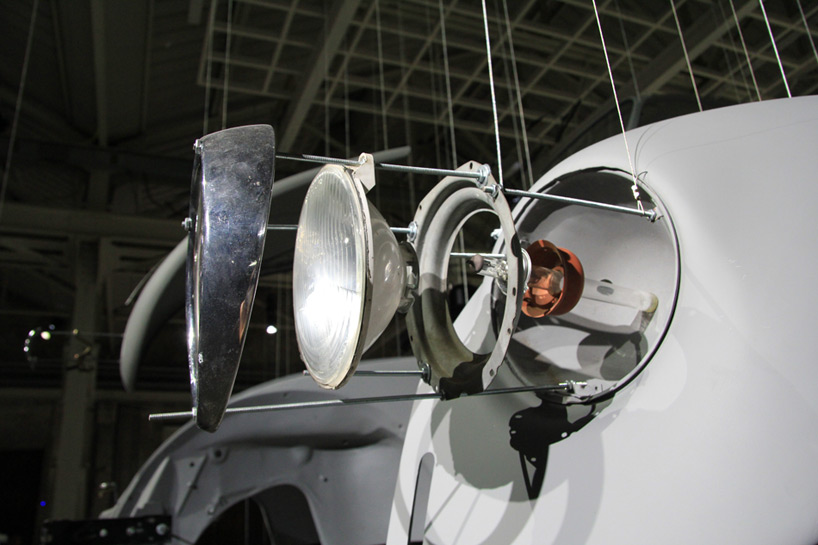 the installation shows the car's parts individually
image © designboom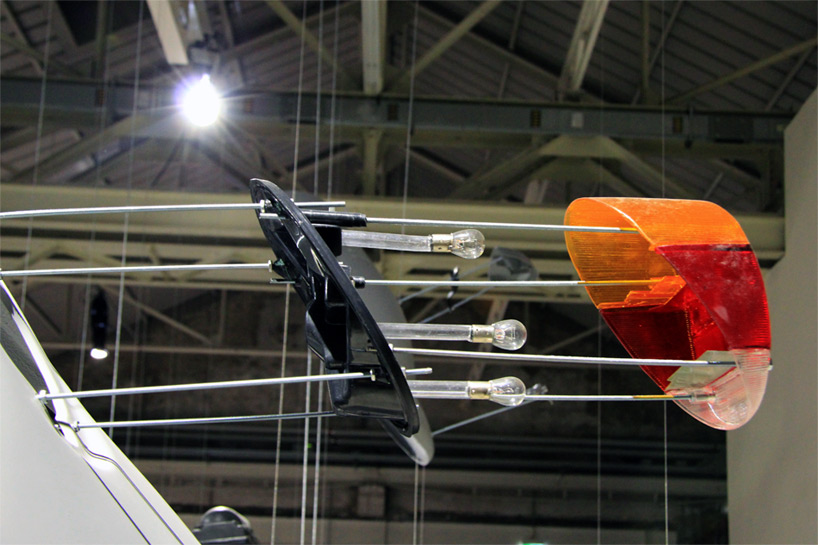 'cosmic thing' addresses issues concerning production and assembly
image © designboom
DB: what is the role of process and deconstructing in your work as opposed to the final piece itself?
DO: the role of process is something which I can avoid in some way. I realized that everything is a process. just thinking is a process, talking is a process; and then I just try to clearly understand why an object is an action and only a physical thing. every element requires a long process of thinking, a long process of construction; and it's pretty interesting for me to understand that objects are never passive, or never sleeping, or never resting. they're always in combustión, in frecuencia with a really infinite world inside of them.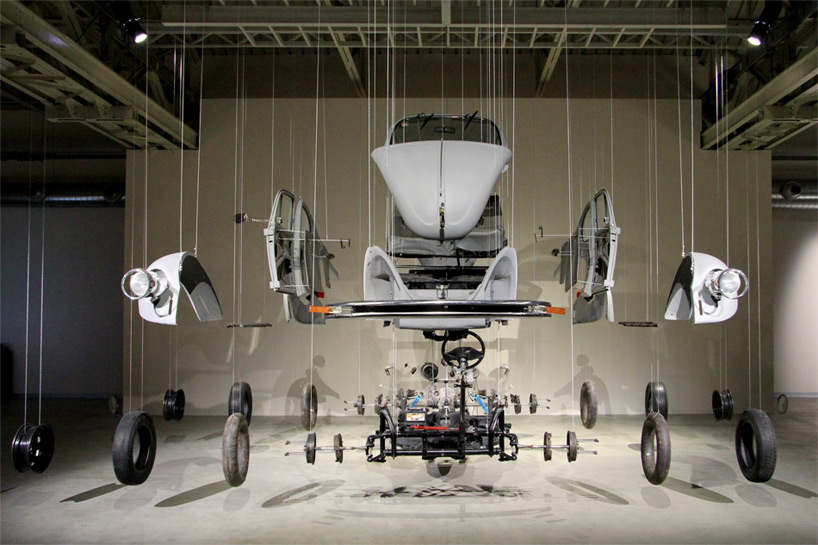 general view of 'cosmic thing'
image © designboom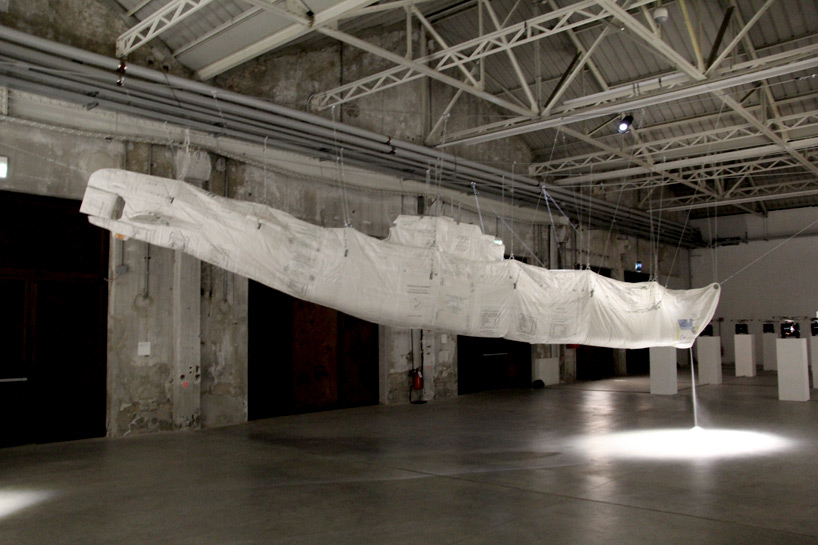 'hollow / stuffed: market law', 2012
biodegradable plastic sacks, metal wires and sal
198 x 87 x 874 cm
collection of francois odermaff and pierre trahan
image © designboom
DB: to date, which artist(s) has/have been a source of influence for you?
DO: my favorite ones which are more contemporary are bruce nauman, robert smithson, lawrence weiner. but now, I am really into, and I am not sure why but I enjoy it, and am completely in love with kurt schwitter's pieces. I feel really engaged with this kind of work which is strange for me because I am used to working more with industrial materials, but I really like and love his work.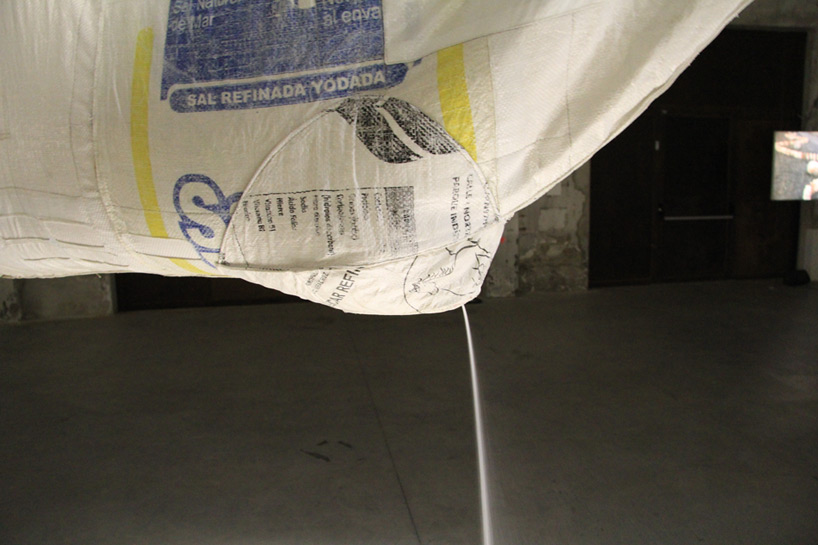 biodegradable sacks are sewn together to form a replica of a submarine, filled with salt
image © designboom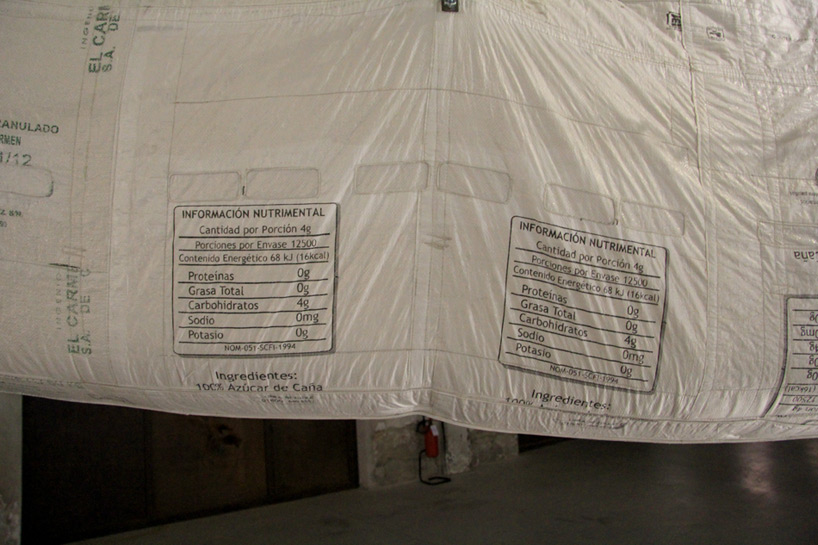 detail of the sacks
image © designboom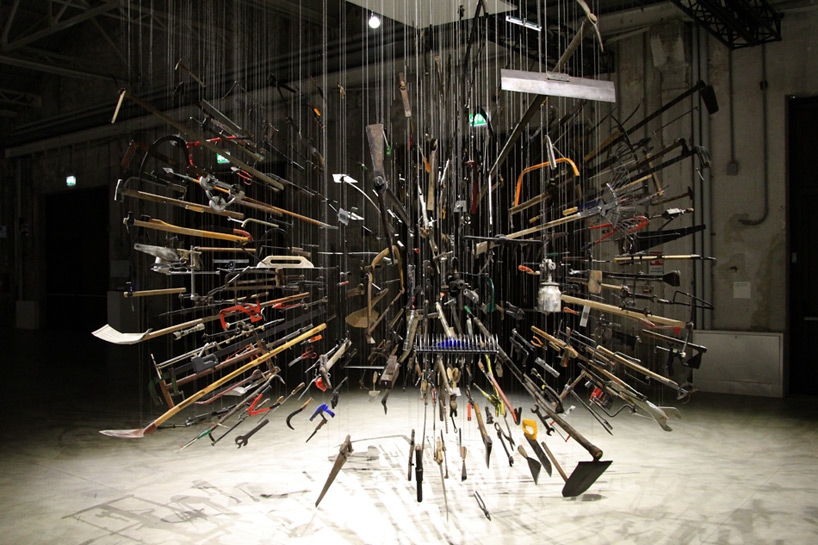 'controller of the universe', 2007
used tools, metal wires
variable dimensions
private collection
image © designboom
DB: do you have any advice that you would give young artists?
DO: it is important to be really honest with what they want. it's not about success or not succeeding. it's about being clear and consistent in what they trust and believe in intuition and what they want; and take time to create their own atmosphere and their own language.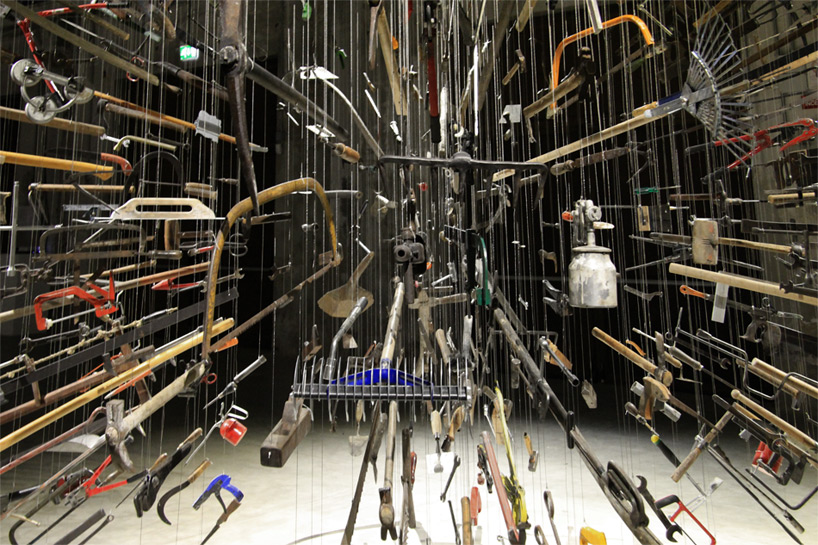 an explosion of tools including saws, rakes and pickaxes offer a sample of paleo-technology
image © designboom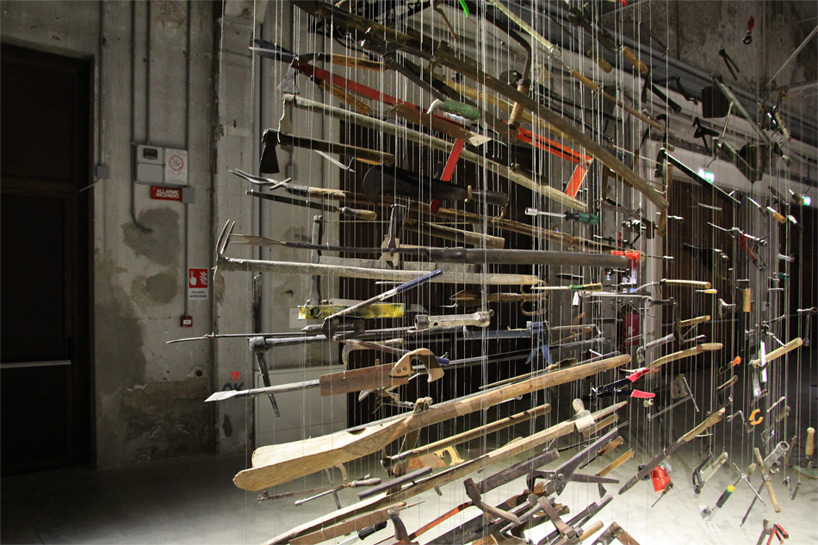 detail of the hanging tools which form a sphere in which visitors can pass through
image © designboom
a diverse digital database that acts as a valuable guide in gaining insight and information about a product directly from the manufacturer, and serves as a rich reference point in developing a project or scheme.
designboom will always be there for you
milan, new york, beijing, tokyo

,
since 1999