a san francisco-based creative is interrupting the ordinary with his playful street art shadows painted on sidewalks. around the area of redwood city, california, artist damon belanger has carefully illustrated cartoon-like monsters and humorously-depicted animals on the ground beside ordinary urban objects — like a mailbox and a bench.  

the illustrations are sited around the area of redwood city, california
the perfect placement of belanger's paintings makes it seem as if the sidewalk elements are casting kooky shadows on the ground, enlivening the public space and adding a hint of humor to the everyday. belanger begins by tracing the outline of the character in white chalk, then painting-in the silhouette with grey pigment. inanimate urban objects are given unexpected personalities, as monsters, monkeys and robotic figurines seemingly emerge from the base of a parking meter, bike rack and bench. 

the artist has carefully illustrated cartoon-like monsters and humorously-depicted animals
'the overall theme is transformation and surprise,' belanger says. 'we don't pay much attention to shadows until something interesting happens, like you notice a shadow cast by a tree that looks like an animal or something unusual. it's kind of like looking for shapes in clouds. that's the way I approached these pieces: given what is there casting the shadow, what else could that thing be or project, given its size and shape? what if it transformed and came alive?'

the paintings are placed on the ground beside ordinary urban objects — like a parking meter and a bench

the perfect placement of the paintings makes it seem as if the sidewalk elements are casting kooky shadows

the interventions seek to enliven the public space and add a hint of humor to the everyday

photo by simon chuang

photo by simon chuang
Save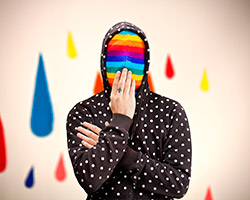 nov 01, 2017
nov 01, 2017
oct 10, 2017
oct 10, 2017
sep 20, 2017
sep 20, 2017
sep 19, 2017
sep 19, 2017
sep 10, 2017
sep 10, 2017
sep 07, 2017
sep 07, 2017