if you somehow stumbled accidentally upon the work of norwegian artist damselfrau, you'd be forgiven for thinking you had unearthed a cache of ancient vestments; something mystical, arcane—maybe even occult. defined by intricate beadwork, delicate lace and bold, bright colour, damselfrau's masks are at once visually arresting and bewitchingly unsettling. beautifully reshaping the face of the wearer, her work is laden with character, suggesting not just individual personalities, but whole narratives, histories and worlds of their own.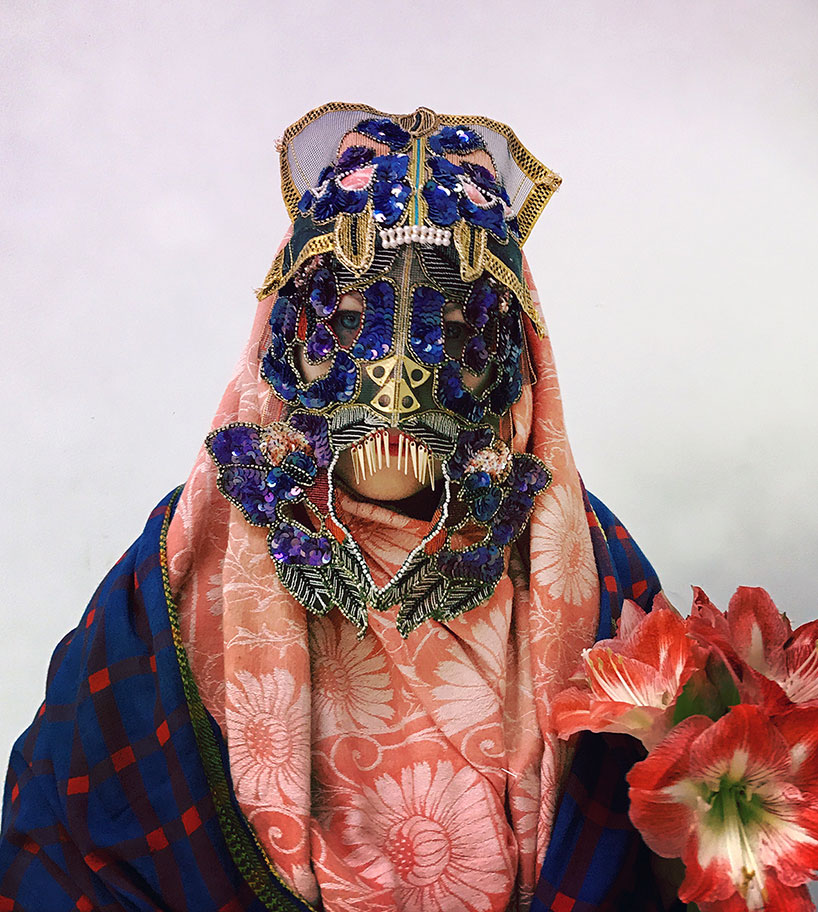 'yule'
when finished, kennedy gives each of the masks a name and completes the project by posting an image online
all images courtesy of the artist.
the name 'damselfrau' is inherently contradictory. while 'frau' is a term used for married women, 'damsel' denotes one who is unmarried. combined, they form the paradoxical and provocative pseudonym adopted by artist magnhild kennedy—originally as a skype username, now as a professional alias—that she likes to interpret as 'married to oneself'. it's a fitting mantle for an artist who has become renowned for her masks; a craft that involves placing another 'self' on top of your own, creating both a combination of the two and suggesting something entirely new altogether.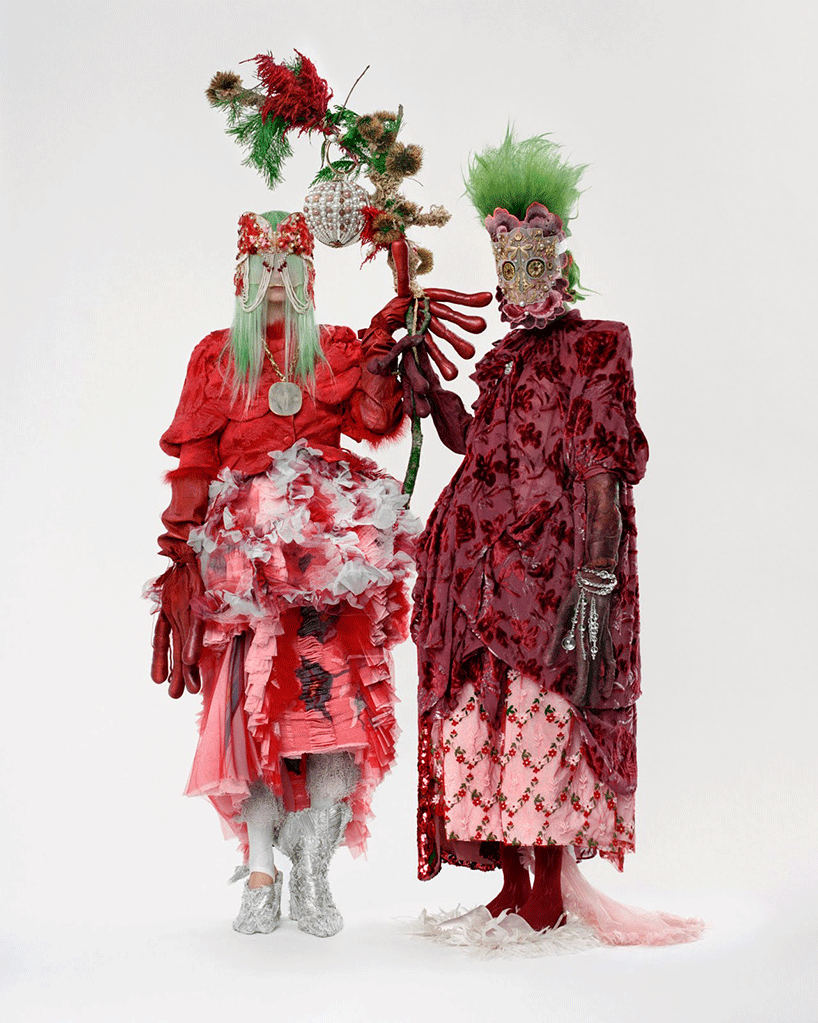 damselfrau masks in vogue portugal, 'the bold side of christmas'
image by vasily agreneko, styling by pierre-alexandre fillaire
originally from trondheim in norway, damselfrau moved to london in 2007. while both of her parents are artists, she herself never formally trained. rather, kennedy's practice originated somewhere a little less conventional: the dance floors of london's nightclubs. working at a vintage designer shop in islington at the time, kennedy drew inspiration from the collection of clothes around her and was able to sew her own pieces behind the counter, which she would then wear clubbing. eye-catching, eccentric and strangely seductive, it's no wonder that mask quickly became her craft of choice.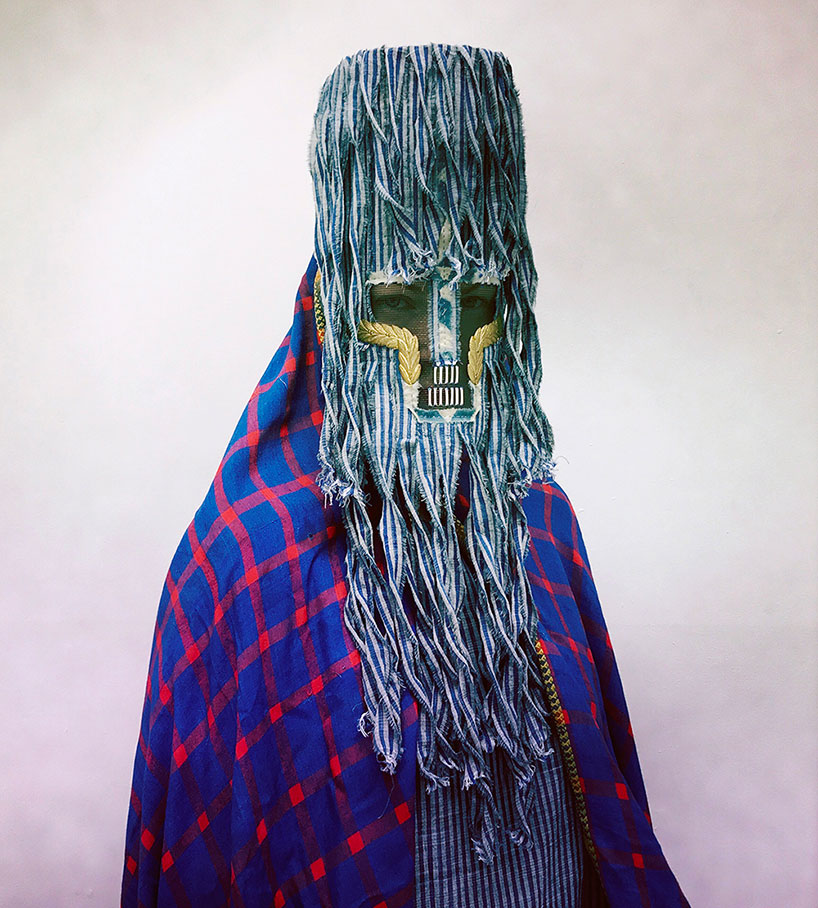 'mustang-z'
kennedy started making masks regularly to wear clubbing
since then, damselfrau has made pieces for artists like mø and beyoncé, and collaborated with alister mackie and louis vuitton. beads, glass, lace, textiles, paint, hair, paper: everything and anything can be included in one of damselfrau's creations. rather than chaos however, the result is one of organic artistry. 'for me the mask is a place where different elements come together as situation,' she says in her artist's statement. 'the work is about this place-situation, more so than the mask as a theme or category of form. the mask is a place'. livened by the found nature of the materials that comprise them, damselfrau's masks perfectly walk the line between being delicate artworks of visual poetry and ghostly uniforms for the mystical.
damselfrau's intricate gold face piece can be spotted at the start of this music video for mø's track 'kamikaze'
designboom spoke with the artist recently about her journey toward mask making, the best spots in london to find new materials, and her plans for the new year.
designboom: you come from a particularly artistic family. what was your own personal journey like as an artist in light of this? do you remember the first time you sat down and said, 'right, I'm going to make a mask'? how did it turn out?
magnhild kennedy: I came to myself quite late. I've always made various types of stuff, but nothing good. I've known since I was a teen that I was going to have to head to london at some point, but it didn't happen until I was in my late 20's. I have no idea how masks became the format for me, I'm not particularly interested in masks as a category. I worked in a vintage design shop when I first moved here. looking at the old clothes, their details and decor gave me some insight into making. I went to car-boot sales every weekend to find utilities for our new life here, and started schlepping home all kinds of funny materials, textiles and bits I found there.
I had to do something with all these materials. it started with making masks for a party and the format stuck. from there it just grew slowly and organically. five years ago my husband robert started dalston pier studio. I got myself a proper work shop there and felt it was the time take it seriously. I felt like an imposter for the longest time. I'm self taught, I didn't go to school past the age of 19. but growing up with two artist parents, it's been schooling from day one.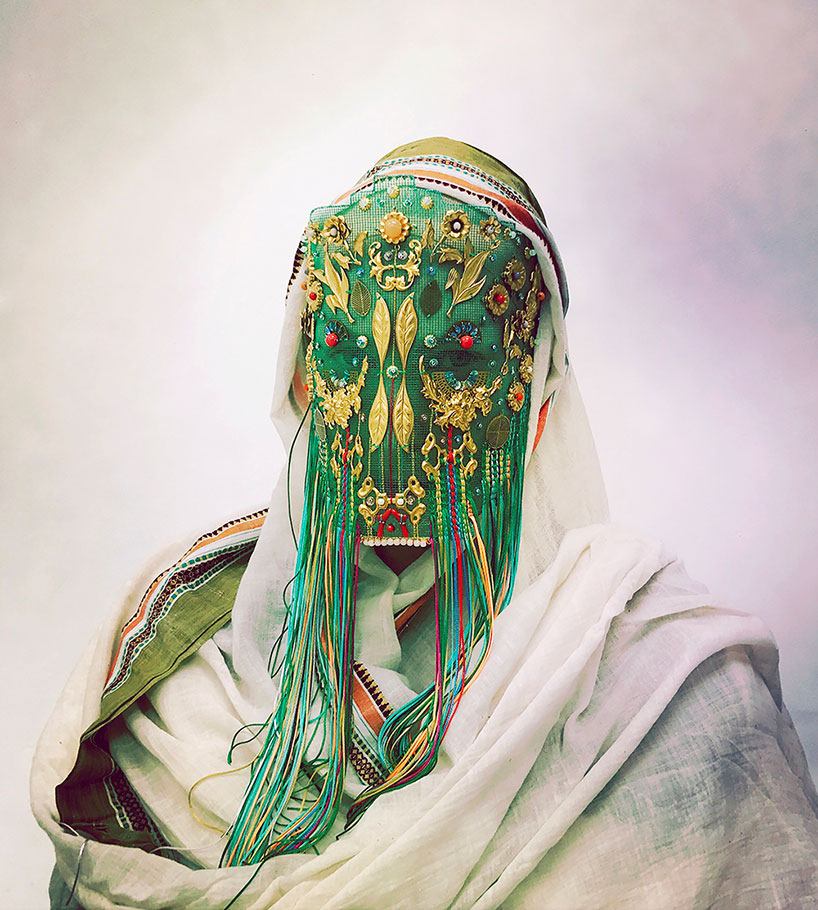 'viir'
kennedy took inspiration from the materials that filled the vintage store in which she worked
DB: you work a lot in found textiles and have spoken about picking up materials in car boot sales and the like. what is the strangest place you've ever found material for a mask, and when working on a new piece, do you have a go-to place in london to start looking for inspiration?
MK: I find things everywhere, I have picked fruit netting out of bins. one christmas in paris, they decorated the trees of the champs-élysées with plastic crystals. rouge ones had fallen off and been stepped into the dirt pavement and I scratched out pocket fulls. I've picked gold confetti off the floor at alternative miss world. friends bring me things from their travels too. a friend gave me a norwegian 1700's hair wreath, a japanese friend gave me an antique geisha hair piece I crocheted into a mask. old tea towels. I'll use whatever if it has personality.
just walking out the door is inspiration, really. I live in dalston. people from everywhere in the world, young and old. fashion kids. charity shops. I'll go to sir john soane's museum. the wallace collection. spitalfields on thursdays. dennis severs' house. dover street market. a pub.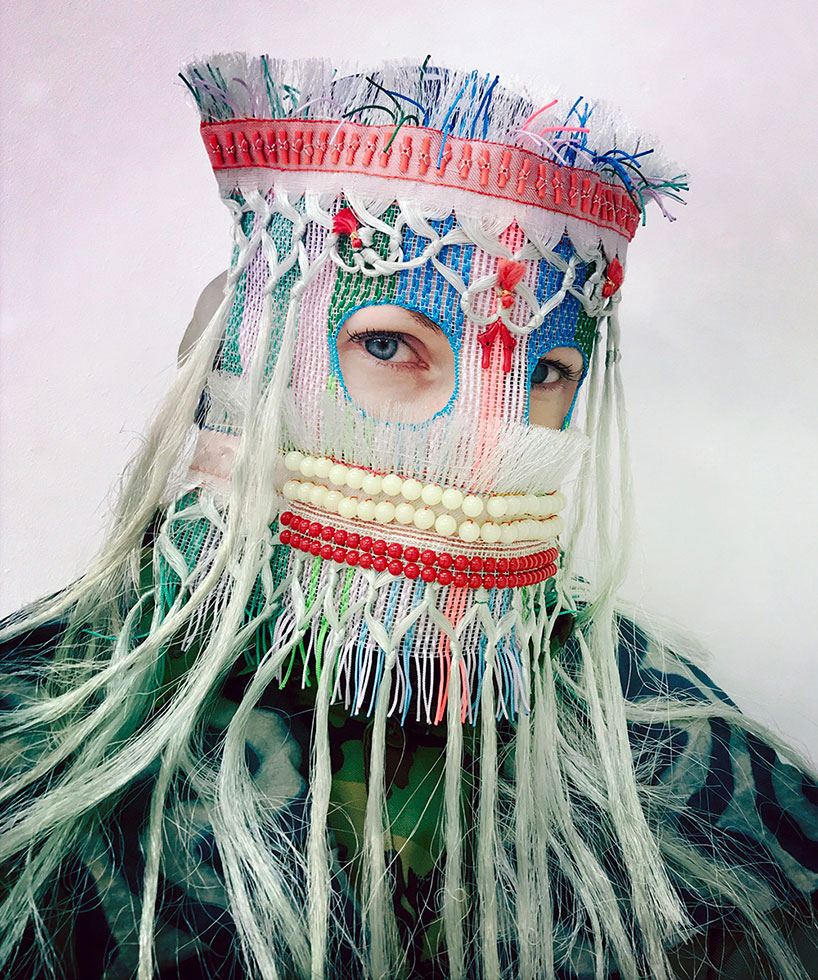 'utaan'
materials can comes from anywhere: bins, christmas trees, even discarded confetti
DB: how long does it usually take to finish a mask, and what is the longest you have ever worked on a single piece?
MK: anything from a day to forever! I have unfinished masks on my shelves that have been waiting for 'something' for months—years even. I'll just have to wait until that right something comes along.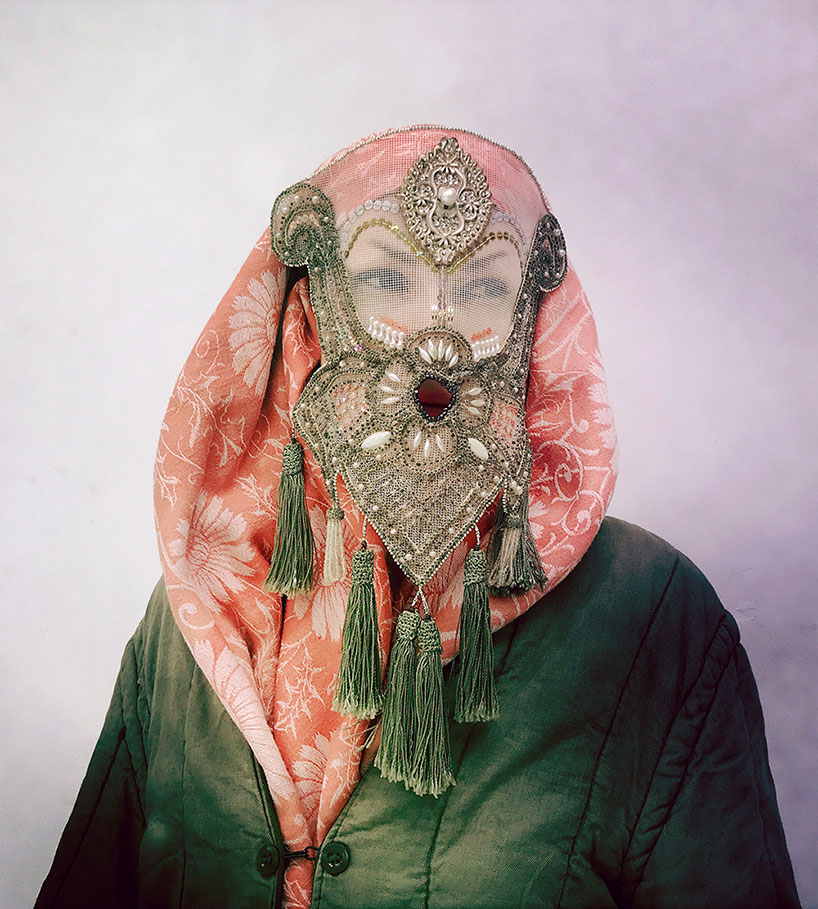 'percifor'
'I felt like an imposter for the longest time…but growing up with two artist parents, it's been schooling from day one'
DB: I know you originally made masks for clubbing in london. how has creating masks specifically for a club environment and club culture in general influenced the work you make? do you still wear your masks clubbing?
MK: it's been a loooong time since I went clubbing! I might make myself something fun for halloween if I am going to some party. the 'craft something from nothing' element of the club culture was inspiring. what some people could make out of some egg carton, tape and paint, you know? there was no hierarchy amongst the materials. that is the main thing I learned that I have brought with me into the work.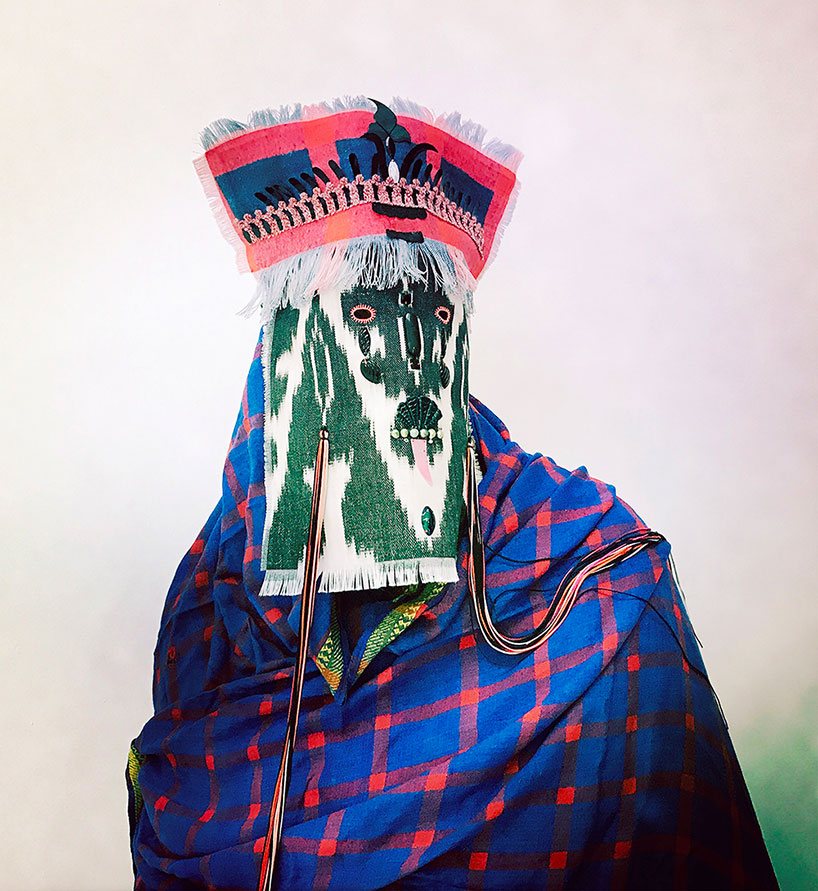 'uro'
'there was no hierarchy amongst the materials. that is the main thing (…) I have brought with me into the work'
DB: how do you personally feel when wearing one of your creations, and what do you hope the experience is for an onlooker?
MK: I don't wear the masks much once they are done. I try my best not to make to many decisions for the masks. people see what they see. it's none of my business!
DB: you have collaborated with a lot of really interesting people in the past. are there any artists you are particularly influenced by, or anyone you would love to work with in future?
MK: when I was a kid I saw moebius' and enki bilal's comics, and they definitely still inform what I do. I'm very interested in homes and how people surround themselves. I decorate a lot. I sew my own christmas ornaments. at the moment I am taken with the book 'dawnridge', about tony duquette's wonderfully OTT home. he was an artist, film and set designer in hollywood. I like miniature model makers like charles matton and thierry bosquet.
I like spaces over-informed by the people who use them and live in them. I have always felt I work mostly like a decorator. my all time greatest obsession is versailles. I don't have a particular person in mind, so my dream collab would definitely be with versailles.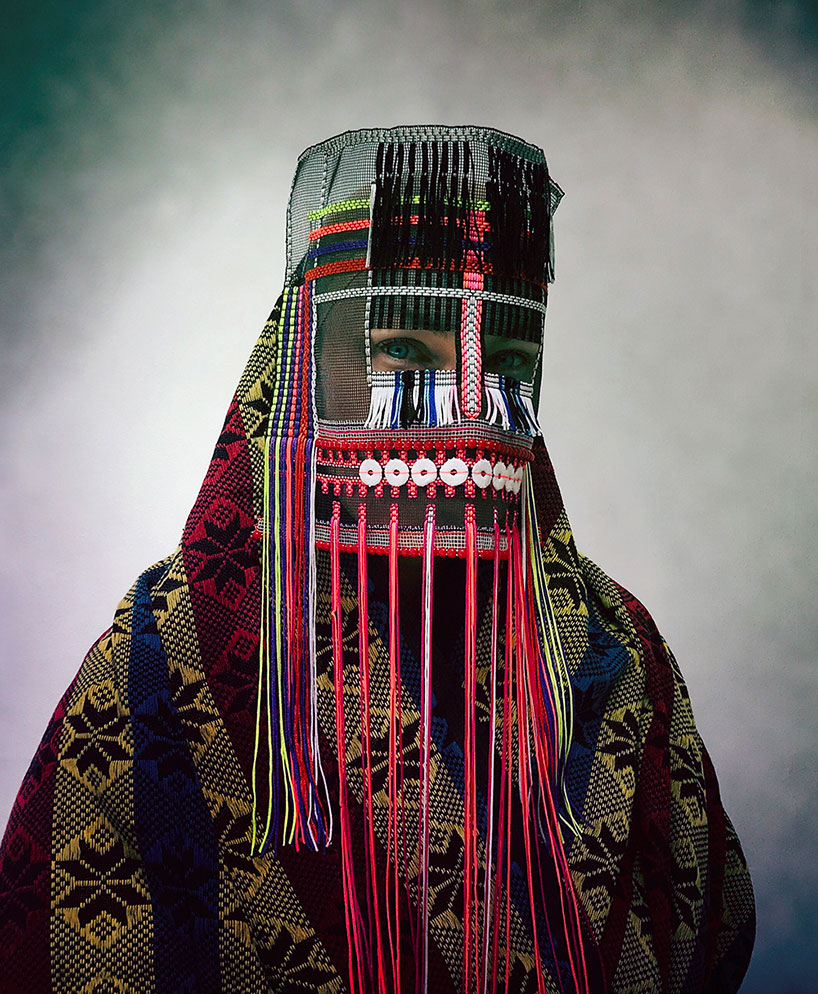 'tanssi'
kennedy steers clear of making any concrete conceptual decisions, leaving interpretation up to the viewer
DB: you often talk about your masks having a character and life of their own. how much of yourself do you see in each piece you make, or do you always see it as a separate entity from the start? what stage in the process does a mask's character start to reveal itself, and what does that moment feel like?
MK: separate entity I think…it's a kind of meditative state, making these things. i'm always surprised by what comes out and that I have made something. usually the character changes several times along the way. there are very few conscious choices taken along the way, or at least it feels like it.
I try to think as little as possible, really and just go by instinct. no overthinking. I have clear physical reactions in the brain to if something works or not. like two ant antennae meeting, releasing some warm spark. some severe chemical reaction, it's totally a high.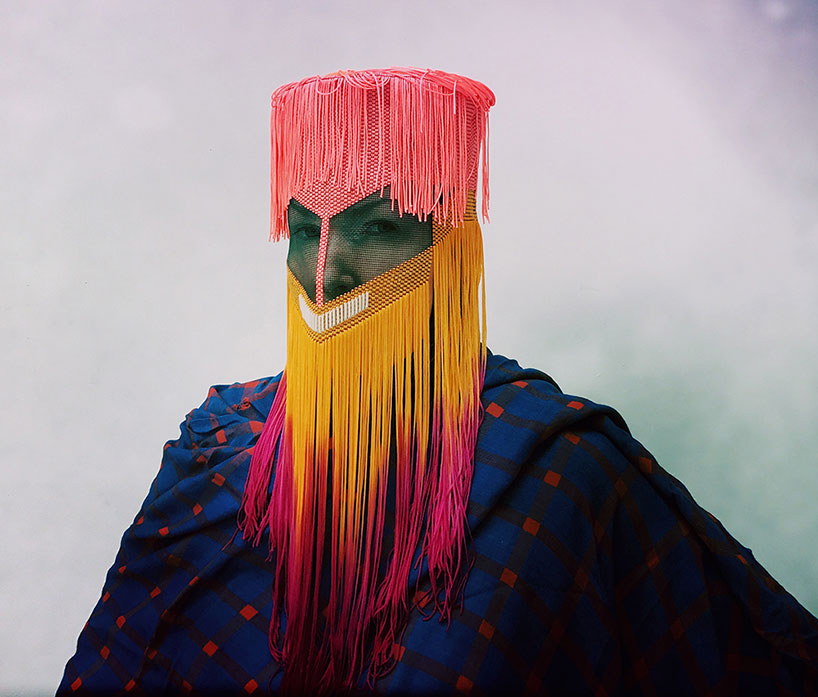 'sabir'
'I try to think as little as possible, really and just go by instinct. no overthinking'
DB: you have a strong presence on instagram and images of your work are understandably popular on sites like instagram and tumblr. how integral to your process is social media, and how has it impacted the way you make work, if at all?
MK: it's a big part of the work. a mask isn't finished until I have taken a portrait of it and sent it out on general internet high-ways like my instagram or blogspot. this way the mask makes a life of its own and communicates its own being. it's how it has turned into actual work.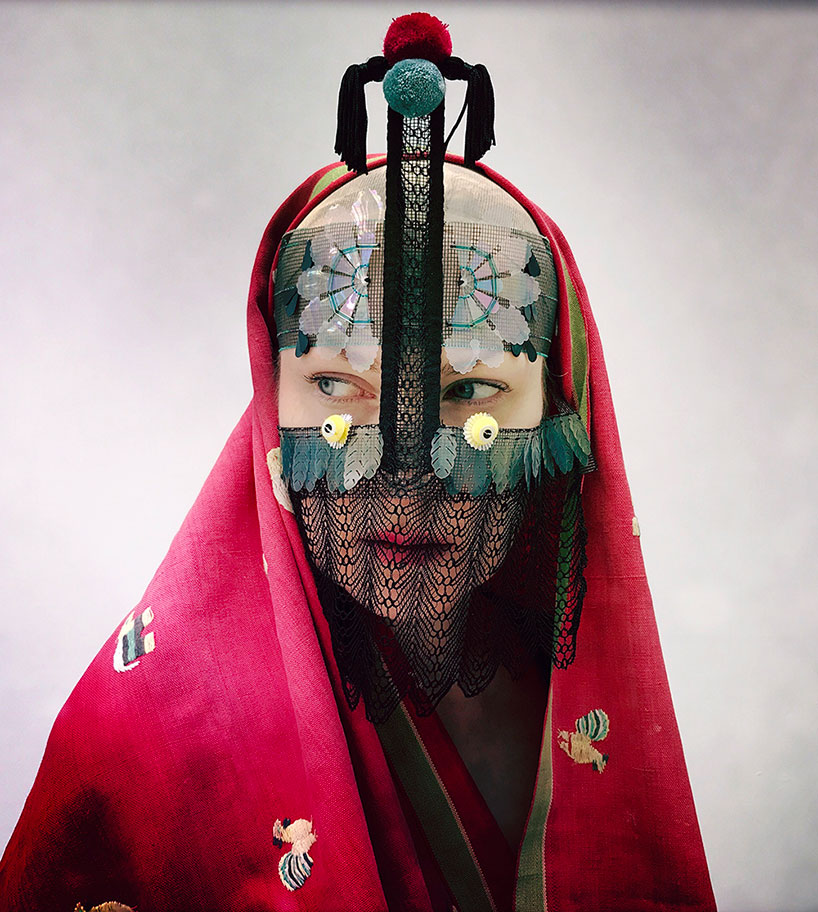 'pha'
a piece isn't finished until it has been documented online
DB: are you working on anything at the moment you'd like to share with us, and what does 2019 hold for damselfrau?
MK: yes! I'm very excited. I have been invited to exhibit at the national museum of decorative arts trondheim in norway this september. it's the first time I'll show the masks in the flesh in norway, so it's pretty grand for me. I used to visit this museum as a kid, I have strong feeling for this building. it's surreal to be showing there. I am also working on an interesting project with queen mary university and designer rachel freire, incorporating technical fabrics and movement sensors with my masks. that's a new universe for me—very cool.
DB: any personal mottos or words of wisdom you try to live by?
MK: 'walk, don't run', as my dad always says.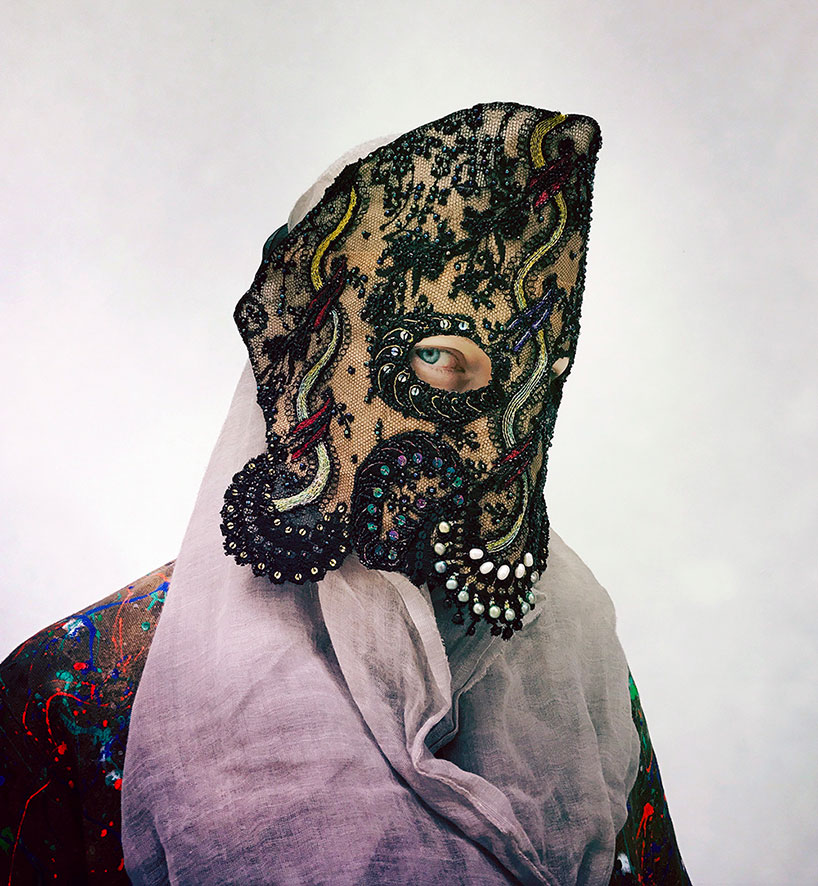 'namshu'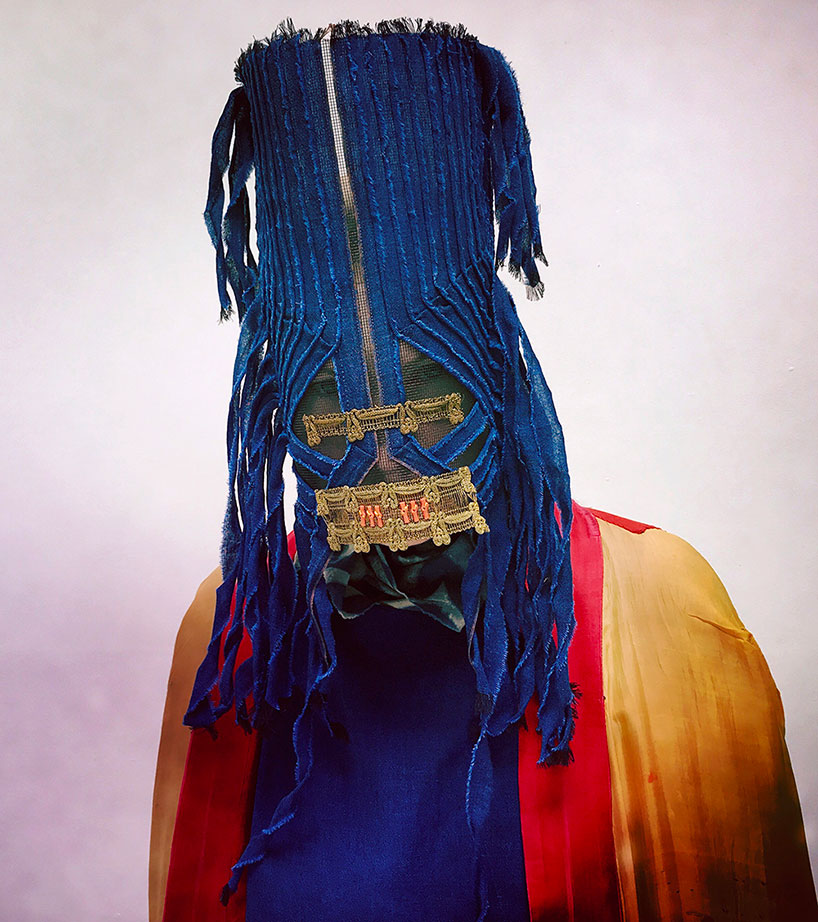 'mustang'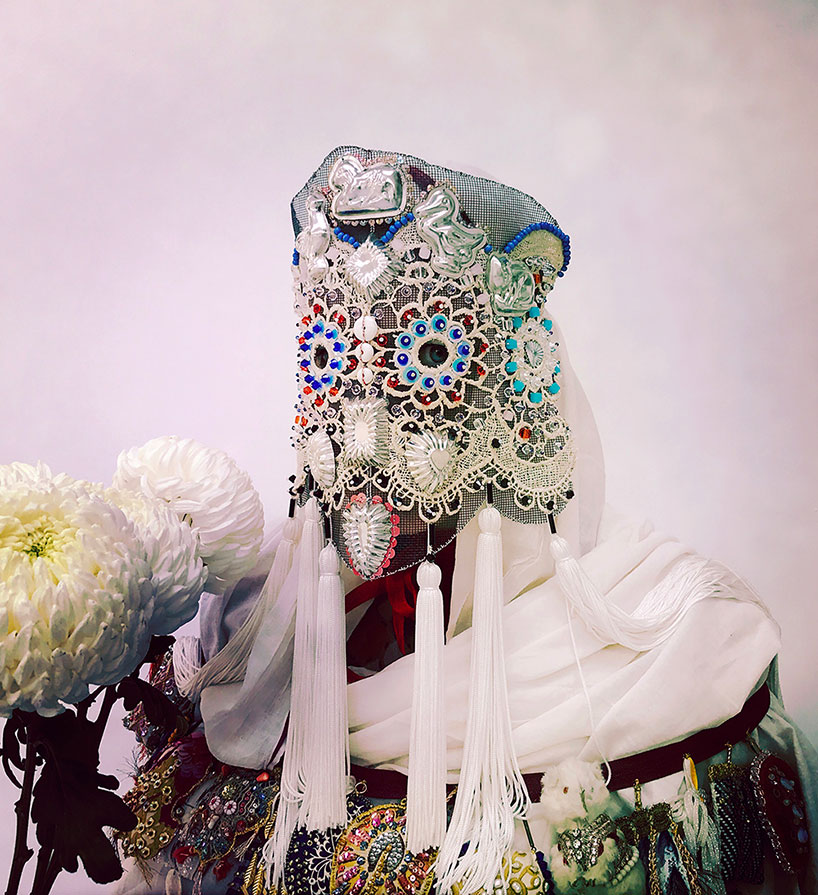 'jule'
peter corboy
I designboom
feb 10, 2019
KEEP UP WITH OUR DAILY AND WEEKLY NEWSLETTERS
a diverse digital database that acts as a valuable guide in gaining insight and information about a product directly from the manufacturer, and serves as a rich reference point in developing a project or scheme.
designboom will always be there for you
milan, new york, beijing, tokyo

,
since 1999