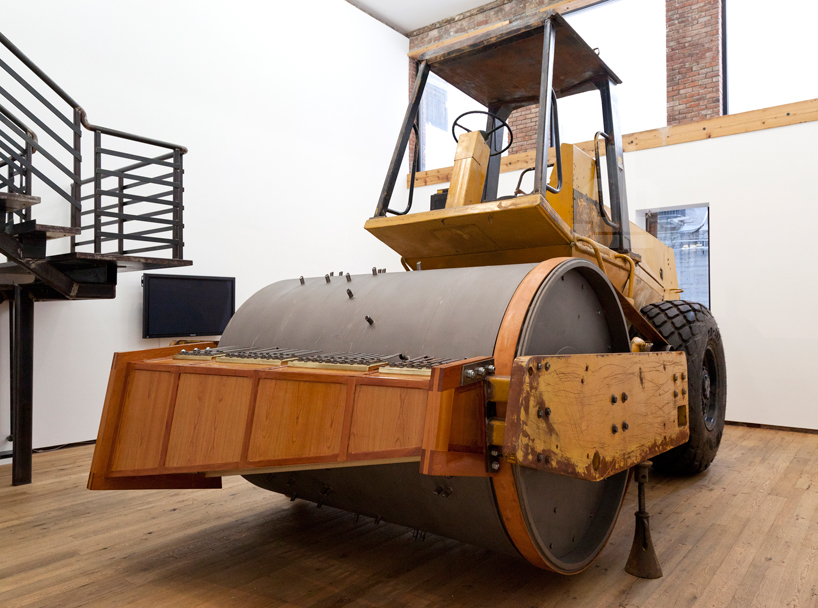 may 08, 2013
dave cole: music box, singer + knitting machine
dave colethe music box, 2012photo by carly gaebe courtesy of dodge gallery
in exploring themes of memory and national identity through his work, dave cole re-appropriates existing tools–from a sewing machine to a steamroller to excavators–giving new purpose and function to the industrial machines.
'the music box', a monumental sculptural piece commissioned by the cleveland institute of art and developed in partnership with ohio CAT, sees the american artist dismantling a 22, 000 lb steamroller in which he refabricates more than 80% of the machine–though still maintaining its identifiable physical qualities–transforming it into a fully functioning musical box, and at a fraction of its original weight. built onto the front of the compactor is an acoustical cabinet made from cherry wood which plays 'the star spangled banner'. here, cole's musical version of the anthem is heard in contrast to the one the viewer holds in their memory–his mammoth sized music box a metaphor for what dreams can become, and how quickly they can be crushed. the same can be seen in his 'jackhammer orchestra', in which the chassis of an excavator has been outftted with 24 tuned jack hammers, presenting a 1:16 scale model of a playable instrument.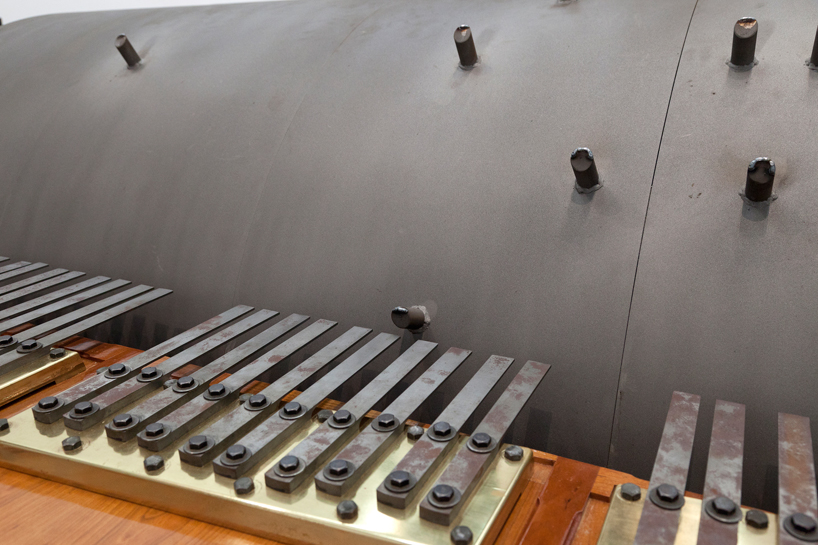 dave colethe music box, 2012 (detail)photo by carly gaebe courtesy of dodge gallery
dave colejackhammer orchestra, 20109 x 9 x 12.5 inchesphoto by stewart clements photographycourtesy of dodge gallery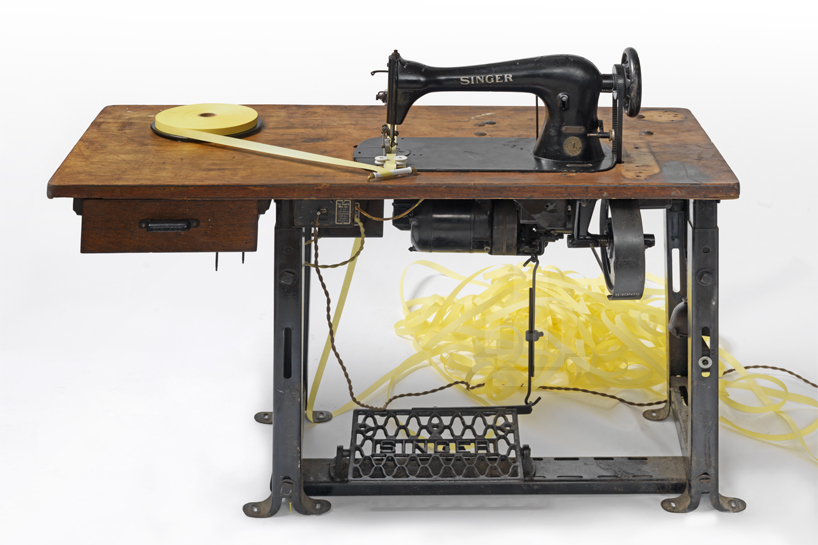 dave colesinger, 2012singer industrial sewing machine, teletype paper, wireless internet connection 39 x 48 x 21 inchesphoto by stewart clements photographycourtesy of dodge gallery
cole's 'singer'–its name referencing the industrial sewing machine (made in the fall of 1920 in elizabeth, new jersey) it employs–appears to works on its own without human guidance through a simple animatronic trick. the mechanically driven appliance searches the internet, repeating strings of queries related to its own operation. it then prints out the results of its searches in binary code, altering the rate at which teletype paper is fed under its needle. a statement expressing the apparent accomplishments of accomplishing nothing.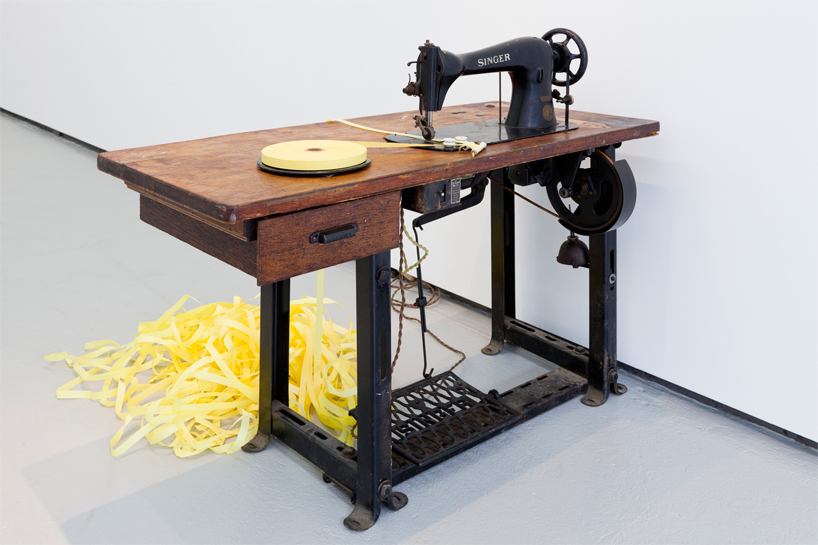 photo by carly gaebecourtesy of dodge gallery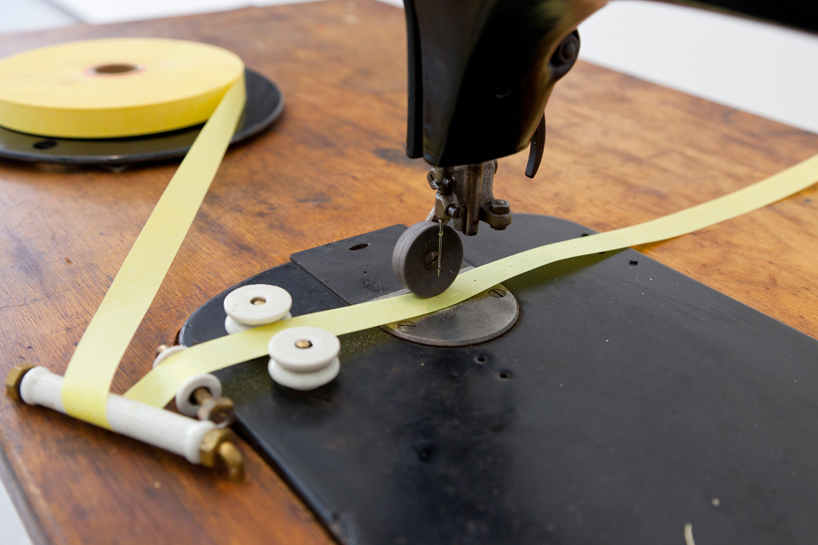 detail of the device which prints out the machines internet search results in binary codephoto by carly gaebecourtesy of dodge gallery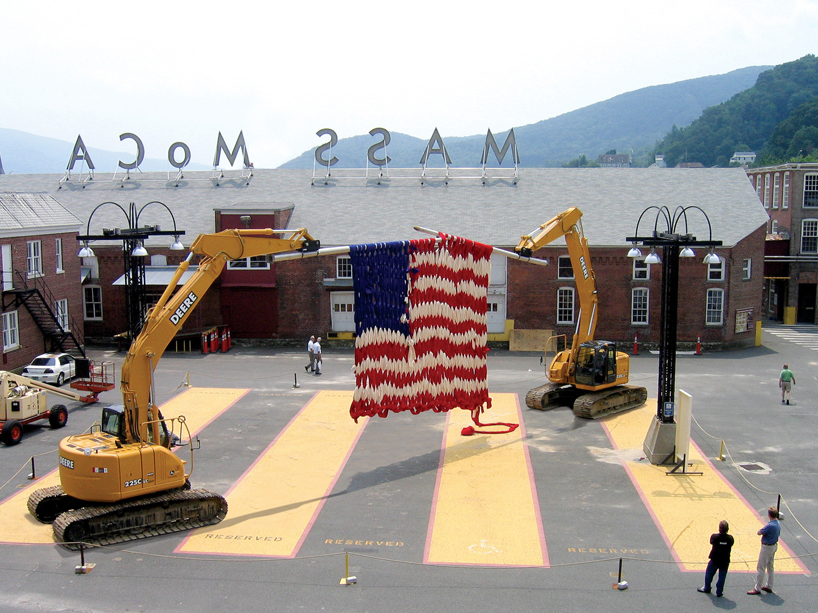 dave colethe knitting machine, 2005acrylic felt with excavators and alumininum utility poles courtesy dodge gallery
'the knitting machine' sees two excavators positioned across from one another, each one fitted with a 20 foot long knitting needle. together, they produce an oversized american flag, the performance seen both as a celebration of pride, while also being interpreted as a commentary of america's role in world affairs.
'the knitting machine' hard at work video courtesy jack criddle
a diverse digital database that acts as a valuable guide in gaining insight and information about a product directly from the manufacturer, and serves as a rich reference point in developing a project or scheme.