davide d'elia has added an environmental, site-specific intervention to casa italia, the home of the italian team at the rio olympics. in the entrance hall of the athletes' headquarters, the artist has saturated segments of the walls in his emblematic iris blue anti-fouling paint. 

all photos by SC ph. RdJ 
'horiz-ontal' is presented at costa brava clube — a historic site in rio de janeiro designed by architect ricardo menescal in the 1960s. d'elia's blue intervention at casa italia becomes a horizon line through which visitors pass before entering the main hall. paintings and objects are submerged in a pigmented abyss, semi-immersed in a layer of anti-fouling paint and placed on a wall that fluctuates between blue and white.
the installation forms part of the exhibition 'horizontal' curated by beatrice bertini and benedetta acciari which highlights the exchange between italy and brazil. therefore, d'elia's colored corridor becomes 'a kind of kaleidoscope of perpetual return between the two countries', he describes 'where the objects and the paintings become metaphors of houses and memories that are new homes, and crystallize in creating a new cultural identity called: italobrasiliana.'
Save
Save
Save
Save
Save
Save
Save
jan 24, 2015
jan 24, 2015
dec 02, 2016
dec 02, 2016
sep 05, 2016
sep 05, 2016
aug 23, 2016
aug 23, 2016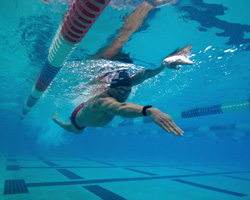 aug 17, 2016
aug 17, 2016
aug 12, 2016
aug 12, 2016
aug 12, 2016
aug 12, 2016